►
◄
latest
habitat tv
blog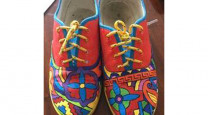 habitat by Resene magazine issue 33 is on its way
07 Oct 2020
habitat by Resene magazine issue 33 is on its way
The spring/summer issue 2020/2021 of habitat by Resene is out now – and it might just be our favourite to date! Featuring a huge range of refreshing ideas from easy decorating ideas for nautical-inspired kid's spaces, colourful kitchens with character to spare, bright ideas for using paint to divvy up larger spaces and the latest on-trend colours, it's a must-have guide for anyone looking to redecorate or starting from scratch.
Copies will be hitting mailboxes by mid-October for Resene DIY cardholders with additional copies available to purchase at local Resene ColorShops.
Our key theme for the issue shows you how to make your outdoor space an oasis for entertaining. Learn more about the Mediterranean-inspired patio that adorns our cover, designed with privacy at its forefront.
Sun-day style
When the sun is shining and the air is warm, a place to relax outside, read a book and enjoy a tipple should be on everyone's to-do list.
Whether your outdoor area is big or small, having one dedicated space where you can sit with a book – or drink – in hand makes all the difference on a hot summer's day or a balmy summer's night. What's more, creating an outdoor patio that's stylish, welcoming and cosy, will not only make this area an extra living space, but a destination.
Bring life and intrigue to walls with Resene FX Paint Effects. You can create a unique alternative to traditional wall coverings and it's especially appropriate for outdoor areas where visual texture can be more difficult to work in effectively. The walls on this outdoor patio have been painted in Resene Aspiring with Resene FX Paint Effects Medium tinted in Resene Moon Mist applied to give the Mediterranean style finish.
This, combined with the textured and visually interesting element of the stacked breeze blocks on the left, painted in Resene Moon Mist, bring life and pattern to the outdoor space. The breeze blocks, as well as being a visual element, also provide privacy without totally blocking all light from the space – a particularly important feature in an outdoor room that doesn't necessarily receive the sun's direct rays all day long.
That's where colour comes in too. In this outdoor patio, light is bounced around through bright popping hues and soft highlights. The decking boards stained in Resene Woodsman Uluru bring in warmth from below, where it is matched with pops of sunny-inspired hues such as the table and large plant pot in the rustic and casual mustard of Resene Teak and the rattan chair in the green and yellow toned beige of Resene Yuma.
These earthy yellow hues are paired beautifully with similarly earthy greens such as Resene Flax on the tray and Resene Siam on the small plant pot, which provide a soft contrast to the gentle, textured walls.
Don't forget to accessorise with textured cushions in similar colours to Resene Wafer, Resene Castle Rock and Resene Travis, with a sizeable rattan rug and leafy, tropical plants.
For an alternative colour palette, take inspiration from the purple-toned palm print cushion. Keep the base elements the same – walls in Resene Aspiring with paint effect in Resene FX Paint Effects medium tinted to Resene Moon Mist, bench seat in Resene Aspiring and decking in Resene Woodsman Uluru. Introduce dusty purples and blues through the accessories such as Resene Flotsam and Resene Raven with brighter pops of Resene Abbey Road and Resene Alluring.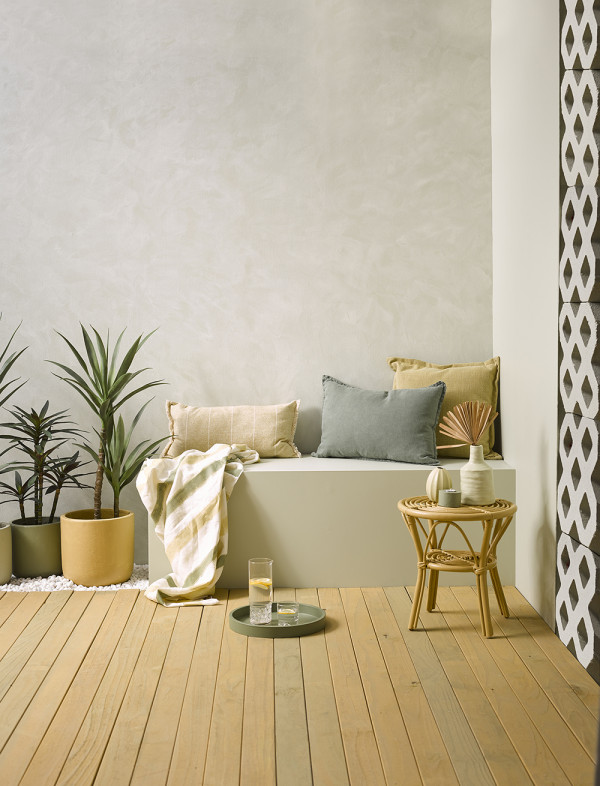 This sunny, summer ready outdoor space features a back wall in Resene Aspiring with paint effect in Resene FX Paint Effects medium tinted to Resene Moon Mist. Right wall, breeze blocks and vase in Resene Moon Mist and bench seat in Resene Aspiring. The deck is stained in Resene Woodsman Uluru with table and large plant pot in Resene Teak. Small plant pot in Resene Siam. For a refreshing touch, add in a drinks tray painted in Resene Flax. Cushions from Allium Interiors and Shut the Front Door.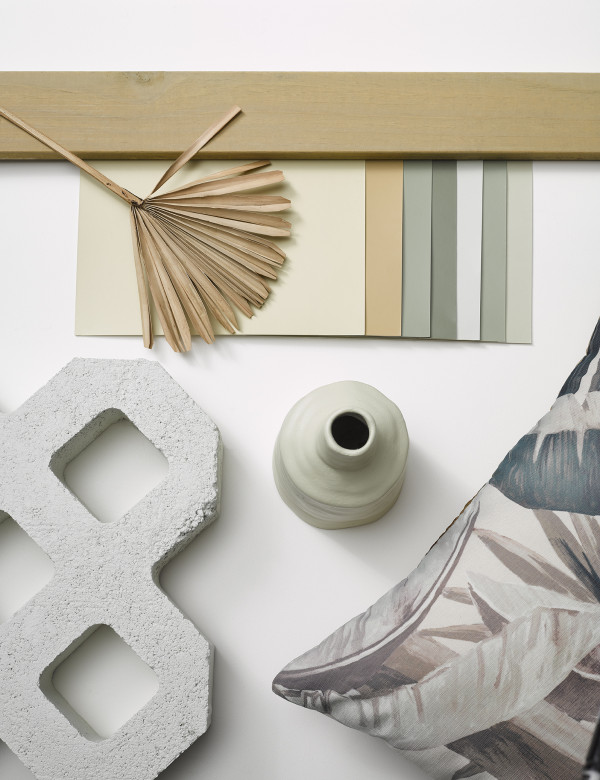 Background painted in Resene Alabaster with A4 drawdown paint swatches in (from left to right) Resene Yuma, Resene Teak, Resene Flax, Resene Siam, Resene Aspiring, Resene Bitter and Resene Earthstone, floorboard in Resene Woodsman Uluru, breeze blocks in Resene Moon Mist and vase in Resene Aspiring.
styling Vanessa Nouwens
images Wendy Fenwick