►
◄
latest
habitat tv
blog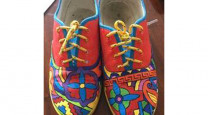 habitat by Resene magazine issue 32 is on its way
05 Mar 2020
The autumn/winter issue 2020 of habitat by Resene is out now – and it might just be our favourite to date! Featuring a huge range of refreshing ideas from winterising your backyard, designing rooms around original artwork, fun ideas for creative kids spaces and the latest on-trend colours, it's a must-have guide for anyone looking to redecorate or starting from scratch in 2020.
Copies will be hitting mailboxes by mid-March for Resene DIY cardholders with additional copies available to purchase at local Resene ColorShops.
Our key theme for the issue looks into colour therapy and how to create a sense of wellbeing in your home through a variety of carefully chosen hues. Learn more about the comforting charcoal-hued bedroom that adorns our cover, designed with wellness at its forefront.
Get into the groove
This sophisticated space is an ideal hideaway that leans heavily into the wellness trend through a calming use of grey tones against a backdrop of tongue-and-groove panelled walls in Resene Armadillo. However, much like whites, there are many greys to choose from, so it's always best to pick up a few Resene testpots first to test under your lighting.
The different grey hues in this room are standout options in their own right, and can be magnificently layered to build a cosy and charming hangout. Popping against the floor in Resene Colorwood Natural are the mixes of greys on the furnishings like Resene Triple Tapa and Resene Karaka.
The addition of deep greens on the bed plus the pot plant against the wall work to magnify the effectiveness of the colour scheme in its versatility and zen-like aesthetic. If you're wanting to add colour to your grey space, try shades with powdery undertones of blue, pink or green like Resene Neutral Bay, Resene Pearl Bush and Resene Quarter Karaka.
Weave in some other tones into your grey room like Resene Aquamarine, Resene Bunting and Resene Celeste – beautiful hues of bluish greens, deep navy and light grey greens. These work particularly well if you're going with a striking deep look as seen on the tongue-and-groove wall in Resene Armadillo.
For summer, lighten up your space with sunnier tones like Resene Half Lemon Grass, Resene Hampton and Resene Sandbar. Not only will they look great next to grey, but they'll add a bright and cheerful nature to your room.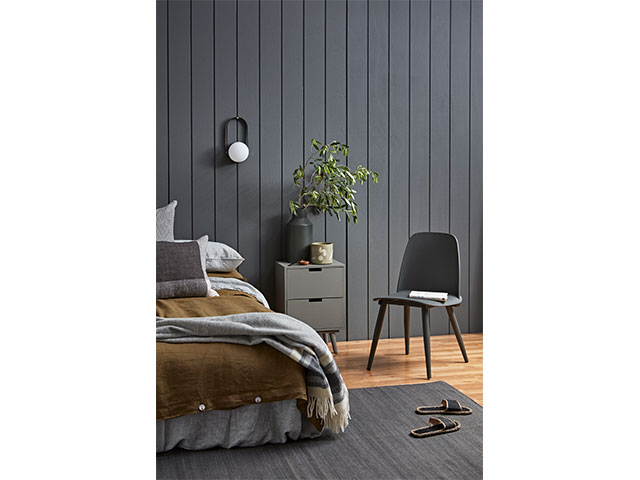 This calming, natural bedroom features tongue-and-groove timber walls in Resene Armadillo, timber flooring stained in Resene Colorwood Natural, a chair in Resene Zeus, a bedside table in Resene Triple Tapa and a vase in Resene Karaka. For a bit of art therapy, paint a pot in Resene Go Ben and add your own freehand designs in Resene Cargo and Resene Beachcomber.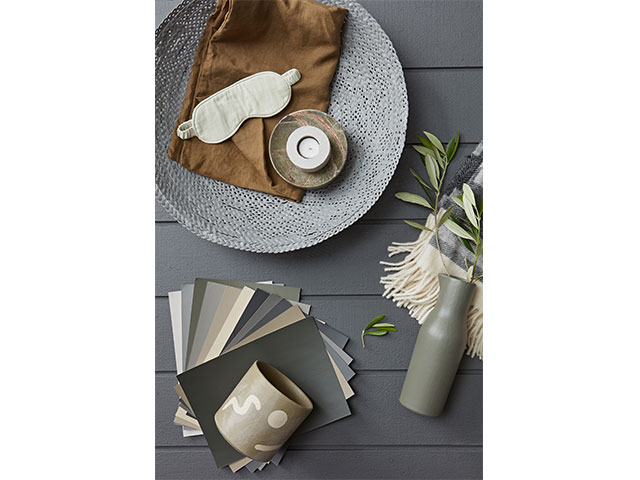 Background in Resene Armadillo with A4 drawdown swatches in (from left to right) in Resene Half Nomad, Resene Quarter Gravel, Resene Raptor, Resene Cobblestone, Resene Go Ben, Resene Beachcomber, Resene Zeus, Resene Triple Tapa, Resene Armadillo, Resene Lichen and Resene Karaka, woven bowl in Resene Quarter Gravel, tea light holder in Resene Half Nomad jug vase in Resene Raptor and pot in Resene Go Ben with designs in Resene Cargo and Resene Beachcomber.
Get the look:
Olive Green Linen Duvet and Light Grey Linen Pillowcases from Foxtrot Home; Chester Linen Cushion Cover, Bonnie Woven Cushion Cover and Morrison Woven Cushion Cover, Wool Blend Rug, Rectangle Cork Tray and Gausian2 Tier Vessel from Citta; NZ Lambswool Throw in Ohope Coal, Sophie Tortoise Comb and Menu Carrie LED Lamp in Black from Paper Plane; Ceremony Slides in Black and Small Teak Bowl from Blackbird Goods and Hannah Vessel from Father Rabbit.
styling Gem Adams
images Wendy Fenwick