►
◄
latest
habitat tv
blog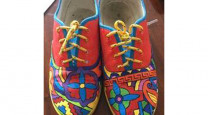 Keeping safe
26 Nov 2014
It's New Zealand Safety Week (November 24-30) - a great time to give your house a health check and reduce the risk of accidents.
· Keep your paths and steps clear of leaves and moss and be careful when it's raining. You can clean moss and mould with Resene Moss & Mould Killer, decks with Resene Timber and Deck Wash and paths with Resene Deep Clean or Resene Paint Prep and Housewash.
· Make sure your outdoor areas are well lit with sensor lights and mark the edges of steps and drops with white paint for better visibility. Try using Resene Non-Skid Deck and Path for this so that the white strip of paint has the added benefit of being non slip.
· If you're building from new, grooved timber decks give better grip. Improve the slip resistance of existing decks by adding Resene SRG Grit to your deck paint.
· Keep chemical, solvents, paints and sprays out of sight and reach of children – ideally lock them away in a cupboard. Better yet, return all unwanted paint and paint packaging to the Resene PaintWise service – it will get them out of your house and the packaging and materials can be recycled, donated to community groups or reused.
DIY can be more dangerous than it looks, so plan your project carefully and make sure you have all the equipment you need before you start.
· Keep three points of contact on ladders – eg, two feet and a hand. Don't reach over too far; keep your belt buckle within the sides of the ladder.
For other safety tips and ideas, check out www.homesafety.co.nz and the Resene Putting your safety first brochure free on the Resene website (www.resene.co.nz) or get your free copy from your Resene ColorShop or reseller.