►
◄
latest
habitat tv
blog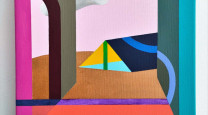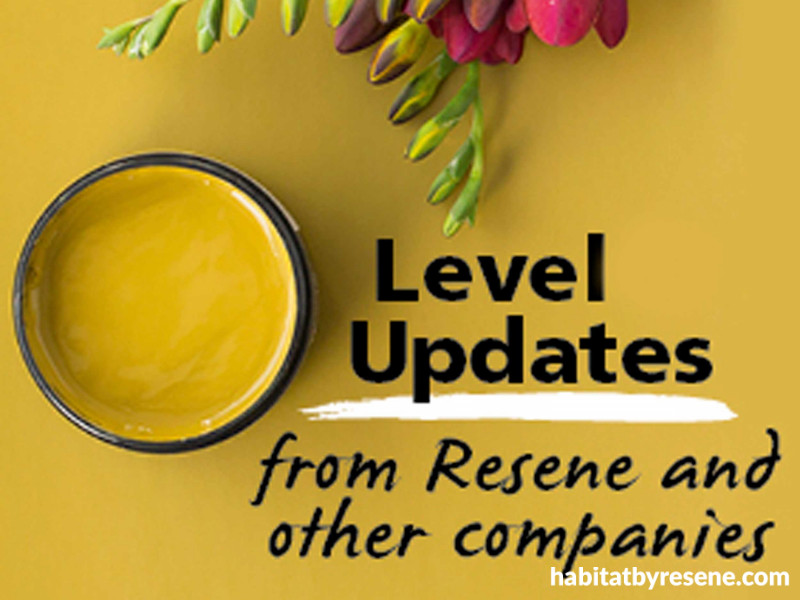 Covid Level 2 & 4 Updates from Resene and other businesses
19 Aug 2021
Resene
For everyone outside Auckland, you can visit your local Resene ColorShop or order online at shop.resene.co.nz. Please wear your face mask when visiting.
For those still in Level 4 (Auckland), you can order paint decorating supplies online at shop.resene.co.nz or email [email protected] and we can arrange contactless delivery of your order to you. Please allow extra time for delivery as the products will be coming from another region outside of Auckland. Resene ColorShops in Level 4 areas will remain closed until we reach Level 3.
Our online help and phone assistance will still be available so if you are working on a project or planning a project and need some help you can Ask a Tech Expert free online anytime, www.resene.co.nz/techexpert or Ask a Colour Expert free online anytime, www.resene.co.nz/colourexpert or use 0800 737 363 (during normal working hours).
We appreciate your support and look forward to helping you with your projects.
Target
Level 4 Restrictions (Auckland Stores & Distribution Centre)
Our showrooms, distribution centre and click & collect services in Auckland will be closed during Level 4.
If you were scheduled to expect a delivery during level 4 - please hang tight! We'll be in touch as soon as possible to organise a new delivery date for you.
Our online store is open 24/7 and will continue to take orders. We'll be in touch to dispatch your orders as soon as it is confirmed that we are moving to level 3.
Our sales team will be available for virtual video or phone appointments in store to assist with any questions or queries you may have. You can book a virtual appointment using our chatbot feature by clickinghere.
Our customer service team will continue to work from home and monitor any of your customer enquiries/feedback. If you have any questions, please do not hesitate to get in touch by contacting us on 0800 TARGET (0800 827 438).
Level 2 Restrictions
Our team at Target Furniture are so excited to open our doors, click & collect and delivery services to the public again from Wednesday 8th September 2021 (we've missed you guys!).
We will be taking extra precautions with our delivery team to ensure that your safety and the safety of our team is paramount. Disinfectant wipes and hand sanitiser will be used by our delivery team after each delivery and safe distance practices will be applied.
Hirepool
As an essential service provider, Hirepool is here to help you with your essential hire needs.
In the Level 4 area we have a limited number of branches open operating under a "closed gate" policy. This means you'll need to call ahead to the branch or book online to arrange your hire gear and then follow the instructions of our staff for collection.

In all other areas, all of our branches are open normal hours, operating on a safe and contactless basis to comply with all MoH guidelines.
All our staff are following strict contactless protocols for your safety.
Our Support Office team is still working (from home) and can be contacted by their regular email addresses, or if you are stuck, please email us on [email protected]
Read more at: Hirepool | Covid-19 Level 4 - Update for our Customers
Escea
Planning your next project in lockdown? Escea's Customer Support and Architectural Advisory team are still here to answer your burning fireplace questions.
Visit escea.com to browse our range, call us on 0800 17 3000 or email our Architectural Advisory team on [email protected].
And for those in Level 2, you can see our fireplaces in action at one of our retailers. Visit our website for a full list of stores and opening hours.
Mastercraft Kitchens
If we've learnt anything lockdowns, it's that it generates an onslaught of #housegoals for Kiwi homeowners. Please contact us on www.mastercraft.co.nz if you want to chat – whether in person, by phone or online, we can do it all.
Start by getting inspired with our free Kitchen Look Book, showcasing some of last year's best kitchen designs by Mastercraft Kitchens. Then download our Kitchen Renovation Guide – it'll give you the confidence to achieve your dreams (we've thought of everything so you don't have to!) Or simply set aside some 'drool' time and visit our Featured Kitchens or gallery on the Mastercraft website. See! It's amazing what you can achieve from the couch!
Russells Curtains and Blinds
Russells sewing room and blind factory are located in Nelson so they are back up and running at Alert Level 2 and following all Ministry of Health safety guidelines.

Russells in-home consultations and installations are permitted for those regions in Alert Level 2.
Alternatively, if you prefer or are in an Alert Level 4 region, they can undertake virtual consultations via video call. Make your booking now via the Russells website.
Città
Città's stores are open under level 2 in Wellington, Christchurch and Hamilton. Their Auckland stores remain temporarily closed at level 4. Orders can be placed online at cittadesign.com and will be dispatched nationwide once their Auckland-based warehouse moves to level 3.
Città can be contacted via their website, phone or social channels. As always, the friendly team are happy to help with any product or styling enquires.
Città's in-house designers are working from home and continuing to conceptualise their beautiful furniture, furniture, textiles and accessories. They're looking forward to sharing these pieces with customers in the near future.
****
From our Resene and habitatbyResene families to yours, we hope you and your friends and family stay safe.
Published: 19 Aug 2021