►
◄
latest
habitat tv
blog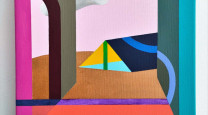 Making an impression: A guide to Resene Construction Systems' plaster cladding and interior finishing
29 Jul 2021
Add sophistication and style to your home without compromising on durability with Resene Construction Systems.
Built to last
Over the years, the technology of external façades and cladding systems has changed. These changes have seen improvements in everything from design and architecture through to product performance and workmanship.
For the past 15 plus years external plaster façades and cladding have been required to be installed over a cavity. The cavity method of construction provides durability should moisture enter through the outside surface.

INTEGRA Lightweight Concrete Plaster cladding with Rockcote Cerano concrete effect finish.
Used by top building practitioners
Resene Construction Systems' façades require a registered building practitioner for the installation, ensuring accuracy and responsibility to the contractor who has applied the system. Resene Construction Systems also provides its own Onsite Quality Assurance programme, giving you assurance that the quality finish has been applied correctly.

Otsumigaki Clay lime polished plaster.
Styles to choose from:
Selecting an external plaster façade can be a challenge, so Resene Construction Systems can provide you with three premium options; INTEGRA AAC lightweight concrete, XTHERM Insulated façade or Plaster over Masonry block or brick.
INTEGRA aac lightweight concrete façade
To achieve an industrial concrete look on your house exterior, try AAC (Autoclaved Aerated Concrete). This system uses a lightweight concrete panel which is fixed over a cavity includes a lamina of hand-applied coatings complete with finishing coats in Resene colour. This system provides impact resistance, acoustic benefits and has a solid feel even though it is fixed over timber framing.

Rockcote Marrakesh lime plaster.
XTHERM Insulated Façade
Think of this as 'outsulation'. The energy-efficient XTHERM Insulated Façade provides a complete thermal envelope with a blue high density styrene panel while protecting the structure and those inside from what mother nature throws at it. If you are looking for additional thermal performance to keep you cool in summer and warm in winter, then this is the system for you. Insulating the outside wall means there are minimal 'thermal breaks' when compared to 'in wall' insulation resulting in a warmer drier home. XTHERM blue is a complete system incorporating hand-applied modified plaster coatings, full surface fibreglass reinforcement, styled with your choice of textures from ROCKCOTE or Plaster Systems all finished with Resene coatings in your favourite Resene colours.

Rockcote Natural Mineral interior plaster.
The full solution
XTHERM and INTEGRA plaster façade systems are complete supply and install solutions. Once the framing, building underlay and windows are installed, your registered plastering professional will complete the system installation all the way through to the Resene coloured finish coats.
This process saves time and money and once installed homeowners receive full product support for the life of the installed system. Resene Construction Systems works alongside BRANZ (Building Research Association of New Zealand) and have achieved appraisals for their external façade systems, including passing stringent weathertight testing and advanced high-performance testing. Resene Construction Systems also have a premium range of Artisan interior finishes, all based on natural materials from Rockcote.
You can have confidence knowing that the products and systems Resene Construction Systems supply for your project have been tested, made and supplied in New Zealand by a division of the Resene Group. Call 0800 50 70 40 to discover what they do and how they can assist you with your next project, or visit their website
Published: 29 Jul 2021