►
◄
latest
habitat tv
blog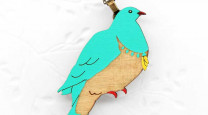 Mix and match in the dining room with these easy hacks from Target
09 Sep 2021
Switch things up in the dining room with Target's Vintage Dining range. If you're after a classic mix of retro comfort and style with a touch of nostalgia, then this range is for you. The Vintage Dining range will help you keep comfy during dinner parties and game nights without sacrificing style.
The Emerald Vintage School Chair will add a touch of nature to your dining room. Pair it with a wooden table from the Vintage Dining range and flooring stained in Resene Colorwood Natural.
With a multitude of styles and colours, it's never been easier to create the ultimate mix and match look while also enhancing that retro vibe. Here's some tips on how to mix and match like a pro in your dining room:
Material matters
When it comes to creating cohesion in a space, don't limit yourself to a single colour. There are many ways to create a mindful dining setup that works together whiles still adding interest to the room. Try sticking to the same material, such as the comfortable faux leather of the Target Vintage Dining range and mix it up with different colours in the same style. This will create a relaxed vibe while still making your eclectic dining space feel intentional.
Go with the grain
If you have wooden accents or flooring in your home, bring in wooden dining features to add a sense of consistency to the room. It's easier to mix and match your dining furniture when some of your pieces have a link to the rest of the space. For example, the black steel frame of Target's Vintage Round Dining table can be tied into the room through painted vases or a dark feature wall in Resene Nero, but can just as easily work in a space with timber accents thanks to its wooden look veneer.
Expand your range
Create a versatile space by introducing dining stools and benches into the mix. Benches are a great way to create a cosy look while still keeping things practical. With no back rest or arm rests, benches can really open up a space and make your dining table seem more inviting. Introducing a dining stool or two will also help you craft a fun atmosphere and will allow you to get creative in your dining space.
Learn more about Target's Vintage Dining range:
Musical chairs

A collection of pieces from the Target Vintage Dining range look great in a monochromatic space. The colourful retro chairs pop against the wall in Resene Jumbo and floor in Resene Colorwood Natural.
Featuring a sleek steel frame and an armless silhouette, Target's Vintage Dining chairs are perfect for opening up the room and making your dining area feel more spacious. Add a splash of retro styling with a wide range of chairs that feature vintage faux leather seats. Comfort is at the fore, with pleasantly padded seats and perfectly positioned backrests. The range of faux leather colours work perfectly together, creating a casual vibe while allowing you to bring pops of colour into your space.
On the table

The Vintage Round Dining Table is the perfect way to add a touch of retro class to any dining space.
If your home has a warmer colour palette, you're going to want to get hold of a Vintage Round Dining table. These tables feature retro steel legs and are crafted from a paper veneer, making that wooden look even more accessible and budget-friendly. Your choice of dining table can do a lot to create atmosphere in the room, so be sure to select a style that works with both your chosen chairs and your existing décor. Target has a wide range of dining table for any type of home and they can be found here.
View Target's full Vintage Dining range here.
About Target Furniture
Target Furniture has been around since 1992 and as life in New Zealand has changed over the years, the company has been committed to changing with the times. With seven stores around New Zealand and delivery throughout New Zealand through their online store Target Furniture aims to lead the way for what a furniture shopping experience should feel like.
Target Furniture believe that the furniture is what memories are made around and want to help make those memories incredible! If you're downsizing, upsizing, moving into your first home, putting your spare room on Airbnb or transforming your home office; Target have the perfect look for you... and it won't cost the earth.
Visit Target Furniture's online store today
Published: 09 Sep 2021