►
◄
latest
habitat tv
blog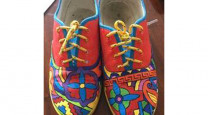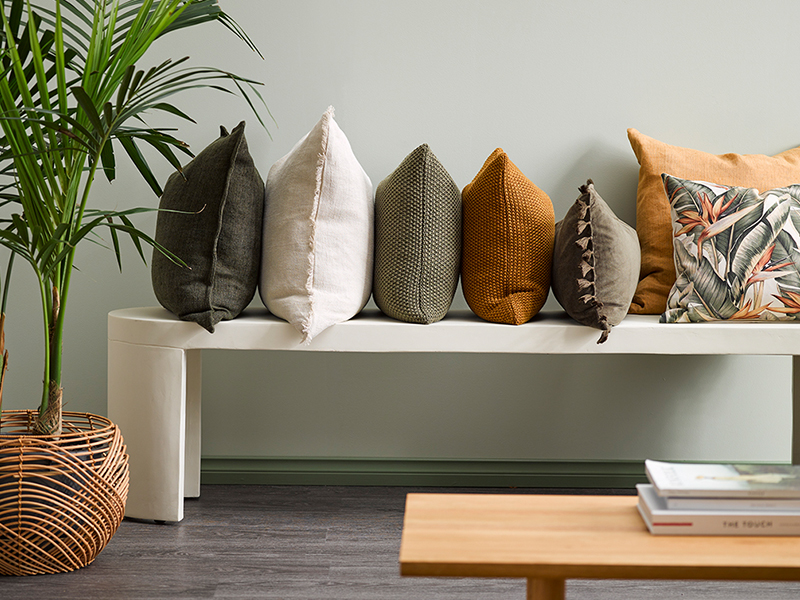 Mulberi's new summer collection is chock full of fresh textile and colour inspiration
02 Sep 2020
Mulberi has just released their Summer 2020/21 lookbook, a beautiful collection of soft furnishings, selected and styled to help you create inspiring, restful and on trend interiors. We chat with the Mulberi team about the collection and the colour inspiration behind it.
Can you tell us a little about the new collection?
"With the launch of our new Summer 2020/21 collection, we're focusing on five key trends for the upcoming season along with a new range of outdoor products and some updates to our core colours. Our new releases are almost exclusively in linen – a key feature of this year's collection. Handwoven with beautiful details, we love that these pieces are perfect for summer and relaxed, casual style they create."
What inspired the look and concept of the collection?
"We've based our lookbook around five key themes: Purposeful Minimalism celebrates simplicity in a pared back, considered collection of linen pieces inspired by the simple beauty in nature. With Coastal Retreat, we refocus on the precious natural resources in the world around us, inspired by the movement, energy and colourscapes of our oceans.Modern Nostalgia was inspired by memories of sun-drenched summer picnics and traditional patterns that have been given a modern twist, we wanted to create something comforting and reassuring for the current climate of the unknown. Lush Oasis is inspired by lush greenery and abstract artworks by Matisse. This trend invites us to create calm spaces which invigorate and promote wellbeing. Global Craft hand worked details in playful designs draw our focus to the craftmanship of artisan makers. Wherever possible, we showcase the exceptional skills of our artisan craftspeople and the beauty of natural fibres."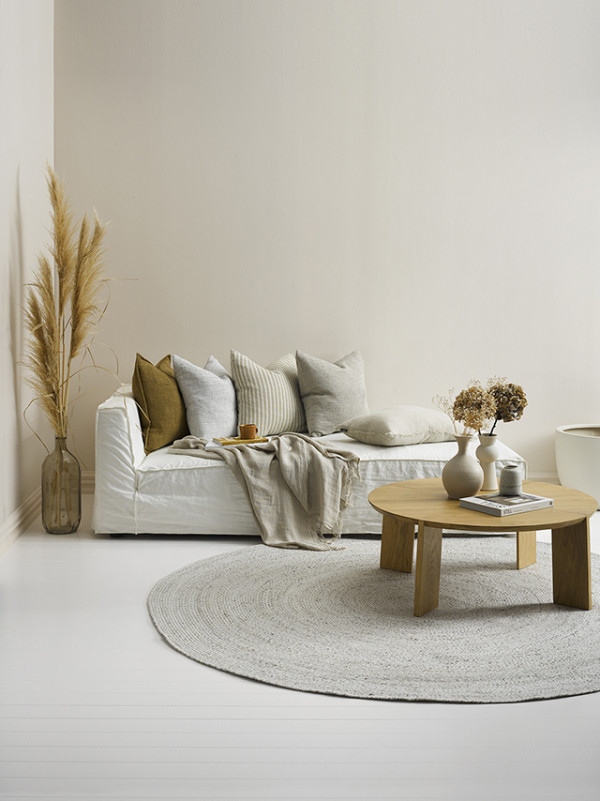 Mulberi are known for their beautiful simple linen styles that are naturally strong, durable and biodegradable. Each season they create new colourways of their popular handwoven linens in line with seasonal trends. Their new collection celebrates simplicity, with raw linens in earthen tones inspired by dry summer landscapes. For a relaxed and minimal feel pair them with a monochromatic palette of walls in Resene Blanc, floors in Resene Eighth Blanc and accessories in hues like Resene Horses Neck, Resene Half Nomad, Resene Quarter Colins Wicket, Resene Quill Grey and Resene Biscotti.

What do you love about the colour palette and material choices of these collections?
"Our five collections all vary in mood and colour:
Purposeful Minimalism is a calming, simple palette. A considered collection highlighting the simplicity of natural fibres. The collection pairs beautifully with earthen tones inspired by dry summer landscapes. A darker aesthetic is explored in artisanal woven designs in a cool monochromatic palette.
In Lush Oasis, green is a continuing trend for us, holds an innate connection to life, growth and creativity – we recommend bringing green into your home for a refreshed and invigorated feel. Simplified leaf motifs form the basis of our in-house cushion prints, with texture added through matte embroidery.
Coastal Retreat celebrates the deep blue and vibrant teal tones of the sea. This brings a fresh energy and anticipates a trend towards blues resurgence in interior styling. Semi-abstracted designs pay homage to the power of the sea and its ability to calm, restore and re-energise.
Golden hues are prevalent throughout Global Craft, from cushions through to handwoven floor rugs. This consistent colour-mood allows you to create a relaxed sanctuary with a well-travelled feel; a space which encourages respite and restores wellbeing.
Modern Nostalgia is all about rich Tobacco tones that create a welcoming sense of time-worn warmth, these pair effortlessly with neutral linen and cotton knit accents."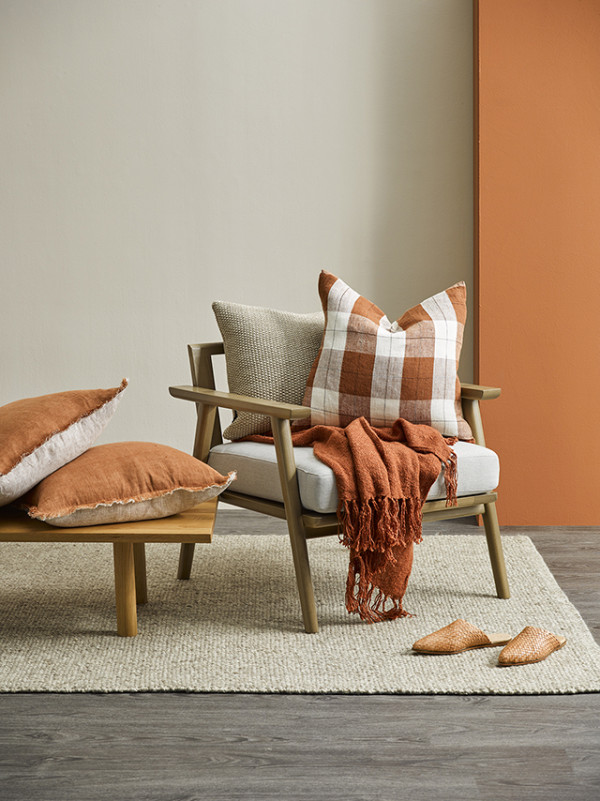 In this nostalgic nod to traditional textiles, a classic plaid theme references summer memories of sun drenched picnics. A 21st century reimagining sees fabrics in raw linens with two toned weaves in rich tobacco tones in hues similar to Resene Vesuvius or Resene Rose Of Sharon. Continue the welcoming feeling with warm walls in Resene Twizel balanced by timeless neutrals such as a background in Resene Drought. The back wall is in Resene Blanc.

Any tips on how people can style these pieces in their own homes?
"Most of our Summer 2020/21 collection will work well paired with fresh neutrals to lift, and create a summery mood. Keep fibres natural, use cotton and linen, we have a fantastic range of core linens that look great styled as pairing cushions. Use rugs with tones and textures seen in nature. Keep patterns minimal so that your feature cushions pop and tell the story. We love natural, eco-friendly nature of fibres such ad hemp, jute and sisal. Simple textural designs means they pair well in most interiors."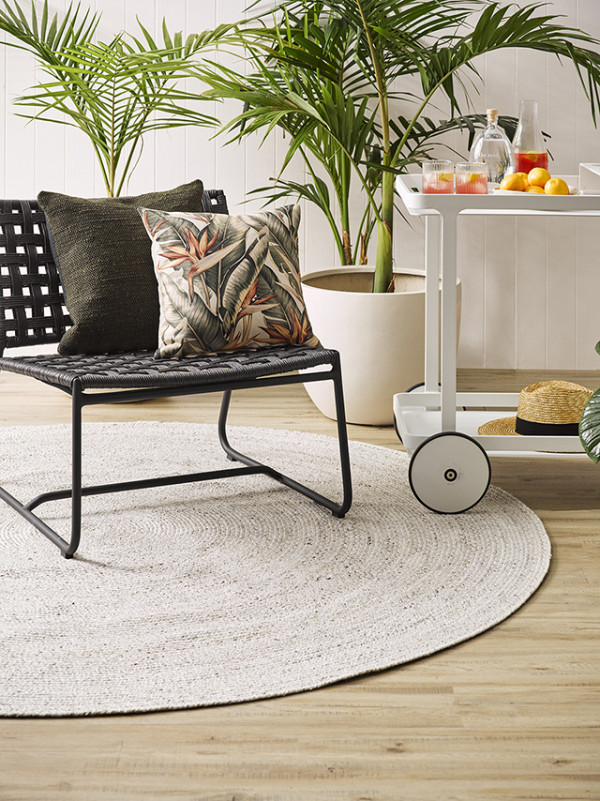 As antipodeans, the team at Mulberi are naturally drawn to living spaces that flow between the indoors and out. In line with this laid back way of living they've created a collection of multipurpose cushions and rugs that can be styled inside or outside the house. Follow their care-free lead and think ahead to summer with a tropical vibe in your home by incorporating invigorating ferns against an outdoor backdrop wall in Resene Eighth Blanc, Decking in Resene Woodsman Uluru, planters in a hue similar to Resene Swirl, woven chairs in a colour like Resene Space Shuttle and textiles in tones reminiscent of Resene Siam and Resene Settlement.

How should people care for their soft furnishings to look after them long term?
As part of a family owned New Zealand business, Mulberi is proud to have been designing, manufacturing, sourcing and innovating textile products for over 75 years. We recommend always carefully looking at and following a products individual care and cleaning instructions. Our New Zealand sunshine can be incredibly harsh, so to ensure product longevity we recommend avoiding placing items in direct sunlight. This can fade colour and cause fibres to become brittle.
When it comes to rugs there is a range of things you can do to keep your rug looking its best. Avoid using a turbo or brush head when vacuuming as this will create matting, fluffing or other damage. Gentle vacuuming or shaking is recommended. A rug underlay supports the structure of the rug and can prevent rugs becoming misshapen. It also adds another layering of cushioning if you have furniture positioned on your rug. Regular foot traffic or sunlight may fade or wear certain rug areas. We advise rotating rugs every half a year to ensure even wear.
images Mulberi
styling Amber Armitage