►
◄
latest
habitat tv
blog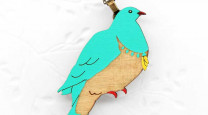 Paint doors, furniture and walls for Resene Paint It Orange and raise money for Arthritis New Zealand
04 Nov 2021
A splash of orange can give your home an optimistic feeling and in the same way the Resene Paint it Orange campaign aims to brighten up the day of those suffering from arthritis. For every orange-coloured Resene 60 mL testpot sold in November, Resene will donate $1 to Arthritis New Zealand. Arthritis New Zealand provides support to New Zealand children and adults suffering from a range of types of arthritis and also funds research aiming to improve the lives of those suffering from the condition.
The vibrancy of orange makes it a good choice to give your home energy and it's especially ideal for front doors as a modern alternative to traditional red front doors. Try bright oranges such as Resene Hyperactive and Resene Adrenalin or volcanic earthy oranges like Resene Vesuvius.

The upper wall is painted in Resene Rice Cake and the lower wall is painted in Resene Smoke Tree. The plant line painting on the top half of the wall is in Resene Midnight Express. The side table, wall shelf and coaster are in Resene Bunting. Sofa from Nood, rug from Freedom Furniture, cushion covers, throw, candleholders, keepsake dish and bookend from H&M Home
While it might be too bold for an entire room, try orange as a feature wall – or half a feature wall. Use a dark orange such as Resene Smoke Tree below the dado line to anchor a room. It will give your room depth and will make dark furniture pop. Because it's on the lower half of the wall, the furniture will diffuse the effect of the solid block of colour.

This deck chair painted in Resene Flashback is the perfect contrast colour for the Resene Afficionado weatherboards and green foliage. Keep your deck finish subtle with Resene Woodsman Natural.
Orange is a great colour for outdoor furniture as it adds a tropical feeling to outdoor spaces, inspired by bright hibiscus and bird of paradise plants. It is also ideal as a contrast colour in garden spaces as orange is not only a bold contrast to green but also stands out against dark brown or black weatherboards or fences.
Arthritis New Zealand aims to improve the life of every person affected by arthritis. We are a national charity that provides information, advice and support to people diagnosed with any of the more than 140 forms of arthritis. Arthritis affects more than 700,000 New Zealanders and is a leading cause of disability. There is no cure, but the condition can usually be managed effectively. Most people with arthritis continue to lead productive and fulfilling lives.

Like the impact of a red door, but keen to try something different? How about using a bright orange such as Resene Hyperactive? Weatherboards in Resene Merino, deck in Resene Woodsman Natural, plant pot in Resene Kaitoke Green, bench in Resene All Black, stripes of zebra doormat painted in Resene Hyperactive and Resene All Black. Plant and doormat from Mitre 10, light from Lighting Plus.
Arthritis New Zealand also advocate for people with arthritis by funding research, contributing to health policy, and collaborating with healthcare professionals.
Their support services include:
National Toll-Free Number to get Information and Advice (0800 663 463)
In-person and Contactless Support Groups
Peer Support for Newly Diagnosed Information about Common Forms of Arthritis, Treatments, Pain Management, Employment Issues and Access to Other Support Services
Videos and Webinars
Online Courses for clinical and non-clinical health professionals
Keep up with the latest news and handy advice from Arthritis NZ
Find out more on the Arthritis New Zealand website or donate now
Published: 04 Nov 2021