►
◄
latest
habitat tv
blog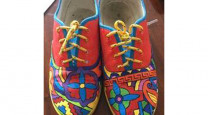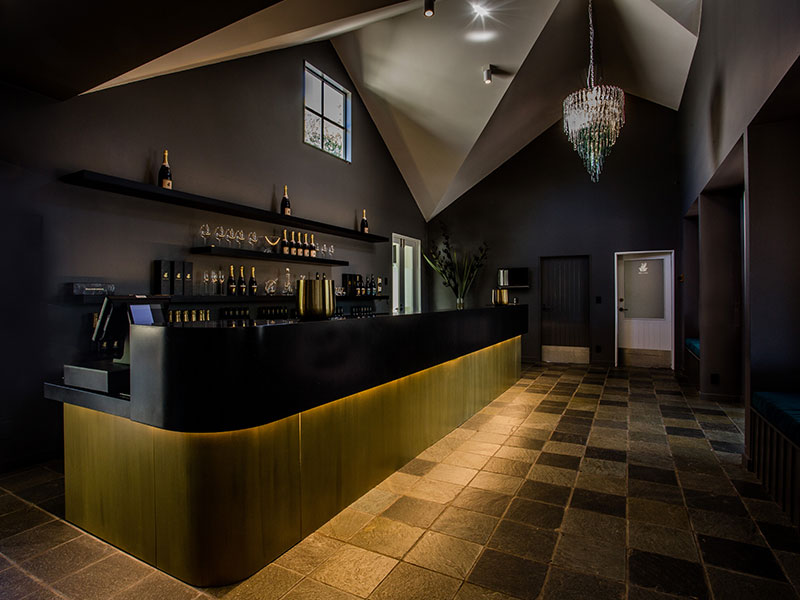 Resene award winners show courageous uses of colour
29 Aug 2019
Resene has a long history of colour and today's colour range of thousands of hues is a far cry from the handful that was available when Resene started 73 years ago. The Resene Total Colour Awards were launched to encourage and celebrate excellent and creative use of colour; to showcase striking colour palettes and combinations and provide fresh inspiration.
Last night's ceremony marked the 10 year anniversary since the Resene Total Colour Awards begun and saw a new crop of beautiful projects rewarded for their creative colour. Among the multitude of amazing projects submitted, it was those with plenty of pops of bold brights and saturated shades that really turned the judges' heads.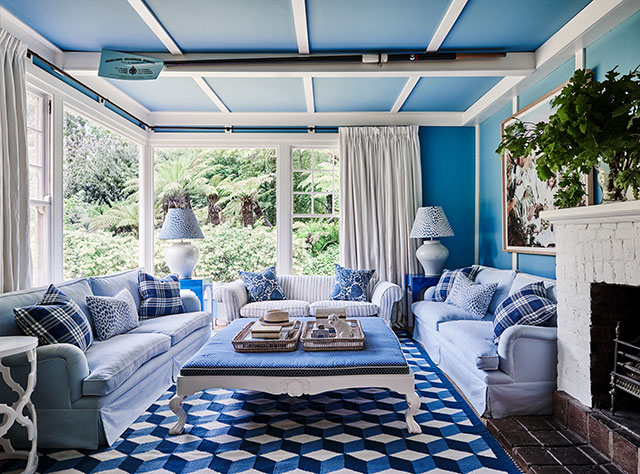 Mt Macedon Residence by Coote&Co. This project uses Resene Double Parchment, Resene Bianca, Resene Nauti, Resene Malibu, Resene Half Bianca, Resene Cosmos and Resene Cooled Green.
Charlotte Coote of Coote&Co. was the winner of the Resene Total Colour Residential Interior Award for her Mt Macedon Residence project.
The judges said they could feel relaxation wash over them as they viewed the living areas. "Tastefully decorated in soothing colours, the home is a welcome respite from busy life. A changing symphony of colour against a very richly decorated and accessorised house, bolder choices add personality to key spaces. Colour flows seamlessly from wall to floor, ceiling to accessories, a match made in colour heaven."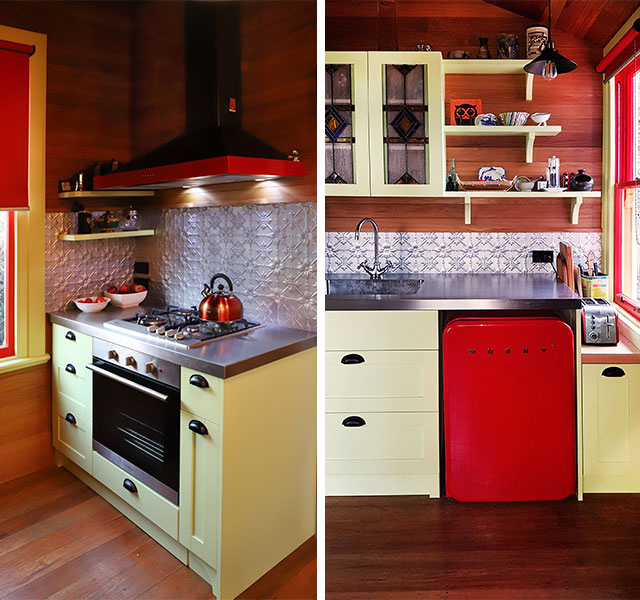 Te Iti Kahurangi project by Lizzie Cook. This project uses Resene Pizza, Resene Rob Roy, Resene Vault, Resene Shiraz, Resene Blue Chalk, Resene Perfume, Resene Eskimo, Resene Obelisk, Resene Gravity, Resene Billy T, Resene Astra, Resene Shiraz, Resene Corn Field,Resene First Light,Resene Stun, Resene Norway, Resene Zodiac, Resene Red Red Red, Resene Coral Tree, Resene Ship Cove, Resene Hypnotic, Resene Havoc, Resene Scotty Silver, Resene Delta Blue, Resene Ipanema and Resene Gold Dust.
Lizzie Cook was selected as runner up, bringing home the Resene Total Colour Residential Interior Colour Maestro Award thanks to her Te Iti Kahurangi project.
The judges said, "this interior lives up to the colourful and quirky promise of the exterior. A confident and passionate application of colour, even the smallest details in this cottage are touched with colour. The extensive retro colour palette brings warmth and imbues each space with a colour personality of its own. A true labour of colour love, this project gleams with colour inside and out."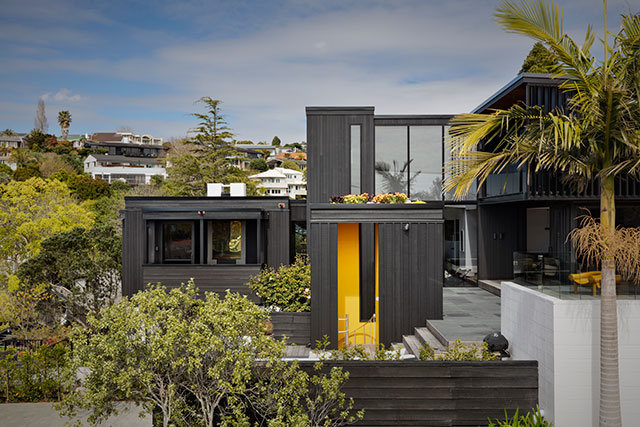 Railley House by Daniel Marshall Architects.This project uses Resene Pitch Black wood stain, Resene Happy and Resene Half Whiteout.
The Railley House by Daniel Marshall of Daniel Marshall Architects was awarded the Resene Total Colour Residential Exterior Award for its breathtaking black design accented by beautiful bursts of yellow.
The judges brought attention to the sunshiny yellow stairwell, inviting visitors to enter. "This clever punch of colour within a black exterior knits together old and new seamlessly. As a studied accent to powerful black robust architecture, the Resene Happy yellow lights up this project with its exuberant personality. It's a reminder to all of us how the right colour in the right place makes a project memorable."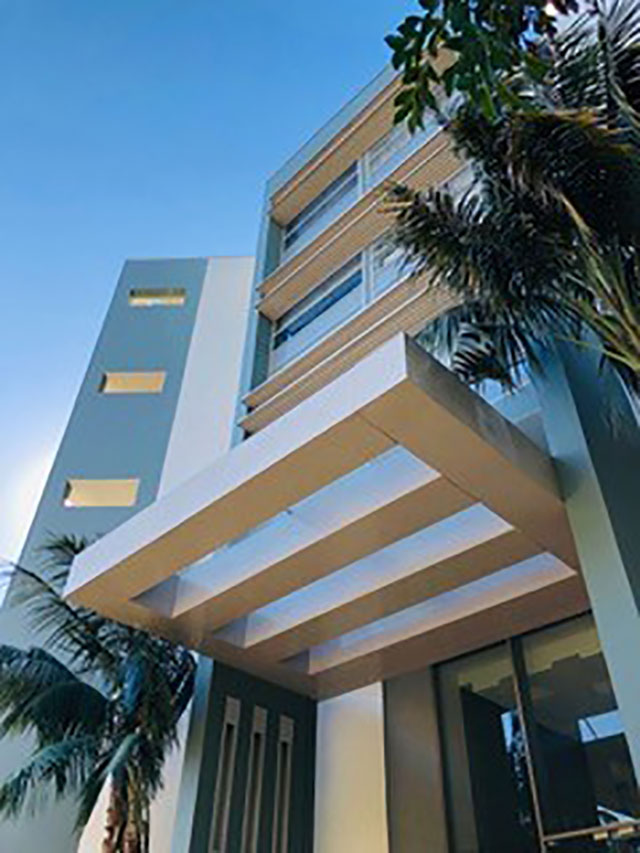 Glo Apartments by DNADesign. This project uses Resene Fuscous Grey, Resene Viktor, Resene Half Sandstone and Resene White Pointer.
The runner up and recipient of the Resene Total Colour Residential Exterior Colour Maestro Award was Nadine Donazzan of DNADesign for Glo Apartments.
"From bland to beautiful, a palette of neutrals and softened hues has brought a sense of home to this project," said the judges. "The new palette adds personality and freshness with colours carefully juxtaposed to bring out the best in each and add interest to the design. With lush establishing planting, this palette works with the landscape, not competes with it. Colour makes this home complete."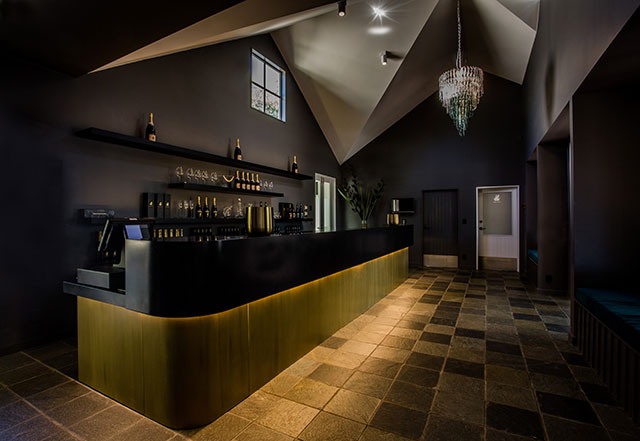 Palliser Estate Winery Tasting Room by Aspect Architecture. This project uses Resene Half Baltic Sea and Resene Half Wan White.
The Resene Total Colour Neutrals Award went to Palliser Estate Winery Tasting Room by Victoria Read of Aspect Architecture.
"Who wouldn't want to while away time tasting wines in a space like this?" asked the judges. "A contemporary take on a tasting room, it's wrapped head to toe in dark welcoming and cocooning colour. The shape of the ceiling cleverly catches the light and shows the dark colour in so many different ways. Once you come in you'll never want to leave."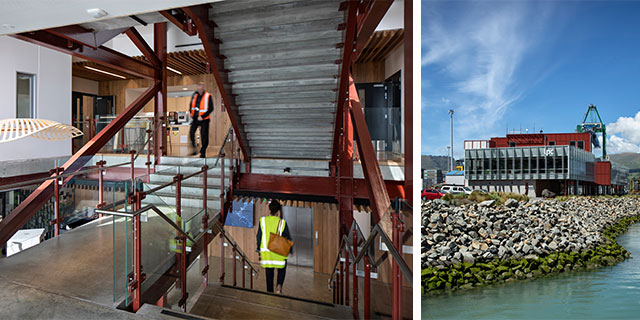 Waterfront House by Athfield Architects Limited. This project uses Resene Wan White, Resene Double Foundry, Resene Fahrenheit, Resene Colorwood Totem Pole wood stain, Resene Colorwood Pickled Bluewood wood stain, Resene Colorwood Kumera wood stain and Resene Aquaclear clear urethane.
The top award of the night went to Athfield Architects for their Waterfront House project, which also won the Resene Total Colour Office Interior Award.
Pippa Ensor, Kim Salt and Trevor Watt of Athfield Architects Limited were recognised as the overall winners and were presented with the Resene Total Colour Master Nightingale Award for their use of clever use of colour to complement the architecture of the Waterfront House project (which also brought home the Resene Total Colour Office Interior Award).
The judges commented, "with a mixed audience to appeal to, this project cleverly morphs an industrial building with office space. The colours of containers are woven through the project. Deep earthy red knits the building together combined with a palette that is grunty yet reassuring. With an abundance of high vis attire, the space complements the fluoro, creating a space that is a comfortable collaborative area for all workers."
For the full list of recipients, including commercial and education, click here.