►
◄
latest
habitat tv
blog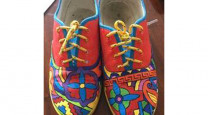 See all the colourful winners of the Resene Nature Murals 2020
08 Jul 2020
From April to June this year, artists around the country submitted their designs to the Keep New Zealand Beautiful Resene Nature Mural competition for 2020. Ten lucky artists have been chosen as the winners and will be given a $750 Resene paint voucher, drop cloth and high-vis vest to help them bring their mural to life. Once completed, these artists will each receive a $1000 grant.
This year, Keep New Zealand Beautiful received a record number of entries, all of which carried an environmental message ready for painting into their local community. The top ten murals were selected based on this environmental message, as well as their enhancement on the community, originality and creativity.
Keep New Zealand Beautiful CEO Heather Saunderson says, "numerous studies have shown the great impact mural art has on their surrounding communities – from increasing civic pride, to a reduction in anti-social behaviour such as littering and graffiti. Together with Resene, we're excited to see these murals come to life".
See the winners' proposed designs below: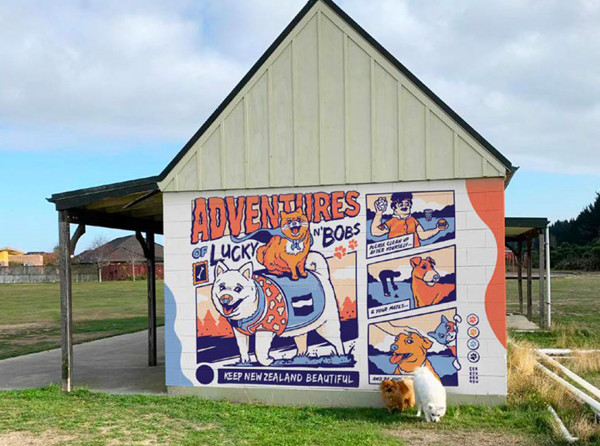 Corey Hartbrow has designed a mural for a popular dog-walking site in Christchurch. "I feel a light-hearted reminder to look after the area and clean up after yourself and your dog provides a playful, positive environmental message, as well as a pleasing piece of art to help brighten the reserve," he says.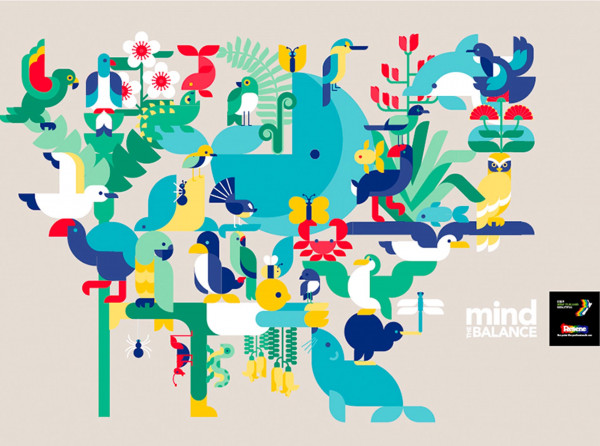 Elise Grangier and James Mitchell have proposed a clever pyramid design made up by plants and animals of New Zealand, all linked to each other in an improbable manner. "It symbolises the complex balance of nature," they say.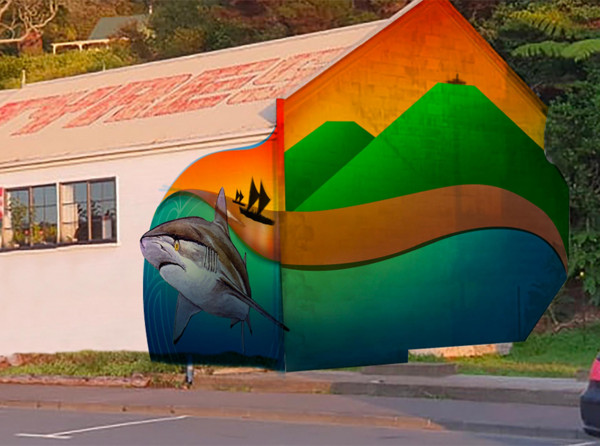 Ngā Atua Hou submitted a design inspired by the waterways on Mangonui. "When you honour histories of the area you live in, you honour your taiao (environment) by ensuring they learn the stories to appreciate and care for them in the future," says Bobby MacDonald.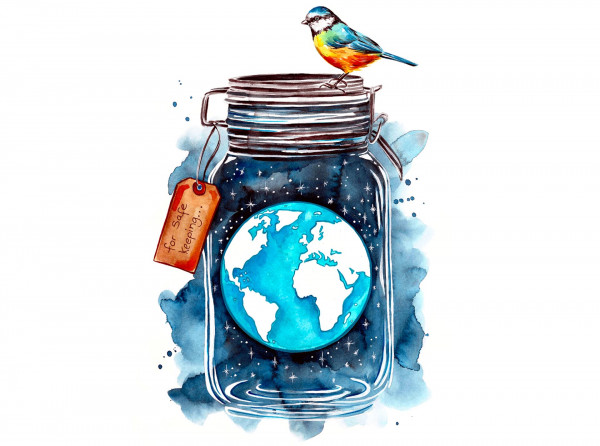 Fiona Clarke's design came about after a conversation with her kids where they spoke about how the planet needs to be looked after and treasured. "Each of us have a responsibility to make small changes to protect the earth so that generations to come can still enjoy it," she says.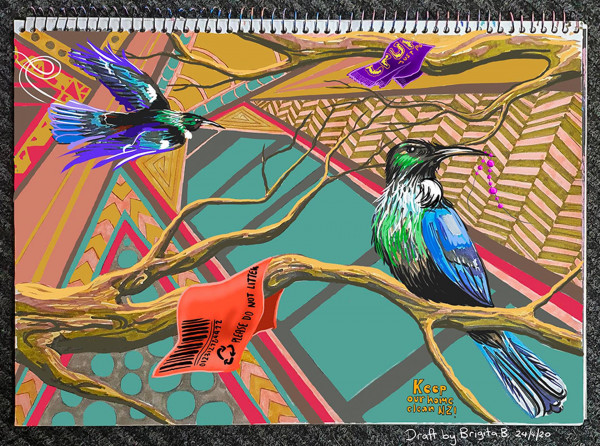 Bridget Botma's design features two large tuis and branches. Candy wrappers are stuck to the branches and a bead necklace is in one of the tui's mouth – as if it has mistaken it for berries.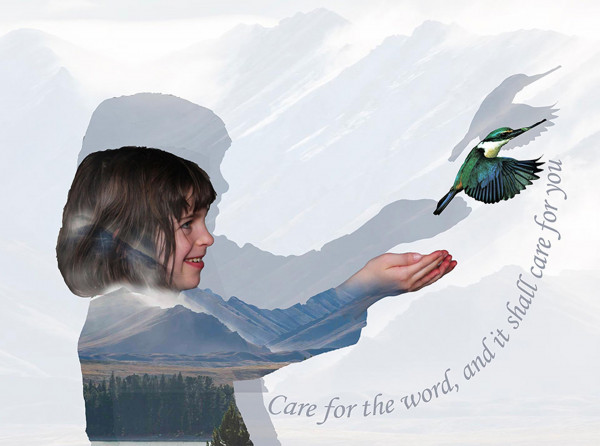 This design by Mark Noble has a simple, clear message; 'care for the world and it shall care for you.'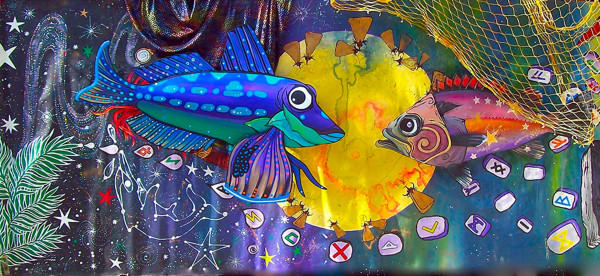 Jill Sergent's mural design conveys a message of protecting our oceans. She looks specifically at the Pegasus Basin, "it has been fished beyond sustainability by local and foreign commercial fishing companies and polluted by local industry and the raw sewage of my people."


Kelly McGinley's design is titled Kaitiakitanga o te Moana (guardianship of the ocean).


Kiran Parbhu says of his design, "the message in the mural is about our ability to make choices and that these choices, however small, can have positive impacts."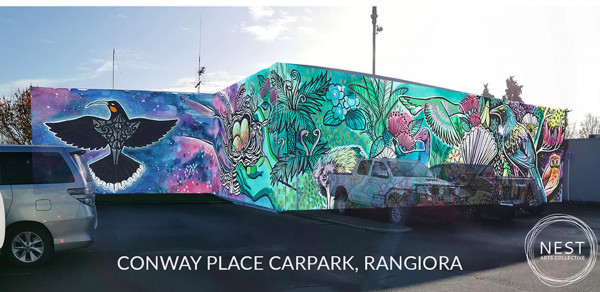 NEST Arts Collective uses three main motifs in their design to convey their message of our responsibility for the wellbeing of native species. The huia is a reminder of potential loss, the hands of Ranginui and Papatūānuku holding a nest of eggs reference the creation story and the colourful collection of native flora and fauna are a celebration of the diversity of our bird and plant life.