►
◄
latest
habitat tv
blog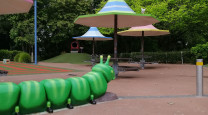 Swap cans of food for Resene testpots to help a good cause
04 Feb 2021
Swap a can of baked beans for a Resene Tango testpot, a can of tomatoes for a Resene Mexican Red testpot or a can of tuna for a Resene Sea Green testpot – Resene Hunger for Colour is back! The popular charity drive for the Salvation Army, which runs until February 28, allows New Zealanders to swap a can of food for a free Resene testpot 60-80ml (worth up to $5.80). Simply drop in the cans to your local Resene owned ColorShop and it will be donated to the Salvation Army group to make food parcels for those in need.
Some ideas of cans you could donate include: Tinned corn, baked beans/spaghetti, tinned tomatoes, canned tuna or salmon, pasta sauce, stews and soups, fruit, beetroot, coconut milk or baby food. There is a limit of seven testpots per household and a maximum of one testpot per Resene colour. The food cans must be at least 200ml/gm of food or more. If you have extra unwanted canned food you'd like to donate, Resene will be delighted to accept it and will pass it onto The Salvation Army foodbanks and other community foodbanks on your behalf.
If you prefer to bring in canned pet food Resene ColorShops will accept that also and will donate it to the SPCA and local community animal shelters.
Hunger for Colour, now in its seventh year, is popular with keen DIYers, art and craft-lovers, play groups, rock painters and upcyclers who use the opportunity to try some new Resene colours while also helping those in need.
In the past six years Hunger for Colour has collected more than 230,000 cans of food to support struggling New Zealanders. Salvation Army social services National Manager Major Pam Waugh is glad to see the campaign back again in 2021.
"Once again Resene and their customers have got behind us with a fantastic effort. We're really grateful to community-minded companies like Resene and people around New Zealand who show such care for people facing a tough time in their community. It takes the pressure off our centres when so many people support them to help those in need," says Pam.
For more info visit: www.resene.co.nz/hunger-for-colour
Published: 04 Feb 2021