►
◄
latest
habitat tv
blog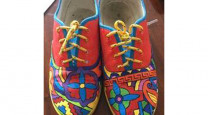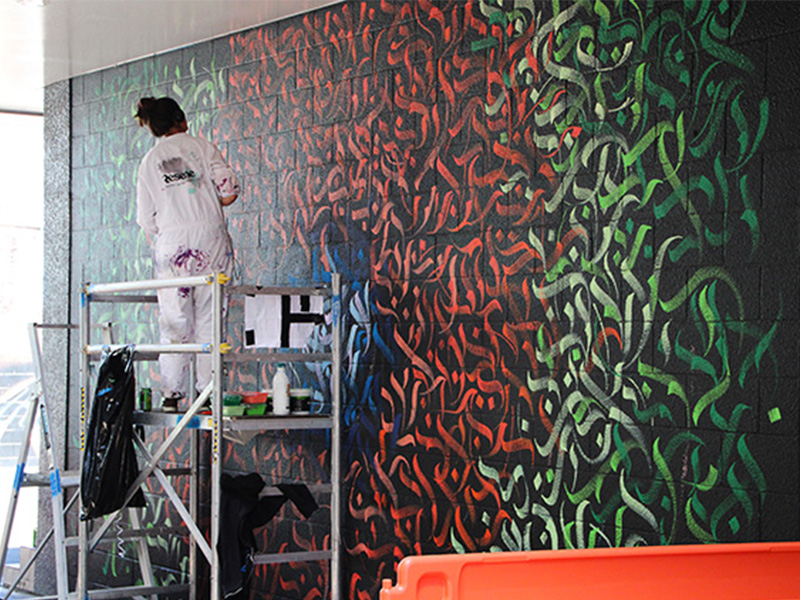 Taupo expands its impressive collection of street art
20 Nov 2019
The first street art festival of its kind in New Zealand, Graffiato: Taupo Street Art Festival, captures the diversity of mural painting practice, and what's new and relevant in global urban culture. Graffiato's ever-expanding portfolio of over 85 murals brings transformation, wonder and vibrancy to the urban lane ways and streets they inhabit. Even locals continue to find surprises hidden away down these charming back alleys.
An exciting collection of local Taupo artists and prominent New Zealand artists, armed with Resene paints, brushes and rollers, took part over Labour Day weekend in what was the ninth annual festival, including Larissa McMillan, Xoë Hall, Gina Kiel and Gwilym Devey (aka Gwil).
Larissa McMillan (@larissamcm) was a new face to Graffiato this year, though she is no stranger to mural art with her unique calligraphy skills, and a desire to combine her passions of visual art and communications taking her from city streets to gallery walls, and everything in between.
Xoë Hall and Gina Kiel had both been to Graffiato before, though this year they collaborated on a wall together. They have two very distinct styles, which combined to deliver a fun and creative mural.
Gina Kiel (@ginakielillustration) is an award-winning illustrator who can be found exhibiting at group shows around the world, creating at her home studio for clients locally and internationally, tattooing and painting impressive psychedelic murals that explore ideas of life, death, spirituality and pop culture.
Xoë Hall (@hallofxoe) is a multimedia painter and illustrator who exhibits her creations regularly in New Zealand and overseas. Xoë has a passion for large scale painting, intricate details, experimenting with new materials and collaborating with other artists. As part of the TeacherTalk team, she creates learning resources for Early Childhood Education teachers.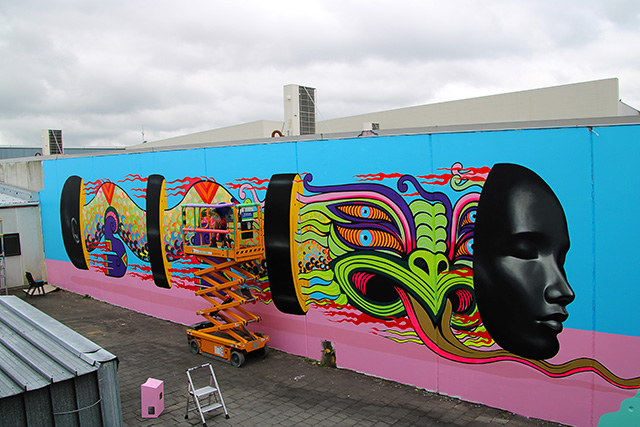 Xoë Hall and Gina Kiel's collaborative mural, which they created for the 2019 Graffiato festival.
This was Gwilym Devey's (aka Gwil, @gwilart) second time at Graffiato. Working as a graphic designer by day, Gwil's murals are commonly recognised by hard edged lines and the whimsical nature of his illustration style. He enjoys painting animals and plant life.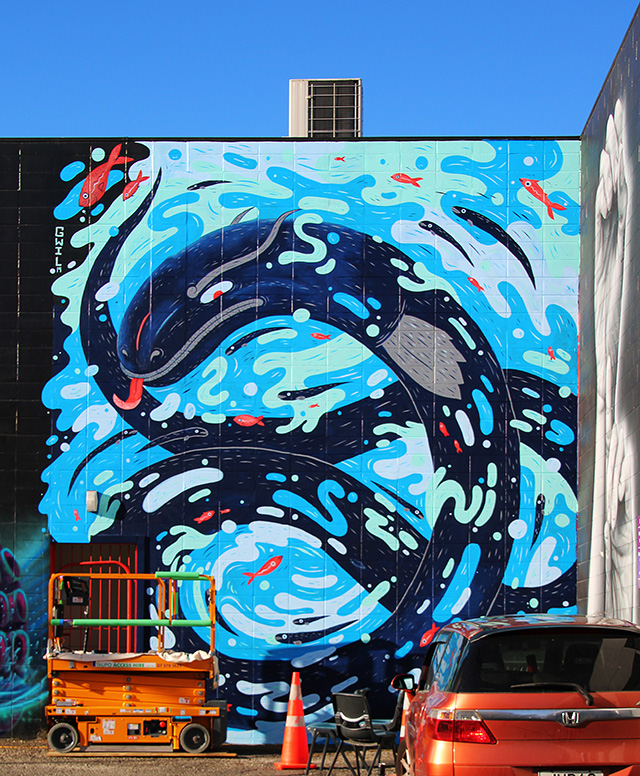 Gwil's brand new mural, painted as part of the 2019 Graffiato festival.
"Taupo is a small town, but we really punch above our weight with the level and number of artworks in our CBD," says Alice Thompson, Project Coordinator for Graffiato. "I love that there are still surprises around every corner, another burst of colour and beauty."
She said the muralists themselves were the major highlight of the festival for her. "The lovely artists were all so humble, grateful and amazing!"
"It's the longest running festival of its kind in NZ and we put this down to the fact that we have kept the same simple format – we stick to 10 artists and 10 walls painted over a 3-day period. We're a small team of just three organisers, but we deliver a huge, successful and community-boosting event. We find and prepare great walls, gain permission and we really work hard to accommodate the artists as well as we can while they're with us over the Labour weekend, and all of the artists this year were really grateful for everything we provided."
Alice says artists who participate are welcome to paint what they like, save for a couple minor conditions – nothing inappropriate or dark – which she feels is another key part of the festival's success.
"Plus, they get to hang out with other artists from their field, learn and share techniques and hopefully have a great time while they're here. We always manage to get returning artists, so we must be doing something right!"
She was also particularly happy with the great progress Graffiato has made environmentally. "We created just four bags of rubbish between 10 artists, 15 volunteers and two houses over the course of the four-day festival, which felt great.
"The Resene recycled paints made a huge difference and the ease of recycling pots and paints with our local Resene ColorShop.
"DriveEV also sponsored us and supplied an electric vehicle. Every artists and volunteer was given a reusable metal drink bottle and reusable coffee cups were lent to us from Wairakei resort. As a result of this we estimate that we avoided approximately 150 plastic water bottles and 120 disposable coffee cups from landfill. An equipment washing station was set up in the garage, so all the roller sleeve and brushes were washed and then reused, making it easy for the artists to assist us in our mission to become 'Zero Waste' by next year."
For more information on the festival and the other 2019 participating artists, visit the Graffiato website.
Header image: Larissa McMillan's 2019 Graffiato mural
imagesTracie Angel (@nzangell)