►
◄
latest
habitat tv
blog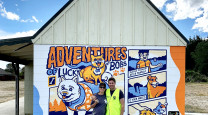 Three hot wallpaper trends in the new Pip Studio 5 collection
07 Oct 2021
If you're a floral fanatic, crazy about all things cottagecore, or just after some good old rustic vibes in your home, then the Resene Pip Studio 5 Wallpaper Collection is a must-see. Wallpaper is a great way to bring an empty space to life and add a touch of your own personality. The new collection brings sophistication to any room of your home, with an added touch of magic and wonder. Combining long-established prints and techniques, this collection gives traditional a contemporary twist with fresh new colour palettes and designs perfect for the modern home.
Pretty in paisley
Paisley and peacocks are a match made in heaven. Despite a sea of changing trends, constantly developing interior design ideas and elaborate décor revolutions, paisley has stood the test of time. Originating in Persia thousands of years ago, paisley had a resurgence in the 1970s with Boho influences transforming the pattern with earthy reds, oranges and browns. Fifty years later, paisley has returned once more to grace the walls of our homes with its intricate patterns. Resene Wallpaper Collection E300152 combines the traditional paisley pattern with inspiration from stylised peacock feathers. The deep emerald green hues provide the ultimate in sophistication and style. For an entirely luxe look, pair Resene Wallpaper Collection E300152 with gold or brass accents to bring out the warmer tones in the wallpaper and present a cohesive space.
Bedroom blues
Flower power is back and it's here to stay. Recent interior design trends have seen homeowners hold a mirror to the landscape, bringing natural elements into their home in an attempt to get back to nature. Go bold with florals and embrace the rich detail of Resene Wallpaper Collection E300116; a pattern that has it all with deep, moody hues and bright pops of colour pulled straight from the garden. If ever there was a wallpaper to prove flowers can be sophisticated, this is it. Pair Resene Wallpaper Collection E300116 with dark blue walls in Resene Blue Night to create an atmospheric bedroom or living area. Draw out the natural colours from the wallpaper with houseplants and richly textured materials in lighter shades of blue and green for a room that's sure to be a triumph.
Tropical escape
Escape to the tropics with Resene Wallpaper Collection E300142. Tropical wallpapers are normally characterised by heavy, bold colours and patterns that dominate a space. However, Resene Wallpaper Collection E300142 provides a lighter alternative that blends the whimsicality of the cottagecore colour palette with all the tropical elements you love. The pastel tones in the wallpaper mean it's suitable for anywhere in your home, including the dining room or kitchen. Create a cheerful space to dine by pairing a feature wall in Resene Wallpaper Collection E300142 with walls in subtle green Resene Haven and floor in warm Resene Half Merino.
To view the full Pip Studio 5 wallpaper collection, click here
Published: 07 Oct 2021