►
◄
latest
habitat tv
blog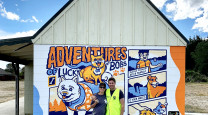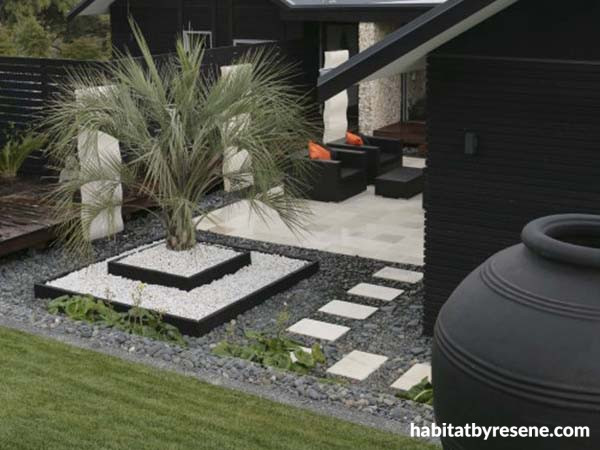 Turn to the dark side and paint it black for Black Friday
25 Nov 2021
Black Friday follows American Thanksgiving and it's now one of the busiest shopping days of the calendar - so with all that emphasis on black, now is a good time to think about how to use this statement shade in your home.
Black lends a crisp contemporary edge to architecture and can lift a neutral interior scheme out of the ordinary. Whether as an accent or as the hero of the scene, it adds drama and definition. It's versatile, dramatic, stylish and gives a grounding effect. Black enhances the colours and shapes around it, can be used in any room, and blends in with any décor style. It can be masculine, feminine, serious, fun, severe, or romantic. It all comes down to how you use it and Resene has many options.
Selecting your finish
Try using a mix of different gloss levels for added visual texture. Matte finishes will absorb light and make the colour look darker, whereas semi-gloss or gloss finishes reflect the light and make the colour appear brighter and lighter. Black looks great in a flat or matte finish on walls, which will give it a velvety texture – try Resene SpaceCote Flat to get the look. High gloss black can be layered in through accents for added visual interest. Look to Resene Enamacryl waterborne enamel to get a gloss finish on furniture, trims or your front door.
This children's room, styled by Gorgi steers clear of traditional kiddy colours by using walls in Resene Foundry and Resene Half Concrete. While rabbit decals add a nursery feel, the monochrome colour scheme creates an interior that will last for years and won't date. If you're looking for a paint you can write on like a blackboard, try Resene FX Blackboard and Resene FX Chalkboard Paint. The floor is in Resene Half Concrete.
Superior exteriors
One of the most enduring colour trends of the past decade has been dark exteriors. Darker paints or wood stains used on exteriors not only add to street appeal but they are recessive and can help your home blend into greenery and the natural environment. If you are using dark colours on the exterior of a house, ask for the Resene CoolColour version of your paint or wood stain. It uses technology that reflects more of the sun's heat so that helps reduce stress on the paint and surface helping them to last longer than the standard version of the same colour.
This garden designed by Sandra Batley of Flourish Gardens complements a house finished in Resene Waterborne Woodsman CoolColour tinted to Hackett Black. The landscaping of hard surfaces in cream and white is showcased by the depth of the dark walls, and nature's green softens the whole palette.
Dark depths
Black walls add sophistication to an interior. A common misconception is that black walls will make an interior seem smaller, but dark walls tend to recede and can make a wall or object seem further away. Some studies have shown that humans perceive bright objects as being closer than the same object in a darker colour.
Resene Nero is a stunning wall colour for this sophisticated living room, a deep black with inky blue undertones. It will work with almost any colour. This room is part of a Simonds showhome designed by Suzie Fraser in Australia. The creams of the soft furnishings really pop against the dramatic backdrop and the overall effect is rich and moody, perfect for a room used mostly in the evenings.
Black magic in the kitchen.
Black kitchens are an elegant and timeless choice for one of the most-used areas of the house. High gloss black cabinetry will tie in well with stainless steel appliances and other highly reflective surfaces, which give an interior space a feeling of depth. Make sure your kitchen designer specifies Environmental Choice approved Resene AquaLAQ so that you get the authentic Resene colour you have chosen.
A striking contrasting scheme uses Resene Nero and Resene Sea Fog in this kitchen by Rochelle Jackson of Kitchen ElementsResene Sea Fog is a versatile white with a hint of grey used to great effect here offset by the deep, rich blacks of Resene Nero, and the reflective surfaces of stainless steel.
Dark arts
Use black as a connecting colour in your home. While you might not want to paint all your walls in black, a little black used strategically on feature walls or cabinetry will give a sense of cohesion to your home.
Julie Atwell's favourite colour is black and she embraced it indoors and outdoors as the primary colour for her whole house. This statement wall in Resene Nero also showcases treasure objects. Where she partners with white in the house, she chooses Resene Alabaster for a strong contrast. See more of this house here.
Published: 25 Nov 2021