►
◄
latest
habitat tv
blog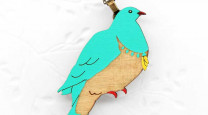 Up your online defences with Cyber Smart Week
21 Oct 2021
It's Cyber Smart Week this week so it's the perfect time to cyber up and strengthen your online defences. Created by Cert NZ, Cyber Smart Week runs from 18-24 October and the campaign's goal is to help us all up our online defences by providing easy learning resources.
With cyber security threats on the rise and an ever-increasing amount of people being affected at both work and home, Cert NZ has rallied together a band of helpful bots to share steps everyone can take to protect themselves from threats. From upsizing your passwords to upgrading to 2-factor authentication, these adjustments are simple and easy to make, with big benefits.
For more information about Cyber Smart Week and to learn more about how you can uphold your privacy, update your devices and report online, click here.
Published: 21 Oct 2021