►
◄
latest
habitat tv
blog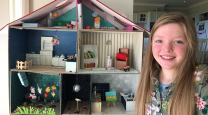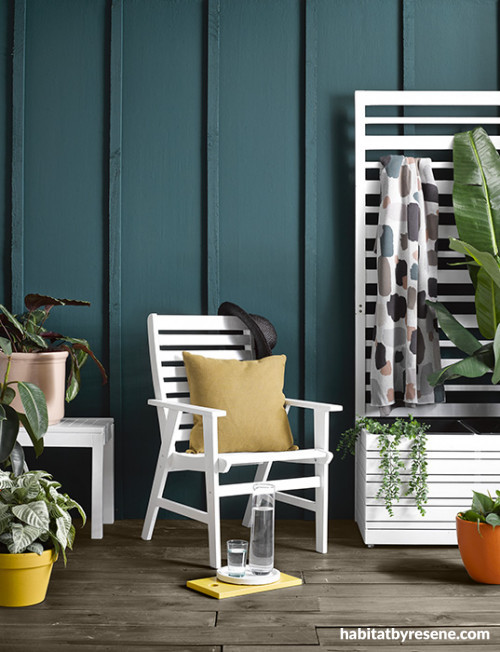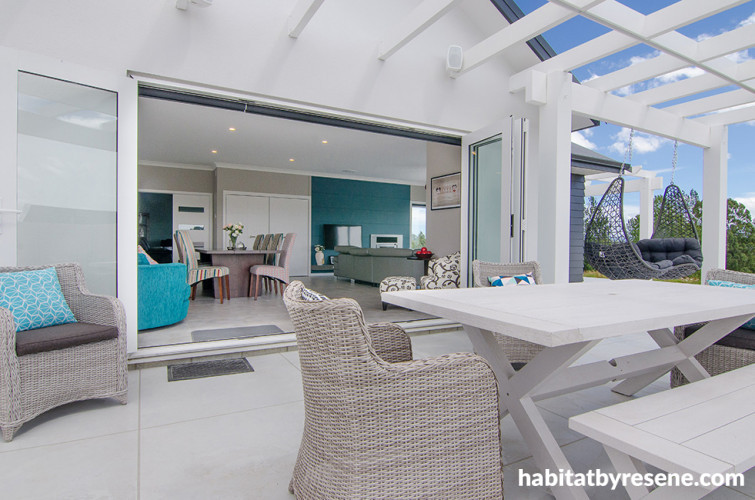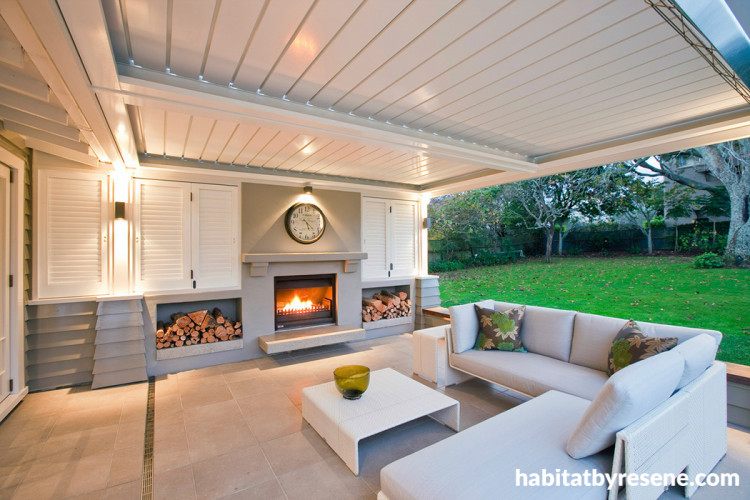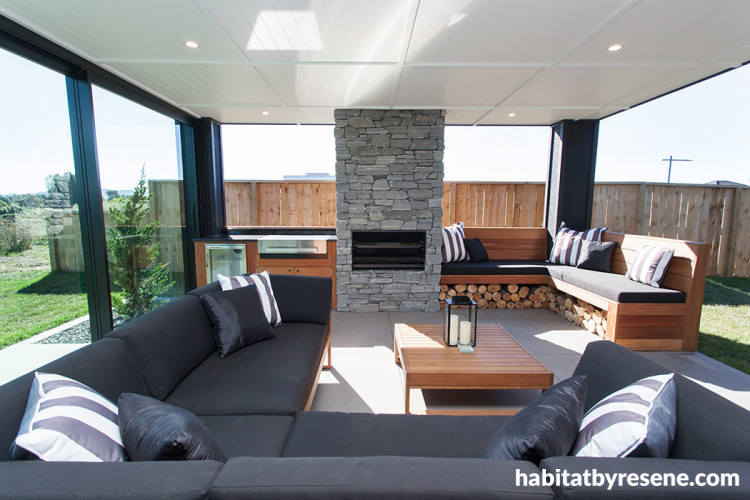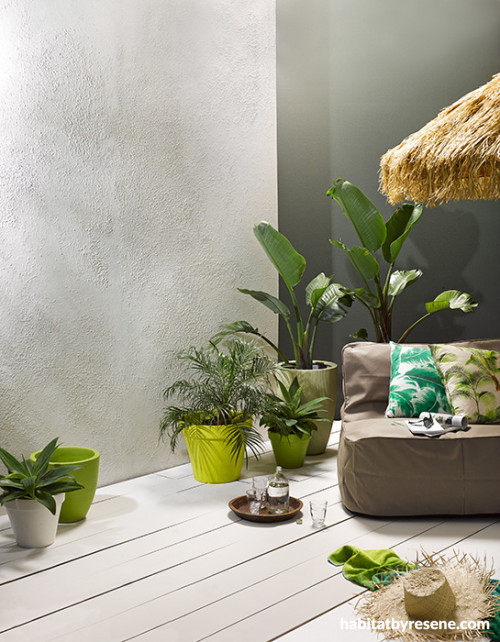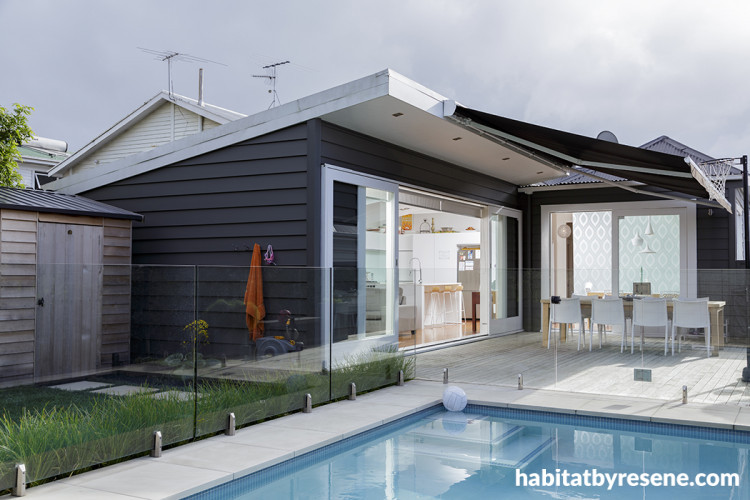 Enviable outdoor living
The summer months call for us to head outdoors and spruce up our exteriors. Whether it's a splash of colour or a bigger renovation, from Resene Atlas board and batten to a tropical getaway corner, these enviable outdoor living areas will leave you feeling inspired.
Did you know... you can minimise heat stress and potential damage of your paint and cladding by using Resene CoolColour paints and wood stains? A Resene CoolColour reflects more of the sun's UV than a standard version of the colour.
Published: 14 Dec 2017
Do you have a home full of wonderful Resene paint and colour? Send us some snaps by emailing [email protected].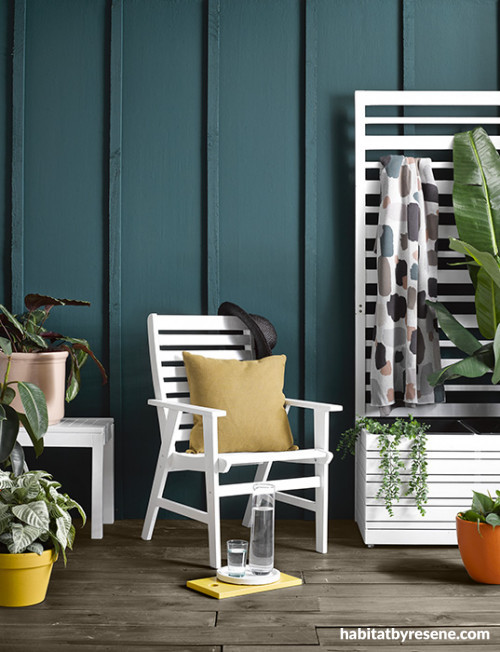 Create a striking corner of colour in your garden by painting a section of the exterior in a bold shade. Forest greens are making a comeback both inside and out – Resene Atlas has been painted on the board and batten of this home, with deck furniture painted in strong Resene Alabaster. The pots have been freshened up using testpots in Resene Rascal, Resene Celebrate and Resene Ayers Rock. The deck is Resene Woodsman Iroko.
pictures
Melanie Jenkins, styling by Amber Armitage.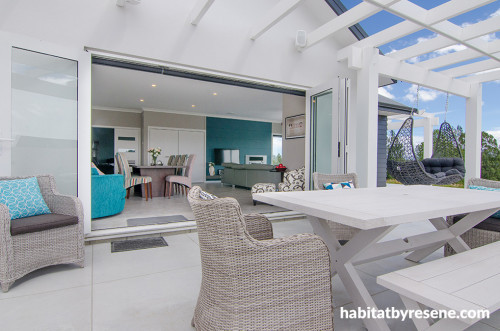 Go coastal like this exterior painted in Resene House White, with an open pergola and light wicker furniture. A feature wall in Resene Tax Break can be seen from the outside, in keeping with the beachy feel. The other walls are painted in Resene Quarter Pravda. The interiors were designed by Diana Norman with the help of Stella Lennox of Lennox Design.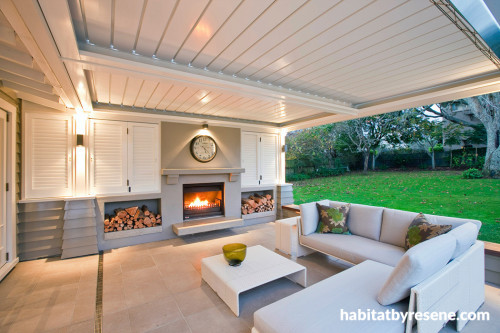 Here's an outdoor area that's built for all seasons, with a cosy fireplace area that flows into the back garden. The space was created by architect Marrion May, with an echo of subtle Cape Cod style – perfect for old villas and bungalows. The weatherboards are in Resene Double Friar Grey and the trims in Resene Alabaster to match the Lacorno louvred roof. The colour scheme was created by Tracy's Interior Design.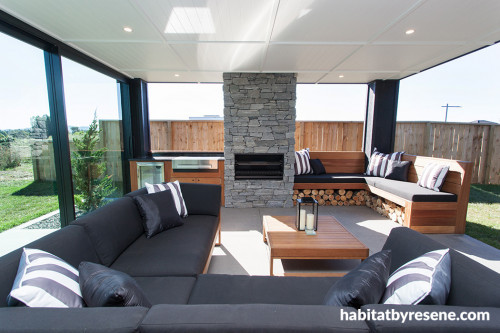 This welcoming spot mixes rustic with contemporary, with the timber all stained with Resene Woodsman Cedar sitting alongside the striking stone fireplace. The ceiling is Resene Half Merino, and Resene Black is used on the house exterior and the pillars supporting this roof structure. The house was built by Jeff Marra at Design Builders Waikato and was recognised in last year's Registered Master Builders awards.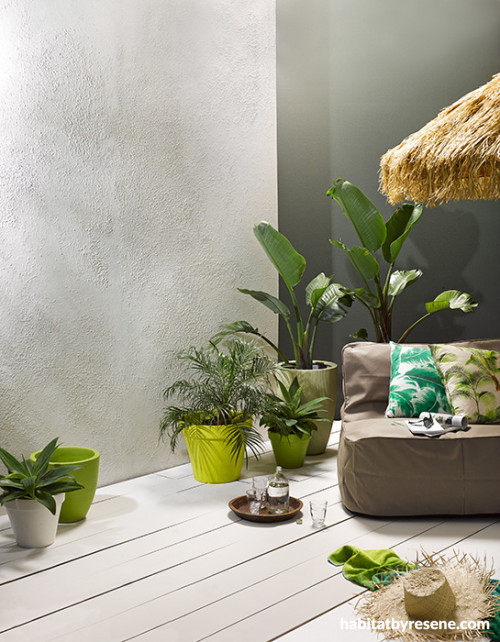 If your home doesn't have weatherboards or a board and batten exterior, there are other ways to create texture – such as Resene Resitex and Resene Sandtex. This sheltered deck area uses Resene Resitex tinted to Resene Tana, and Resene Sandtex tinted to Resene Merino. Both Resene Resitex and Resene Sandtex can also be tinted into many colours from the Resene collection of colours.
The garden wall in the background is painted in Resene Karaka and as an alternative to a stained finish, the deck has been painted in Resene Walk-on in Resene Double Sea Fog. The pots are painted in Resene Campground, Resene Quarter Titania, Resene ASAP, Resene Citron and Resene Hideaway.
pictures
Melanie Jenkins, styling by Claudia Kozub.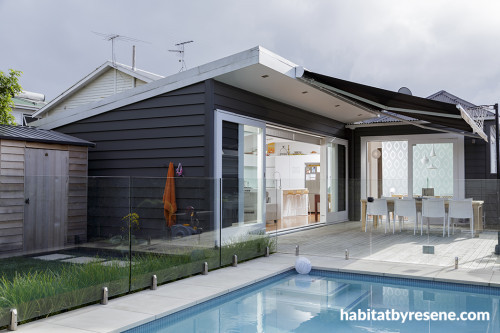 Landscape designer Margaret Chapman came to the rescue when the McAuley family needed to tidy up their back garden. The levels were evened out, a new pool was located so that it can be seen from the house, and a new awning installed to give shelter during the midday sun. The existing deck has been used rather than rebuilt, and the exterior has been painted in Resene Gravel.
The walls inside the house are painted in Resene Albescent White and the wallpaper in the dining room was from the Resene Wallpaper Collection. Try the Modern Artisan range, available from Resene ColorShops, for a similar look.
Resene Quarter Black White
the look
If you're stuck on what
colour to use or need colour
advice, try out the Resene
Ask a Colour Expert service.