►
◄
latest
habitat tv
blog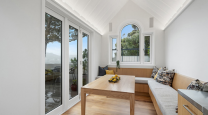 Master Builders' Chief Executive David Kelly shares his tips for building in the challenging climate.

Planning... more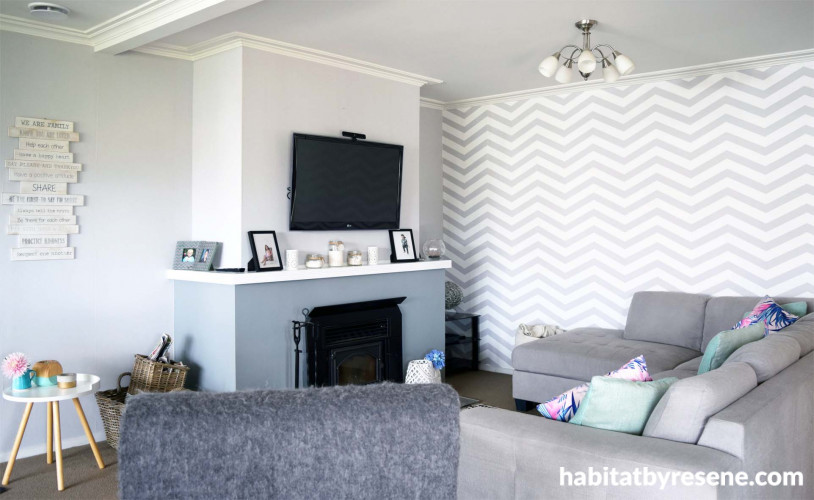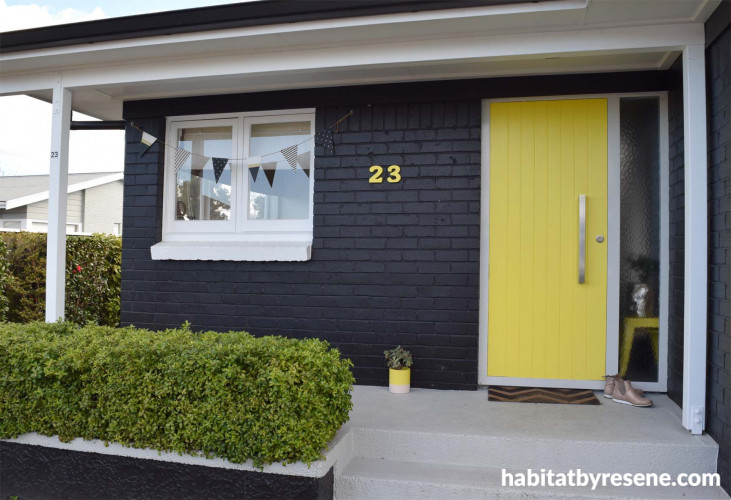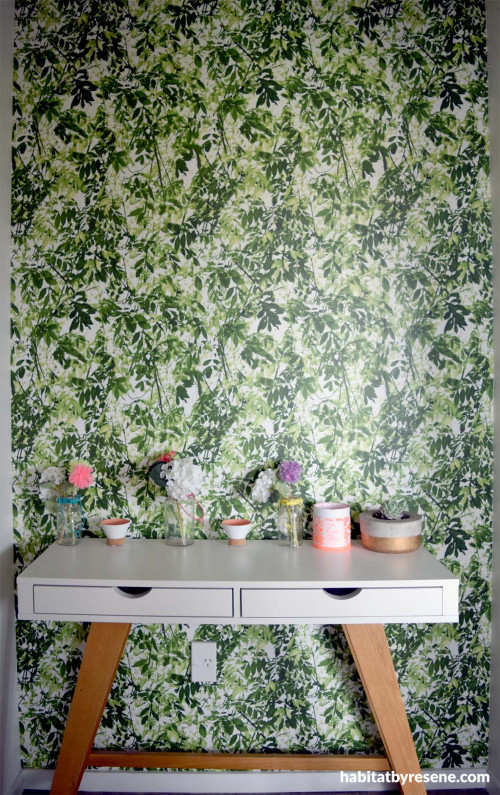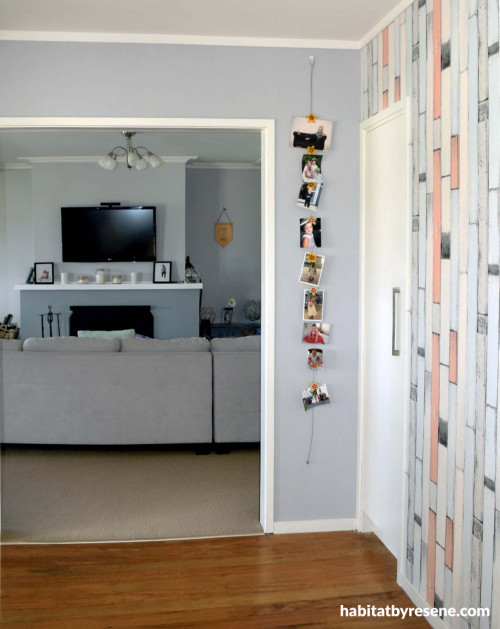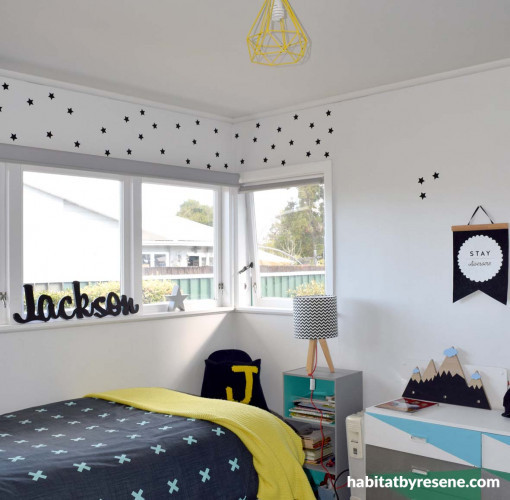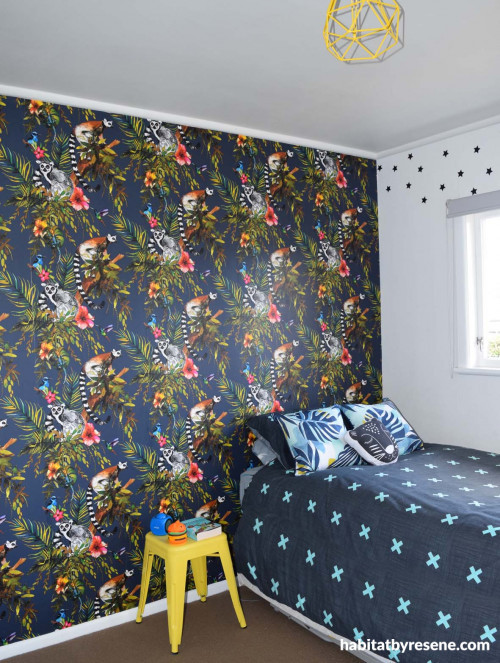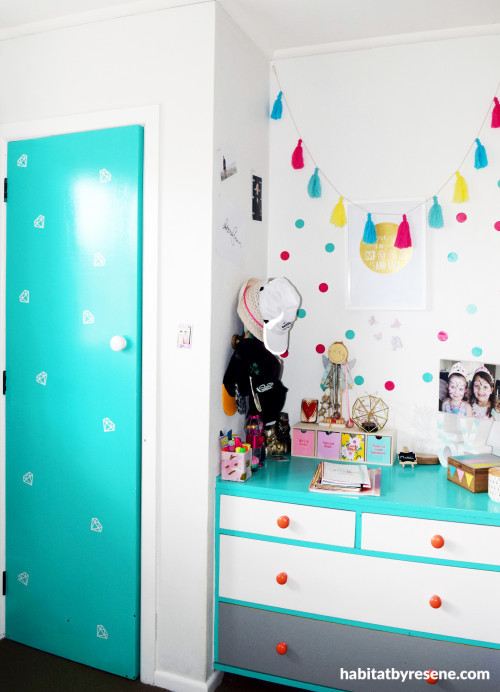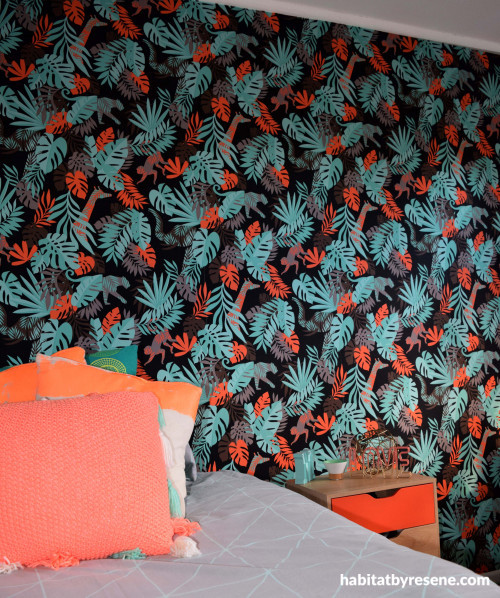 Rebecca and Sean swap 70s beige for bold colour
When Sean and Rebecca set about making over their solid 1970s brick home it was an all-beige blank canvas from top to toe, both inside and out. From the outset the couple, who live in the house with their two children Maddi and Jackson as well as the family dog Gus, could see the potential of the property and to fulfil it opted for a design brief filled with Resene colour that they felt reflected their personalities.
Rebecca talks us through their design choices.
How did you come up with your colour scheme?
Pops of colour to brighten up spaces was our colour mantra. We wanted to keep it subtle in the living areas, bathroom and master bedroom, so we could play with accessories to bring in the colour. The children's rooms were another story. We wanted them to have ownership of their colour choices so they chose their own feature wallpapers, which reflect their personalities.
In the end we just went with what we liked. We thought about subtle base colours and what would complement them. We worked on one space at a time to help us visualise what we needed to do next.
Which Resene colours and wallpapers did you use?
We used Resene Black White in the bathroom and the kids' rooms. The master bedroom, lounge and hallway all feature Resene Silver Chalice and then the darker grey of Resene Stack on the fireplace and some of the details in Jackson's room.
The turquoise in Maddi's room is Resene Niagara while the coral shade on her dresser is Resene Big Bang which are both reflected in her choice of the jungle wallpaper, Resene Wallpaper Collection 219304 from Resene ColorShops. Jackson chose Resene Wallpaper Collection 12403 for his room.
The wooden slat-style wallpaper in the kitchen is Resene Wallpaper Collection 25911 while the green leaf pattern in the entrance hall is Resene Wallpaper Collection J67704.
Our yellow front door is Resene Gorse while we painted the bricks in Resene Black and the trims in Resene Black White.
What part of the house are you most happy with?
I love the green feature wallpaper and my bright yellow door.
What is your advice for someone trying to achieve a similar look?
Take your time, prep well and get good advice on how to use your product. Be brave and don't be afraid to mix colour and texture.
What was the biggest decorating, renovating or building challenge for this project?
My hubby and I were complete DIY rookies. We had a few 'oopsies' along the way, but did manage to save some of our fails. It was a fantastic learning experience for us both. We loved using Resene products. They have a fabulous colour range and wallpaper selection that is stylish and doesn't break the bank. They have always provided a great finish.
My dad Glenn was a legend. Between him and I, we got all the wallpaper hung. I couldn't have done it without him. Billman Painters tackled the exterior for us when we ran out of juice, after completing the interiors.
Do you have a favourite colour, and if so, why?
I love brights! Hot pinks, yellows, green etc. There is something uplifting about pops of strong colour in your life.
Published: 08 Nov 2018
Do you have a home full of wonderful Resene paint and colour? Send us some snaps by emailing [email protected].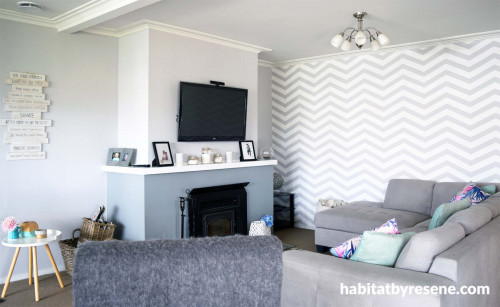 In the lounge Rebecca and Sean opted for soothing Resene Silver Chalice on the walls with the darker Resene Stack around the fireplace. Pops of colour are used in the accessories while the chevron feature wall is Resene Wallpaper Collection design 25911 from Resene ColorShops.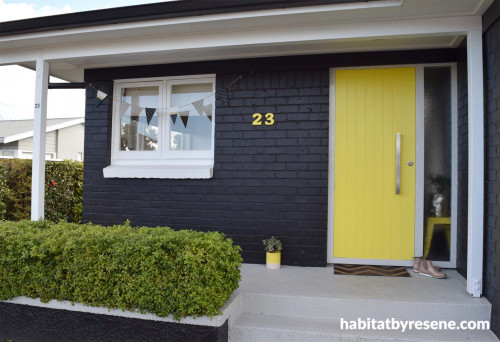 The bold front door in Resene Gorse gives a striking introduction to the house. The bricks are painted in Resene Black with trims in Resene Black White.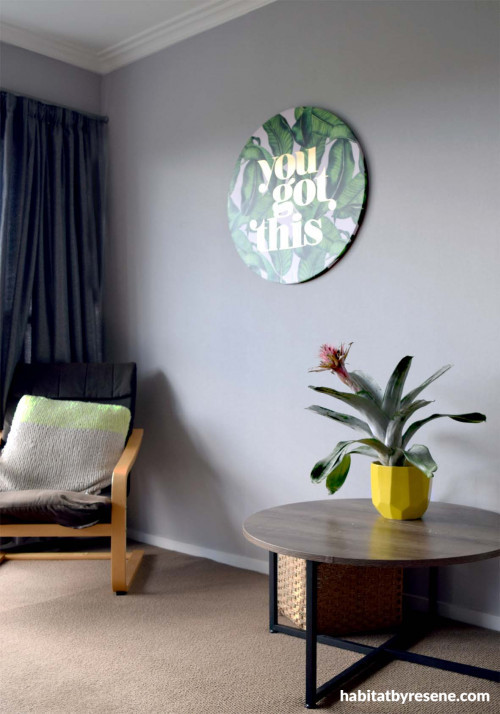 A soothing corner of the living room with its Resene Silver Chalice walls.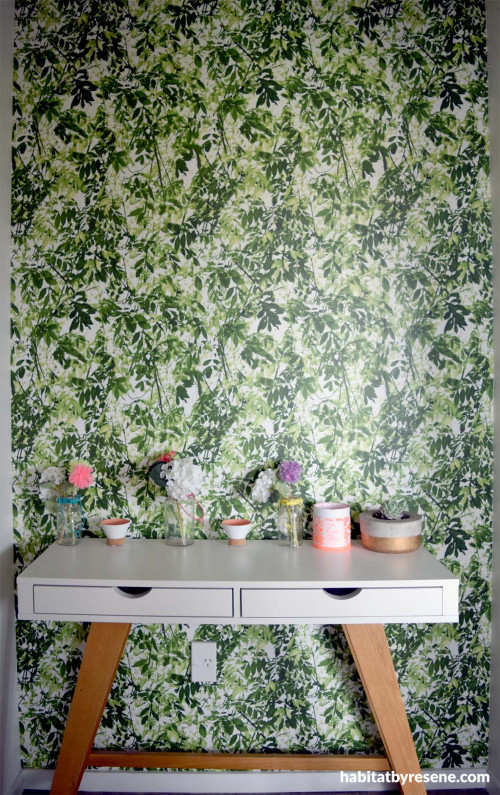 One of Rebecca's favourite spaces is the entrance hall with its leafy wallpaper, Resene Wallpaper Collection design J67704 from Resene ColorShops.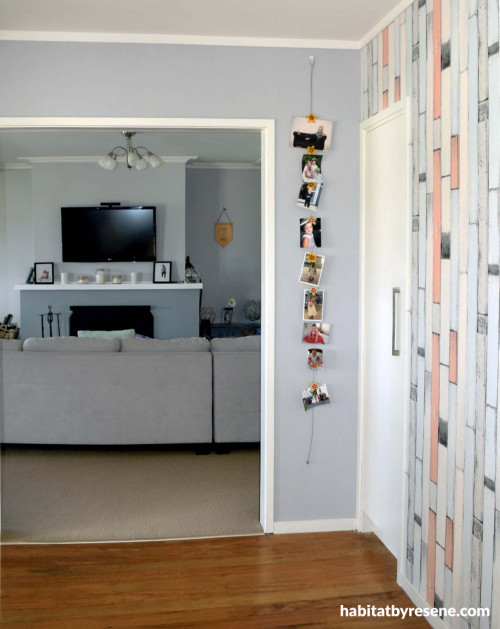 Resene Silver Chalice on the walls connects the hallway, kitchen and lounge. The faux recycled wood effect is Resene Wallpaper Collection 25911 from Resene ColorShops.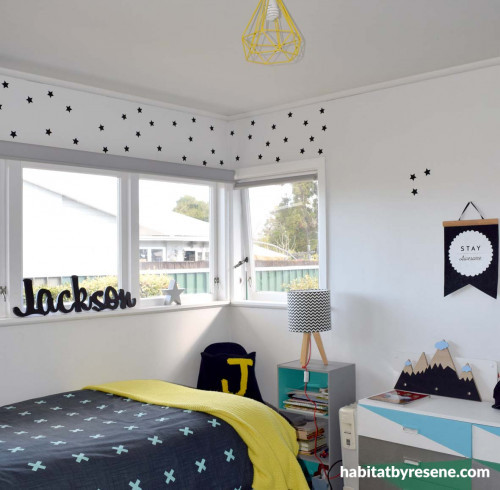 Jackson's bedroom features Resene Black White with a lamp table painted in Resene Stack and Resene Niagara.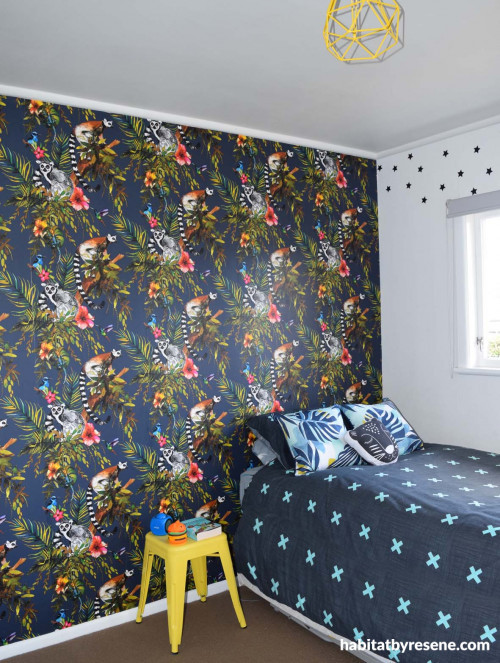 The feature wall on Jackson's room is the fun lemur print Resene Wallpaper Collection design 12403 from Resene ColorShops.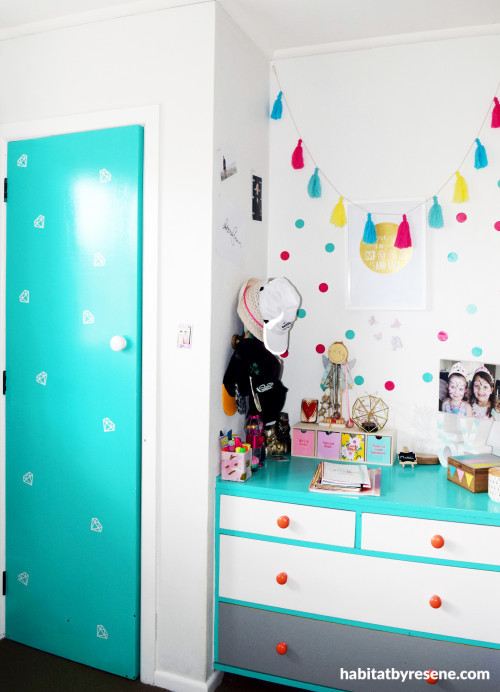 Maddy's room is a mix of fresh Resene Black White with the bold Resene Niagara turquoise. It's contrasted with pops of coral in Resene Big Bang and grey in Resene Stack.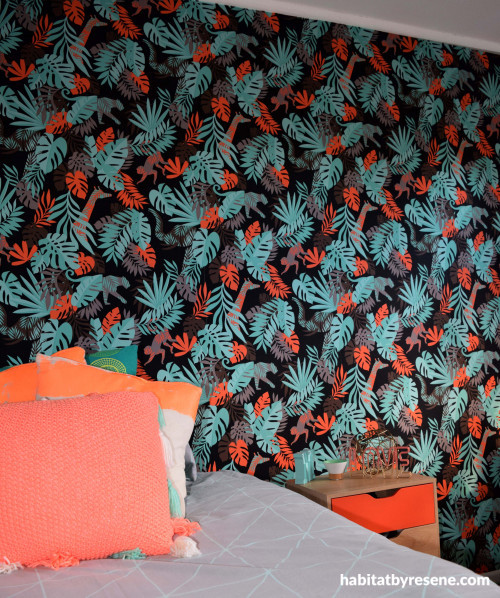 Maddi's dramatic jungle print feature wallpaper is in design 219304 from the Resene Wallpaper Small Talk Collection, from Resene ColorShops, which is great backdrop for Resene Big Bang on the bedside drawer.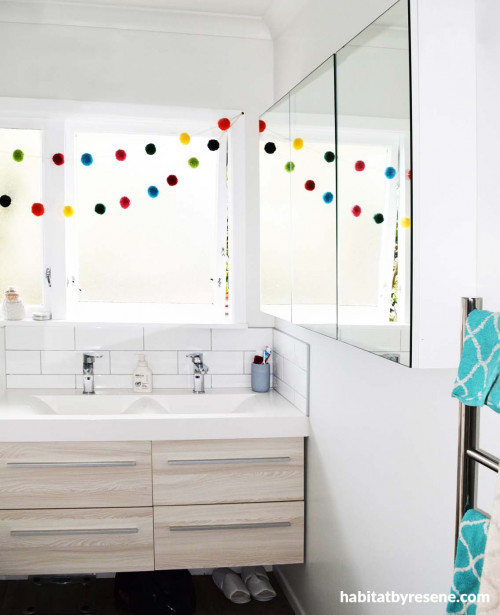 The crisp, clean bathroom has walls in Resene Black White.
the look
If you're stuck on what
colour to use or need colour
advice, try out the Resene
Ask a Colour Expert service.