►
◄
latest
habitat tv
blog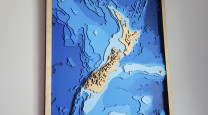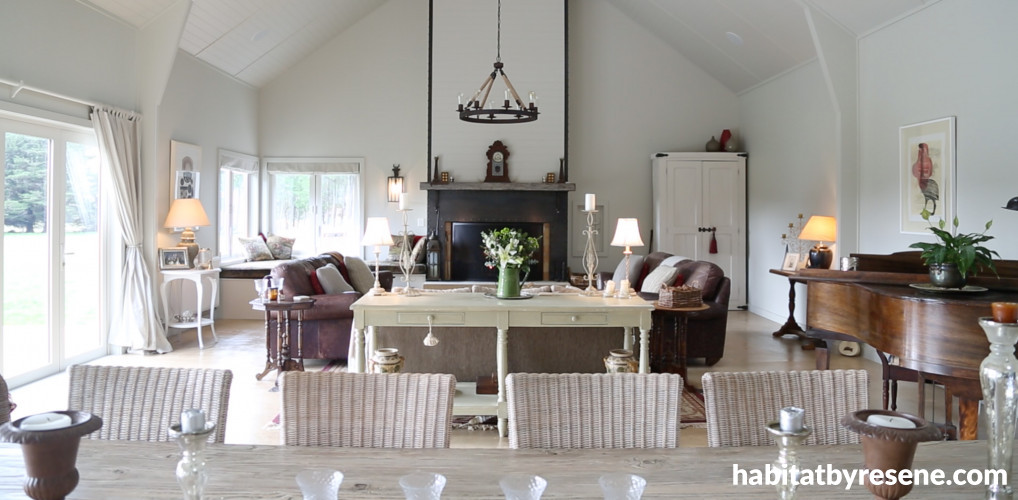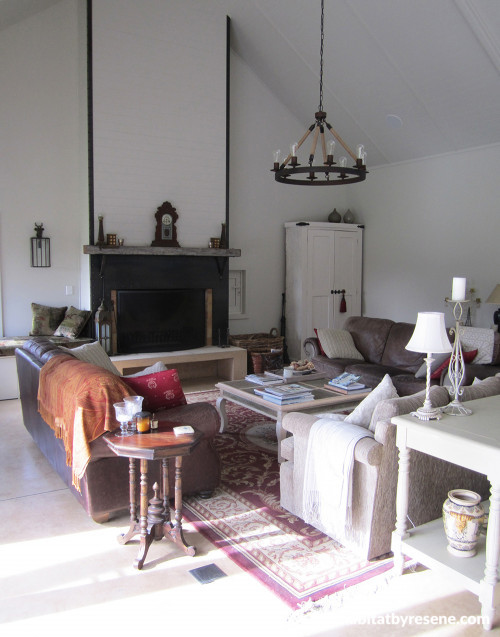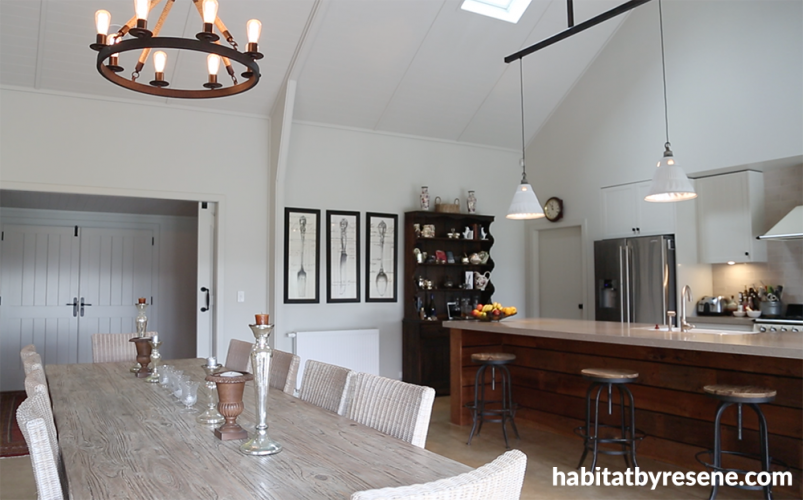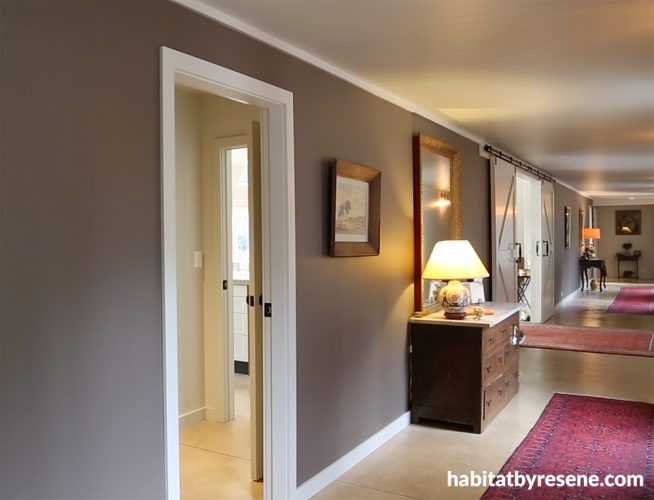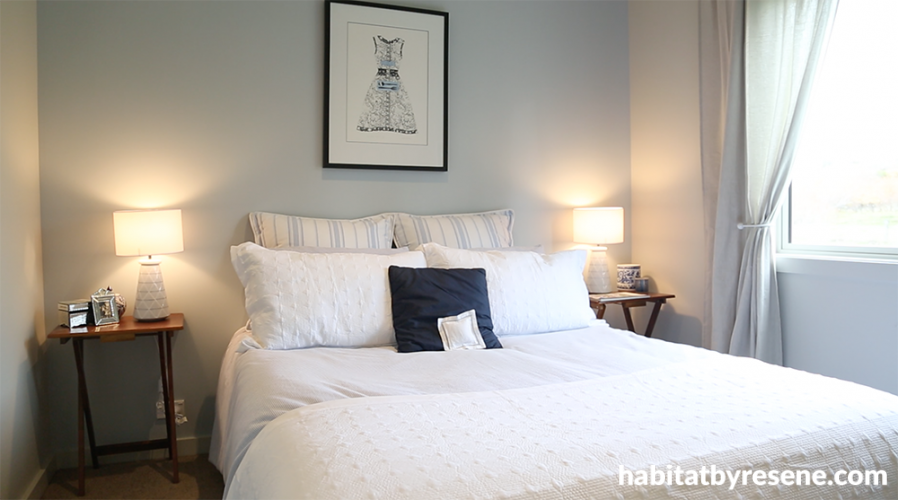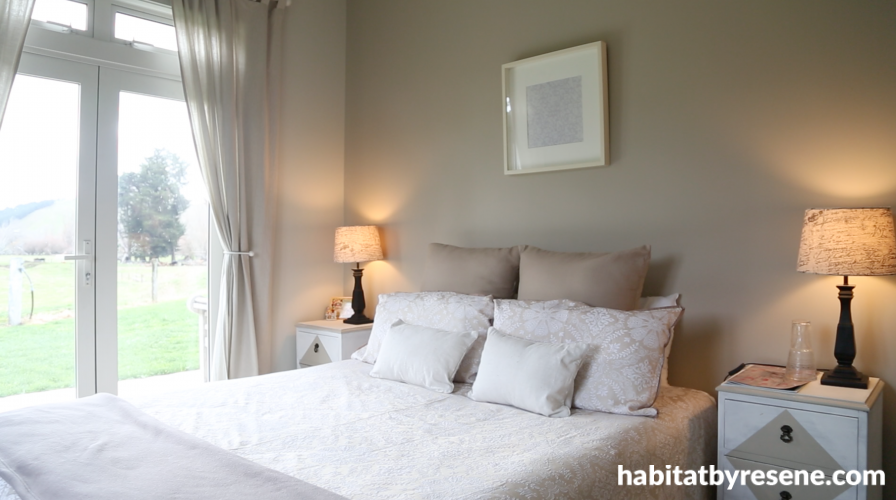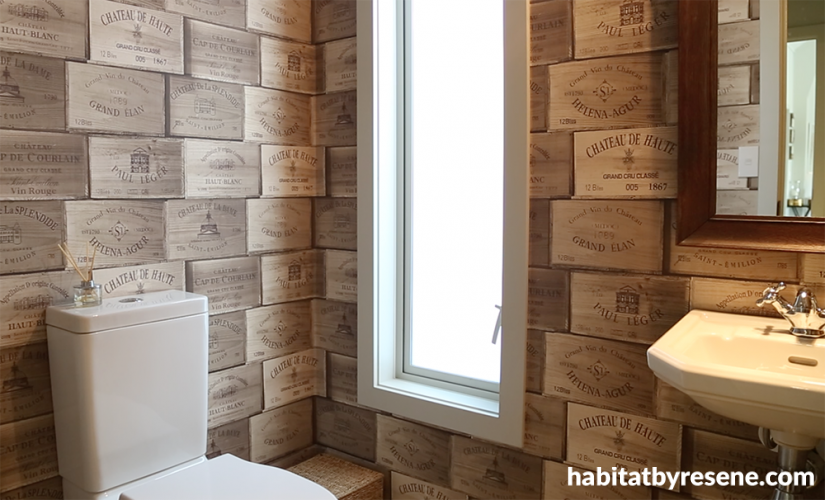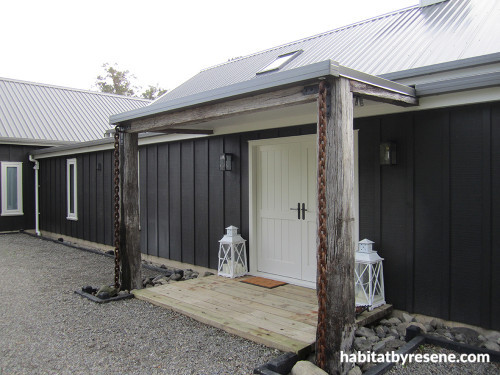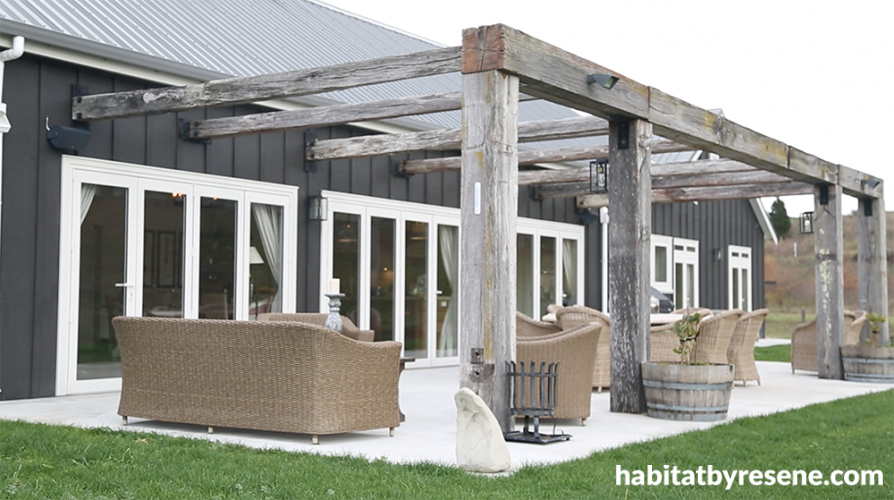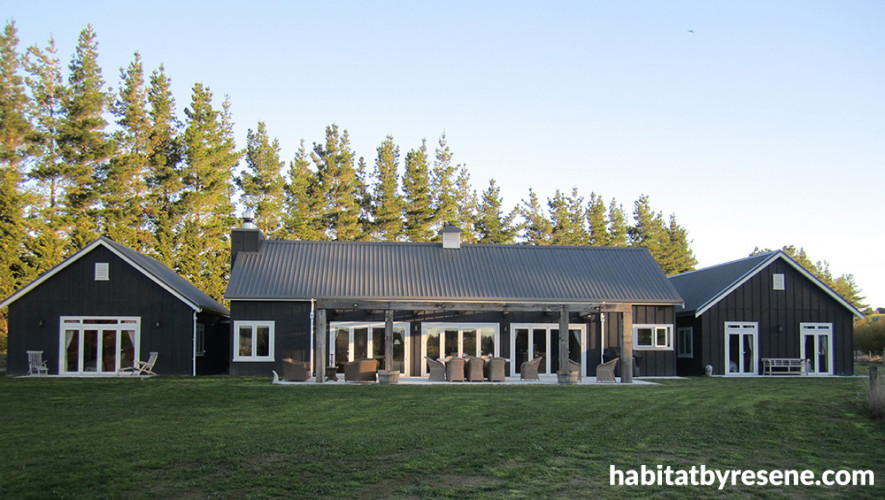 Rick and Carolyn's elegantly grand 'barn'
When Rick and Carolyn Thompson were looking for a new home, the classic lines of Customkit's designs allowed them to create a home that's strikingly simple… yet a little bit grand, too. Add a palette of Resene colours and some quirky Resene wallpaper, and they have a cosy home to call their own.
Customkit designer Julie Richardson-Smith helped make the dream become a reality.
What was the client's brief and how do your design and colour choices respond to that?
The client's brief encompassed a Huka Lodge inspired building to be located in an undulating rural landscape. Their children had grown up and moved overseas so the couple wanted a home where they could spread out, entertain friends and also accommodate their children and families when they visited from abroad. Carolyn and Rick came in for their first meeting armed with a bevy of magazine clippings and images, illustrating the various design styles and spaces they loved and could envisage in their new home. So it was easy to get a clear sense of where to head with the design of their new home.
What was your overall design philosophy?
Huka Lodge meets rural ambience meets grandeur with modern comforts.
What Resene colours were used and what inspired those choices?
The clients chose the colours. They wanted the house to allow the beauty of the rural setting to be the dominant feature, so chose a recessive colour, Resene Bokara Grey for the exterior. Conversely, they didn't want the main interior colour to fight with the view of the country through their windows and bifolding doors, so chose Resene Titania; this is also the colour of the window joinery so that it wouldn't stand out.
As Carolyn says: "I love the Resene Titania – it is a very calm and restful colour. We always use Resene paints, have done for years and always will. Great paint and a massive range of colours."
The long hall is Resene Oilskin and various bedrooms are Resene Half Hillary, Resene Quarter Duck Egg Blue, Resene Napa and Resene Double Tea.
What part of the design are you most happy with?
One of my favourite parts of the building is the entry pavilion. I love the drama of the light that the long narrow gun-style windows throw onto the polished concrete floors and the slithers of the landscape that they offer up from outside. The cosiness of the entry is also in stark contrast to the expanse of the grand hall through the barn style sliding doors. I love the element of surprise.
While the clients are happy with the whole house, they particularly love the 'great hall' – "we had always wanted one large living space so this is the favourite."
What was the biggest design challenge for this project?
I was fortunate enough to have clients that were well prepared with what they wanted in a home along with giving me relatively free rein to interpret this. There were very few design challenges on this building as the structure is simple, uncomplicated and at the same time a bit grand. The Thompson's builder, Bashford Construction, has done a beautiful job and his work is a fine example of great tradesmanship. The finished interiors are also a tribute to Carolyn and Rick's wonderful sense of style.
And would Carolyn have any advice?
"Build what you love. Don't be a slave to fashion or someone else's taste. There is no right or wrong in decorating. It's your house and as long as you love it then that's great."
credit Designers: Customkit; Builders: Bashford Construction; Painter: Country Mile Decorating
Published: 26 Jul 2015
Do you have a home full of wonderful Resene paint and colour? Send us some snaps by emailing [email protected].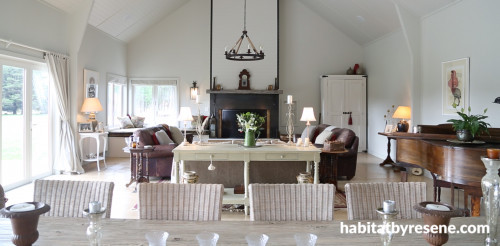 Carolyn and Rick's favourite space in the house is the 'great hall' as they call the main living area; there's even room for a grand piano. The walls, ceiling and trims are painted in Resene Titania which Carolyn loves for its calm, restful effect.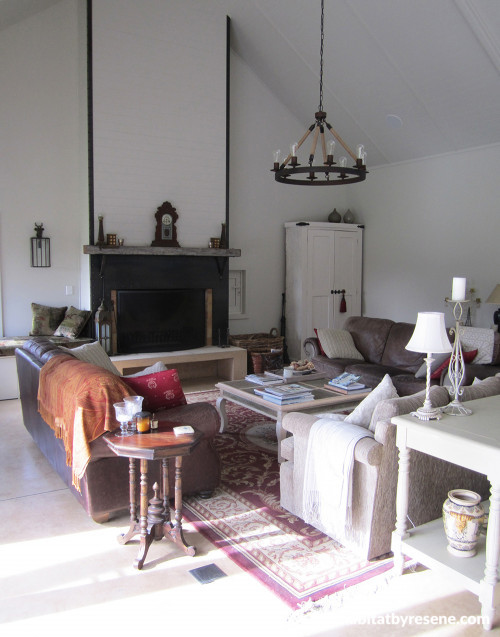 A metal fireplace surround and chandelier add a grand medieval flavour to the house.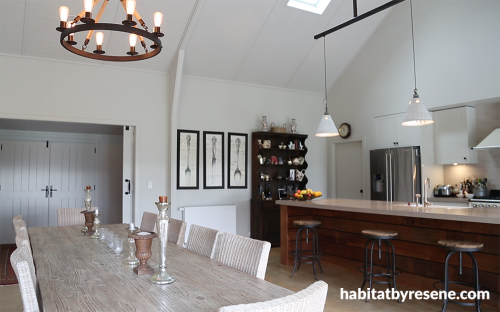 A rustic timber front to the island bench is part of the textural approach to the interiors. The walls are Resene Titania.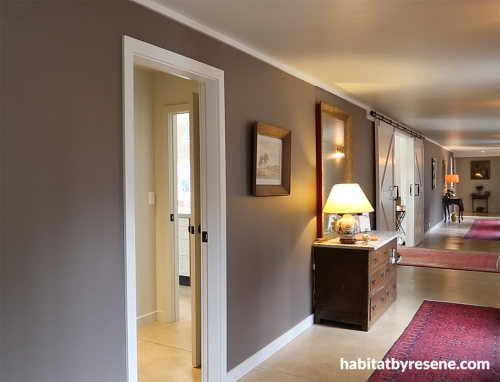 The long hallway is punctuated by barn-style doors to the living room, and has walls painted in Resene Oilskin.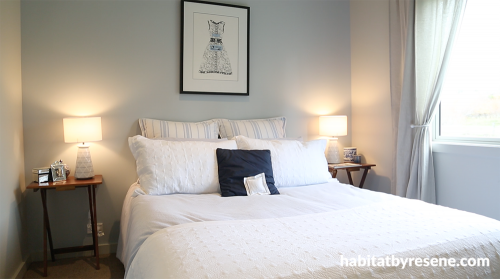 Soft Resene Quarter Duck Egg Blue is perfect as a feature colour in this bedroom.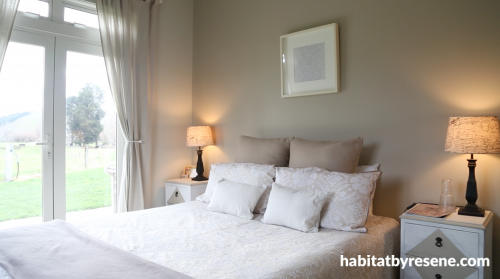 Another peaceful bedroom with views aplenty, and a feature wall painted in Resene Half Hillary.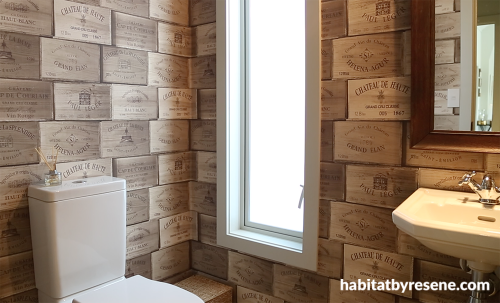 A quirky bathroom is created using Wine Boxes wallpaper from the Exposed collection, available through Resene ColorShops.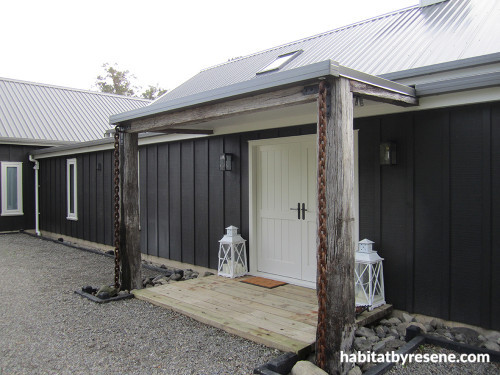 The grand double front door is painted in Resene Titania and accessorised with hurricane lamps, and chunky chains that act as downpipes.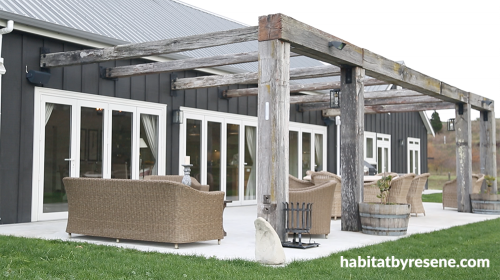 Robust weathered posts are used to make a striking pergola, the perfect complement to the Resene Bokara Grey exterior.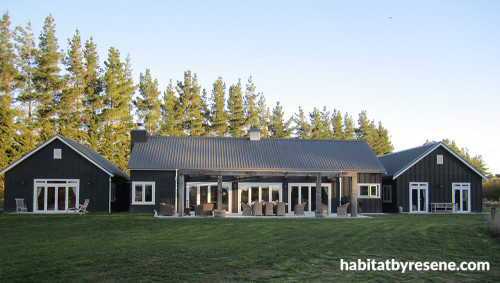 The simple forms and Resene Bokara Grey exterior let this home work with its rural environment rather than fight it.














the look
If you're stuck on what
colour to use or need colour
advice, try out the Resene
Ask a Colour Expert service.