►
◄
latest
habitat tv
blog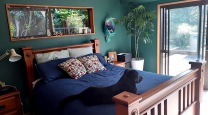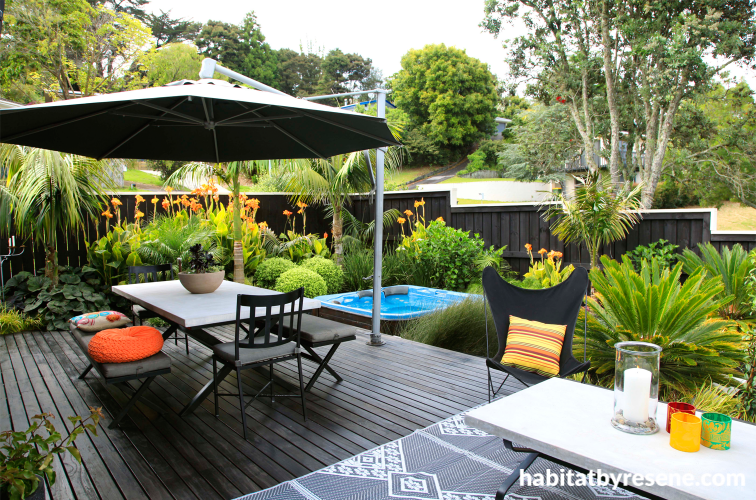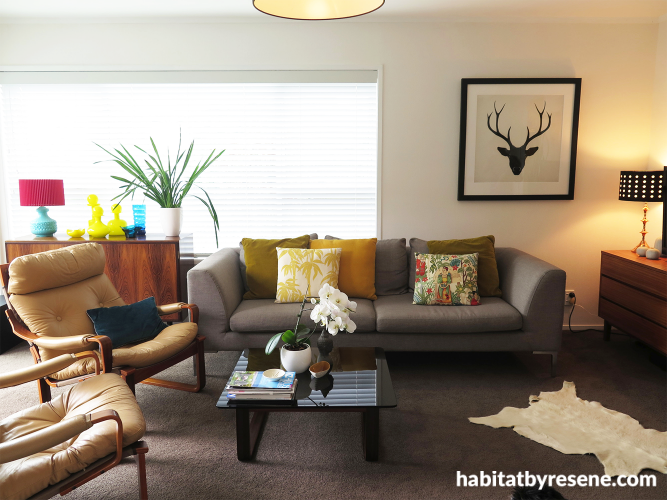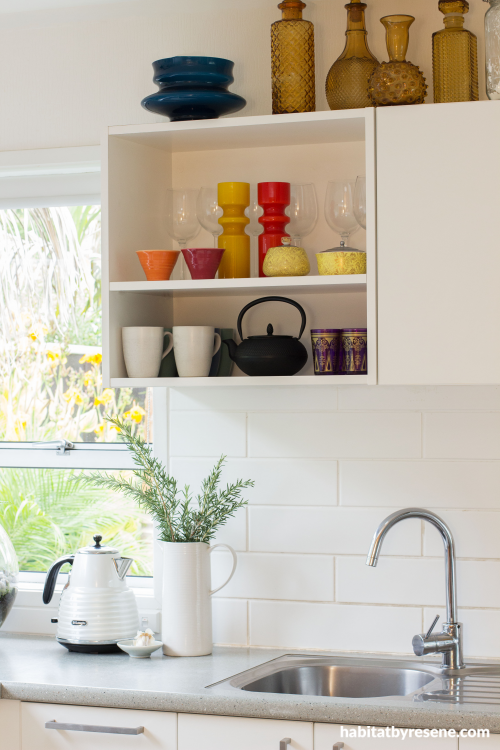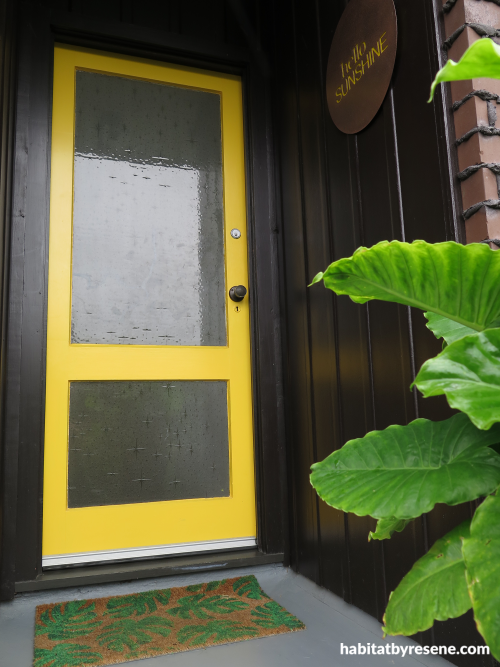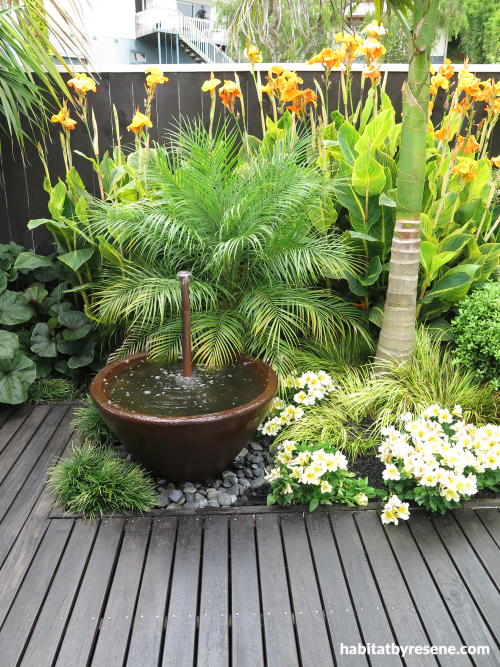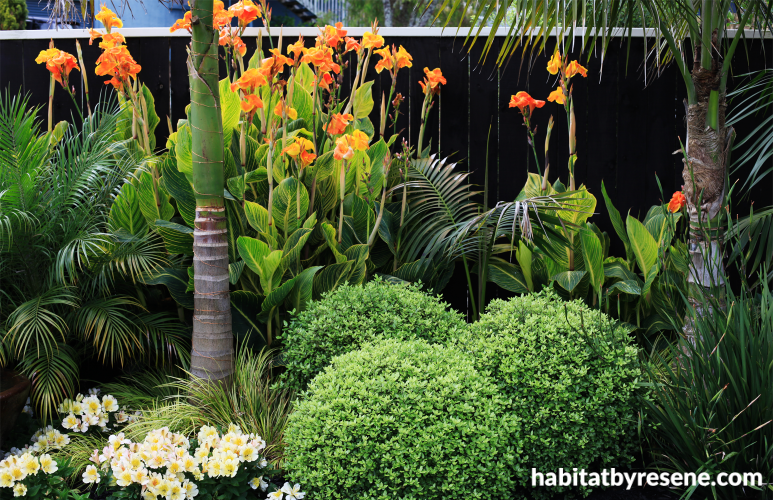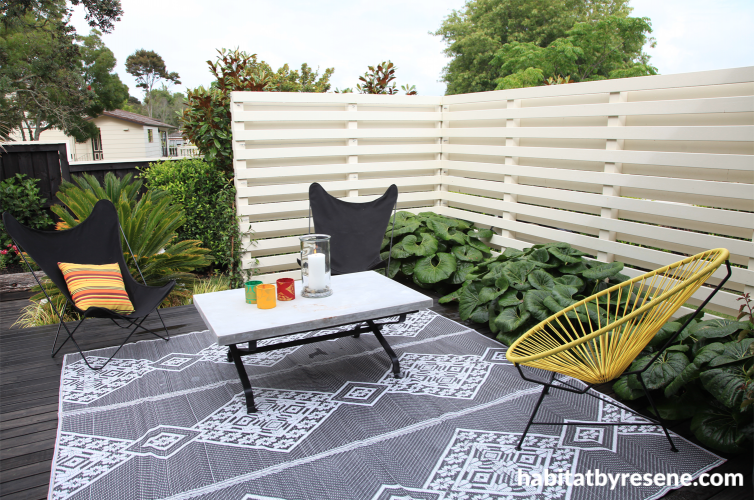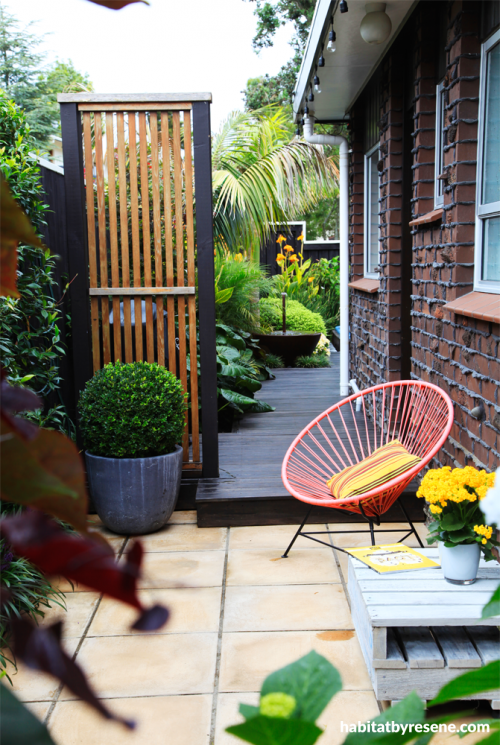 Sandra and John's designer oasis in suburbia
When landscape designer Sandra Batley and partner John Eagleton were looking for a stepping-stone home, they found the perfect solution buried deep in suburbia – an untouched 1970s brick and tile unit with no garden. Just four years on, it's a lush oasis complemented by Resene paint.
Undeterred by the mustard yellow curtains, brown kitchen, patterned carpet and barren site, they rolled up their sleeves and worked weekends and evenings to renovate inside and out.
How did you approach the renovation? What was your philosophy?
The first opportunity was to open up the living area to the garden by replacing a window with a sliding door. Then we reorganised the section into different areas: an enclosed courtyard and deck, a flat lawn, and a service area.
We initially had resale in mind so we kept a check on the budget and opted for a clean, neutral palette inside with some added colour in some rooms. We did as much of the work as we could – John built practically everything.
What Resene colours have you used and why?
We kept both the inside and outside quite neutral. The fences are in dark Resene Waterborne Woodsman Crowshead stain to add a sense of depth to the garden beds. We went for a lower cost pine for the deck but made it look smart with Resene Woodsman Decking Stain tinted to Resene Crowshead. The privacy screen built by John is in Resene Spanish White, as are the fence and planter caps.
Our one pop of paint colour is Resene Wild Thing yellow on the front and back doors.
Top tip: If you've chosen dark colours outside, use Resene CoolColour paint to reflect more of the sun's heat and help protect the paint and the surface beneath it.
How did you decide on the overall look?
I have always loved subtropical plants so used a mix of them in the garden, with flower colour with the canna lilies, hibiscus and alstroemeria.
The materials used weren't high end but put together in such a way that it looked more upmarket. As I started to add back in my own tastes in furniture and homeware, I leaned more to a retro, mid-century feel blended with some contemporary pieces. It meant we didn't completely ignore the 1970s architecture of the home.
What part of the house are you most happy with?
Outside, it's the deck area, which is so sunny and flows really well. We use it a lot for entertaining, or just relaxing. The cantilevered umbrella can be swung over the table or over the spa pool, and the screen makes it very sheltered and private.
Inside, the kitchen used to be really dark and hideous to work in.
We had to incorporate the dining area into it so while it flows nicely it's a tight space to work in. My rule is only one cook in the kitchen! Now, the kitchen is light and simple but functional.
What is your advice for someone trying to achieve a similar look?
Get quality, professional tradespeople in for the bigger jobs and don't attempt the work yourself unless you have full faith in your DIY capabilities. Have fun shopping around for quality second-hand furniture. It's nice to blend old with new, and add your own personality into your home, not just follow some trend.
What was the biggest challenge for this project?
Removing the old wallpaper and prepping it for new wallpaper. John did not cut corners; it was a mindless horrible job. Also, sorting out the drainage for the site. We had a number of issues with blocked drains and poor drainage.
Did you know… that using wallpaper size not only makes hanging the wallpaper easier, but also makes removing it much easier later on when you want a new look?
Do you have a favourite colour?
I love colour, full stop! But I seem to go for accents of various shades of yellow, mostly with accessories like cushions, ceramics and housewares.
See more:
Sandra's work at Flourish Garden Concepts
Sandra and John's garden featured in the latest habitat magazine
Sandra recommends Harrisons Carpet
See how two other landscape designers recreated Sandra's courtyard
Published: 02 Jun 2016
Do you have a home full of wonderful Resene paint and colour? Send us some snaps by emailing [email protected].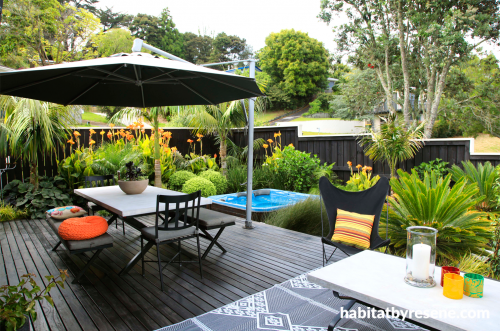 Sandra and John have created a private oasis in their garden, with a seating area, shaded dining table, a spa and lush gardens. The boundary fences are finished in Resene Waterborne Woodsman Crowshead with caps in Resene Spanish White.
pictures
Sally Tagg and Sandra Batley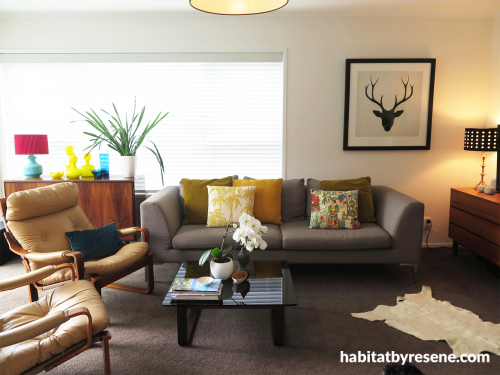 A sophisticated retro look is a nod to the home's 1970s origins. The walls are in a textured white wallpaper from Resene.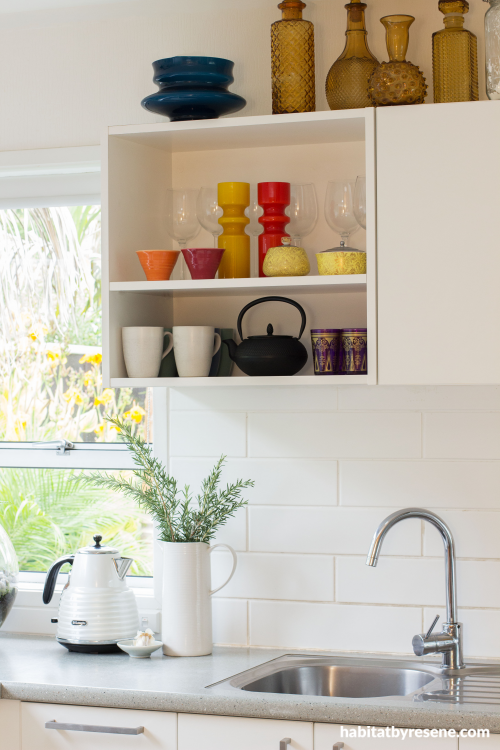 The once dingy kitchen is now bright and light – Sandra picks it out as the biggest transformation inside.
A plywood wall protected with Resene Aquaclear adds to the retro feel and frames the dining space.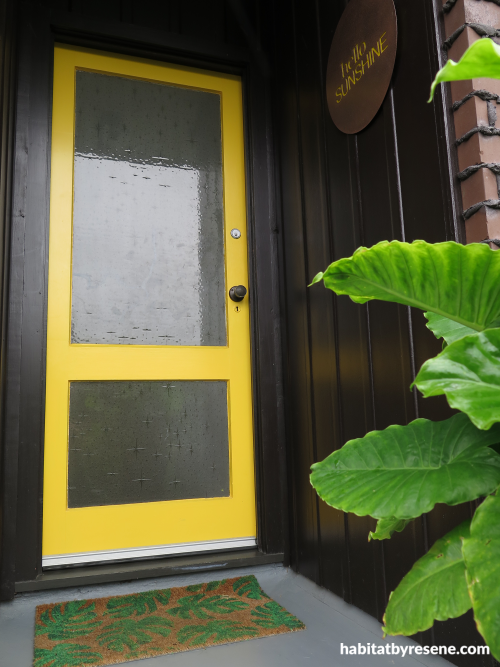 Sandra's favourite colour is yellow, seen here on the front door painted in Resene Wild Thing. The porch walls are Resene Nero, the doorstep is Resene Half Tuna, and the concrete has been painted with Resene Waterborne Sidewalk tinted to Resene Grey Chateau.
For a similar finish, use Resene Walk-on which has replaced Resene Waterborne Sidewalk in the Resene range.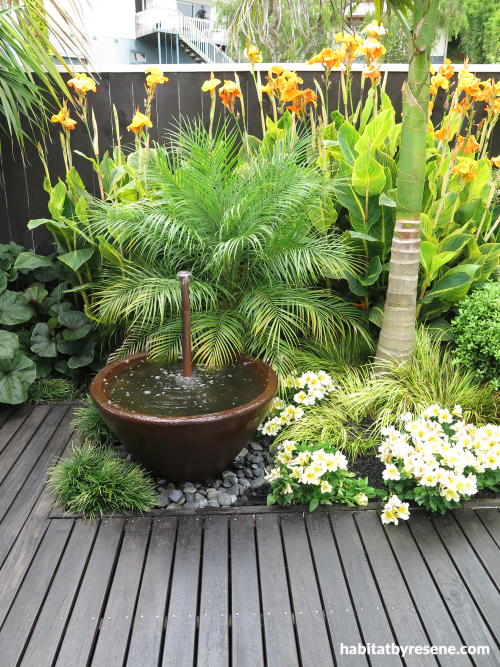 Sandra created the unique water feature by pairing a pot with a copper spout. It nestles into a garden of canna lilies, dwarf date palms, kentia palms, bangalow palms, clipped pittosporum balls and mondo grass.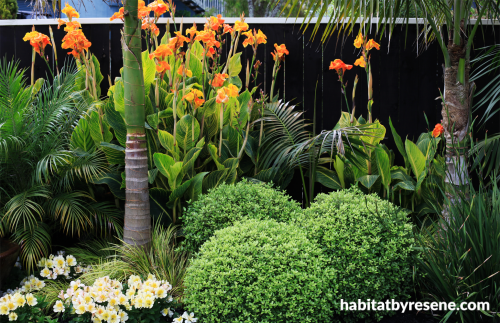 A stunning border garden of varying shapes and colours is offset by the dark fence in Resene Waterborne Woodsman Crowshead.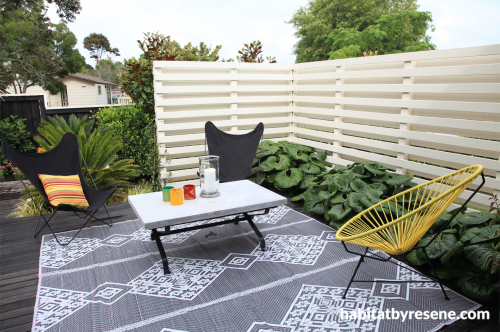 To create privacy, John built the slatted screen by the deck and painted it in Resene Spanish White.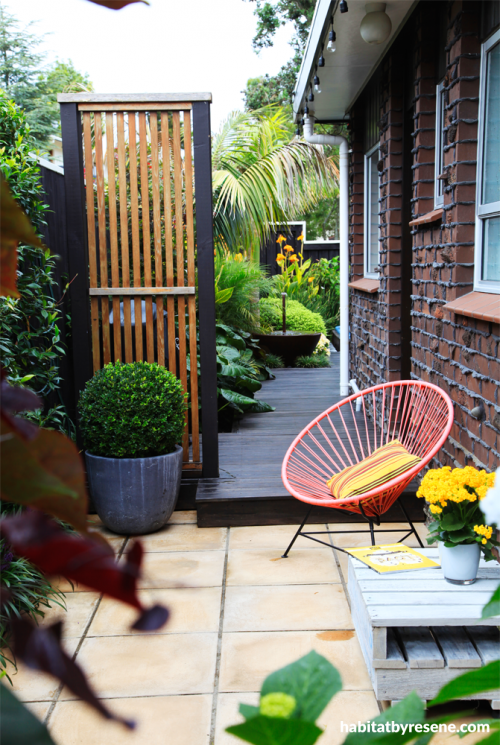 Sandra has even turned the area outside the back door into an enchanting area to catch the morning sun with a palette table that has been given a washed effect using diluted Resene Spanish White.
the look
If you're stuck on what
colour to use or need colour
advice, try out the Resene
Ask a Colour Expert service.