►
◄
latest
habitat tv
blog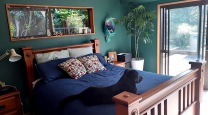 Sharon crafts a colourful haven for two
Sharon Skylark loves colour. If she had to choose a favourite, it would be red, but then it could also be turquoise, or pink. "Turquoise goes with everything," she says.
Her love of colour and Resene paints is what elevates this modest 104m2 new build from a pragmatic U-shaped board and batten home to a joyful celebration of art and craft. Built for her four years ago by local builder, Steve Fox, Sharon lives here, on the Western Bays of Lake Taupo, with her four-year-old standard poodle, Pearl.
Sharon's home sits atop a ridge overlooking the Rangitukua Scenic Reserve in Kuratau on the Western Bays of Lake Taupo. The construction is practical and straight-forward, with cost-effective ply cladding, maintenance-free aluminium windows, and elevated by stilts to avoid expensive levelling earthworks.
The home is a heart-warming example of what it looks like to craft your own style. There are collections of artworks and objects on every wall, rugs of different designs punctuate the floor and much of the solid wood furniture was built by Sharon herself – with the clever addition of castors so that pieces can be easily moved around. There are cushions sewn from Sharon's extensive patchwork fabric collection and beaded glass necklaces made using a process called 'lampwork', a lively mosaic collated from remnants of Sharon's china collection welcomes you at the front door. Painted furniture appears in each room, including a ladder painted Resene Havoc, a Resene Aqua stool and a Resene Scrumptious chair.
While formulating the design, Sharon was keen for her interior to create a balance between exuberance and calm tranquility. The first step was to figure out where to put her existing furniture.
"My previous home was open plan. I used paper cut-outs of my favourite furniture overlaid on the floor plan to make sure each piece would fit in its allocated space. I chose ply finished in Resene Colorwood Whitewash for the interior walls because you can easily hammer in a nail to hang art and it provides a quiet background that I could brighten with my artworks and furnishings," Sharon explains.
Once she had the floorplan established and furniture allocated, the next job was to decide upon the colour palette of her new interior. With red being a go-to favourite, Sharon was intent on using bright shades alongside muted hues that would complement both her home, art and personality.
"I love bright colours, they're cheerful. By using colours in art and furnishing, they are easily changeable for a different look. Colour brings me joy and excitement, it's interesting and the combinations and tones are endless."
But it was when it came to decorating the exterior of her new home that Sharon hit her first decorating hurdle of the project.
"Deciding on the colours for the exterior of the house was a challenge. I had to choose between an eggshell green or turquoise blue as the wall colour. Then it was whether to have Resene Havoc, Resene Scrumptious, or an alternative orange shade for the deck area. When I say I had to decide, it was because those were the colours I wanted and I couldn't use all of them together."
To help with the colour palette, Sharon enlisted the experience of painter Gordon Fraser, who helped with important details such as the decision to paint the door frames in turquoise as contrast with the pale ply walls and bright yellow doors.
"Gordon really knew his stuff, such as keeping the skirting board the same colours as the walls and ceilings."
Once the paint had dried and tradies had long evacuated, Sharon was left with a wonderful cosy home laden with personality. Her favourite part of her new build? The fire, an aspect that acts as the only source of heating in her home but also has many other uses.
"The fire is possibly the most wonderful friend in winter. It heats my water and I do nearly all my cooking on it. It's beautiful. Keeping a fire going is a most satisfying and primal thing to do."
Another favourite part of her home is the linen cupboard, a warm and private dressing room where her linen is kept fresh and dry. The north facing deck where she spends time reading, painting, eating and relaxing is another much loved space, as is her bedroom, a space with a beautiful outlook and natural light.
Sharon's home is a work of art. Around every corner is a splash of colour, be it through a piece of art, a Resene Turbo door, decorative ornaments or treasures that she has collected throughout her life. While it may have a simple silhouette, the house is far from ordinary – and Sharon is delighted with the end result.
Published: 04 Jul 2019
Do you have a home full of wonderful Resene paint and colour? Send us some snaps by emailing [email protected].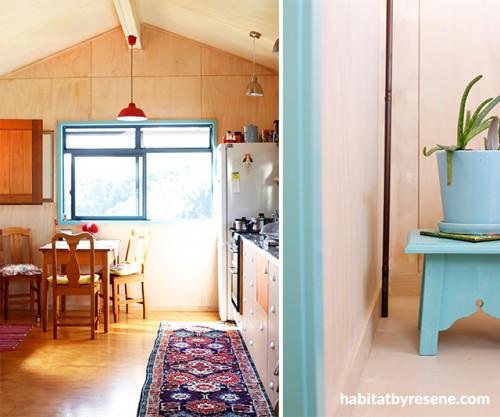 Form meets function in Sharon's joint kitchen and dining area. The ply walls have been stained with Resene Colorwood Whitewash waterborne wood stain with Resene Aqua trims to frame the exterior view. On the right, a plant stand in the corner of the room has been painted Resene Aqua to match the door trims.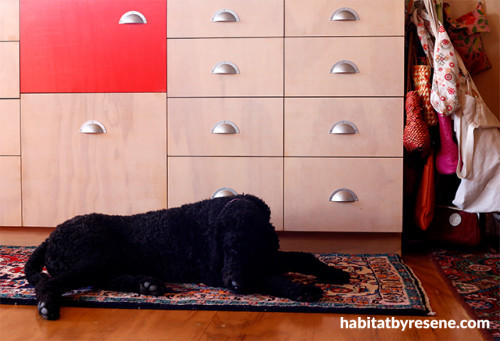 Pearl rests in front of Sharon's custom kitchen cabinets, which have been stained with Resene Colorwood Whitewash waterborne wood stain – except for a single drawer, which has been playfully painted Resene Havoc.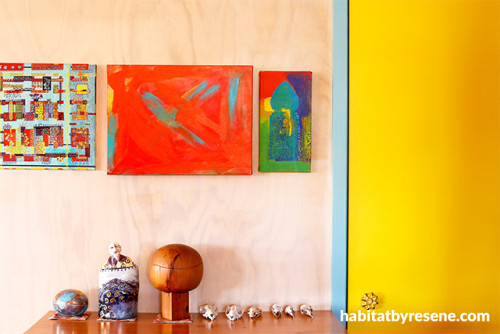 Fearless Resene Turbo doors are trimmed with Resene Aqua in high contrast to the simplicity of the plywood walls, which are stained with Resene Colorwood Whitewash waterborne wood stain, and are a bold accompaniment to Sharon's colourful artwork.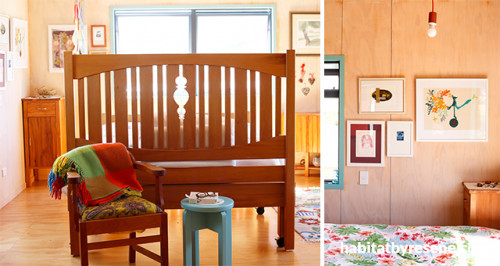 Sharon's sunny bedroom, while primarily coloured by timber tones, still manages to incorporate lovely pops of colour, such as the Resene Aqua stool to match the Resene Aqua window trims. The plywood walls are stained with Resene Colorwood Whitewash waterborne wood stain.
On the front exterior, Sharon's home looks cheerful in Resene Aqua with Resene Turbo window and door trims.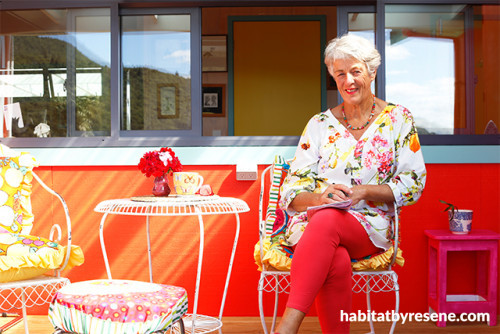 Sharon on the patio of her vibrant home. The exterior cladding on the rear of the house is painted Resene Havoc and the architraves are in Resene New Denim Blue.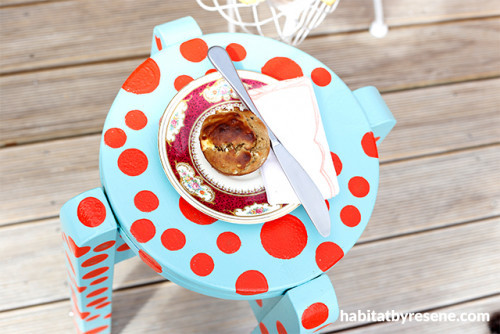 In Sharon's home, colour is not limited to just the walls. The coffee table on her patio has been perked up with a coat of Resene Aqua and Resene Havoc polka dots.
pictures
images Kate Alexander
the look
If you're stuck on what
colour to use or need colour
advice, try out the Resene
Ask a Colour Expert service.