►
◄
latest
habitat tv
blog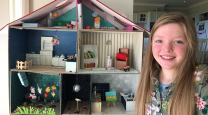 Six satisfying home makeover jobs for the long weekend
Two long weekends are stretching ahead of us, and with it emerges the perfect time to tackle a little home improvement. Give your home a glow up with Resene paint, there's nothing more satisfying than standing back to admire a transformed room or space. From changing a front door colour to creating a new vibe in a teen's room, we have six ideas to give you a brand new look in your home (without breaking the bank).
These home makeover projects aren't reserved for experts, they're within reach for all of us, it just takes a bit of preparation and DIY spirit. Pull out your old painting clothes, throw open the windows and get home improving. A couple of days work can make a surprising difference to your home's liveability and overall look.
Starting to DIY when you're new to home improvement
The key is to start small. Hold off on reaching for sledge hammers and drills if you're relatively new to DIY. Small-scale projects can be completed in a day or two and usually shouldn't require any specialised skill set. You'll just need some basic instructions and tools.
Embrace your skillset. If you've painted, sewed or built anything before, start there. Use what skills you already have.
Start small, but also don't be afraid to take risks. Allow yourself the freedom to experiment with home DIY projects, be it with bold colours or large spaces. Give yourself some grace if they don't turn out exactly as you'd hope, too. It's all a learning curve.
Makeover your fence
Black is a great go-to colour for garden fences, often as a shadowy backdrop to perimeter planting. In this case, it's on show in Resene All Black. The upcycled pallet table is Resene Dauntless and the pots are in Resene Ziggurat, Resene Java and Resene Dali. Concrete pavers have been stained in Resene Bleached Grey from the Resene Concrete Stain range. Project by Claudia Kozub, image by Melanie Jenkins.
Nothing improves the street appeal of a home like a freshly painted fence. This is an easy home improvement, perfect for this time of year too when autumn sun is still around for the long weekend. Fences can have a huge impact on the way you feel about your home as they are often the first thing you see when you get home and something you see every time you look out the window. A weathered or peeling fence is an unwanted reminder that it needs some attention.
How to:
Mix one part Resene Timber and Deck Wash to three parts clean water. Scrub the wooden fence thoroughly with the solution using a stiff bristled brush. Rinse well with clean water and allow the wooden fence to dry.
If painting new timber, apply one coat of Resene Wood Primer to the fence and allow to dry. Clean brush in mineral turpentine.
Apply two coats of your Resene paint colour or Resene stain colour to the fence palings allowing two hours for each coat to dry.
Top tip:Resene Lumbersider is a great option if you want a solid colour finish (i.e. you won't see the wood grain) and you don't want to have to do the job again for years. If you would prefer the wood grain to show opt for Resene Woodsman wood stain. If you're choosing a dark colour, opt for a Resene CoolColour to help reflect more heat than a standard version of the colour.
Feature wall fun
This funky feature wall is painted in Resene Eighth Gauntlet with painted swirls in Resene Double Cut Glass and Resene Half Longitude. The floor is in Resene Quarter Emerge, bench seat in Resene Bewitched, chest of drawers in Resene Half Longitude, slim vase in Resene Slipstream, jug in Resene Grey Area and gridded vase in Resene Unwind. Project by Gem Adams, image by Wendy Fenwick.
There's no quicker, easier or more affordable DIY this weekend than making a statement in a room by creating a feature wall. If you're nervous about using too much colour in a room, you can play it safe but still make a statement by introducing a feature wall. They add vibrancy and personality without overpowering the rest of the room, and they allow you to be more daring with colour without having to go all out.
As well as providing a focal point to a room, it can also transform it by making it appear larger or wider, cooler or warmer, or more intimate. A feature wall can also enhance a room's best features or downplay its weaknesses. A bold pattern, for example, not only injects personality, it can help to disguise uneven walls. Stripes are a great tool too for increasing the sense of space within a room.
Top tip: Accentuate the space you're working in. A dark colour will appear to recede, so you can use this visual effect to deepen a space. A flat wall at the end of a hall, for example, provides an opportunity to apply this trick. Painting a dark charcoal, such as Resene Bokara Grey, on the back wall injects drama, while its dark tone creates an impression of greater depth, making the hall feel longer.
Kid's room re-do
In this bedroom, both the colours and triangular shapes have been taken from the concert poster to define the walls. Wall in Resene Rakaia with triangles in Resene Space Cadet (large, at left), Resene Timeout (medium, at right) and Resene Spring Fever (centre). Skirting board in Resene Ebony Clay, pendant lamp in Resene Ebony Clay, shelf in Resene Ebony Clay, plywood floor stained in Resene Colorwood Woody Bay, record stand (side table) in Resene Spring Fever, crates in Resene Timeout, Resene Spring Fever and Resene Rakaia, tiny crate (on shelf) in Resene Spring Fever, water bottle in Resene Spring Fever, speaker fronts in Resene Space Cadet, splatter plant pot in Resene Space Cadet, Resene Timeout and Resene Shakespeare. Project by Kate Alexander, image by Bryce Carleton.
Perhaps you have a child on the brink of teenage-hood, and they've been begging you to change up their bedroom. Make it a fun long weekend activity for all and commit to re-doing their room. Involve them in the process and get them to choose their Resene paint colours and interior style. Consider before embarking on a kids room makeover:
Involving your teen in the project is important as it can reflect their individuality and give them some ownership over the space.
Get creative with furniture such as fold up desks to ensure the space stays uncluttered.
You might find your teen wanting darker colours in their bedroom. Don't be afraid of them, there are plenty of great emerald, navy and plum hues that can keep a teen's bedroom feeling warm.
Freshen the deck
Freshly cleaned and resealed in time for winter, this deck looks good as new. Homeowner Trudy used Resene Timber and Deck Wash before applying Resene Furniture and Decking Oil. Exterior cladding in Resene Half Mondo and trim in Resene Black White.
Re-staining a deck is incredibly satisfying, and pretty straightforward. Even when your deck is new, it still needs some love when autumn rolls around. Try using Resene Timber and Deck Wash before applying Resene Furniture and Decking Oil. You'll be surprised how spick and span the look is once you're finished.
How to:
Treat moss and mould first if necessary with Resene Moss & Mould Killer.
Thoroughly scrub with Resene Timber and Deck Wash. Use a short bristled scrubbing brush. Rinse thoroughly. Do not waterblast – not only is it likely to be slower and less effective than scrubbing using Resene Timber and Deck Wash, it can gouge and badly damage the timber, especially soft woods such as Cedar.
Apply a Resene Furniture and Decking Oil or your choice of Resene wood stain.
Top tip: Use a wide lambswool pad on a broomstick to apply the product (you'll find them at your local Resene ColorShop).
Sitting pretty
These outdoor teak chairs were rejuvenated with Resene Timber and Furniture Gel.
Guests coming over? They can be quickly sitting pretty on rejuvenated outdoor furniture using with Resene Timber and Furniture Gel. This innovative product is available in a range of products ideal for weathered furniture as the special non-drip formula is easier to use than regular wood stains because it avoids stain dripping through the furniture cracks.
How to stain tired furniture:
Step 1: Ensure surfaces to be painted are dry, free from dust, dirt and loose material, clean and free from loose wood fibres. Clean the furniture with Resene Timber and Deck Wash.
Step 2: Apply two coats of Resene Timber and Furniture Gel and allow to dry.
You'll be floored
This bathroom floor is painted in Resene Lumbersider tinted to Resene Concrete and Resene Blue Charcoal to mimic a tiled pattern.
A surprisingly easy way to transform your bathroom without breaking the bank is to paint the floor. Resene Walk-on is a paint especially designed for painting floors and it can even be painted over tiles. You could even give the floor the look of tiles by using a stencil – a very cost-effective option, and best of all you can paint over the design later.
How the floor above was created:
1. This was a new bathroom and so the concrete had to be sealed with Resene Concrete Sealer 3 in 1.1. This was a new bathroom and so the concrete had to be sealed with Resene Concrete Sealer 3 in 1.

2. After the sealer, paint your base colour. Resene Walk-On is a highly durable paint especially designed for surfaces that are walked on, however you could also use Resene Lumbersider. The base colour shown above is Resene Concrete. (Resene Walk-on colours are also available in Resene Uracryl where a high performance two pack system is preferred.)
3. Paint a minimum of two coats and allow a couple of days for drying so you don't damage the paint when you add the tape.
4. Use a template for the floor pattern out of stiff cardboard and trace the inside of the template lightly on the floor with pencil. Click here for free downloadable stencils 7 painted floor stencils to try at home: Downloadable stencil patterns | Habitat by Resene
5. Using blue low-tack masking tape, tape out the inside edges of the areas she wanted to keep in the base colour.
6. Then apply the topcoat. In the bathroom, this was Resene Blue Charcoal. Two coats and two days later peel back the paint and paper to reveal the pattern. Take care when peeling off the tape as the paint can act almost as a giant sticker and peel off in strips very easily.6. Then apply the topcoat. In the bathroom, this was Resene Blue Charcoal. Two coats and two days later peel back the paint and paper to reveal the pattern. Take care when peeling off the tape as the paint can act almost as a giant sticker and peel off in strips very easily.
7. 48 hours later a protective topcoat of Resene Uracryl and it's done!
Top tip: When rejuvenating tiles grout try using Resene testpots to paint the grout in a contrasting colour.
Let your inner DIY streak be released this long weekend, and don't hesitate to pop into your Resene ColorShop for any home improvement questions. We are happy to help.
Published: 14 Apr 2022
Do you have a home full of wonderful Resene paint and colour? Send us some snaps by emailing [email protected].