►
◄
latest
habitat tv
blog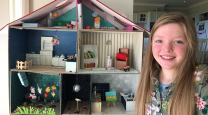 Smart and colourful solutions for supersizing your kitchen storage capabilities.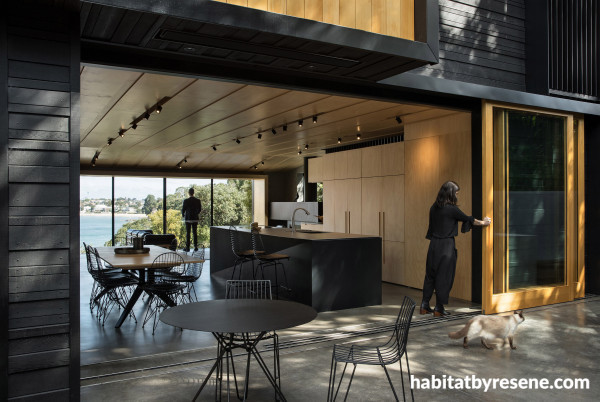 The ply millwork and ceiling in this kitchen, designed by Strachan Group Architects (SGA), lets the beauty of the woodgrain shine through in Resene Colorwood Natural wood stain and looks extra enticing next to the high contrast of the Resene Hackett Black wood stain exterior.
Smart and colourful solutions for supersizing your kitchen storage capabilities.
Summer is prime time for parties and gatherings. Whether you prefer hosting intimate affairs or sizable shindigs, having visitors in numbers greater than your typical household head count means that you'll need more stuff to accommodate them – including plates, platters, serving dishes, drinkware, cutlery and the like. But having more stuff demands more area to store it.
Luckily with some clever with kitchen configuration and Resene colour choices you can make the most of your kitchen space. Here are some ideas to try if you're renovating or building anew.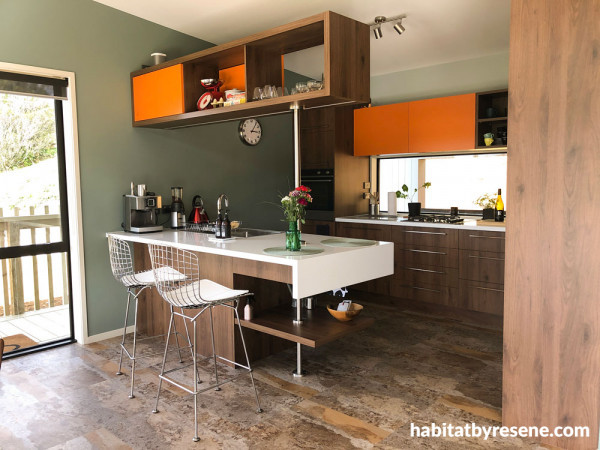 Rachel and Shane's kitchen has a mixture of open shelving and upper cabinets combined with an interesting colour palette. Instead of your typical white kitchen, walls in soft sage Resene Smoky Green and upper cabinets in Resene Clockwork Orange mix with warm woods and cork flooring, making Rachel and Shane's kitchen a standout. Resene Ecru White has been used as an accent colour on the trims and ceiling to reflect the bench and stool tops.
Use a mix of open shelving and cabinets
It's common to think that choosing open shelving versus upper cabinets is an either or game. Rather than picking one or the other, try incorporating a mix of both open shelving to showcase your prettier items in conjunction with closed door cabinets for things you want to keep out of sight. You may also find some oddly shaped or tall items are better managed on open shelves so that you can maximise your closed door spaces with more compact things.
As opposed to solid upper cabinet doors, you could also try ribbed, frosted or smoked glass fronts. They can help make the space feel more open but are still opaque enough to distort what's behind them. Changing out your old cabinet doors is easier than you think, and way cheaper than fully replacing your kitchen benches and joinery. Focus on ones that you like the design of, or have a joinery company make you some custom ones, as you can always paint them to match or coordinate with your colour scheme.

These kitchen cabinets have been refurbished from "dingy dark brown" to the subtle white of Resene Blanc. To give an old kitchen hutch a new look, first wash surfaces with Resene Interior Paintwork Cleaner and lightly sand to 'key' the paintwork. Apply one coat of Resene Waterborne Smooth Surface Sealer and allow two hours to dry. Then apply one coat of topcoat paint, such as Resene Lustacryl semi-gloss waterborne enamel. When the paint is completely dry, apply a second coat of paint. The greeny-blue kitchen walls are in Resene Half Smalt Blue from the Karen Walker Paints collection.
Use 'uppers' as 'lowers' in smaller kitchens
Just because you have less space than you'd like in your kitchen doesn't mean you have to compromise on storage. Narrow kitchens that can't accommodate the depth of a standard base cabinet could still incorporate a floor to ceiling pantry by using just uppers. These are designed to be shallower so that they don't protrude so far over your counter, which means you might be able to add cabinetry to an area that's lacking in space.
Make the most of odd and awkward spaces
For those small gaps or awkward spaces that are under-utilised, such as underneath islands, try adding a small shelf to make sure that space is maximised.
Even if you only have a 10cm gap, adding a shelf could mean a place for you to store large platters, baking sheets, spices or special occasion cutlery – which will clear out space for taller items in your main cabinets. Have a builder or handyperson cut plywood to size then paint it to match your cabinet or island in Resene Lustacryl semi-gloss or Resene Enamacryl gloss waterborne enamel before you install them.
Try vertical slot shelving
Adding vertical slots to store cutting or serving boards can work both as a space saver by making better use of vertical space and by making it easier to actually use your boards since they won't be piled on top of one another.
You may also find that baking sheets, pizza pans and muffin tins are better stored vertically. The key is having dividers placed at regular intervals so that when you go to remove one item, the rest don't come crashing down with it.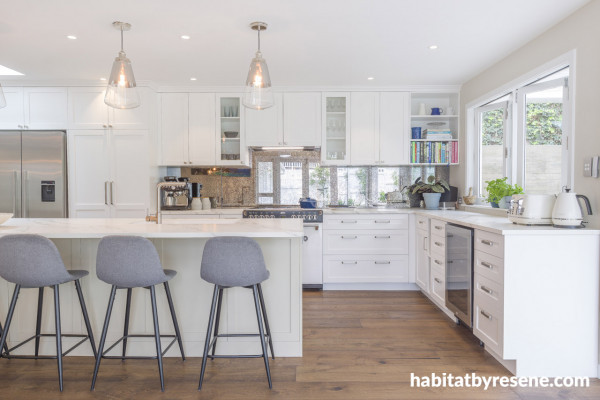 Strong attention to detail gives this white kitchen by Susan Templer of Templer Interiors an elegant traditional look but in a contemporary way. The island introduces a subtle difference in colour, in Resene Akaroa, and gives contrast within the large space. The other cabinets are in Resene Alabaster with walls in Resene Quarter Akaroa.
Go for more drawers
Pull-out drawers and shelving can be a game changer for making items at the back of your cupboard more accessible. These days, you can find a lot of interior cabinet racks and baskets that can be added inside your cabinets to use any space within the shelves along with the back of doors.
If you are working with existing cabinetry, you can easily add these in as a budget-friendly solution. There are a number of pull-out cabinet accessories that you can install yourself in an afternoon with just a few basic tools, allowing you to access the depths of your cabinets and take full advantage of your kitchen's storage capabilities.
If you're unsure of what devices or configuration will work best, engage the guidance of a kitchen design expert to work their magic. They might even be able to offer some 'trade secret' options that aren't available in regular shops.
Canned items and spices are perfect candidates for storing drawers. Stow them laid on their side so that you can see their labels clearly and you'll know exactly what you have on hand.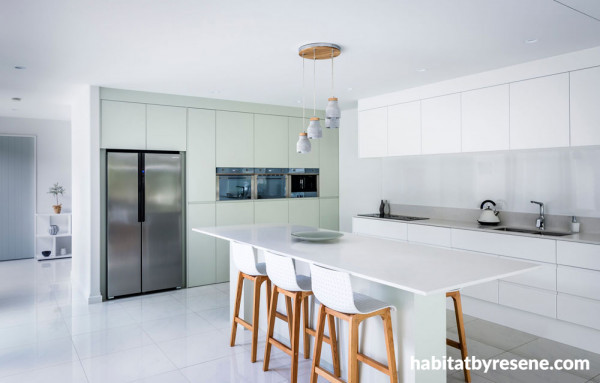 Rochelle Jackson of Kitchen Elements responded to a brief for a relaxed, tranquil kitchen by combining cabinets in Resene Half Sea Fog and Resene Apple Green. To add to the sanctuary feel of the room, she included many drawers to help clear away the clutter and specified ultra-quiet appliances.
Taking it to the top
One of the easiest ways to add storage is by taking your cabinets all the way to the ceiling, but it comes with a serious caveat. While this move will reclaim what might otherwise be dead – and often dust collecting – space, it won't be in easy reach. And unreachable space usually means unusable space.
Adding a sliding ladder into your design plan that'll allow you to reach high cabinets is one idea. Investing in a chic step stool that you don't mind keeping in your kitchen is another. However, both could be a safety hazard unless you also have a space to tuck it away out of the path of foot traffic.
If that's not doable, it might be wise to paint it in a cheerful and eye-catching colour such as Resene Bowie, Resene Home Run, Resene Smitten or Resene Daredevil so that it'll be easy to see – and avoid tripping over.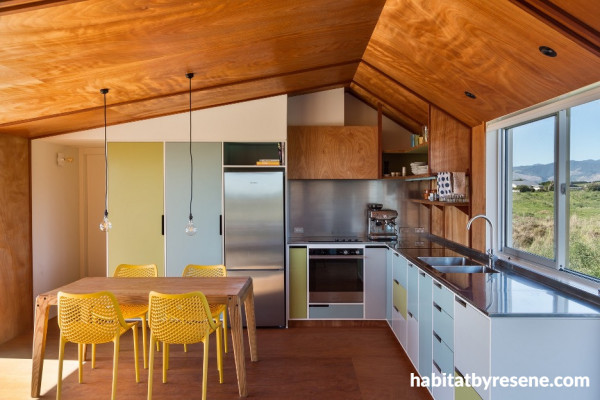 The cheerfully coloured cabinets in this Parsonson Architects-designed bach in Te Horo keep things casual in Resene Crisp Green, Resene Carrara, Resene Boulevard and Resene Half Delta when framed by the golden oak ceiling and flooring.
Diversity is key
Don't be afraid to think outside the box – or, in this case, cabinet – when considering your storage options. For any space that needs a lot of storage, diversifying your storage solutions will help ensure that there is a shelf, nook, cubby, basket, bin or drawer that will work for whatever you might need to tuck away.
Look for storage options that will hold everything you need while aligning with the overall vibe of the space. For example, perhaps you have a vintage hutch you'd love to display your dinnerware in instead of hanging more wall cabinets. Or maybe a piece of furniture that you wouldn't normally find in a kitchen, such as a wardrobe with clean and simple lines, will serve you better for all those items you need and love but don't necessarily want visitors to see.
Incorporate hanging storage
Rails, pot racks, pegboards and hooks can help for storing some of your most frequently used kitchen tools while taking advantage of every last bit of wall and ceiling space. If you can't find one you like or that fits the space you want it in, pick up some plywood or pipes and build your own.
If you want to keep the woodgrain of your timber showing, stain it in a Resene Colorwood hue in a tone similar to the wood's natural colour or try Resene Colorwood Whitewash or Resene Colorwood Greywash for a weathered look. Use Resene Waterborne Smooth Surface Sealer to prime new metal before painting it in Resene Enamacryl waterborne enamel tinted to your favourite Resene colour.
Then, hang up a variety of shapes and materials from it like cast iron pans, wooden spoons, linen towels or metal measuring cups to create visual balance and interest.
Pick items that you actually like
It's easy to pick up generic plastic bins, but a little bit of discriminating taste can go a long way in making sure your storage solutions complement rather than clash with your kitchen.
For open storage areas, look for containers that can double as décor. Extra dish towels can be kept hidden away in woven baskets, and favourite serving bowls could be used to hold fresh produce. But if simple boxes or bins are what you need, pick up some Resene testpots to paint them in your favourite Resene colours. You could even colour code them to help differentiate between what's inside them. Or paint them in one or more colours of your choice tinted into a base of Resene FX Chalkboard Paint or Resene SpaceCote Low Sheen then label them in chalk. If you need to relabel them in the future, you can wipe the paint clean using a damp cloth and write the new contents on the label with chalk
Published: 04 Feb 2021
Do you have a home full of wonderful Resene paint and colour? Send us some snaps by emailing [email protected].