►
◄
latest
habitat tv
blog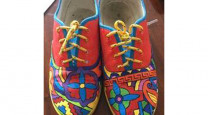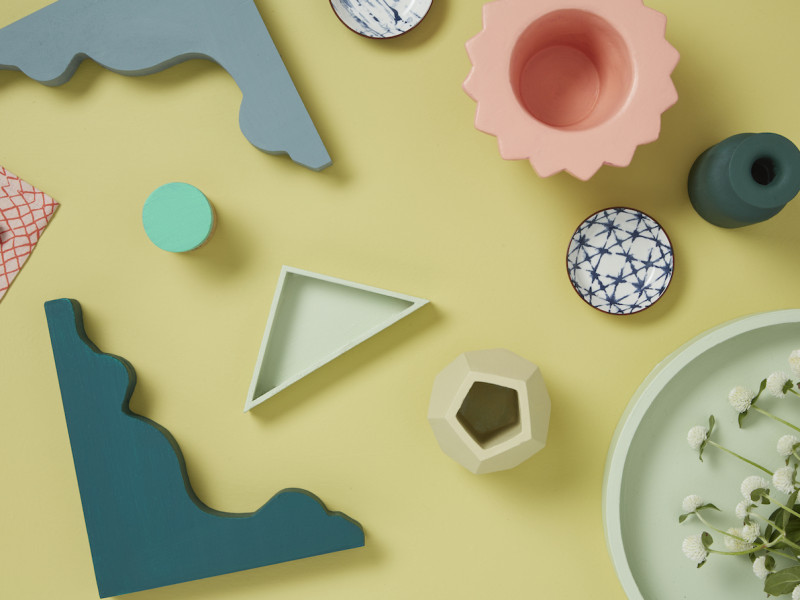 3 trending colour palettes to try on your next design project
18 Aug 2020
If you're feeling challenged for finding fresh inspiration at this time of the year – or just this year, in general – you're not alone. Many of us look to art, nature, fashion, architecture and travel to recharge our creative energy. And if you happen to be stuck at home under lockdown restrictions, it can be quite hard, if not impossible, to immerse yourself in those worlds – especially given the extra stresses and distractions you likely have on your mind.
Well, we've put our resident colour expert and editor, Laura Lynn, on the case. She's combed through the latest global colour trends to curate some palettes that might be just the thing your next project is looking for. She shares more about her top colour picks and why they're trending below.
Complex cocoa meets terracotta
"While brick and terracotta colours have been wildly popular over the past two years, there's been a huge uptick recently in rich and complex neutrals – especially toasty brown-based ones. Coffee colours, all the way from deep dark espresso through to milky Swiss whites are the next big thing," she predicts. "Part of this increase in popularity is probably due to our move from 80s and 90s inspired fashion and interiors to a renewed revival in styles that were big in the 70s – but with a contemporary twist.
"I also think people are starting to tire of seeing flat greys and are ready for something more warming and soothing – and part of that is connected to our increased interest in self-care and wellbeing, and our need for balance in our increasingly stressful and complicated lives. And we, as designers, know just how much of an impact the colours we surround ourselves with have on how we feel.
"Creamy cocoas like Resene Felix are really relaxing to be around, and this particular hue falls into the category of 'character neutrals' – which are colours that have an extra layer of complexity to them thanks to their undertones. Rather than just reading as 'brown', Resene Felix is more soulful because of its red and violet base, but it's also quite sophisticated, too. It's gorgeously warming on walls, and it lends itself really well to being layered with trending terracotta hues like Resene Crail and Resene Ayers Rock and peachy beige hues like Resene Roxy and Resene Papier Mache. Try those four with it as key accent colours as the base of a tonal palette and anchor it with darker Resene Rebel, which also has a touch of red-violet to it. Then, go for something unexpected like a touch of Resene Guardsman Red, Resene Bitter green or a violet-burgundy like Resene Vanquish."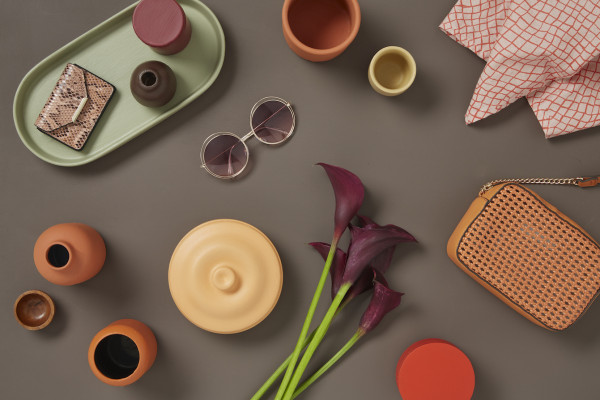 Background in Resene Felix, oval tray in Resene Bitter, lidded container (bottom right-centre) in Resene Guardsman Red, large lidded container in Resene Roxy, narrow vases (bottom left) in Resene Crail and Resene Ayers Rock, wider vase (top middle) in Resene Crail and small vase (next to it) in Resene Papier Mache, small lidded container (on oval tray) in Resene Vanquish, small vase (on tray) in Resene Rebel. Tea towel from Citta, wallet, purse and sunglasses from H&M.

Celery balanced with celadon
"Greens have been huge this year, especially silvery sages, and they're likely not on their way out anytime soon. Again, this likely ties back to our need to be soothed – and nature-inspired hues are particularly good at doing that. But just like the majority of the most popular colours out there right now, I'm expecting to see these to start warming up and taking on more of a celery hue, like Resene Gimblet.
"It's not a colour for everyone, but it does make a nice counterpoint to blue-green celadons like Resene Norway and it's beautiful as an accent on areas you want to draw attention to. I can easily be used architecturally as a statement colour or on the front door of a villa as a contrast to a steely blue-grey cladding in Resene Atomic and crisp trims in a slightly greyed white like Resene Half Sea Fog.
"Other colours it would look great with are Resene Blue Bayoux, Resene Deep Teal and Resene Palm Green – which are all blue-green based hues – while you could use something really unexpected like a pop of Resene New York Pink or Resene Home Run and end up with a quirky and energetic mix for a fun retail setting. It's one of those combinations that you might not think would work, but it totally does. It all comes down to how and where you use each hue."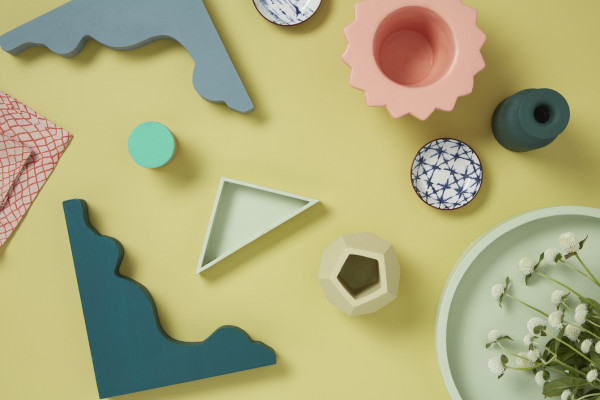 Background in Resene Gimblet, trays in Resene Norway and painted accessories in (from bottom left) Resene Deep Teal, Resene Home Run, Resene Blue Bayoux, Resene New York Pink, Resene Palm Green and Resene Fawn Green. Tea towel from Citta.

English countryside chic
"When we're going through periods of increased stress, it's easy for people to get nostalgic for simpler times. That yearning for the past has an impact on design and colour trends, and I think we're going to see some clients wanting more traditional spaces and furnishings again. But, they're going to need the right colour palettes that pay homage to yesteryear without looking stale or dated.
"Depending on the setting, Resene Innuendo or Resene Sixth Sense – both dusty mushroom taupes with red-violet undertones – can look anywhere from ultra-contemporary to truly traditional. I like them in a medium to lower light setting, because they have this cocooning quality without being oppressing. They look incredibly chic with emerald and ruby jewel tones and a lighter taupe, too, but I am particularly fond of using one of these two hues in a combo with a deep coastal blue, a creamy wheat white and olive green like Resene Avalanche, Resene Double Wheatfield and Resene Seaweed and maybe a bit of Resene Lemon Twist or Resene Marionette to finish the look. It can look lovely as part of a contemporary take on an English country conservatory, home office or library. It just feels like the sort of palette that demands a cup of tea and a book to curl up with."
Background in Resene Innuendo, leaf plate in Resene Green Smoke and painted vessels in (from left to right) Resene Slate Brown, Resene Double Wheatfield, Resene Avalanche, Resene Marionette, Resene Deluge and Resene Lemon Twist. Cushion cover and towel from H&M Home.

styling Laura Lynn Johnston
images Bryce Carleton