►
◄
latest
habitat tv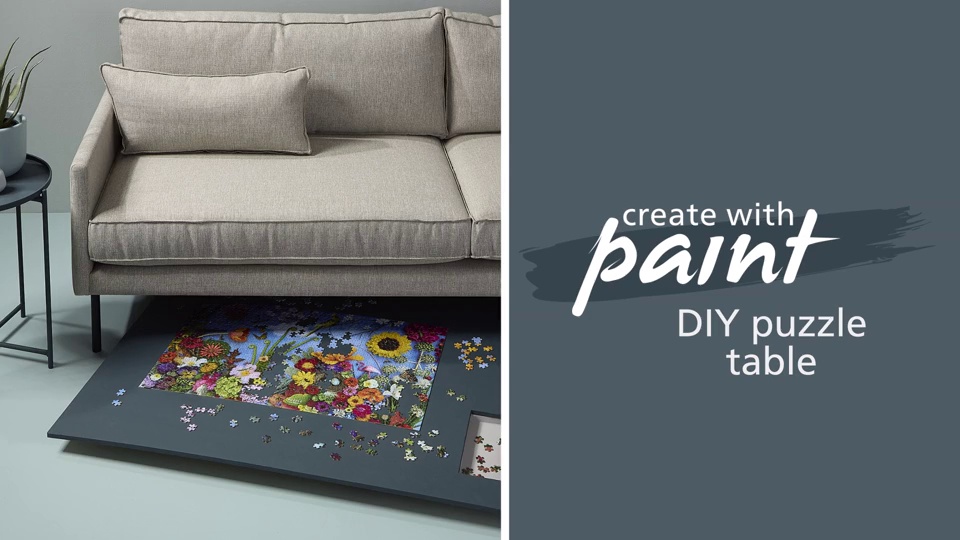 blog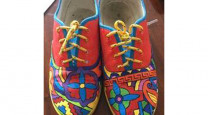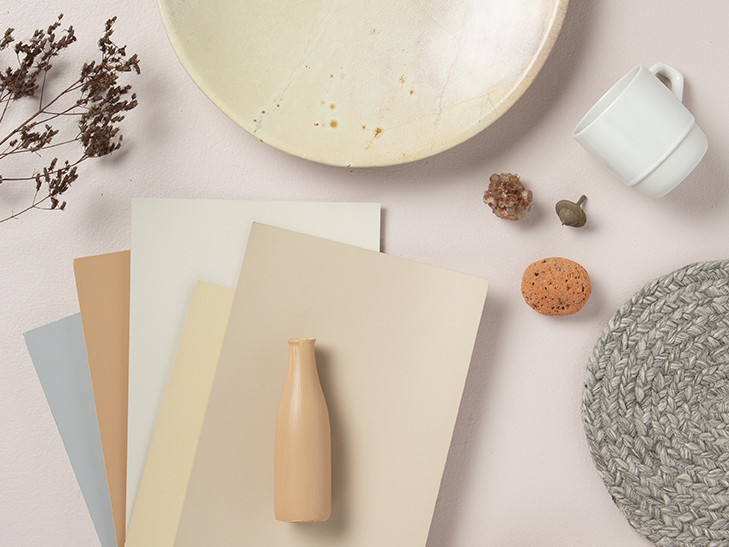 5 unexpected colour combinations that totally work
16 Feb 2021
If you've been in the design game awhile now, you might find yourself lucky enough to have one of those clients that trusts your recommendations completely. It can be a precarious position to be in. You've obviously sold them on the quality of your skills and impeccably good taste, but what if you're feeling short on inspiration? Don't worry, we've got you covered.
These five Resene colour palettes aren't your typical go-to combinations, and they might not be what a client would pick out themselves when facing down a wall of paint swatches, but they're undeniably effective. Not only do these hues work really together, they're interesting – making them perfect for a project that still needs that certain special twist to push it into 'wow' territory.
Blush beiges + dusty blue + sienna
Yes, okay. We all love cool grey. It's been the world's preferred neutral for twenty years now. But remember beige? Remember how much we loved the way it warmed our homes in the 80s and 90s? It's high time to rekindle that love in our clients and make it their light to mid-range go-to hue when they're looking for a blank canvas to build upon, because beige is well on its way to making a big time comeback. It blends beautifully with everyone's favourite 'might-as-well-be-a-neutral' dusty blue-grey, Resene Duck Egg Blue, especially when offset with today's ultimate 'it' colour, terracotta.
Go for a mix of two or three blush or suede varieties such as Resene Wafer, Resene Smooth Operator and Resene Whiskey Sour and top it off with a touch of deeper Resene Kalgoorie Sands to seal the look.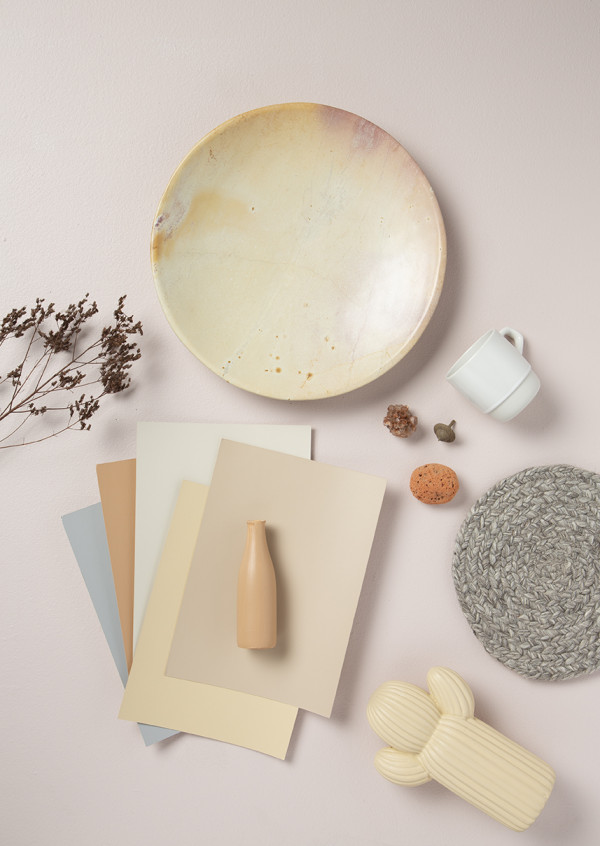 Background in Resene Wafer, A4 drawdown paint swatches in (from left to right) Resene Mountain Mist, Resene Kalgoorie Sands, Resene Moon Mist, Resene Smooth Operator and Resene Rodeo Drive, bottle vase in Resene Whiskey Sour and cactus in Resene Smooth Operator. Marble platter from Citta.
Chocolate + steel blue + cod grey + steeped white
The love for vintage continues as what's old is made new again. And the popularity of this trend makes sense. As we try to seek out that sense of comfort as a way to cope with everything that's been going on in the world, we're drawn in by our fondness for things we know to balance out all the unknowns.
This colour palette takes a cue from black and white and desaturated photographs for a nostalgic yet highly sophisticated look. They're all traditional colours, ones you could have found in an old villa the year it was constructed, but yet the warm-meets-cool mixture of chocolate brown and milky tea white with grey blue and blue grey feels decidedly unexpected and fresh thanks to bold black and white accessories.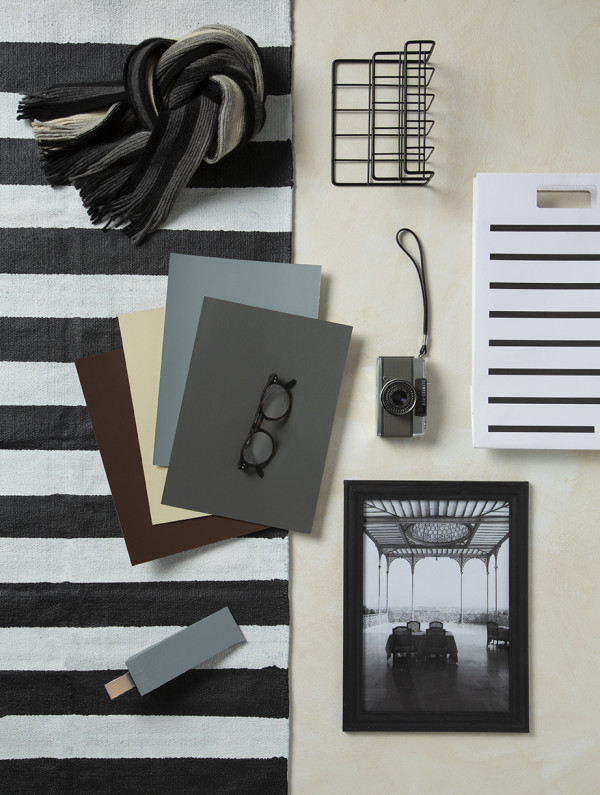 Background in Resene Sugar Loaf with a marbled effect in Resene FX Paint Effects medium coloured with Resene Black Haze, A4 drawdown paint swatches in (from right to left) Resene Armadillo, Resene Rolling Stone, Resene Beachcomber and Resene Espresso and rug stripes in Resene Alabaster. Reading glasses by Izipizi from Auckland Art Gallery.
Cool blues + moss green + leather + silver
While using muted blues and nature-inspired greens together has long been a design staple, and infusing it with high contrast neutrals might seem pretty predictable, what makes this colour palette shine is the inclusion of some serious sparkle with Resene Blast Grey and – the real curve ball – soft and supple Resene Leather. Looking for the perfect palette for a cool office or co-working space? Well, here it is.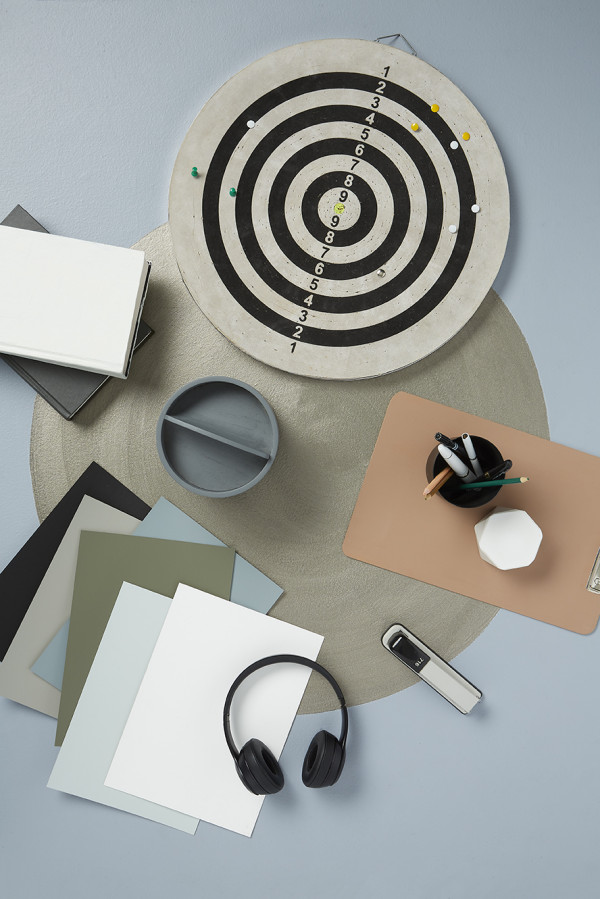 Background in Resene Neutral Bay with circle in Resene Blast Grey 3 metallic, A4 drawdown paint swatches in (from right to left) Resene Alabaster, Resene Emerge, Resene Raptor, Resene Rolling Stone, Resene Castle Rock and Resene Jaguar, clipboard in Resene Leather, organiser in Resene Hammerhead, pencil cup in Resene Jaguar and books in Resene Rice Cake (top) and Resene Double Cod Grey (bottom). Round multi-tiered organiser from Citta (painted Resene Hammerhead).
Lime white + apricot + toffee + celery + olive
You might ask yourself when the last time was that you spec'd ten different paint colours to use together in one room and not be able to come up with an answer, and then you might take a look at this colour palette and wish you'd done it sooner. Break it down, and you'll see the palette is simple three different greens, three different oranges, three different neutrals and a touch of toffee for good measure. That may seem like a lot, but it's a sure-fire way to bring layered depth and richness to a large space and still have it feel warm and welcoming.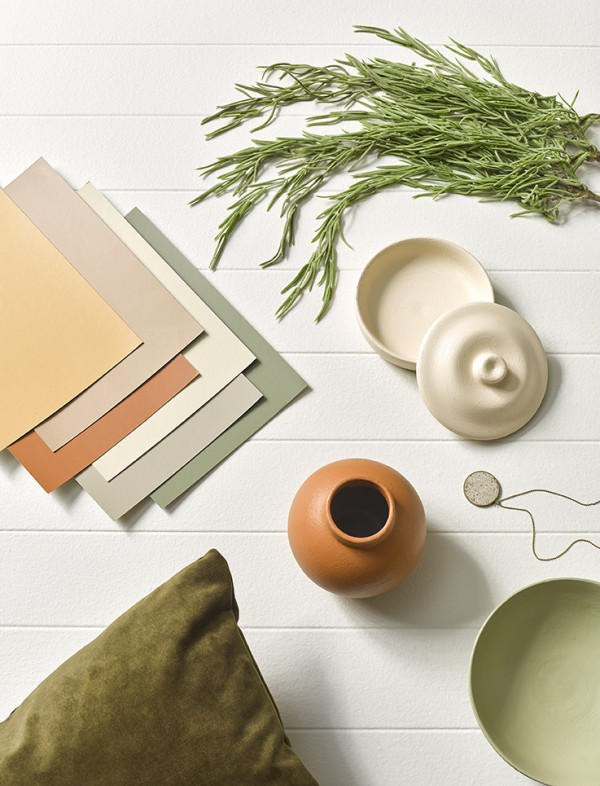 Background in Resene Green White with A4 drawdown paint swatches in (from left to right) in Resene Beethoven, Resene Papier Mache, Resene Toffee, Resene Celeste, Resene Zen and Resene Wilderness, bowl in Resene Stone Age, lidded dish in Resene Hampton and vase in Resene Toffee. Velvet cushion from Freedom Furniture, concrete pendant from Beton Brut.
Hazy white + hazy black + petal pink + lavender + sourdough + pea green
If the first thing you thought when you saw this colour palettes was, "what am I even looking at but also why do I love it so much?", you're not alone. This palette has boldness in spades, and it reaps the benefits of seemingly random yet actually quite clever pops of colour that scream of effortless Scandi cool.
If you visualise pulling out the blacks and whites, you're really left with four hues: sourdough, lavender, petal pink and pea green. But given the pale pastel nature of the first three hues (Resene Calico, Resene Smooth Operator, Resene Lola and Resene Wafer), you can see that Resene Green Pea is really the only standout.
It's a palette that demands the right proportions to pull it off, but remember that you are your client's trusted expert for a reason – you've got this. Use your blacks and whites as your base, build layers and interest with your pastels, then take it across the finish line with a few restrained and carefully placed pops of pea green.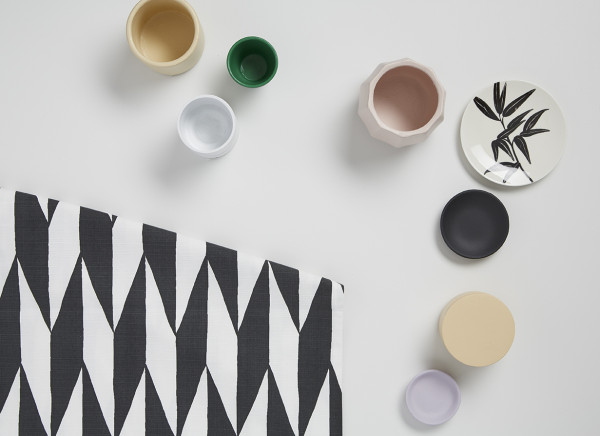 Background in Resene Black Haze and painted vessels in (clockwise from top left) Resene Calico, Resene Iron, Resene Green Pea, Resene Wafer, Resene Blackjack, Resene Smooth Operator and Resene Lola. Cushion cover and bamboo saucer from H&M Home.
styling Kate Alexander, Greer Clayton, Laura Lynn Johnston
images Bryce Carleton, Wendy Fenwick