►
◄
latest
habitat tv
blog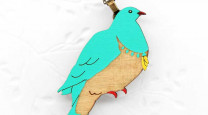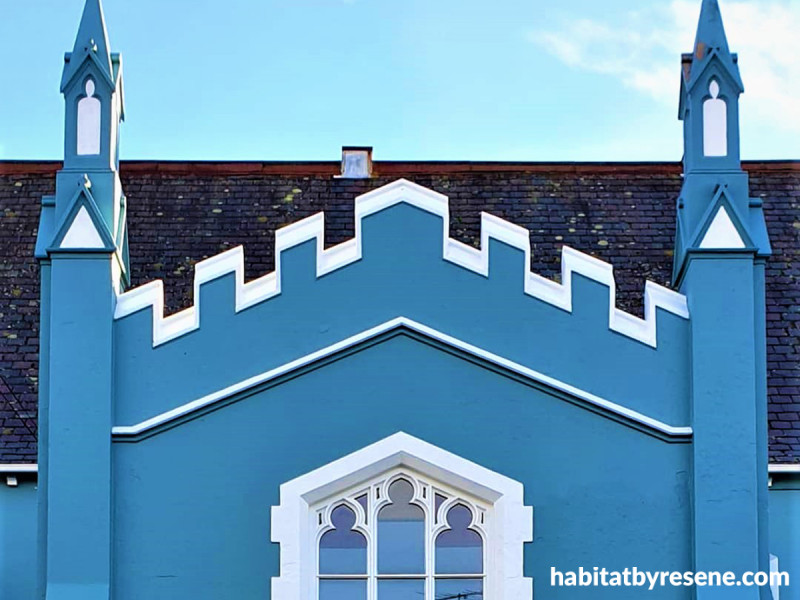 A fresh paint colour marks a historic church's transition to new use
09 Nov 2021
On a prominent corner in the centre of Dunedin stands the former Moray Place Congregational Church. First opened for worship in 1864, it is one of the oldest buildings still standing in the South Island's second largest city. Over its many years of existence, the David Ross designed building has had its share of changes – including a reconstructed entrance that was the handiwork of another significant Dunedin architect, Robert Arthur Lawson. But after more than a century as a place of worship, the church has been recently repurposed as short-stay apartments; and the transition to a new use seemed like the perfect opportunity to change up the exterior with a fresh Resene paint colour that better suited the new interior fit-out.
Despite the noticeable position where what is now known as Chapel Apartments stands, the former church didn't particularly standout among the heritage streetscape. The new owner was after a different exterior hue that would bring a bit of 'pop' in a way that remained sensitive and respectful of the structure itself and those that surround it.
"The new owner, Jon Leng, is constantly looking for something different in an aesthetic – which is a joy for a designer, but also an instinct that occasionally needs to be reined in," explains Shelley Wright Chalmers of ShelleDesign, who provided interior design services for the project and specified the new exterior paint palette. "The challenge was balancing the desire for an exuberant colour scheme while complementing the building's history and that of the streetscape."
The Category 2 building is not only on Heritage New Zealand's List of Historic Places but is further protected by Dunedin's City Council District Plan. Shelley consulted with both about their parameters, but given there were no 'hard and fast rules' that would demand a true heritage scheme, she was faced with the task of trying to find an amiable middle ground that would balance each party's interests.
"I looked long and hard at the building from all angles over different times of the day," Shelley says of her research. "It is a beautiful and grand building, and I wanted people to turn the corner and for their eye to be immediately drawn to it. I was struck by the coloured windows – particularly the red panes that feature in the ground floor windows – and wanted colours which would best complement them so that they wouldn't be missed."
She was initially drawn to the different strengths within the Resene Duck Egg Blue family as their slightly green undertones would make an ideal complimentary choice for the red and reckoned it would show the building at its best. "On a warm summer's day, I painted a number of them on the exterior, and while each was beautifully toned, the bright summer sunlight bleached out the colour. I was also conscious that, in cooler winter light, the paint would require a warmer and deeper base than those colours could provide.
"For two long years I had carried around a colour in my supplies that I adored: Resene Half Smalt Blue from the Karen Walker Paints range. Its moody tone and warm, murky base echoes the layered depths of the ocean and felt like a capivating and very 'New Zealand' colour – I just hadn't found the right project for it yet. Out of all of my suggestions, this was the wild card. Would it be too much for a building of such impressive size and scale? Would the client go for it? I grabbed the testpot from my car, painted a wide swathe on the building and walked my client across the road to view it."
It was exactly the pop Jon was after, and he fell in love with the colour immediately. While it might have been an easy decision for him, Shelley still had to get the green light from the other stakeholders – but she says the colour held its own. Her contact at Heritage New Zealand was surprised by the choice but encouragingly said that the past was much more colourful than we give it credit for. And given the association that blue has with the Virgin Mary, faith and truth, it felt very suitable for a former church.
Choosing the colour for the exterior doors and railings proved more difficult, says Shelley. "My first instinct was navy and I experimented with various tones. Resene Tangaroa stood out, but not all the stakeholders were convinced it was the right choice." General consensus seemed to be that a classic navy might be a better fit than the yellowed undertones of Resene Tangaroa, so she continued to experiment, but nothing else seemed to have the right warm base or play to the green undertones that are present in Resene Half Smalt Blue so she stood her ground.
"I was admittedly nervous of using such strong and modern hues on this large and prominient project so I found myself constantly driving past to check on it under different lighting circumstances and from different angles. What I discovered, to my joy, is that the former church began to emerge from the surrounding structures to become the building that immediately drew the eye on that streetscape. The stained glass came to life while the warm white detailing and trims in Resene Half Bianca contrasted beautifully with the Resene Half Smalt Blue walls," she says.
"Overriding the opinions of experienced trades and others is never easy, but once Resene Tangaroa went on the sizable church doors and you could see that it toned beautifully with the Resene Half Smalt Blue, I was pleased I listened to my instincts. At the end of the day, I was the designer. It was no time to doubt my skill set; I had to own it!"
Even more reassuring, says Shelley, was that people began stopping by to admire, comment and take photos. She learned that other people were falling love with Resene Half Smalt Blue the way she has and a number had gone in to the local Resene ColorShop to request 'the same colour on the old church in Moray Place'.
"Finally, the Chapel Apartments have a presence and I am thrilled that a somewhat risky colour choice ticked the box for so many: for the public, for my client and for the gracious old church. Thank you, Half Smalt Blue. Thank you, Karen Walker. And thank you, Resene!"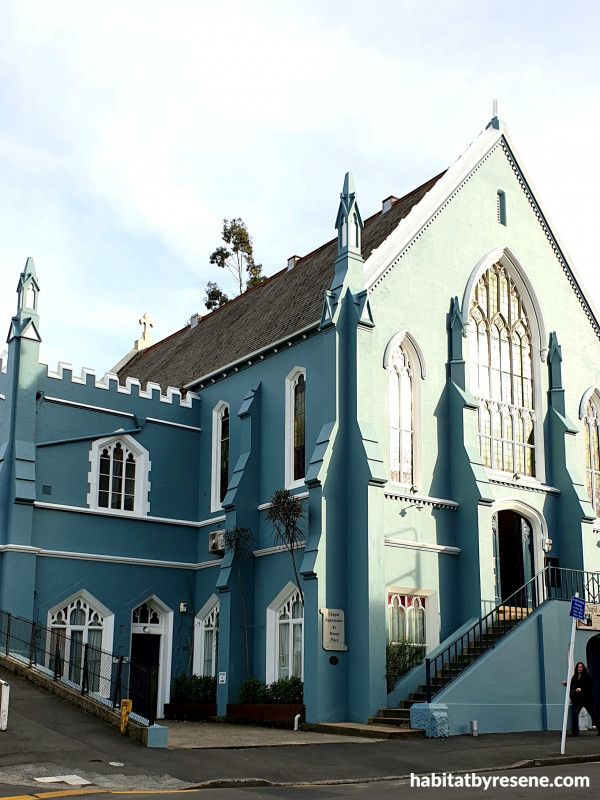 Chapel Apartment's exterior walls have a somewhat rough and uneven surface and are a combination of blockwork, concrete and plaster. Shelley needed to specify a product with easy coverage, resilience and weathertightness and says Resene X-200 ended up being the perfect choice as it not only adheres to the mix of surfaces but also filled in minor gaps developed as the building aged and shifted. Walls in Resene Half Smalt Blue, trims and details in Resene Half Bianca and doors in Resene Tangaroa.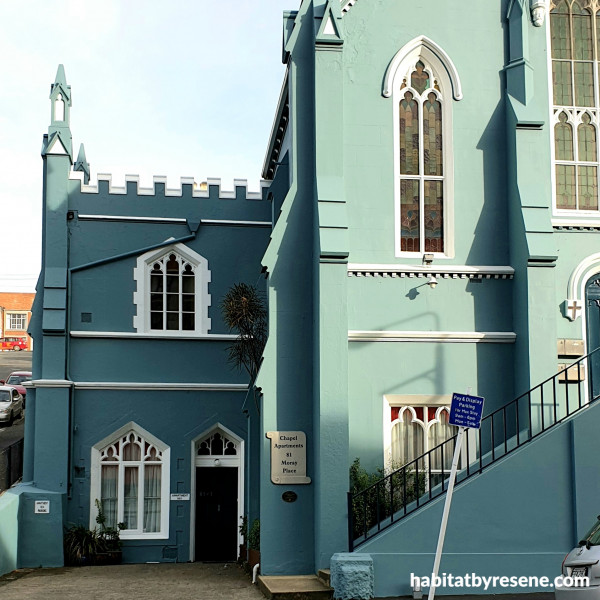 Shelley specified Resene Lustacryl semi-gloss waterborne enamel for the door and window trims and the building's other decorative elements for its ease of application, durability, anti-yellowing qualities and because its slight sheen highlights the former church's striking details. Resene Super Gloss enamel was used for the railings for its toughness and to add some high gloss shine. Walls in Resene Half Smalt Blue, trims and details in Resene Half Bianca and doors and railings in Resene Tangaroa.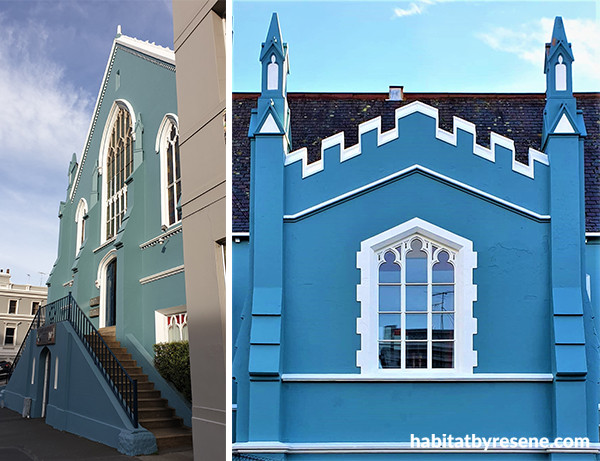 Like many saturated colours that carry subtle undertones, Resene Half Smalt Blue is a chameleon that shifts and changes quite dramatically between different lighting circumstances. Shelley was sensitive to this fact and did the right thing during her research by viewing her proposed colour from different angles at different times of the day and took into account the temperature changes between summer and winter daylight. Walls in Resene Half Smalt Blue, trims and details in Resene Half Bianca and doors and railings in Resene Tangaroa.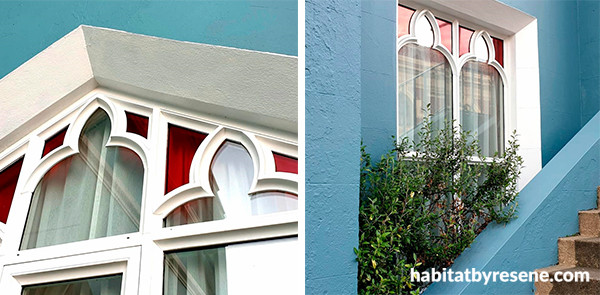 Shelley says that she was drawn to using blue for the main exterior colour as a complementary choice for the red window details. After the walls were painted in Resene Half Smalt Blue, Heritage New Zealand remarked that they hadn't noticed the red panes until the new wall colour made them pop. Window trims and surrounds in Resene Half Bianca.
colour specification and images Shelley Wright Chalmers, ShelleDesign
painting Jon Leng, Isaak Auperule
Published: 09 Nov 2021