►
◄
latest
habitat tv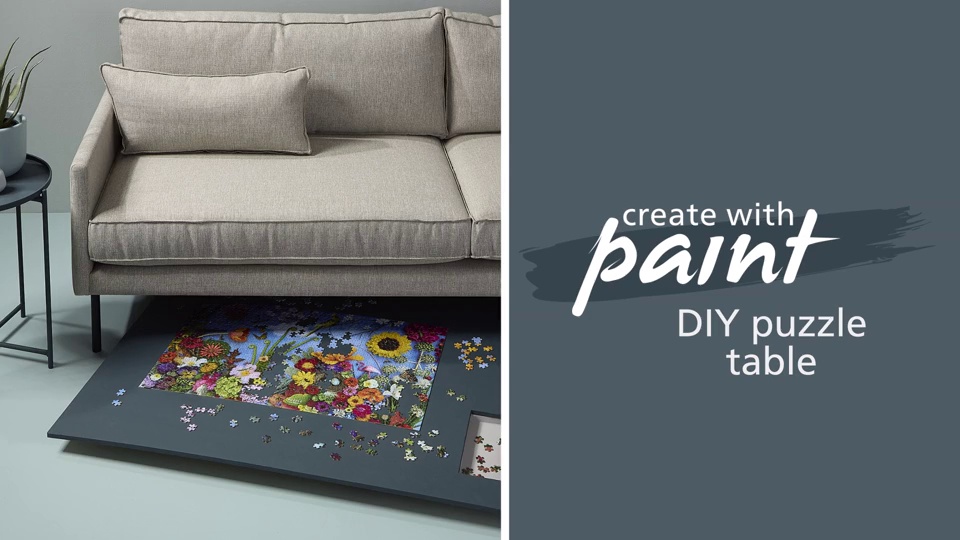 blog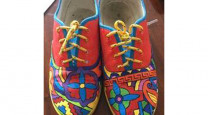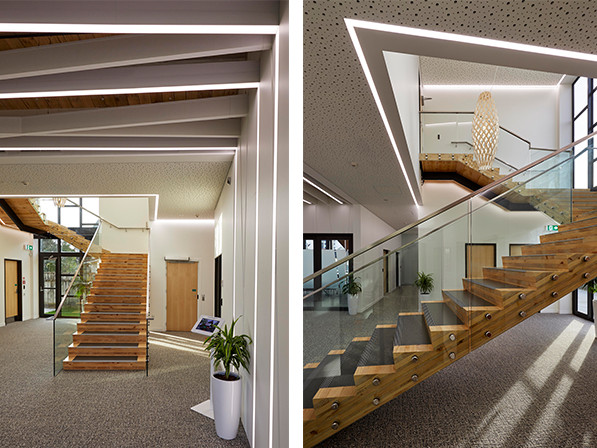 A restrained palette puts Trust Waikato's dynamic architecture in the spotlight
16 Feb 2021
Thanks to the talented team at Chow:Hill Architects, Trust Waikato's Hamilton location is far from your average community hub. Their new two-storey building hosts the organisation's main offices on the upper floor and multi-purpose spaces on the ground floor.
"The facility, designed for people of the Waikato region, provides a community office building and reinvention of an historic site, featuring greater public visibility and accessibility," says architect Arthur Joe. "Our brief was to provide a building which recognised the rich history of the site – including its historic homestead, sculpture and trees – while taking into account its immediate surroundings including the Waikato River and adjacent Kirikiriroa Pā site."
The site has a significant Māori and European history dating back well over 100 years, so Chow:Hill Architects sought inspiration from both cultures to provide a multi-cultural solution to a tight and sensitive area. As the building is surrounded by three protected historic trees and a historic homestead, construction had to be carefully managed to avoid damaging these taonga (treasures).
Interestingly, when he and his team mapped out many of the site's features, they found that it created a historical timeline of development in the area starting from the river's edge to the proposed building.
"In acknowledgement of the site's rich historical, cultural and physical context, and with advice from local Kaumātua, our design reflects key aspects from the timeline, which include European and Māori development in the area. Recognition of the timeline manifests itself in the design through the use of timber both internally and externally, drawing inspiration from the historic homestead and Kirikiriroa Pā site."
Arthur says that another key design feature is the triangulated timber colonnade to the front of the building referencing 'Niho Taniwha' from Māori artwork.
"Given the rich, historical significance of the land, and from discussions with the local kaumatua, it was decided to base the interior theming upon local hinaki (eel nets), which were used extensively in the adjacent Waikato river. This resulted in the use of a lattice type pattern which is visible in the feature acoustic panels in the foyer ceiling, stair configuration, carpet layouts, carpet patterns, lighting configuration, rebates in the feature walls and glazing manifestations," he explains.
Because the building is relatively small and incorporates a number of interesting and dynamic interior design features, a neutral colour for walls was chosen to act as a backdrop. Resene Eighth Pearl Lusta, a versatile neutral that sits between white and cream, was chosen as the main hue in the foyer, office and conference room so as not to compete with many of the features within those areas, including the attractive staircase and strip lighting. Subtle colour variations feature in smaller meeting rooms and community areas, including Resene Quarter Robin Egg Blue and Resene Quarter Lemon Grass, with deep Resene Warrior used in the washrooms.
Arthur says the project has been met with much enthusiasm and approval from staff and visitors to the building. Not only is Trust Waikato able to continue its funding and grant priorities for the region from a more functional and beautiful base, its design provides new ways to give back to the community. With meeting rooms and multi-purpose spaces available for free use by community organisations, both the building and surrounding gardens have become a shared asset for the whole region.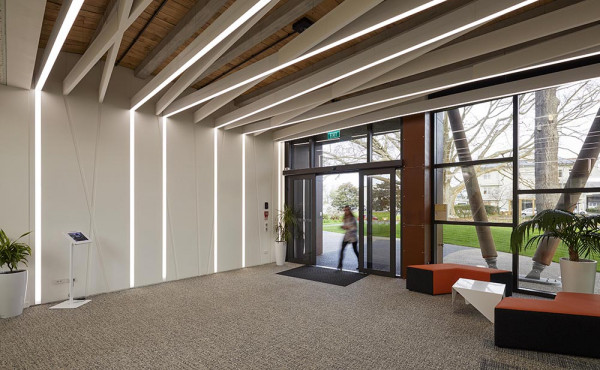 When your design has prominent architectural features in its interior like Trust Waikato does, sometimes you just need the right white to allow those elements to take centre stage. For architect Arthur Joe and his team at Chow:Hill Architects, the right white was Resene Eighth Pearl Lusta. Sitting between true white and cream, it's a popular choice among many designers because of its inherent warmth. Architraves in Resene Ironsand.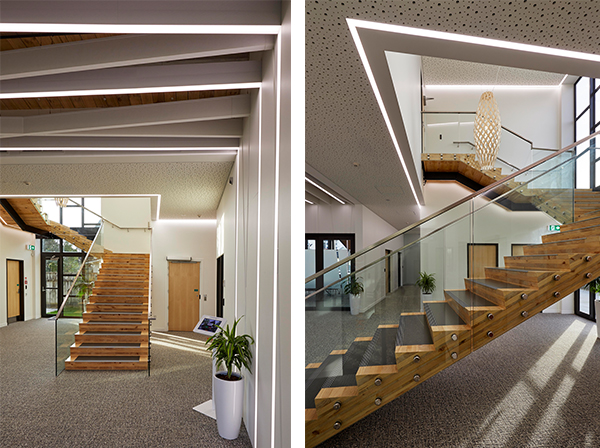 Resene Zylone Sheen low sheen waterborne paint was chosen as the main interior paint finish. In the main foyer, it was tinted to Resene Eighth Pearl Lusta and used on the walls and ceilings so as not to compete with the striking interior design elements, such as the ceiling details and the diagonal grain on the stairs. Timber sealed with Resene Aquaclear.
Top tip: To get a natural look on exposed interior timber, start by staining it in a Resene Colorwood hue that's similar to the wood's natural tone then seal it with Resene Aquaclear. This will help to protect the timber from environmental factors, such as UV and moisture.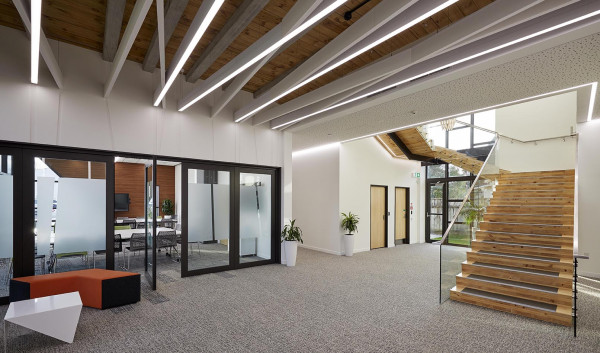 Lighting plays a major role in the building's design, adding to its welcoming atmosphere. Walls and ceiling beams in Resene Eighth Pearl Lusta, architraves in Resene Ironsand and timber features sealed in Resene Aquaclear.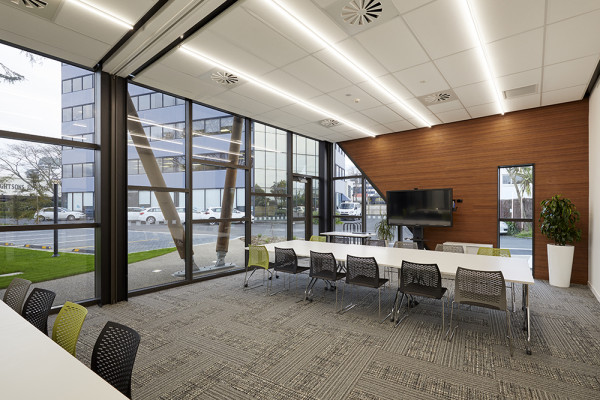 Eye-catching angular details appear throughout the design, including the timber feature wall in the large community meeting space, which is sealed in Resene Aquaclear. Ceiling and wall (right) in Resene Eighth Pearl Lusta and architraves in Resene Ironsand.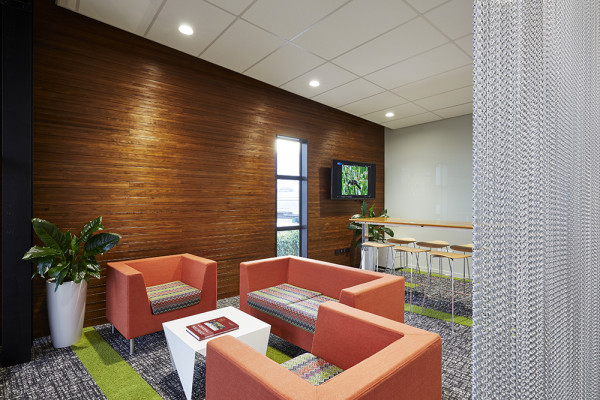 The soft faded green of Resene Quarter Robin Egg Blue plays a supporting role on the wall of this lounge space, helping to tie together the tones of the soft furnishings. For a similar look, bring in accents in Resene Sebedee, Resene Loblolly and Resene Citrus with a timber feature wall stained in Resene Colorwood Meranti and sealed with Resene Aquaclear. Ceiling in Resene Eighth Pearl Lusta.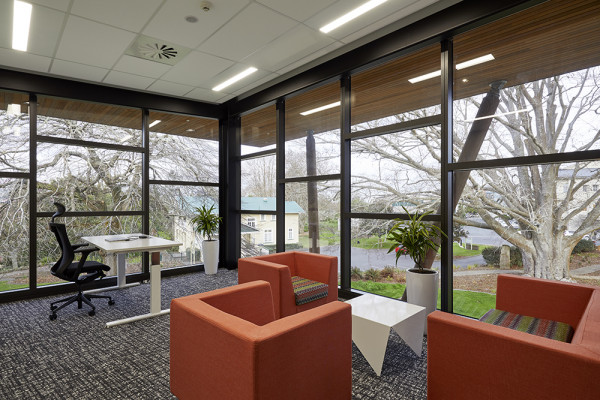 Arthur says that the overall design for Trust Waikato's Hamilton location draws inspiration from the site's rich contextual character, including the adjacent historic homestead, producing a prominent and dramatic building that has been embraced by the community. Floor to ceiling windows surrounding this shared space help to show its context within the historical surroundings. Ceiling in Resene Eighth Pearl Lusta, architraves in Resene Ironsand.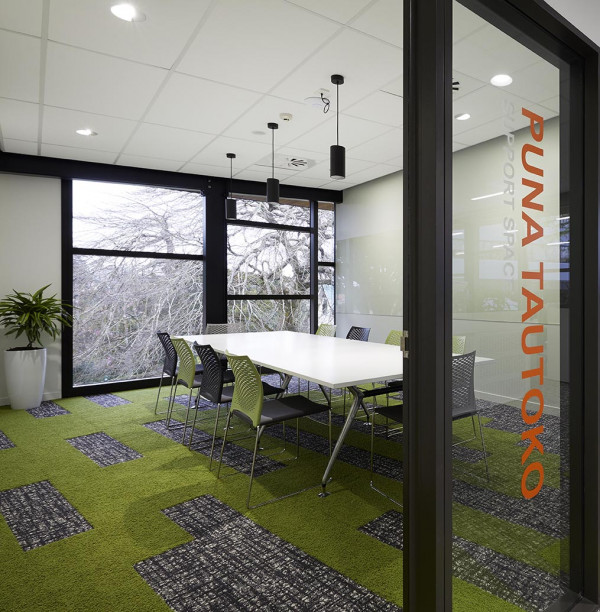 Resene Quarter Lemon Grass was used to colour the walls in this support space. Its touch of olive beige lends depth and comfort and plays off of the deeper olive tones in the carpeting and chair backs, which are similar to Resene Pacifika. Ceiling in Resene Eighth Pearl Lusta.
design Chow:Hill Architects
build Form Construction
painting GMR Holmac
images Amanda Aitken