►
◄
latest
habitat tv
blog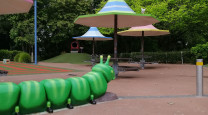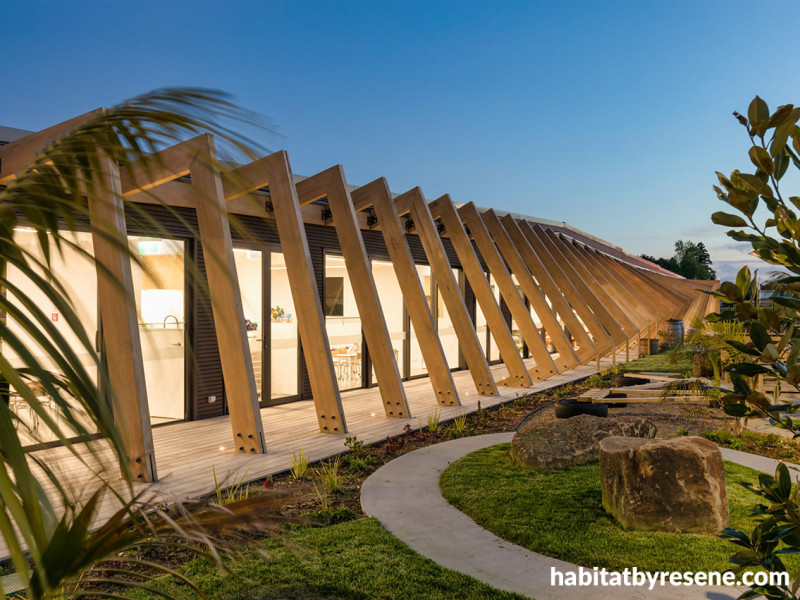 A village of experts raised the design of this outstanding early learning centre
16 Mar 2021
There are certain project typologies that always seem to be done in a similar vein. We might not even be able to come up with a reason why; we just keep doing things that same way because 'that's just how it's done'. Childcare centres are among these sorts of projects.
Before studies were conducted on the impact that colour and design can have on babies and toddlers, it was far easier to overlook the value that an aesthetic-forward facility could have on early learning. But today, that data is available – and Collingridge and Smith Architects (CASA) and their project team have put it to spectacular use for the New Shoots Children's Centre in Whenuapai. The facility provides a nurturing community for up to 90 children with a high-quality early learning centre for the care and development of infants through to pre-schoolers. It's a philosophy that the building itself supports in such a thoughtful and visually pleasing way that any one of us would be happy to spend their day there, even far beyond the age of nappies.
"Between the ages of zero to five, a child's brain is developing faster than at any other stage
in their life, so it is vital that their environment should support this development and foster the
growth of creative and inquisitive young minds," says Phil Smith, Director of CASA Asia Pacific. "The Whenuapai New Shoots Children's Centre definitely embraces this philosophy. It's been designed to be a healthy, comfortable and beautiful environment that encourages imagination, creativity and discovery."
Children and staff can often spend up to 11 hours a day in the centre, so Phil says it was important for the interior spaces to be healthy and comfortable. In addition to creating playful and interactive spaces, the centre places sustainability and healthy indoor environments at the forefront. Low VOC Resene paints and wood stains were selected for the entire building to aligning with both the clients and architects design and sustainability philosophies. Floor-to-ceiling glazing allows for much-needed daylight to penetrate deep into the interior, keeping the building warm during winter months, assisted by the thermal mass of exposed concrete floors. In summer, the whole building can be opened up to keep spaces fresh and cool, with natural ventilation reaching well above the minimum requirements.
The centre's interior spaces have been carefully considered, with state-of-the-art facilities and bespoke furniture designed and arranged to create intimate and inspiring learning spaces for all ages – but it wasn't just Phil's team that was responsible for this success. Chloe Forsman, the Design and Development Manager at New Shoots, played a major role in the interior design and headed up selection of the colours and finishes. Having previously worked for CASA as an architectural designer, it was easy for Chloe to seamlessly integrate with the rest of the project team. Her restrained colour palette punctuated with small doses of graphic colour and the repetition of geometric forms are artfully combined with natural materials and textures to create unique and inviting classrooms filled with curated toys and nature-inspired learning resources.
The same level of thoughtfulness was carried into minor facilities, such as children's bathrooms, with generously sized spaces that feature scaled down bathroom-ware for the tiny tenants. "The bespoke detailing paired with a soft, natural material palette brings to life what can often be a mundane and forgotten about space," explains Phil.
The majority of the internal colour palette has been kept neutral with walls and ceilings in Resene Double Alabaster to create a bright but calming atmosphere that allows the children's artwork to stand out. "Resene Double Alabaster was also chosen for maximum reflectance inside," says Chloe. "The paint colour bounces light through the classrooms, enhancing the effect of natural daylight."
"We love Resene products. They're always our go-to."
Easily the building's most impressive element is the exterior façade, which leaves a lasting impression. The Resene Waterborne Woodsman Dark Oak timber stain on the cedar cladding provides perfect contrast for the exterior as an elegant, understated back drop for the twisting Glulam pergola form. "The long narrow site lent itself easily to a simple form and plan, with a structured walkway placed along the length of the building, "says Phil. "Its low-slung form and restrained material palette of cedar cladding stained in Resene Waterborne Woodsman Dark Oak with black aluminium joinery has been bought to life with the striking glulam pergola structure."
"The twisting timber tunnel playfully bridges the space between the classroom and the outdoors, and the building becomes part of the children's play experience. This dynamic feature is inspired by the classic game of hide and seek, with timber posts creating interactive spaces that children can hide behind and run in and out of." This detail is something that couldn't have come together without the support of structural engineer Markplan and Hayes Builders, who were critical project contributors.
Integrating seamlessly with the building, the landscaping and playground were also done in collaboration. Natural Landscapes' handiwork features a variety of earthy materials that encourage sensory experiences and learning. Slabs of stone are scattered through streams of running water, which are surrounded by pockets of grass and sandpits, while bridges and pathways have been made from natural pine posts, which integrate perfectly with the twisting glulam frame that follows the edge of the playground.
While the teamwork and care that was put into New Shoots Whenuapai goes above and beyond the status quo, it's something New Shoots is committed to. Each centre is unique in its own way, but they're not without the same level of considered details that makes this project so special. "We've just completed another beautiful building in Greenhithe," says Chloe, "which has quite an array of colours tied into each of the three pods."
Those who are curious to see more can check out video tours of their facilities here.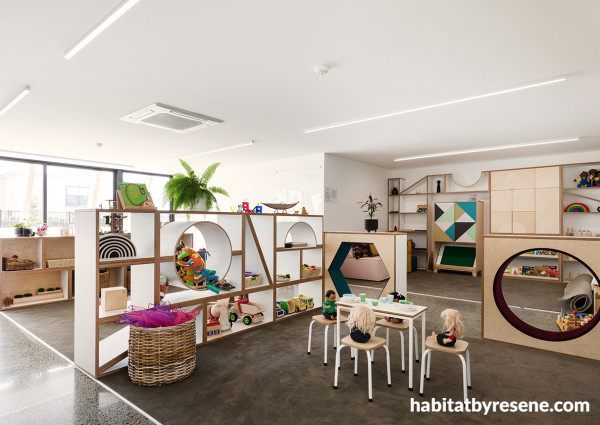 A playful assortment of bespoke geometric furniture organises and displays toys and supplies within the main classroom space. By keeping shelving low and open, not only are objects within children's reach, but natural lighting is allowed to flood through and bathe the space in warmth. Walls and ceiling in Resene Double Alabaster.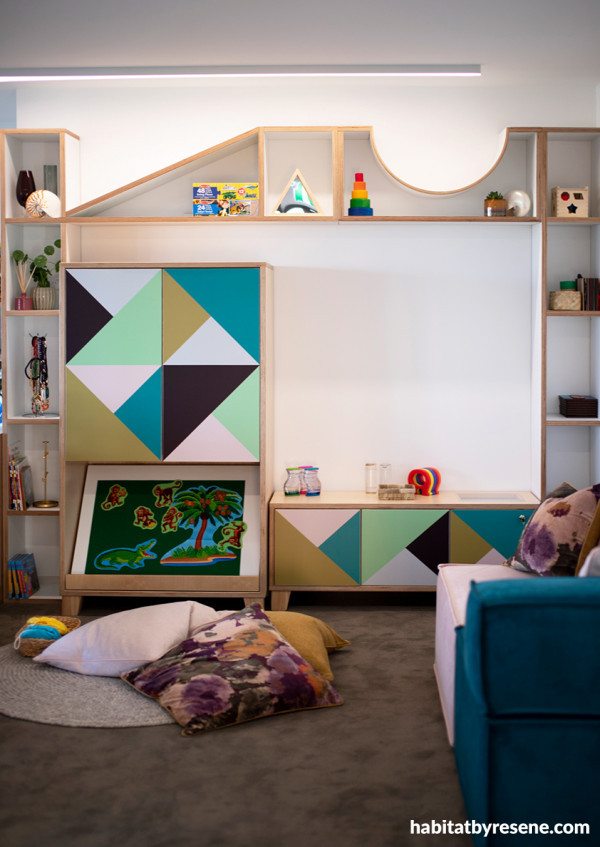 Resene Double Alabaster was chosen for the interior walls and ceiling to reflect light throughout the space but also as a neutral backdrop. Triangular designs on furniture and drawers can be painted to suit projects using high quality painter's masking tape to mask out triangular designs and a palette of colours to suit. Resene Lustacryl tinted to Resene Yabbadabbadoo, Resene Tutti Frutti, Resene Three Wishes, Resene Black Magic, Resene Softly Softly and Resene Stinger could be used to achieve a similar effect.
Even the washing up station evidences the thoughtfulness in CASA's design, with its child-sized proportions but adult-like aesthetic. Wall in Resene SpaceCote Low Sheen and skirting boards in Resene Lustacryl, both tinted to Resene Double Alabaster.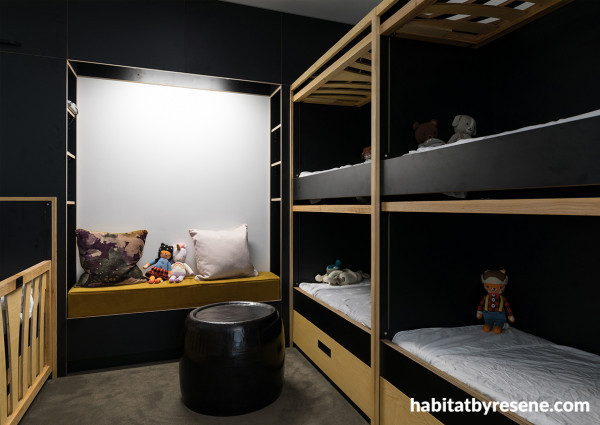 While other spaces benefit from the light reflectance of the Resene Double Alabaster walls, Chloe selected black cabinetry and furniture to reduce glare and create this soothing, cocooning space where children can tuck in during afternoon naptime. Replicate this look on existing cabinetry and furniture with Resene Lustacryl tinted to Resene Nero. Ceiling and wall behind bench seat in Resene Double Alabaster.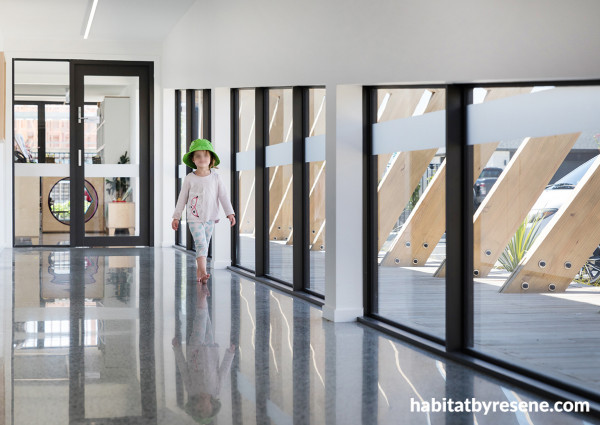 The angled line of the windows creates visual movement through the hallway. Interior walls Resene Zylone Sheen tinted to Resene Double Alabaster. Exterior glulam beams finished in Resene Furniture and Decking Oil.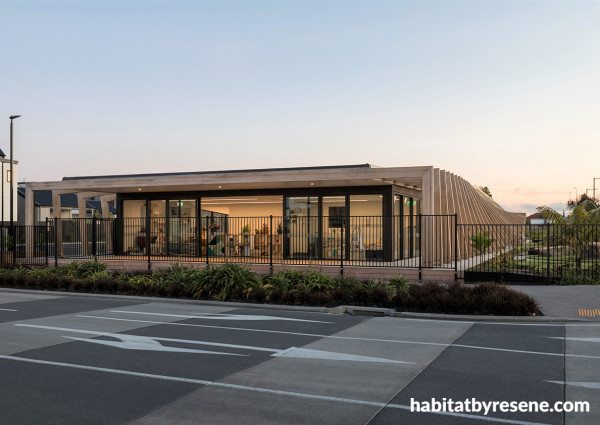 The street facing façade has been left unencumbered to allow maximum light to flood into the facility and increased air flow during the warmer months. Cedar cladding stained in Resene Waterborne Woodsman Dark Oak, glulam beams sealed in Resene Furniture and Decking Oil and interior walls and ceiling in Resene Double Alabaster.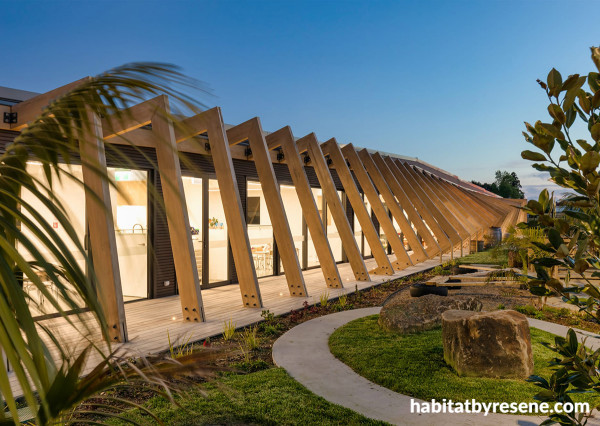 Angular glulam beams stretching out over cladding stained in Resene Waterborne Woodsman Dark Oak create dynamic movement along the building's exterior, resembling the legs of a caterpillar and adding to the energy of the outdoor play area. Glulam beams sealed in Resene Furniture and Decking Oil.
architectural specifier Collingridge and Smith Architects (CASA)
builder Hayes Builders
colour selection CASA, New Shoots
interior design Chloe Forsman, New Shoots
structural engineering Markplan
landscape design Natural Habitats
images Mark Scowen
Published: 16 Mar 2021