►
◄
latest
habitat tv
blog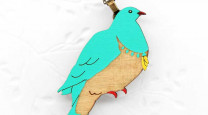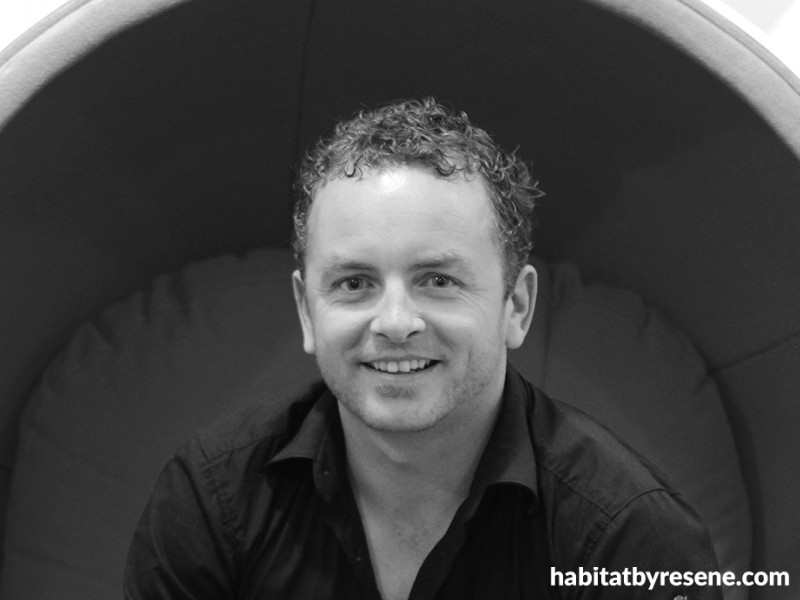 Aaron Jones' stylish small spaces are turning heads
09 Nov 2021
Aaron Jones developed his passion for design and construction as a small boy, where he got to witness his builder dad hard at work and watch buildings take shape from the ground up. Though he was born in Wellington, Aaron grew up in Christchurch. The architectural designer spent his childhood and teenage years living in the suburbs of Sumner and Mt Pleasant, often living in semi-finished homes. He still lives in this area today, and his intimate knowledge of these neighbourhoods has made them a major focus of his residential work. But not of his experience has been in gained suburban Christchurch.
When he was a newly minted designer, Aaron's loves of architecture and travel took him abroad where he spent six years living and working in Melbourne and London. "Melbourne is a lively city to work in architecture and I learnt a lot working under some very skilled and experienced architects. I worked for the same company for a number of years and we were both developers and architects so we acquired old buildings, warehouses and converted them to mixed use residential developments," Aaron explains.
"I then travelled further to London to live and travel and worked in a very large architectural firm of approximately 120 staff on some pretty big buildings in London City and around the UK. We did mainly tall residential towers, mixed-use commercial and school developments. It was a good experience for a couple of years and a great launchpad to continue to travel through Europe."
He says his decision to return to New Zealand and open up his own firm, Urbanfunction, happened by pure chance. "I came back for a wedding and the friend's who's wedding it was asked me to design their home in Sumner. From there, the client's neighbour asked for a new house design and then the client's brother – all in Sumner. Urbanfunction took off organically and grew from there."
Last year, his work was recognised with a national award, a regional award, two highly commended awards, and a commended award at the 2020 ADNZ Resene Architectural Design Awards. At the same ceremony in 2019, he took home four awards as well as placing as a national finalist for a commercial interior project. Many of them have been in recognition of thoughtfully designed compact spaces, which Aaron is becoming known for in Christchurch and beyond.
Aaron tells us more about his journey, inspiration and the Resene colours he's been using most on recent projects.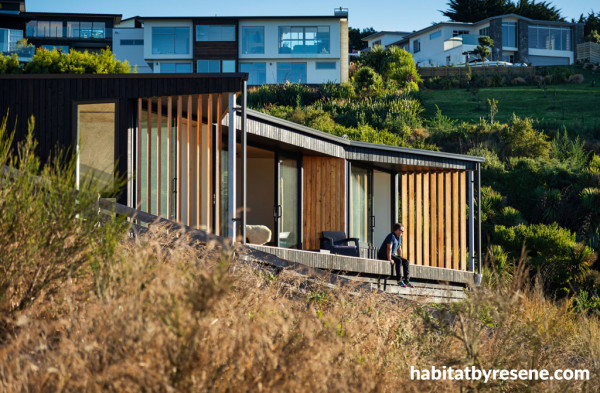 Aaron perched on the edge of his 80m2 'Petit Maison' project, which was highly commended at the 2019 ADNZ Resene Architectural Design Awards. It features Resene Double Foundry, Resene Black White, Resene Half White Pointer, Resene Furniture and Decking Oil and Resene Aquaclear Satin and Resene Qristal ClearFloor 1K.
You have designed a number of small projects. Is that something you consider a specialty and something clients have specifically approached you for, or do you think small projects are the future of design and something we as designers should be pushing to do more of?
It's definitely something we're passionate about and have more and more requests to look at for new clients. With land and building costs continually rising, we challenge the idea of required space in today's living lifestyles. With clever use of light and volume, a small home doesn't have to feel small – it can be designed to feel far greater in size than its physical dimensions. With clever placement of well thought-out storage solutions, the issue of less storage can be eased as well.
What are your favourite types of projects to work on and why?
Every project brings something different, so we enjoy all our work for its variety. We are carrying out a mix of residential homes and baches currently, mostly hill homes and holiday houses on the Peninsula or up at Castle Hill in the mountains. We do enjoy a challenge and commercial restorations and hillside homes bring that for us and our clients.
The Petit Maison project has incredible views from where it's perched, framed with walls in Resene Black White, strandboard ceiling in Resene Aquaclear Stain and floor in Resene Qristal ClearFloor 1K.
Where do you find your inspiration for your designs?
Usually it's immediate upon visiting a site and chatting to the clients, listening to their dreams and goals and also listening to the site and its surrounding context. It develops and evolves with the project. I do get a lot of inspiration from Australian architecture after working for many years in Melbourne.
Do you have any special strategies that you employ if you feel stuck on a project to get you out of a rut?
Take it back to the start. I ask myself, what are we trying to achieve here and why? Maintaining the greater vision and ensuring all angles are explored so we feel confident moving forward. Then it's a matter of just working hard through the process, resolving the issues and tackling every one of those with a solution based mindset. That allows positivity in the project to be retained and then that feeling at the end of a project, with happy clients and satisfied builders, is amplified.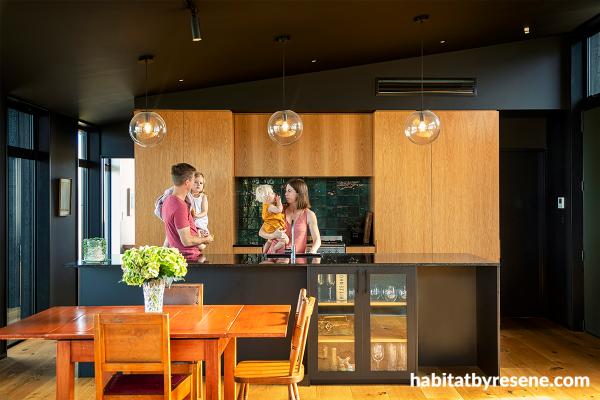 Urbanfunction's Taylors project was awarded the 2020 ADNZ Resene Colour in Design Award. Judges called the 75m2 home excessive in style and concision. The project's interior features extensive use of Resene Blackjack, adding to the home's cosiness.
What do you love about Resene products?
We do enjoy the technical service and attention to detail working alongside the Resene team. Always helpful and offering expertise, we need that to keep moving projects at speed yet with accuracy. The products themselves have never let us or our clients down so we can specify with confidence.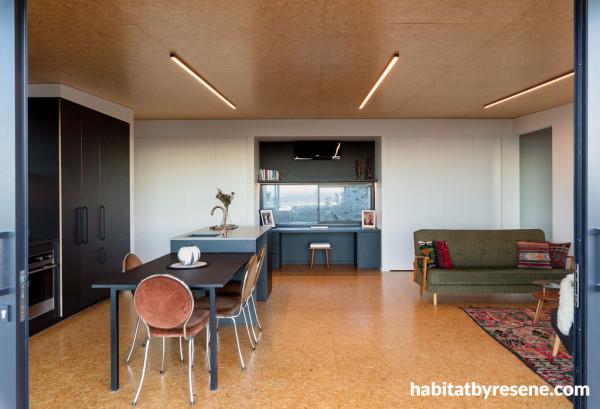 Kitchen/living/dining walls in Resene Black White, office in Resene Double Foundry, strandboard ceiling in Resene Aquaclear Stain and floor in Resene Qristal ClearFloor 1K.
What are your current favourite Resene colours and what do you like about them?
Resene Black White is an old fav that we still specify on almost every project, but we do really like Resene Jurassic at the moment, too. It has a nice depth and we have used it in snugs and libraries in homes to create cosy, different interior spaces.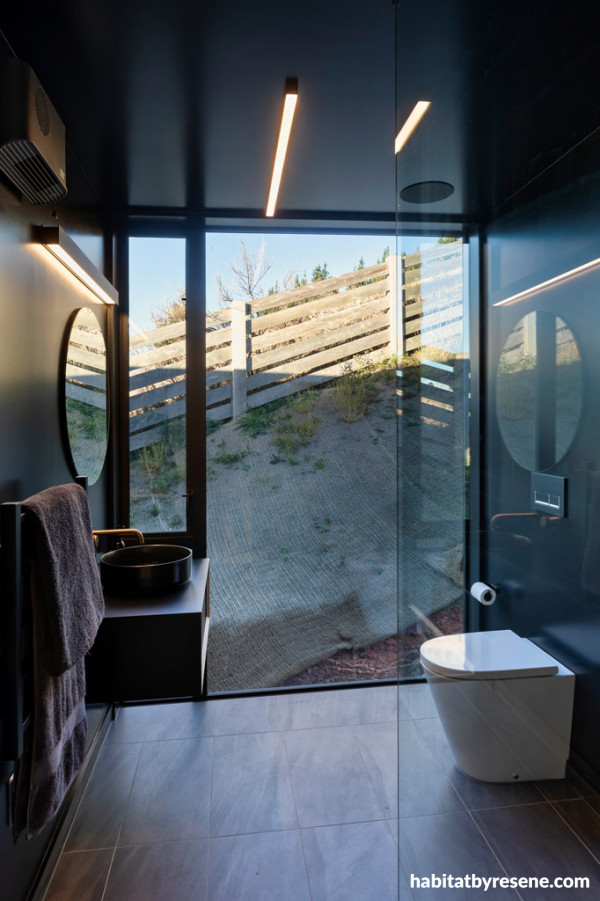 Aaron says he frequently uses Resene Black White in his projects but he isn't afraid to use dark colours in the right interior settings, like in this bathroom painted in Resene Double Foundry.
Do you have any exciting upcoming news to share or projects that you'll be doing over the coming months that you're particularly chuffed about?
Our restoration project at 129 High St is coming to completion early next year, and that's an exciting mixed-use development and refurbishment of an old bank building in central Christchurch. Looking ahead, we are working on some exciting hybrid hotel projects with a new brand that one of our long-term clients is establishing. The first will be in Lichfield St, Christchurch followed closely by Cambridge Terrace in Te Aro, Wellington. Watch this space!
To see more of Aaron's work, visit Urbanfunction's website.
Published: 09 Nov 2021