►
◄
latest
habitat tv
blog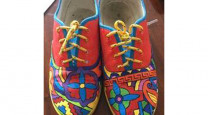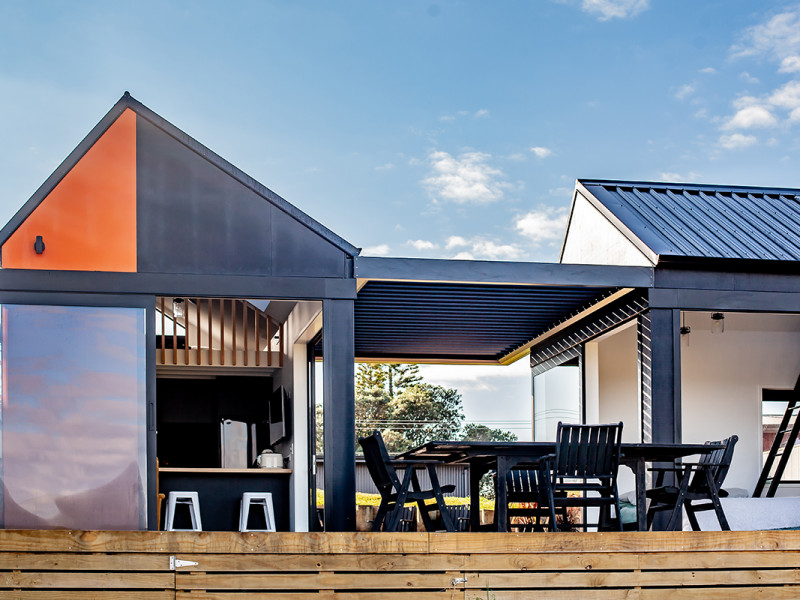 Kyle Anaru shares his approach to designing buildings that builders like to build
15 Sep 2020
Whenever we see striking black cladding with a splash of vibrant red, we are reminded of Kyle Anaru.
Kyle cut his teeth at a number of different design practices before starting his own, Tohu Workshop of Architecture. He began his career in Wainui, Gisborne at Pacific Modern Architecture with Chris Shaw back in 2006. "Working under Chris, I really developed a lifelong passion for architecture," he says. "It was hugely influential on me."
"After finishing in Gisborne, I then went and completed my degree In Auckland before doing some shorter stints working on various projects with Michael Cooper Architects, Design Tribe and McCoy Heine before relocating back to Waihi and gently starting my own practice in 2015."
Kyle tells us more about the designers he looks up to, his design approach, and his favourite Resene hues.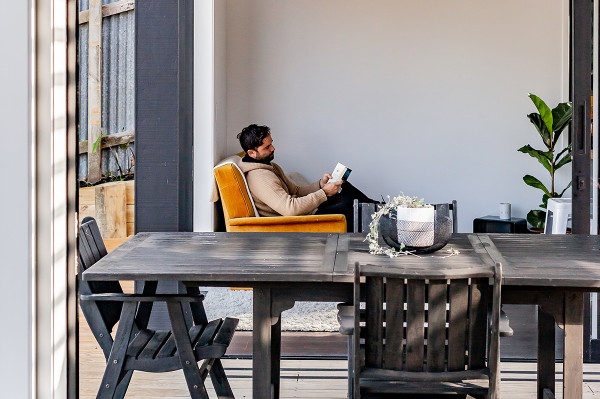 Architect Kyle Anaru of Tohu Workshop of Architecture.
Your work has quite a distinct style to it. Where do you find your inspiration for your designs?
"This is a hard question to answer as design is firstly about being given the chance to develop a style, and I'm so grateful to all my clients who have trusted in me to do that for them.
"Inspiration for me comes from so, so many places. Nature – particularly Aotearoa, with its so many wonderful and moody hues of greys, greens. Its colourscape may seem more subdued, but it kind of matches our character as Kiwis. The colour is present though, under the wing of the ruru, the quick blossom of the korokia – it's there, you just need to work for it.
"Along with that, I grew up in Waihi Beach where there are numerous historical mining relics, where you're able to see the exoskeletal remains of concrete and steel machinery – I love that element. I also have a number of architects that I really admire, Mies van de Rohl and Oscar Niemeyer are a couple. I love Richard Neutra and, closer to home, John Wardle in Australia and Herbst here in New Zealand have done some incredible projects, too."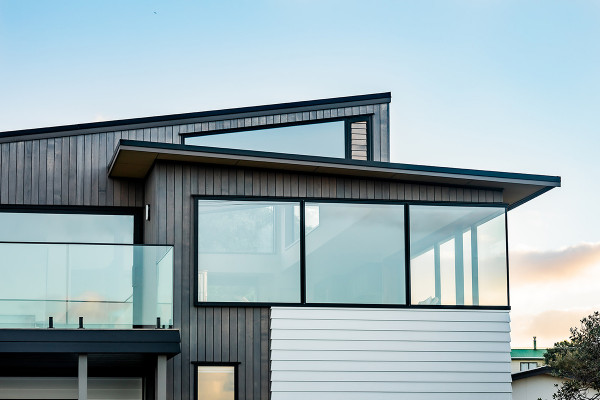 Rollo Residence, Waihi Beach (2019). Horizontal cladding painted Resene Half Sea Fog, vertical cedar cladding stained in Wood-X Flint (available from Resene ColorShops) and trims and fascia in Resene All Black.
What are your favourite types of projects to work on?
"I find the key to successful projects is a client who trusts us, and a builder who is on board with the 'big idea' of the job. I think if you have those two things, then usually the project inevitably ends up being successful. I call it the holy trinity of success: client + builder + Tohu Architecture = success!"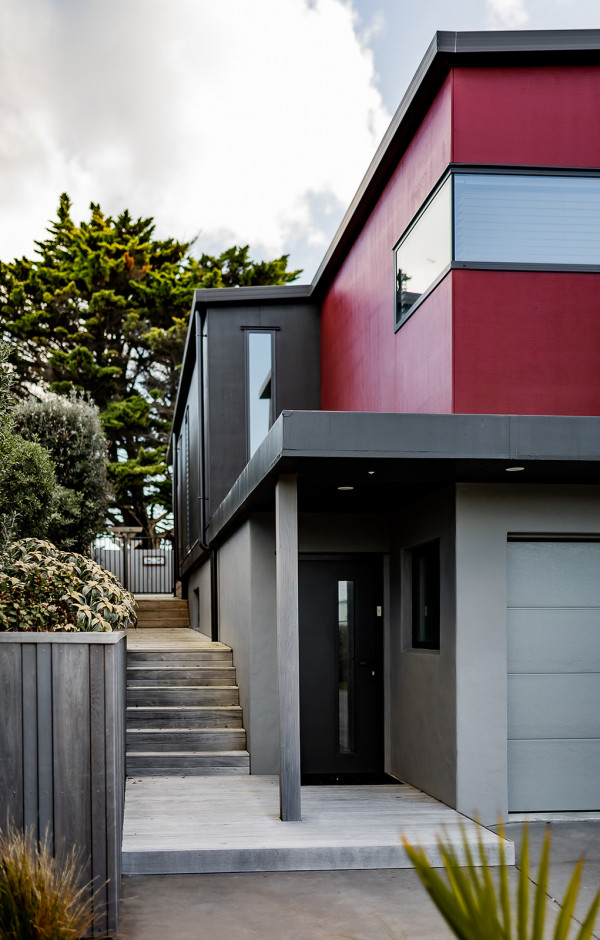 Lower cladding in Resene Gull Grey, upper left cladding in Resene Ironsand, and upper front cladding in Resene Pioneer Red colours this residential project (Surfer's Residence, Waihi Beach [2018]).
Do you find that clients seek you out because of that distinct style, or do you think they choose you for other reasons?
"When I first opened my practice, our work almost completely came by way of word of mouth and referrals. As the practice has evolved, however, we find most clients come through our website, which is good as obviously they are able to see a sample of our work and get an understanding of our approach."
You have a saying that you 'design buildings that builders like to build'. Tell us more about that approach and how you accomplish it.
"After all the pretty drawings are done, at the end of the day, this profession is about the builtenvironment. And so, it cannot be overstated just how important it is that we as designers/architects totally understand how what we design will be constructed. I have a handful of highly skilled contractors who I am in a regular discussions with on these aspects. My personal pet peeve is a clumsy or crude detail."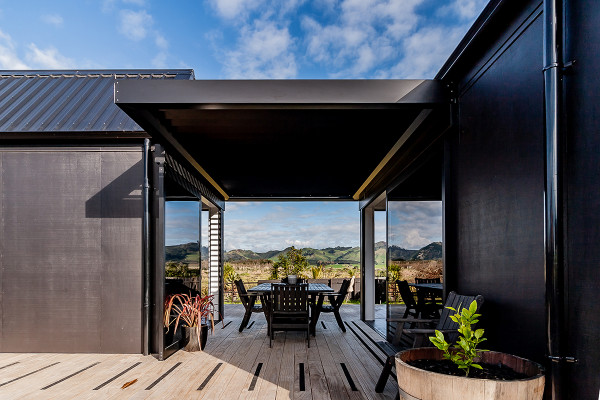 On this Tohu Workshop of Architecture project, the Throwing Shade Tiny Residence (Waihi Beach, 2019), the cladding, trims, fascia and roof are painted in Resene All Black.
What do you do if you feel stuck during a project, creatively speaking?
"This is one of those things that separates the cream from the custard in this profession. Without giving away any trade secrets, if the design phase starts getting a little tedious, a couple of my main ones are always trust the process, and ask yourself, 'what is the 'big idea'?'
"With that though, maybe the hardest part is finding that meaningful concept which is appropriate to the specific project. Once we have that, then the design takes its own path."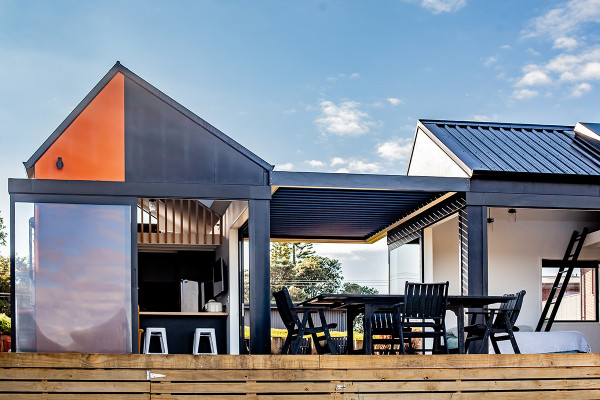 Walls finished in Resene Sonyx 101 semi-gloss in Resene All Black with feature panels in Resene Ayers Rock, by Tohu Workshop of Architecture.
What do you love about Resene products?
"The variety is great, as well as the regular updates of the range is super exciting. Also, the technical support and availability of technical information, which is crucial in our role as architectural designers."
What Resene colours are you currently crushing on?
"Resene Atlas, Resene Dark Knight and Resene Pacifika are all taking centre stage in three of my upcoming projects – but I'd have to say Resene Pacifika is my current 'numero uno'."
We know this year has been really complicated to plan for, but do you have any exciting upcoming news you'd like to share?
"Not work related, but our whanau increased our ranks to five just this week with the arrival of our new little man (shout out to my partner, Bek). We're truly blessed and feel lucky to be here in NZ."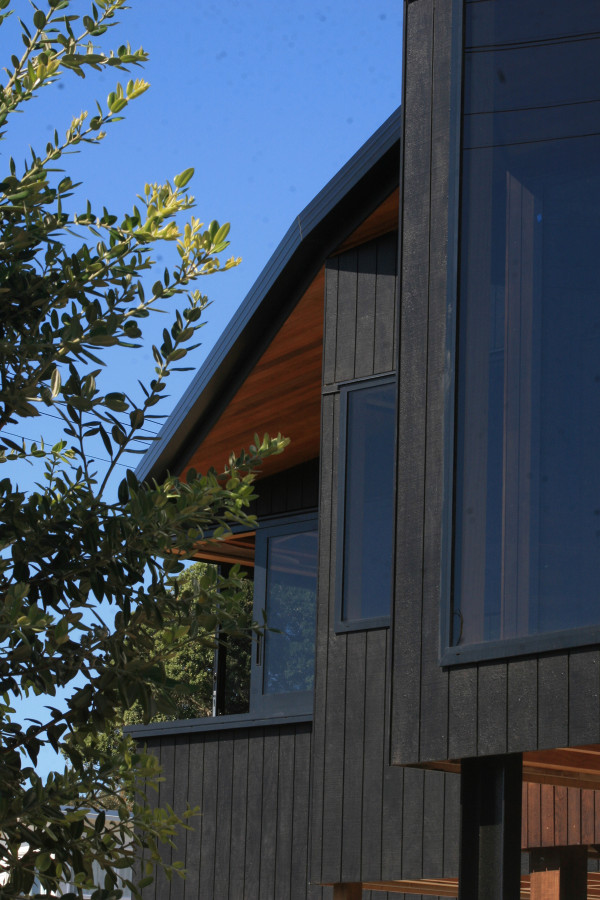 Tree Canopy House, The Loop, Waihi Beach (2020). Vertical timber cladding in Resene Nero with cedar soffits in Wood-X Mount Honey (available from Resene ColorShops).
imagesSharni Dysart