►
◄
latest
habitat tv
blog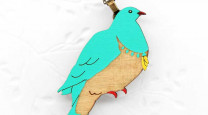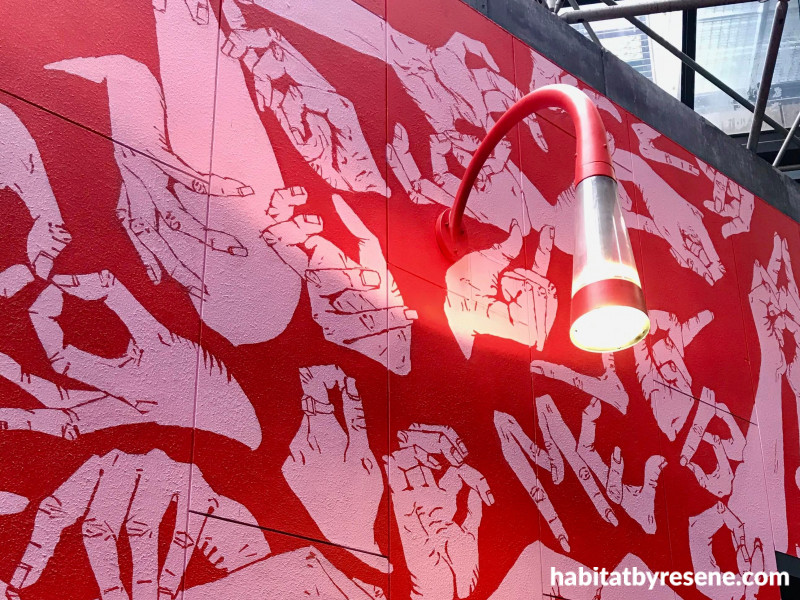 Artist Aurora Campbell's gripping new mural joins Melbourne 'gallery alley'
09 Nov 2021
Leading inward from the corner of Melbourne's Elizabeth and LaTrobe streets, you'll find a laneway called Ella. Though it's brimming with plenty of popular eateries and shops, the alley is just as well known for being decked out with incredible artwork by a host of talented Aussie artists. Thanks to the curation and support of Eddie Zammit, the laneway has become one stunning, massive gallery in the centre of the city. Most recently, Ella has become home to a new work in Resene paints that's really grabbing people's attention: a handsy mural by a fresh face on the scene, Aurora Campbell.
"It was my first large scale project," she says. "Before this, it was just either assisting friends on their projects or banging up little things here and there for fun."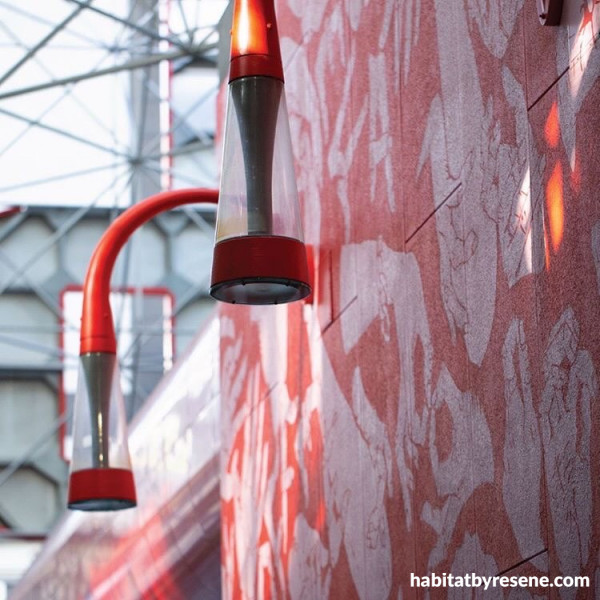 Aurora relocated to Melbourne from Brisbane when she was 18 as a way of seeking out artistic adventure. She enrolled in a TAFE Visual Arts course at RMIT to make some friends in her new city and learn more about different materials and techniques. But when she wanted to develop her skills further, she had to face down something everyone in artistic careers eventually becomes all too well acquainted with: rejection. Her work, which frequently explores the female form with rawness and honesty, is challenging – even for some educational institutions.
"I went on to get rejected from RMIT and VCA – multiple times, in fact – but I eventually landed on doing a Bachelor of Illustration. I felt caught in between the fine art world and the illustration scene; my work was too left of field in my commercial illustration course, yet I was also told that I was too literal and illustrative for fine art," Aurora says.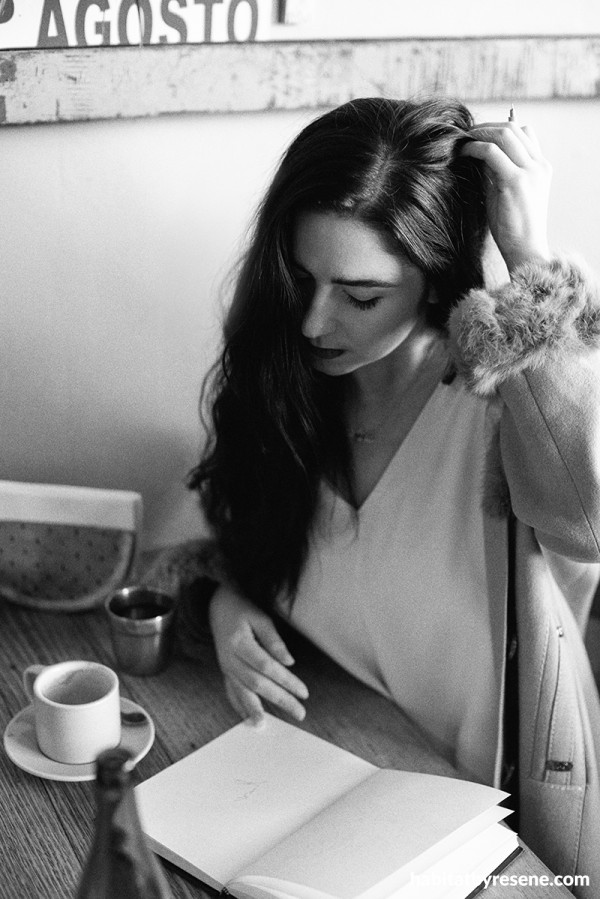 But for her first mural, she focused in on a body part all genders can relate to. "Hands have been a big focus in my work the last few years, because I love how much they say and portray. They represent an undertone in communication that we rarely think about but always feel. I wanted this piece to be busy and bustling, the way Melbourne Central had been before lockdown; it's a shopping centre and a train station and a million stories happen there every day. I also wanted to pay homage to community and connection in a time when Melbournites needed it most."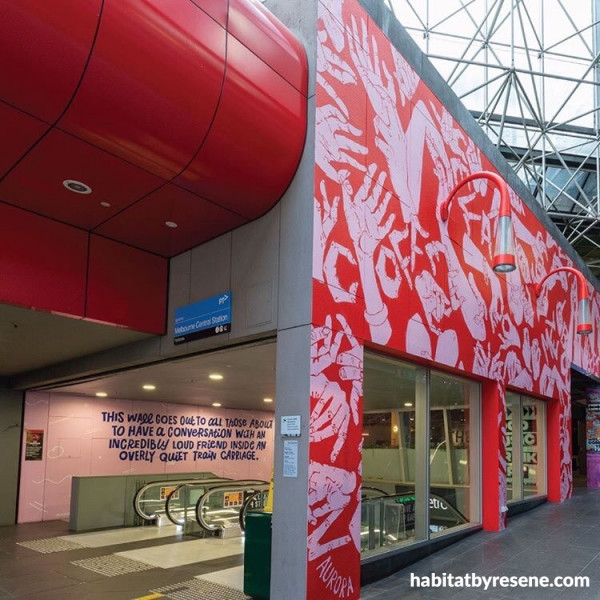 For her seizing colours, Aurora used Resene Lumbersider tinted to Resene Havoc and Resene Cupid. "They worked beautifully together with just the right contrast between two very bold colours," she says. "When I was researching how to execute this mural I asked every one of my artist friends what their preferred paint was for murals. They all said the same thing: Resene."
Since the mural was completed during lockdown, Aurora thinks logistics and problem solving were definitely her biggest challenges. "There are always barriers; things you might not have anticipated and things that weren't part of the plan. The working hours on this project were 11pm-6am – during winter – which took getting used to the first few nights but ended up being a really special experience.
"The biggest takeaway for me was the value of having a process and an anticipated timeline. I still apply this, even on small self-imposed projects. Even if you deviate from that, it's good to set an intention of how you expect things to travel," she reflects.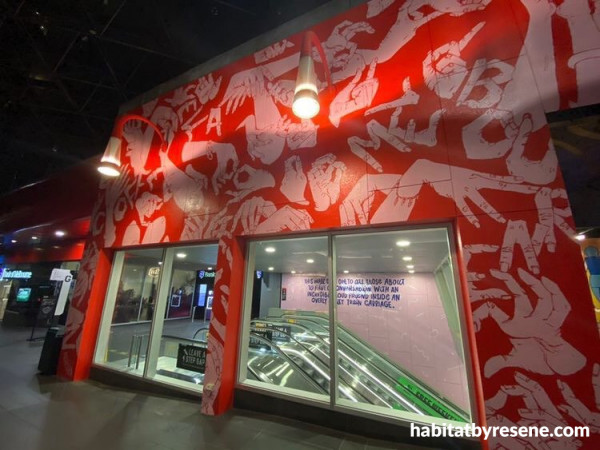 "Mastering the boom lift and the scissor lift was definitely a lot of fun for me, and moving from fine liner pens to paintbrushes was really new in my practice but I will definitely be doing more in the future. I am working on a mural design as we speak and am super excited to work on more large-scale projects with clients."
With the leftover paint from this project, Aurora put in some practice using Resene Havoc and Resene Cupid to create another mural in her own backyard – this time, featuring legs. She says she would definitely count the two hues among her favourite Resene colours at the moment. "I'm looking to explore Resene Aquarius and Resene Spray together on an upcoming project I have in mind, though I love sticking to a tonal theme."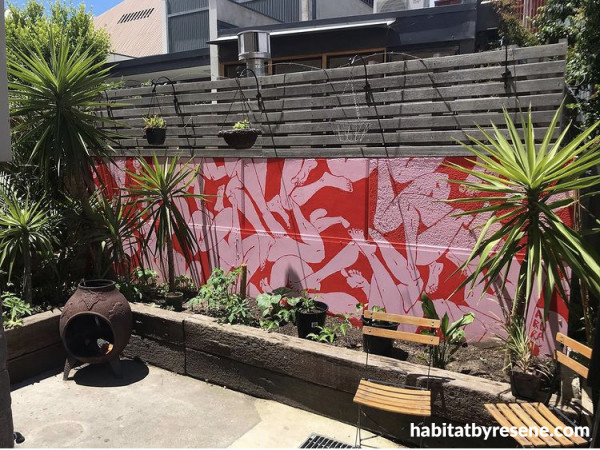 We can't wait to see more of what Aurora dreams up for expanding her mark on Melbourne and beyond.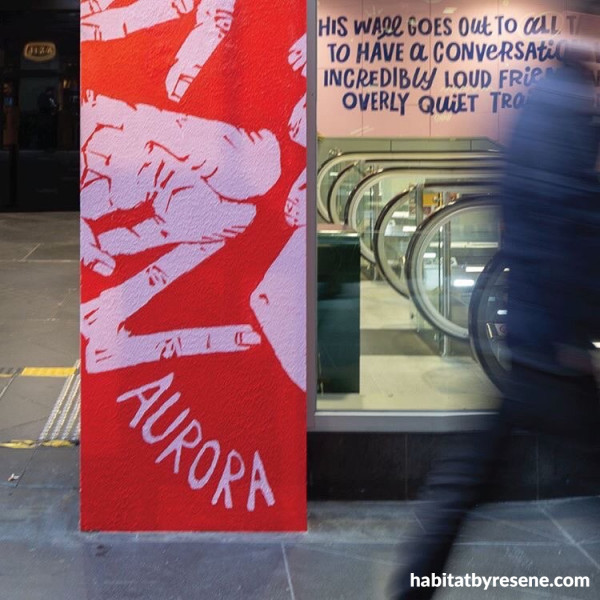 For more details of her hands mural, check out Aurora's professional Instagram page. For more of her artistic work, visit her personal account @aurora_campbell.
images Aurora Campbell, Keira Chevall, Holly Hawkins, Eddie Zammit
Published: 09 Nov 2021