►
◄
latest
habitat tv
blog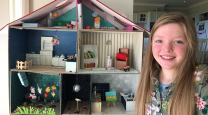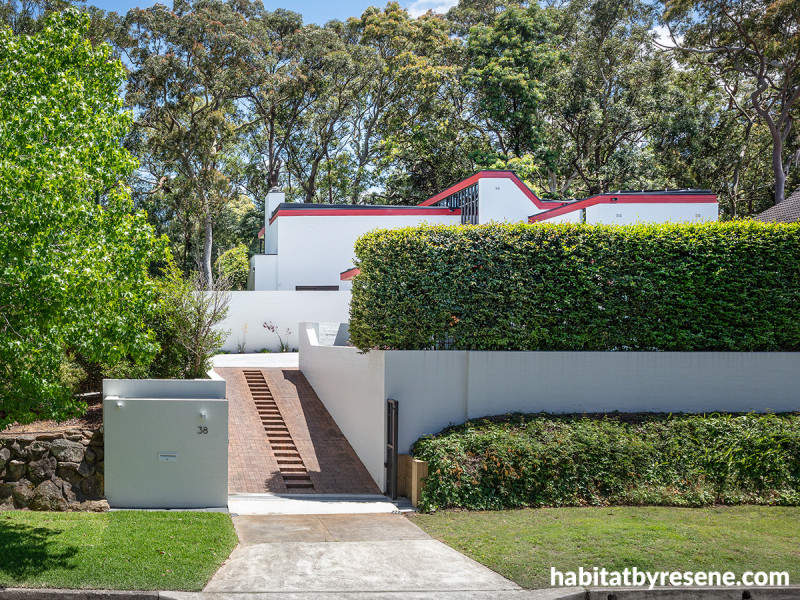 Belinda Edmunds reflects on her varied career and an award-winning project
22 Feb 2022
In a time when women in architecture were far too few in number, Belinda Edmunds was trailblazing. She hails from Blackheath, London where, as a child, she was always making stuff. We're told cubbies featured highly in her earliest work, and her love for architecture hit her young.
"I grew up in span housing, a ground-breaking 1960s collaboration between a developer and architect Eric Lyons," she reflects. "At age seven, we moved to a Victorian house with ornate mouldings of fruit and cherubs. I think this spawned my love for the clean lines of modernism.
"My father always had a workshop, so my childhood projects included woodwork and metalwork. In my teens, I designed and made my own clothes as well as adaptive re-use of op shop finds," she continues.
"I had my first job in an architects' office at 16 and spent my summer holiday working. Holiday jobs while at university included working for lighting designer Maurice Brill where I documented the lighting on the Rice Francis Ritchie bioclimatic facades of the new Cite de Science, Technology and Industry in Paris. Getting up close to such ground-breaking and truly elegant design was amazing. I also did a stint on a building site."
Belinda graduated from Oxford Polytechnic with a Bachelor of Arts (Honours) in architecture in 1986. She then spent two years working in both Paris and London before resuming her studies at the University of Newcastle upon Tyne and gaining a Bachelor of Architecture (Honours) in 1990.
"I always had a travel bug and was seeking fresh experiences," Belinda says. "Spending a year in Paris was an opportunity to immerse myself in another culture where, under Mitterand's presidency, there was a lot of exciting new architecture being inserted into an intact historic urban fabric. It was an excellent base for visiting other European cities."
It's been more than 25 years since Belinda arrived in Australia, where she originally planned to only spend six months working before travelling back to Europe overland. In that time, she has gained an impressive wealth of experience across a number of Sydney practices, including Bruce Eeles and Associates, Allen Jack + Cottier, McConnell Smith and Johnson, and Stanisic Associates. Her work from that period includes the courtyard cafe at the Powerhouse Museum, the library and aboriginal gallery at the AGNSW, the extension to the student union at Macquarie University and Forest Ridge Apartments in Hurstville.
Today, Belinda is a director at hungerford+edmunds, a private practice she launched with Tim Hungerford in 2003. She works closely with her clients, remodelling and transforming multi-unit and single family homes in Newtown, Erskineville, Camperdown, Redfern, Woollahra, Paddington and Sydney's Northern Beaches. Recently, Belinda completed Pymble House in New South Wales – a project that garnered the Resene Total Colour Residential Exterior Award. She tells us more about its design as well as her career path, process and favourite Resene colours.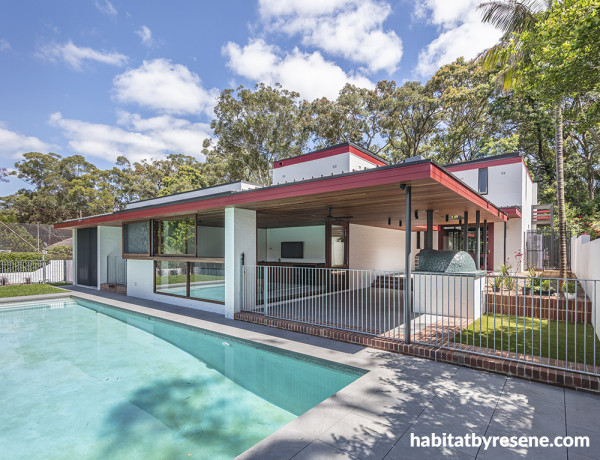 Belinda's Pymble House project was an alteration to a much-loved mid-century home by Architect Keith Cottier of Alan Jack and Cottier. Built in 1965, the four bedroom family home backs onto a golf course and occupies a double block with a tennis court to the west and 13m swimming pool. Masonry walls in Resene Lumbersider tinted to Resene Quarter Thorndon Cream, timber roof edge and soffit above front door in Resene Sonyx 101 semi-gloss tinted to Resene Dynamite and external steelwork in Resene Enamacryl tinted to Resene Bokara Grey.
What brought you to Australia why did you decide to set up shop on the other side of the world from where you grew up?
In Sydney, I found my clan – both socially and professionally. I started working for Sydney architects and educators Bruce Eeles and Kathy Trelease. Their passion and knowledge were a revelation and they have been long-term friends and mentors. The introduction to Sydney architecture they provided included such gems as a visit to the Castlecrag home of Hugh Burich with its red fibreglass bathroom, wave-form roof and suspended concrete front wall with integrated artwork. I was blown away!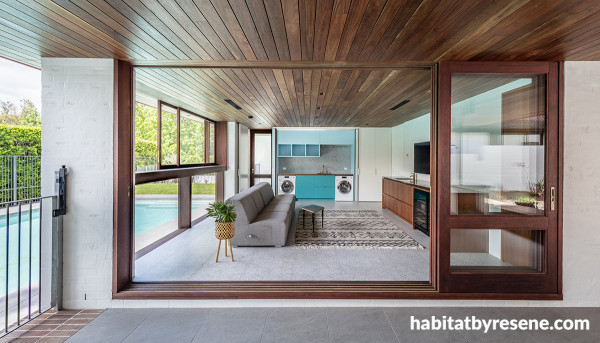 The clients loved the mid-century style and robust finishes of the house, so Belinda's brief was for a full restoration but with some planning interventions: to connect the house and the pool area; upgrade the kitchen and bathrooms; improve the arrival sequence and the entry lobby and create entertaining areas relating to the pool. Exterior masonry cladding, internal walls and plasterboard ceilings in Resene Quarter Thorndon Cream, laundry joinery in Resene Double Alabaster, Resene Retro and a custom Resene blue.
Do you have a favourite type or project or typology you most enjoy working on?
There will always be buildings with which you have a greater affinity. Mid-century modern design in suburban Sydney is a favourite, but industrial buildings and Victorian terraces also rate highly. The attraction for me is the intellectual challenge; of considering competing ideas and objectives, and developing a design solution. Design is not necessarily a flash of brilliance. More often it is the result of hard work, developing the brief, fully understanding the opportunities and constraints of the site, the orientation and local climate. The design evolves as the project progresses and you refine the question that is being asked.
This was an early lesson for me: design is a process, you will not get it right first time. Start drawing and model-making, then refine, assess and critique.
Where did you draw your inspiration for this project and what other places do you look for inspiration to guide your work?
I am always on the look-out. It can be anything: art, everyday objects, cinema, nature. Experiencing a good building in real life is right up there, and sketching by hand is great, because if you draw it you will see more and you will retain more. Photographs of buildings are very curated and their reality can be surprisingly different. However, I do appreciate a good plan. I do a lot of hand sketching in my process as it is the quickest way for me to get an idea out and start testing it.
The Australian perspective is also inspiring. A personal favourite is where modernism has been embraced and applied in the local context creating something fresh and place-specific. Pymble House falls into that category, created at a time when the principles of modernism were being adapted to suit the Australian climate and character.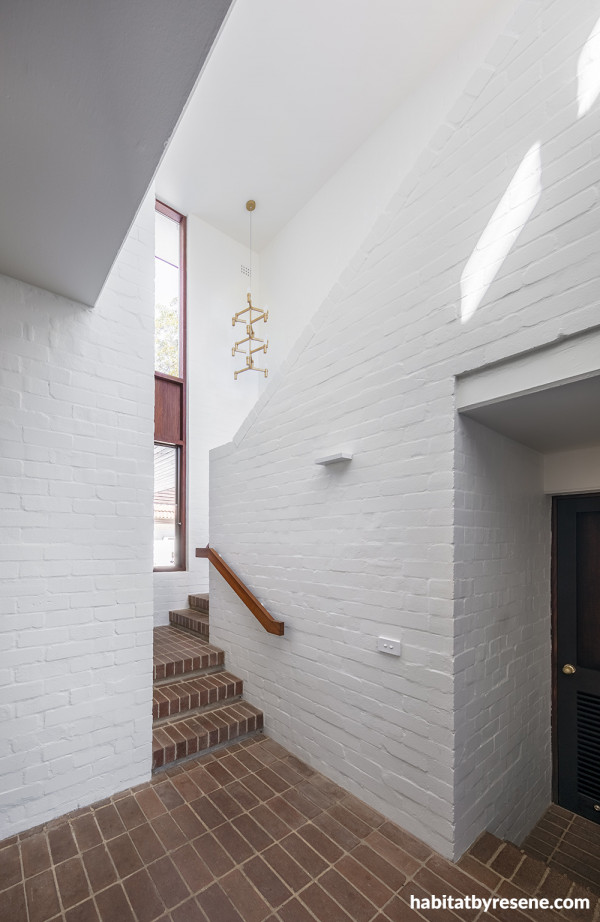 With Pymble House, the alterations have been carefully conceived to work with the existing Sydney School style. The new work is distinct, but the cues are subtle. In the lofty entry, a new double height stair window creates a connection to the eastern courtyard, providing both views and light. The timber and spandrel are finished in Resene Colorwood Natural to match original timber doors and joinery.
Is there any advice you could offer someone else attempting a similarly sympathetic adaptation of another architect's original design?
Working with existing buildings makes good sense from an environmental perspective, adaptive reuse recycles existing resources. Like any successful collaboration, you have to value the other's input. In this case, with an existing building, the collaborator is the building itself; the structure, the form, the expression, the plan and the section.
At Pymble, there was very little addition – only 2m2 of extra floor area. The project was about re-purposing what was already there, some fine-tuning and re-planning. The clients loved the original house so we were very much on the same page from the outset. Architecture is extremely complex and the building and approvals process is slow and difficult. Working as a team is really important.
We love that the roof edge on Pymble House coordinates with the client's handsome car. Was that an intentional design decision?
The car was kept under wraps in the garage, so we had not actually seen the colour when we proposed Resene Dynamite red for the external timber. They were very enthusiastic!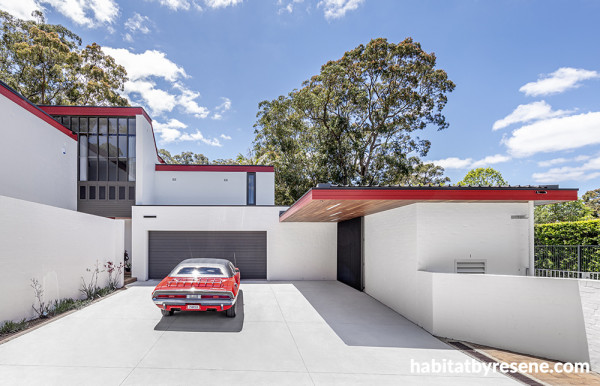 Belinda's exterior colour scheme ended up coordinating perfectly with the client's vintage sportscar.Masonry walls in Resene Lumbersider tinted to Resene Quarter Thorndon Cream, timber roof edge and soffit above front door in Resene Sonyx 101 semi-gloss tinted to Resene Dynamite, external steelwork in Resene Enamacryl tinted to Resene Bokara Grey.
What drove the decision to add the poolside mural to Pymble House?
The mural was the client's idea. We had identified the end wall of the pool as a location for something different early in the project. Murals were a common theme of modernist architect Le Corbusier, who was an avid painter. Sydney architect Harry Seidler used murals, including at the iconic Rose Seidler house, the home he designed for his mother. The brief to Blackbook Ink, who created the mural, referenced Seidler but was for a new design that would be personal to the clients.
The eye included in the design is a reference to a commonly used Greek symbol, originally believed to ward off the 'evil eye'.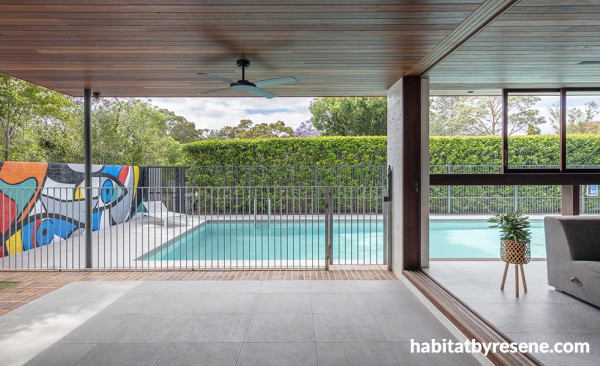 Blackbook Ink created the custom poolside mural at Pymble House in Resene Lumbersider tinted Resene Dynamite, Resene Retro, Resene Half Resolution Blue, Resene Dauntless, Resene Spotlight, Resene Adrenalin and Resene Eighth Masala.
What do you like about Resene?
Resene has a beautifully curated range of colours. This is backed up with technical expertise and excellent support and service to design professionals. I have been specifying their products for nearly twenty years.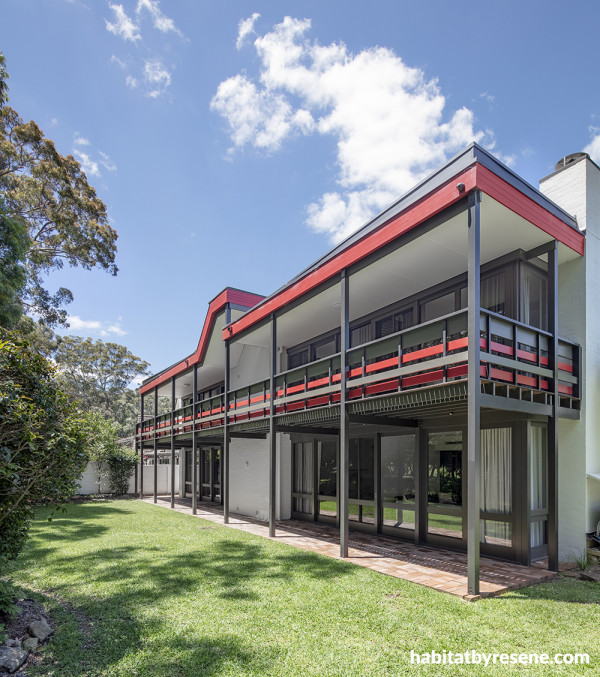 The restored veranda at Pymble House. Timber roof edge and railing detail in Resene Sonyx 101 semi-gloss tinted to Resene Dynamite, masonry walls and soffits in Resene Lumbersider tinted to Resene Quarter Thorndon Cream, external steelwork in Resene Enamacryl tinted to Resene Bokara Grey.
What is your favourite Resene colour?
I don't have a favourite Resene colour, but the palette that we developed for Pymble House has become a favourite: Resene Dynamite, Resene Bokara Grey, Resene Triple Masala, Resene Retro and Resene Quarter Thorndon Cream.
The kitchen at Pymble House was expanded into space that previously housed a separate laundry and garden store, forming a large eat-in kitchen with new glazed doors to the western courtyard. The simple galley arrangement has a large dining table set perpendicular to the island bench and parallel to the north-facing windows onto the garden and golf course. An operable splashback in Resene Retro adds a hit of classic modernist colour amidst the spotted gum joinery with solid timber finger-pull/trim detail, stained in Resene Colorwood Natural, in keeping with the original timber joinery. Plasterboard ceiling in Resene Quarter Thorndon Cream.
To see more of Belinda's stunning work, visit the hungerford+edmunds website.
images Murray Fredericks
Published: 22 Feb 2022