►
◄
latest
habitat tv
blog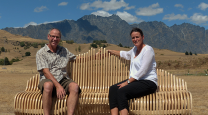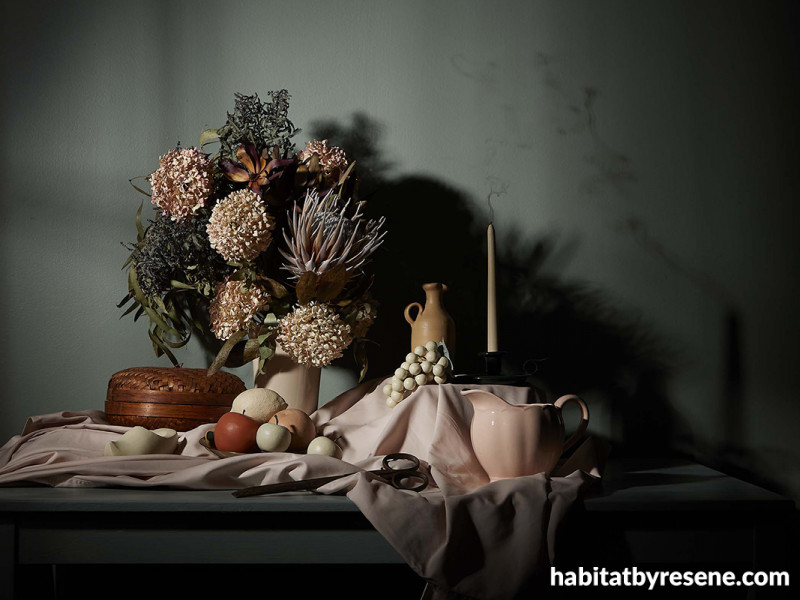 Bryce Carleton on his niche career that's been more than 30 years in the making
07 Dec 2021
Behind the lens of every styled image that's been created especially for BlackWhite magazine, you'll find Bryce Carleton. For the better part of a decade, he's also taken the lion's share of the styled room images for habitat magazine, too. While it's easy for those who have never set foot inside a photography studio to imagine the job to be a simple one, he plays a far more instrumental role within the habitat and BlackWhite creative teams than simply pointing and shooting – and it's taken a lot of time and hands-on experience to get there.
In 1987, Bryce started apprenticing with Hotshot Studios where he cut his teeth shooting product imagery for Kmart NZ's catalogues and mailers. Eight years later, he moved to Photocom where he introduced Deka, Farmers and Fisher & Paykel to digital photography in the early 90s – something that no one else was really doing in New Zealand at the time. Later, he worked as an in-house photographer for a series of agencies such as DPod and ICG creating marketing imagery for lifestyle, food, fishing magazines and more. Today, in addition to his work supporting Resene, he freelances for a number of different companies capturing a wide range of products from liquor bottles to cosmetics, yogurt to first-class airline meals, as well as corporate portraits and architecture. Without question, it's product photography that has been Bryce's career-long specialty. But doing it well takes much more nuance than your typical Instagrammer – especially when the product you're photographing is paint in situ.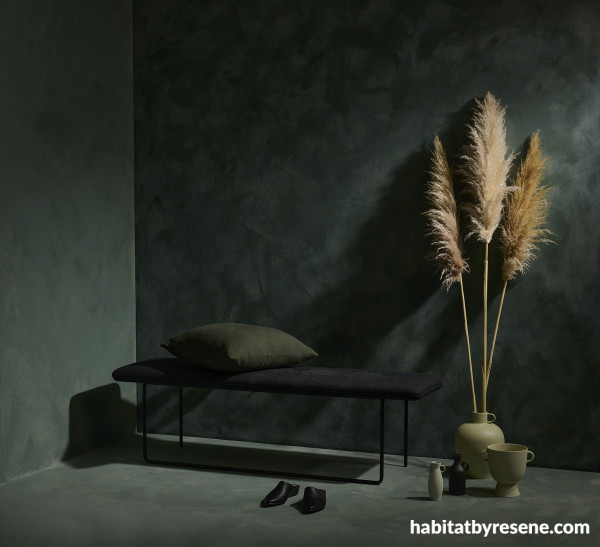 Resene Mangrove, Resene Ravine and Resene Pumice were used in combination with Resene FX Paint Effects Medium to create the paint effect on the walls and floor of this set. After seeing the colour on the wall, Bryce decided to use Resene Mangrove to paint a personal project. Vases in (from large to small) Resene Nirvana, Resene Miso, Resene Possessed and Resene Travertine.
"Because colour can't exist without light, the way you light a product like paint becomes extremely important," explains Bryce. "Too much light – or not enough – and you'll lose the pigment. But with the images that we create for habitat and BlackWhite, it's not just about showing one paint colour. You can see that on a swatch. We want to show what different colours look like together and how that translates to a physical space. And since we're always trying to make that space look and feel as real as possible, the shadows become just as important as the light. If there's not enough shadow in the image, the paint colour can end up looking too flat – and so can the furnishings. So, it takes a lot of finessing to get the right balance.
"Authenticity is really important to Resene, too. What we're capturing is the real paints and their real colours. I'm sure there are other companies out there that try and manipulate that in Photoshop during post-production. But Resene is all about the honesty of showing the real thing so that what you see is what you get."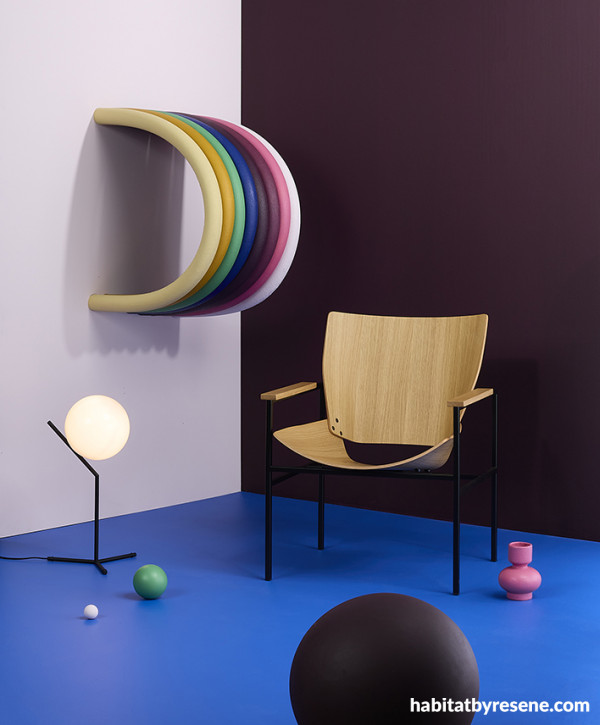 This popular image from the second issue of BlackWhite magazine may seem like it was emulated in Photoshop or using 3D rendering software but everything in the image was physically in the shot. The 'rainbow' was created by gluing pool noodles to the wall which had been painted in a spectrum of Resene hues (from left to right, Resene Sandbar, Resene Hot Toddy, Resene Home Run, Resene Aviator, Resene Half Aubergine, Resene Mulberry, Resene Rouge and Resene Vanilla Ice). Left wall in Resene Vanilla Ice, right wall in Resene Half Aubergine, floor in Resene Half Resolution Blue, vase in Resene Rouge and balls (from large to small) in Resene Half Aubergine, Resene Home Run and Resene Vanilla Ice.
As one might guess, getting that honesty requires a lot of painting – often on the same walls, furniture and props over and over again. The day before each photoshoot, you'll find Bryce in his Resene overalls helping the magazines' editorial and styling teams building, painting and staining the sets. A single shoot often sees upwards of 20L applied in a day, and during production, there can often be two or more photoshoots during a single week. If you were to take a cross-section of the studio walls, you would find hundreds of layers of a random assortment of Resene colours showing the studio's unique history, not unlike the rings of a tree.
"Because you do so much painting, you get to know some of the colours quite intimately and the way that some bases have different consistencies than others," he says. "You also come to understand how a colour can look on a little swatch compared with how you see it on a wall – and then how much it can change again as soon as you shine some studio lights on it."
But even after more than 30 years, he never stops learning new things. Bryce is always combing the internet for ideas that could work for his clients. And when he comes across something that feels new and exciting that makes him stop to look closer, its BlackWhite that immediately jumps to mind.
"Because BlackWhite's audience is primarily specifiers and professionals, you don't have to show ideas as literally as you do normally," Bryce says. "It means we get to have some fun showing Resene colour palettes in creative ways where we get to have a bit of a play with light and shadows and using a bit of those product photography tricks I've picked up over the years. BlackWhite readers don't necessarily need to see the colours in a room because they have the skills to mentally impose those hues onto their own projects."
"Sometimes the editor and art director see something cool, other times I do, and then we show each other and put our heads together to figure out how we can make that a reality in our studio."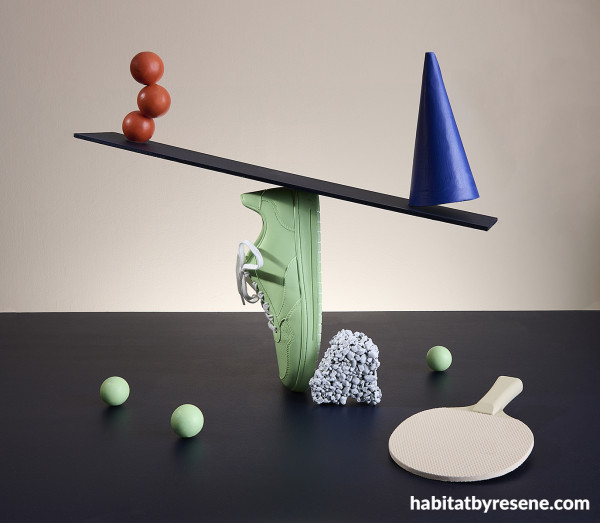 The Red Alert section of BlackWhite magazine showcases on trend colour palettes in unique ways. Wall in Resene Just Right, floor and balance board in Resene Blue Night, stacked balls in Resene Kamikaze, shoe and balls on floor in Resene Feijoa, cone in Resene Decadence, paddle in Resene Just Right with handle in Resene Coral and rock in Resene Snow Drift.
Originally, Bryce studied sculpture in school which, on its surface, might seem far removed from the medium of photography. But it was the way that his sculptures created shadows that charmed him more than the sculpting itself – which is a significant part of his work for BlackWhite.
"There was one image we did in the most recent issue of BlackWhite where we created a linear sculpture on a wall that reminded me so much of one that I created in school years and years ago. It was all about the shadows."
Building the wall sculpture in this set brought up memories for Bryce of one he created when he was in art school. Left wall in Resene Kamikaze with vertical panels in Resene Blue Night with edges in Resene Just Right, right wall in Resene Just Right, floor in Resene Coral, box in Resene Spring Green and vases in Resene Decadence (large) and Resene Snow Drift (small).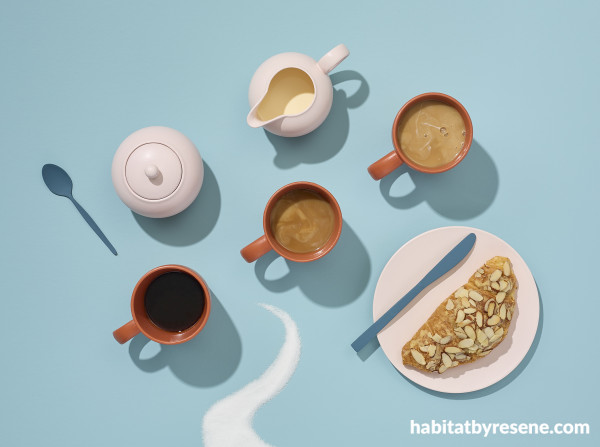 Bryce's favourite image that he's shot so far for BlackWhite features a background in Resene Ziggurat, cups in Resene Hot August, cutlery in Resene Navigate and plate, creamer and sugar pot in Resene Vanilla Ice.
You can find more of Bryce's images in the Red Alert section of BlackWhite magazine, throughout habitat magazine, and on his website.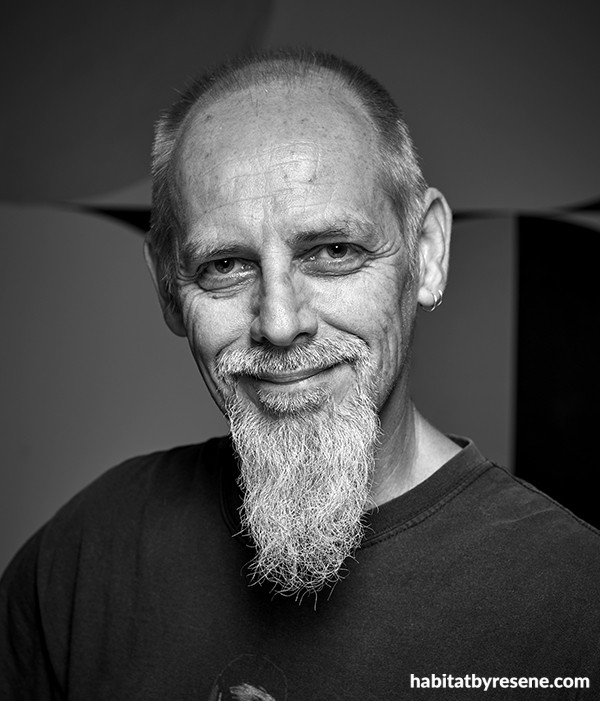 styling Laura Lynn Johnston
images Bryce Carleton
Published: 07 Dec 2021