►
◄
latest
habitat tv
blog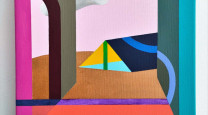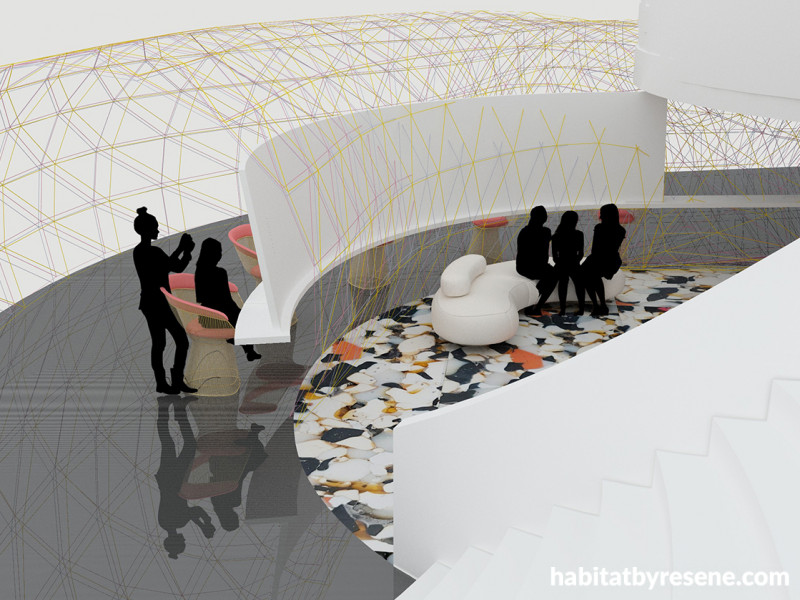 Cocktails meet hair colour in this creative student concept
06 Aug 2021
Like a good portmanteau, we love a design that combines two different ideas into one clever package – and even more so if also has a portmanteau in its name.
This Resene-coloured concept created by Sydney Design School student Rachel Mao was designed as a pop-up pavilion to be located at Sydney's historical Carriageworks building to exhibit a dynamic piece of experiential art and fit in with the festive, celebratory vibe of the annual Sydney Festival.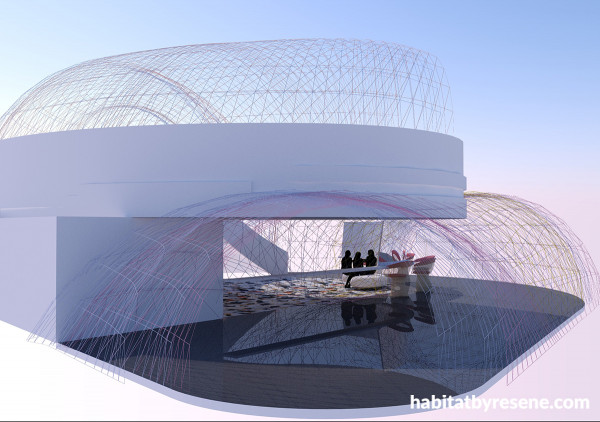 Cocktails and colour collide in this student concept, featuring Resene Alabaster, Resene Fuscous Grey, Resene Rapture, Resene Sunflower, Resene Quarter Frozen and Resene Florentine Pink.
Rachel says the name and design for her project, The Orchidstra Cocktail Bar, were primarily derived from the word, 'bloom'. Looking at her proposed floorplan and models, it's easy to draw the comparison radial, fractal forms that appear throughout nature – the twist of a nautilus shell, the centre of a sunflower and the curling caps of an oyster mushroom. "The gradation, repetition and mathematical forms that exist in nature have been brought together in this cocktail bar concept. Starting from the middle and swirling up to the top like a blossoming flower – hence the name Orchidstra – and references all individual instruments that combine together to create a beautiful symphony," she explains.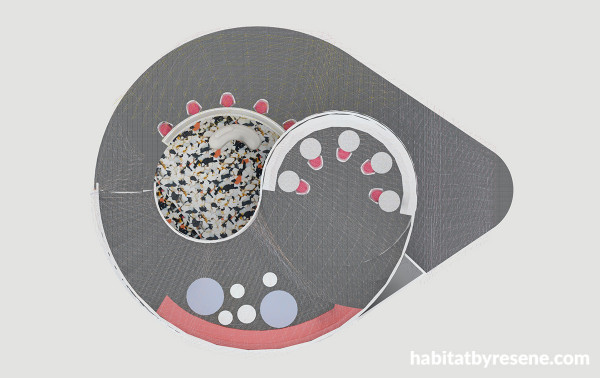 The blossoming, unfurling form of Rachel's concept is immediate evident from her floorplan. Floors in Resene Fuscous Grey, bar tops in Resene Alabaster, chair backs and benches in Resene Rapture and tabletops in Resene Quarter Frozen and Resene Alabaster.
But a typical cocktail bar it is not. When you enter the space of The Orchidstra, the dark epoxy floor reflects the striking string art installation – a collaboration with New York artist Ines Esnal. The work, created specifically for the transparent, curved cocoon that houses it, projects an 'infinity' feel. Beyond it is a hair colour bar surrounded with glamourous large-scale mirrors where patrons can be coiffed by talented students from the Wella Professional Academy using semi-permanent dyes. Recycled plastic tiles have been used to create negative space for the eyes to rest within the curvaceous lounge and acts as a backdrop for the string art, which Rachel believes would become a destination for guests to snap next-level social media photos.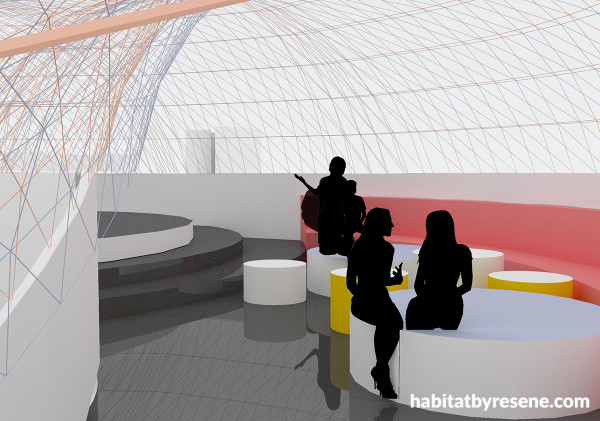 Low walls in Resene SpaceCote Flat tinted to Resene Alabaster contrast with high gloss floors in Resene Fuscous Grey topped with clear epoxy while benches, stools and tables in Resene Rapture, Resene Sunflower and Resene Quarter Frozen and a support beam in Resene Florentine Pink tie into colours seen in the string art installation.
During her design process and conceptual sketching, Rachel says other sources of inspiration were Sydney as an urban centre and home to a highly international demographic, the tectonic nature of architect Kengo Kuma's designs, the arched exterior of Carriageworks itself and the interactive nature of a pop-up shop.
"The objective of the space is to encourage patrons who visit the beautiful Carriageworks facility to have a nice relaxing time, sipping drinks and socialise in a cultured environment. But most importantly, I wanted everyone who would experience it to have fun!"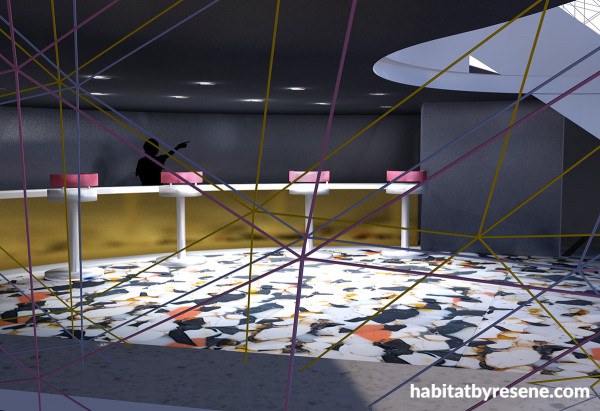 Ceiling and walls in Resene Fuscous Grey in the cocktail bar area of the pavilion create a cosier, moodier atmosphere. Bar top and stool bottoms in Resene Alabaster and seat backs in Resene Rapture carry on colours from the lighter and brighter outer areas while the confetti-like carpet reflects the celebratory vibe of the Sydney Festival.
project Rachel Mao
Published: 06 Aug 2021