►
◄
latest
habitat tv
blog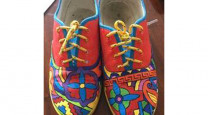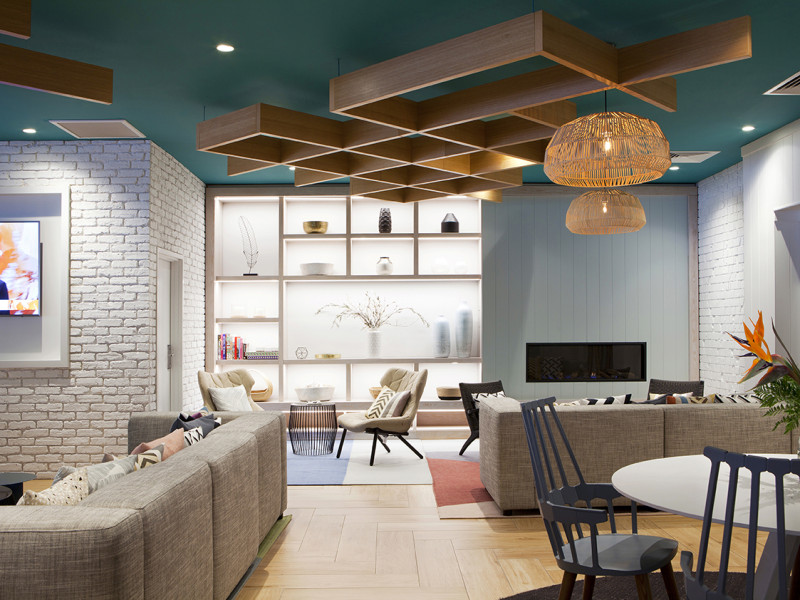 Designworks' hotel lobby redesign welcomes visitors to a home away from home
10 Nov 2020
Travelling, even within our own borders, feels like a huge luxury at the moment; and given that many hotels are currently serving a different purpose than they ever have before, the time seems fitting to recognise and celebrate the care and attention to detail that goes into well-executed hospitality design.
From the modest through to the extravagant, hotels, motels and other lodgings serve an important purpose. When we're away, they step in as our temporary home to offer up quiet and comfort to rest and recharge. But those are really big shoes to fill from a design perspective, especially when you're trying to create that sense of home for anyone who may walk through the front doors.
In trying to please as broad a range of potential customers as possible, many hotels cast a wide net and opt for palatable over risky, sticking to safe selections for colours, furnishings and artwork. But safe can translate to boring and soulless, which really doesn't build a sense of comfort or hominess at all. So how do you create a space that feels comfortable and welcoming to such a potentially diverse range of people who likely have varying tastes? The path lies in creativity and colour.
When Designworks fronted the redesign of the Holiday Inn Mangere in Auckland, they sought to transform the existing 3-star hotel into a memorable experience by building on its heritage and the cultural significance of the site to the surrounding community. Their client wanted the hotel to represent a modern interpretation of New Zealand meets Pasifika design, where guests and visitors know they are in a New Zealand hotel rather than being anywhere in the world.
It's this shared commitment to building a one-of-a-kind experience, one that's heavily influenced by the nature and culture that surrounds it, that makes the design so successful. Instead of trying to be something to everyone, the Holiday Inn Mangere is authentic to its location and is reflective of the things that make it unique. The best homes are designed in much the same way, expressing the personality and individuality of the people who inhabit them.
"We began with the idea of creating 'a welcoming heart', says Erini Compton of Designworks. "The spaces are all about welcoming, connecting our community and creating a common hub."
Erini says that, originally, the central core was fully enclosed and raised, where guests entered through a bunker into the main bar – which wasn't ideal for creating that sense of openness or interconnectedness. "Our idea to demolish the surrounding walls and take this floor down to one level transformed the heart of the hotel. It opened it up, connected it to all the other public spaces and flooded it with light."
From the beginning of the project, a clear idea was set out for how the design team would use colour to achieve a holistic design throughout. While the designed spaces throughout the project have been differentiated through colour, pattern and scale, they feel cohesive in the way that they share the same design and colour language.
"Colour was a key component to realising the design and vital to telling the Holiday Inn story," says Erini. "We looked at interpreting New Zealand/Pasifika design into a modern and contemporary solution by taking inspiration from iconic classic Kiwi heritage colours and mixing these subdued tones with brighter colours inspired from the Pacific. We were hugely inspired by the Resene colour range and its seemingly endless options to help achieve our overall vision. To achieve the NZ/Pasifika look and feel, brights and pastel tones were carefully combined to create vibrant and playful yet calm and considered interiors."
"The incredible service by our Resene representative made this possible. Having a great product paired with great service ensured the results were achieved."
The design team used Resene Half Athens Grey, Resene Emerge, Resene Transmission, Resene Seachange and Resene White married with local and authentic materials and finishes and injected with punches of vibrancy and visual texture – notably, a ceiling in Resene Atoll and a custom carpet design. The combination of a fresh, tactile and natural materials and textures through painted tongue-and-groove walls, cane lightshades, terrazzo, a range of colourful textiles, rope and concrete block screens, planters and timber flooring work together to build a richly layered experience. "It's also allowed the spaces to be engaging, fun and adaptable," explains Erini.
To make the space even more unique, Designworks looked to a New Zealand artist to create bespoke NZ flora and fauna artwork for key spaces.
The result comes across as genuine; the spaces have an inherent warmth to them and feel undeniably connected to their location. The balance between classic Kiwiana, Pacific character, and contemporary flair is sure to encourage many repeat guests at the Holiday Inn Mangere.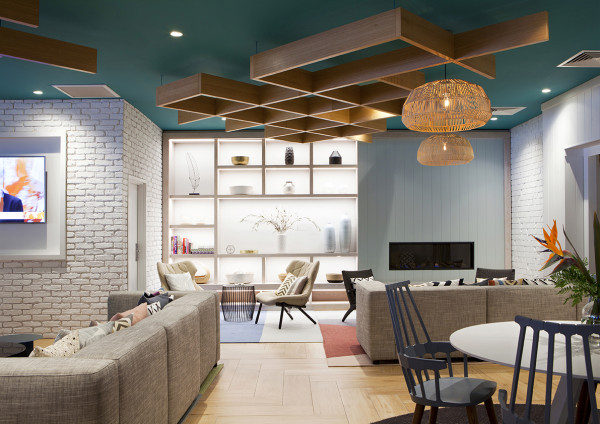 With its relaxed and inviting vibe and thoughtful attention to details, the guests at the Holiday Inn Mangere are treated to a hotel that feels more like a home. Ceiling in Resene Atoll, tongue-and-groove walls in Resene Transmission (back) and Resene Emerge (right), brick walls in Resene White.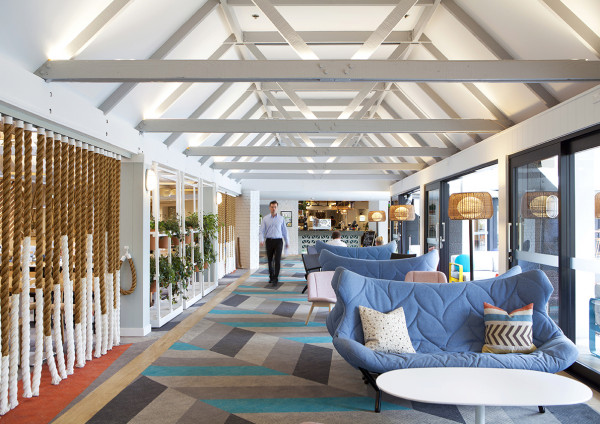 Soft and calming Resene Half Athens Grey on the walls and ceiling bring airyness to the Holiday Inn Mangere lobby while the visual patterns created by the rafter beams are reflected below in a custom carpet designed by Designworks. Its motif is based on a modern and bold Pasifika pattern.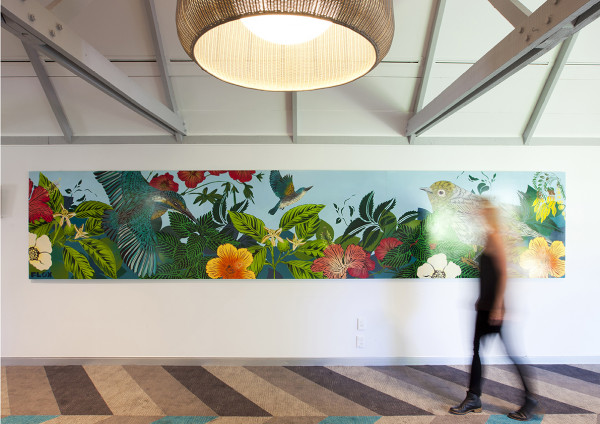 Multi-disciplinary New Zealand artist Flox was commissioned to create bespoke artwork featuring New Zealand flora and fauna for key spaces. This large piece is complemented with walls and a ceiling in Resene Half Athens Grey.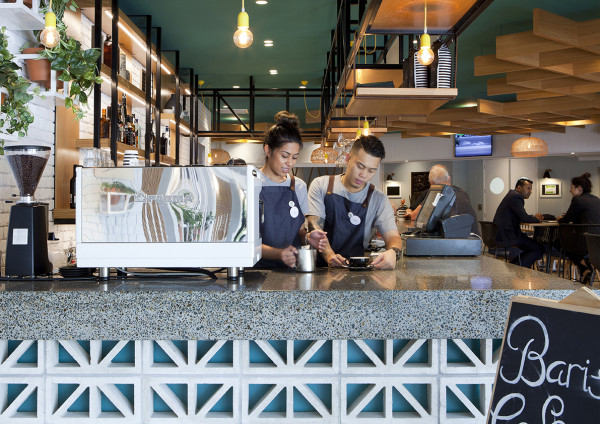 A ceiling in Resene Atoll brings colour and a sense of intimacy to the bar area. Bar front (behind breeze blocks) in Resene Seachange, brick walls and breeze blocks in Resene White and other walls (at rear of restaurant) in Resene Half Athens Grey.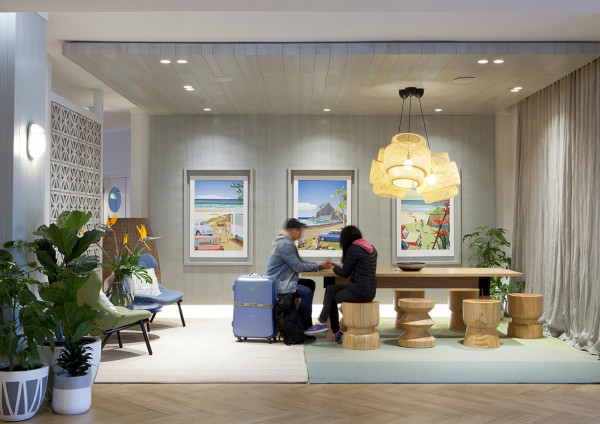 Tongue-and-groove panelling in Resene Transmission (left and back left) and other walls and ceiling in Resene Half Athens Grey add to the classic coastal vibe of the hotel lobby.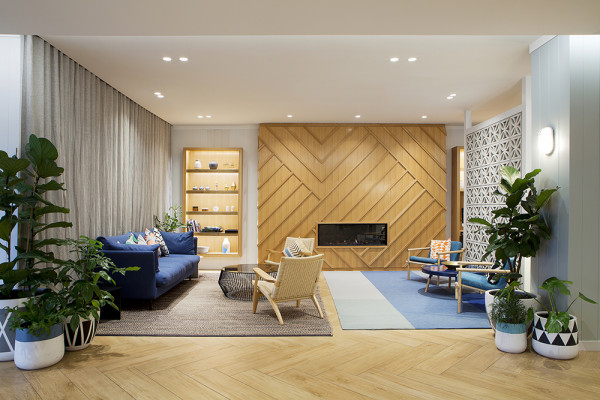 Designworks used visual texture and colour to build interest, including tongue-and-groove panelling in Resene Emerge and Resene Transmission, while repetition of angular shapes through the breeze blocks in Resene Half Athens Grey, the batten fireplace surround and the timber flooring create cohesion. Ceiling and trims in Resene Half Athens Grey.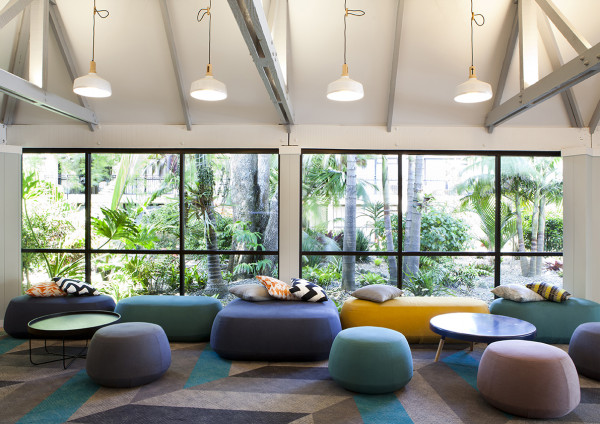 Tongue-and-groove panelling in Resene Emerge and a ceiling in Resene Half Athens Grey frame the expansive line of windows in the Holiday Inn Mangere lobby. A colourful assortment of soft furnishings in hues similar to Resene Atoll, Resene Buttercup, Resene Matakana and Resene Midnight Express serve as casual seating and evoke the vibrant energy of the south Pacific.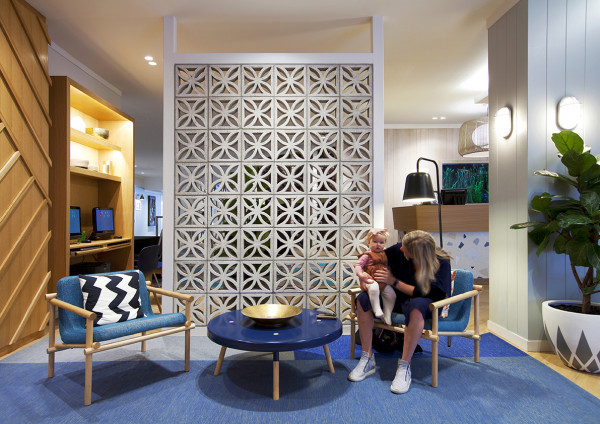 Ceiling, walls (at left) and breeze blocks in Resene Half Athens Grey and tongue-and-groove panelling (at right) in Resene Transmission lend welcoming warmth to the reception area, complemented by rich blue accents in hues similar to Resene Bondi Blue and Resene Aviator.
design Designworks
build Format
images Kat Reeves