►
◄
latest
habitat tv
blog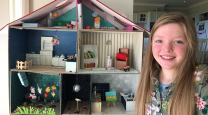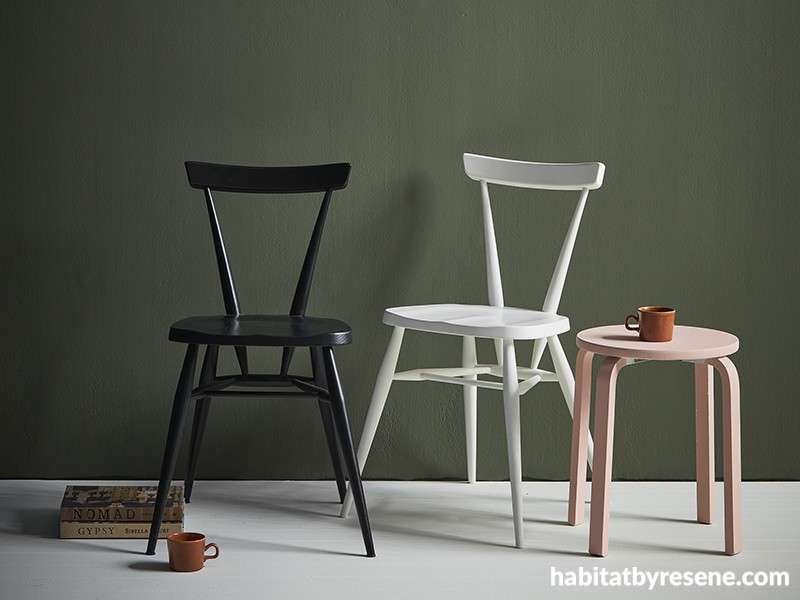 Five contemporary yet classic wall colours to try now
18 May 2022
Sometimes your client's colour goals can feel contradictory. They don't want their wall colours to be so trendy that they fall out of style a year or two down the road, but they also don't want them to be so far off trend that their newly designed space feels like it's stuck in the past. What they're after walks that fine line between contemporary and classic, and they'll be looking to you for suggestions that feel fresh but flexible, stylish yet dependable, enduring but not boring.
If these paradoxical requests are making you feel less than confident about your colour recommendations, rest assured that you're not up against an impossible task. The secret lies in looking to cutting-edge colour trends and selecting a slightly tweaked variation of today's most popular hues. In many cases, this can be a dustier, greyed-off version of a top trending hue. Other times, it could be a colour that never fails to come back into vogue but with an undertone that aligns with the current trend cycles.
But if you're still at a loss for where to start, the BlackWhite editorial team has done some of the hard work for you and curated a selection of winning hues that will work for a wide range of situations. From soft and subtle through to bold and brazen, add these Resene colours to your list of swatches that you'll reach for first when planning your next project.
Resene Cabbage Pont
It's no secret that greens are among the most popular current colour trends, especially deeper olive, army and nettle tones. And when it comes to darker wall hues, greens are one of the easiest to sell to your clients because they're incredibly easy to be around. Colours like Resene Cabbage Pont feel like they've been pulled straight out of the bush, and that natural appeal lends itself well to chill and restful spaces where the inhabitants want to be surrounded in a soothing hue. Despite being heavily saturated, the choice doesn't feel bold – but rather, cocooning, cosy and calming. And Resene Cabbage Pont hits that sweet spot between being trendy yet timeless.
Resene Cabbage Pont is extremely flexible for colour pairings, too. If a neutral, nature-inspired look is what you're after, complement it with paler grey greens like Resene Secrets, Resene Green Spring or Resene Paddock, stonewashed greys like Resene Half Stonewashed, Resene Rockbottom or Resene Quarter Stonehenge or earthy browns like Resene Half Wood Bark, Resene Spice or Resene Leather. But if you want a look that feels both contemporary and classic, try it with a combo of black, white, rose and terracotta such as Resene All Black, Resene Alabaster, Resene Lime White, Resene Sakura and Resene Wild West on simple, minimalist shapes.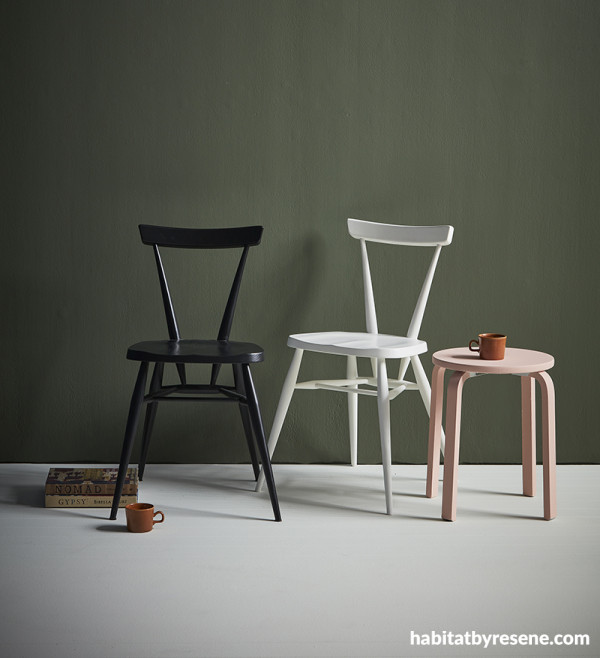 Wall painted in Resene Cabbage Pont, floor in Resene Lime White and stool in Resene Sakura. Chairs from Good Form.
Resene Madison
Speaking of saturated wall colours, another easy-to-love option is deep marine blue. As the most universally loved colour, blue never really fades from popularity – making it a timeless choice in the truest sense of the word. But blue is also currently experiencing an upswing on both on the catwalk and in the decorating world; however, in this instance, you'll want to look to warmer options over cooler greyed ones if you want your choice to touch into trend territory.
While it may not be immediately evident at first glance, Resene Madison actually has a great deal of yellow undertone to it. This adds a lot of warmth to the hue and sets it apart from other deep aquatic blues in terms of its ability to be mixed and blended with other trending tones.
The reason this is especially important right now is that we're right at the beginning of a warm neutral cycle. Although other colour families can experience strong shifts in tone from one year to the next (or even one season to the next), it takes a good twenty or so years before we see significant changes to preferred neutrals. While cool greys were all the rage in the first two decades of the new millennium, this decade (and likely the next) will belong to creams, beiges and browns.
So by picking a warm and watery blue like Resene Madison, you're setting your client up with a colour that should have staying power for more than a decade yet to come. And it's just as ripe and ready to be layered with today's popular ambers, creams, browns and terracottas such as Resene Soft Amber, Resene Bianca, Resene Rebel and Resene Tuscany as it is to support other beloved classic colours like Resene Duck Egg Blue, Resene Dusted Blue and Resene Pohutukawa.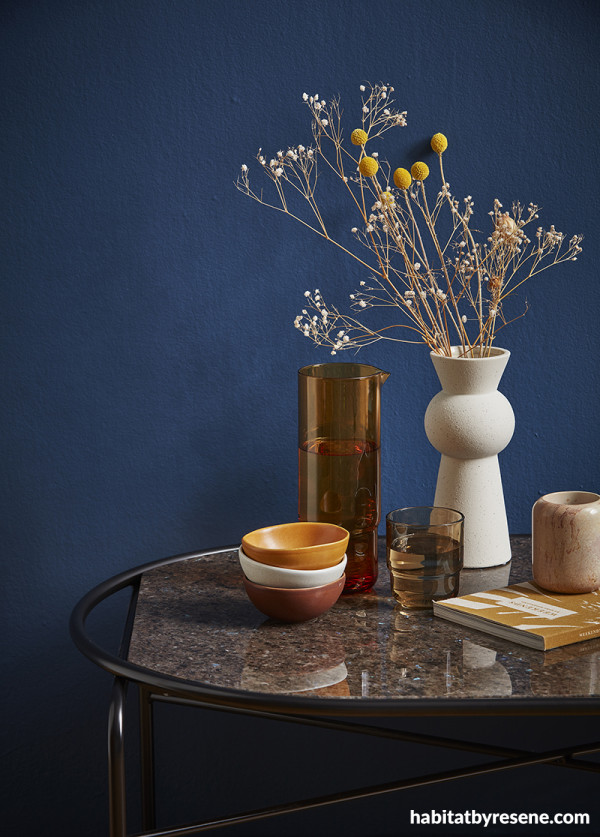 Wall painted in Resene Madison. Coffee table from Good Form. Carafe, tumbler, bowls and soapstone vessel from Città.
Resene Swans Down
If a deep blue isn't going to fly with your clients, it's smart to apply a similar strategy for choosing a lighter variation and opt for a pale blue that has yellow undertones. Warm and crystalline Resene Swans Down is absolutely on the mark in terms of what's hot, and you're likely to see lots of this hue evident in shops and magazines.
The beauty of using this hue as a wall colour to ground your scheme is it's simple to layer other trending accent hues that will have a shorter shelf life. For instance, equally pale pastels like Resene Soothe, Resene Reservoir and Resene First Light can blend together with it beautifully as part of an otherworldly, ethereal look that channels a futuristic vibe. Yet, it'll look just as good a few years down the road once those trends pass and it becomes the background colour to the next big thing.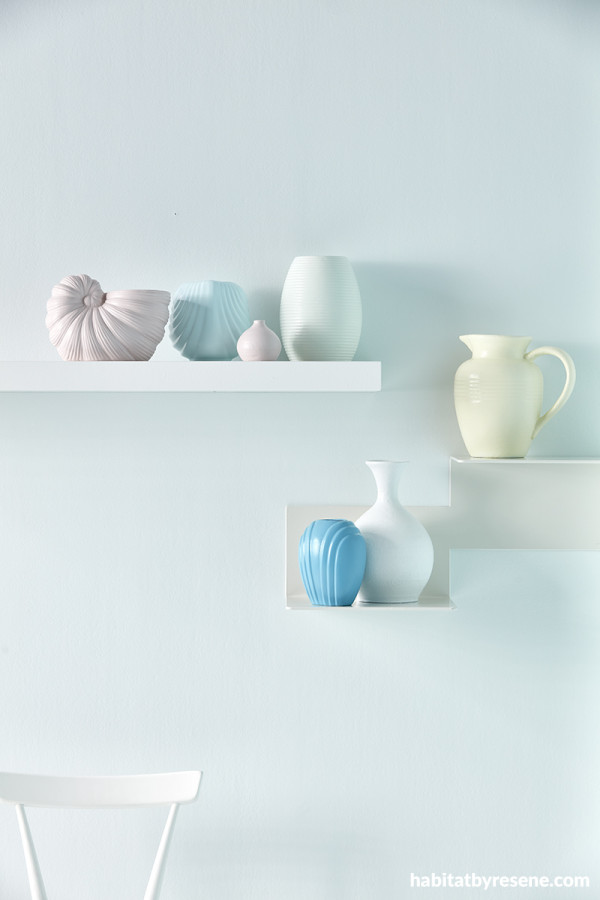 Wall in Resene Swans Down and vases in (from left) Resene Soothe, Resene Reservoir, Resene Soothe, Resene Peppermint, Resene Hippie Blue, Resene Hint Of Grey and Resene First Light. Chair and zigzag shelf from Good Form.
Resene Half Scotch Mist
Finding the right white is never an easy feat. But as we alluded to earlier, the whites that are going to take us through the rest of this decade and into the next are creamy ones. Though you may be tempted to fall back on a stark or cool white that you've become accustomed to using during the 2000s and 2010s, if your client wants their white to keep looking relevant in the years to come, it's best to opt for a warmer selection.
If you're a fan of classic choices from the Resene Whites & Neutrals collection such as Resene Pearl Lusta, Resene Spanish White or Resene Villa White but none of them are quite the right option, look to Resene Half Scotch Mist. This underrated hue from the Resene Multi-finish range has slightly more pigment than the aforementioned whites, which makes it an excellent colour to look to in particularly bright spaces where more delicate choices would get washed out. It works beautifully with today's popular leather browns and pale lemon yellows such as Resene Leather and Resene Lemon Twist. But it also makes a lovely complement for classic pale blues and stone greys like Resene Half Sail and Resene Half Nomad.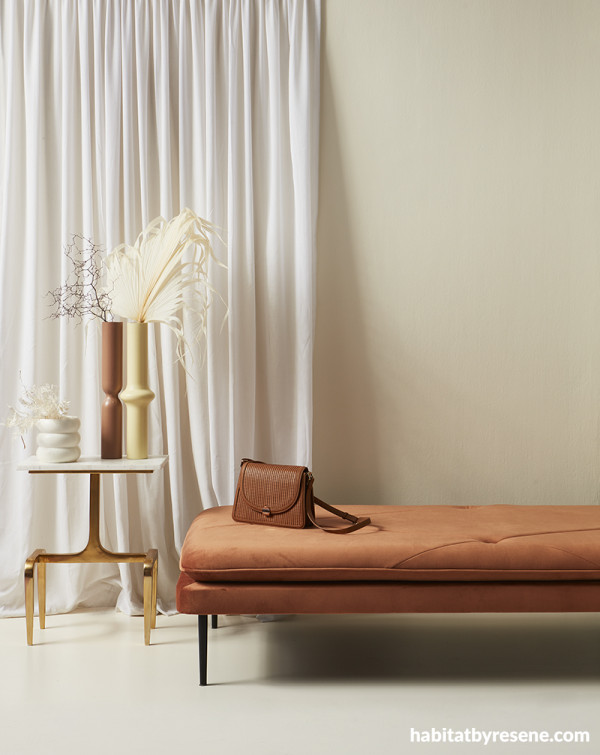 Wall and floor in Resene Half Scotch Mist. Vases in (from left to right) Resene Half Scotch Mist, Resene Leather and Resene Lemon Twist. Table and daybed from Contempa.
Resene Half Aubergine
Plums and violets have been resurfacing in colour trend forecasting, and while purple can be a polarising hue for decorating, it can also be an elegant, glamourous and even timeless colour choice to live with – so long as you select the right tone.
If you're seeking a purple to use on the walls of your project that isn't too shouty, Resene Half Aubergine is a fantastic option. When compared with the full strength hue, Resene Half Aubergine is distinctively more recessive and greyed. And though it may still be a daring choice for some, it's surprisingly easy to live with in a residential or commercial setting than Resene Aubergine.
We think the hue looks best in a flat or low sheen formula such as Resene SpaceCote Flat, Resene Room Velvet, Resene Ceiling Velvet, Resene SpaceCote Low Sheen or Resene Zylone Sheen, which gives it a soft, sultry and touchable appearance. If you're convinced but you're having a hard time convincing your client, simply show them this space, where it is surrounded by even bolder colour options. This fun and contemporary palette works well for spaces where you want to evoke energy and engagement. But if you're looking for something more low-key, try teaming Resene Half Aubergine with Resene Half Shark, Resene Milk Punch or Resene Greige instead.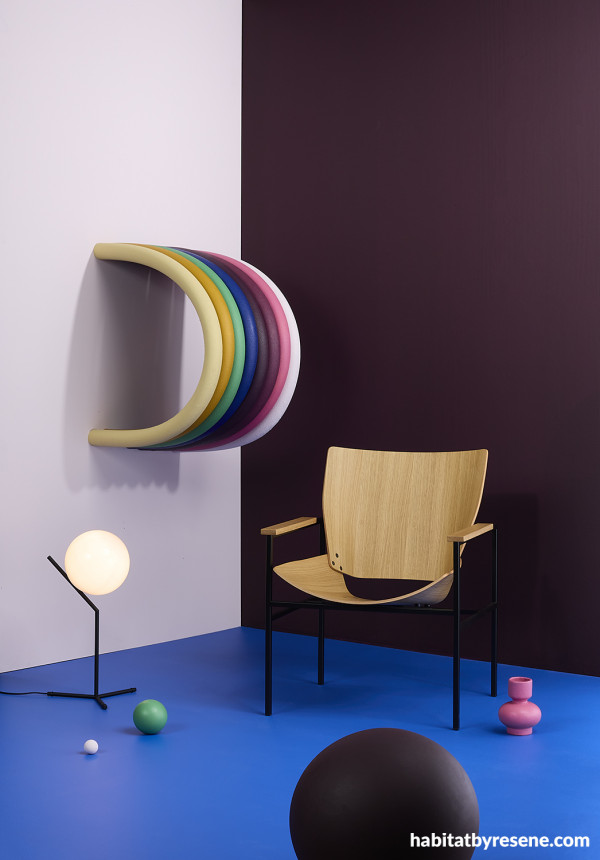 Right wall in Resene Half Aubergine, left wall in Resene Vanilla Ice, floor in Resene Half Resolution Blue, rainbow in (from left to right) Resene Sandbar, Resene Hot Toddy, Resene Home Run, Resene Aviator, Resene Half Aubergine, Resene Mulberry, Resene Rouge and Resene Vanilla Ice, vase in Resene Rouge and balls in (from large to small) Resene Half Aubergine, Resene Home Run and Resene Vanilla Ice. Chair from Good Form, lamp from ECC.
Resene Resolution Blue
Brazen blues are a major colour trend in the fashion world at the moment, and these eye-catching colours are very quickly making their way into interiors. Although this particularly electric ultramarine blue isn't for the faint of heart, on the right wall and in the right setting, Resene Resolution Blue manages to be both contemporary and classic. For instance, when used as a statement wall colour in a minimalist space, it works wonders with materials like polished concrete, high-polish metallics and leather and brings enough eye-catching interest to allow you to stick to black and white for the rest of your surfaces and furnishes. But it is also a fantastic choice for mid-century teak and walnut furniture and can hold its own amongst pops of other bright bolds like reds, yellows or pinks such as Resene Jalapeno, Resene Wild Thing or Resene Hopbush.
If you're still not convinced that an ultramarine blue wall won't bring your project to the next level, check out what StudioPritchard did with similarly toned Resene Space Cadet in their award-winning New Zealand Bus Office design.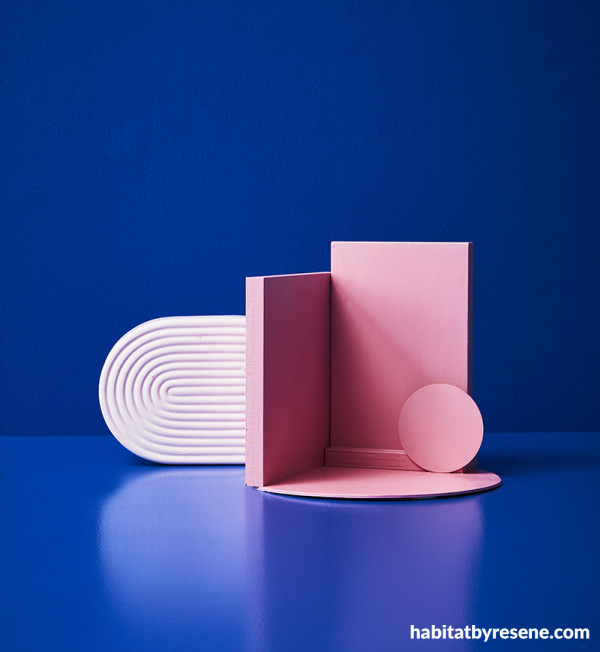 Wall and tabletop in Resene Resolution Blue, arch in Resene Pink Lace and other shapes in Resene Hopbush.
projects Amber Armitage, Laura Lynn Johnston
images Bryce Carleton, Wendy Fenwick
Published: 18 May 2022