►
◄
latest
habitat tv
blog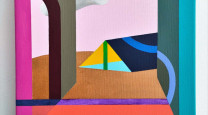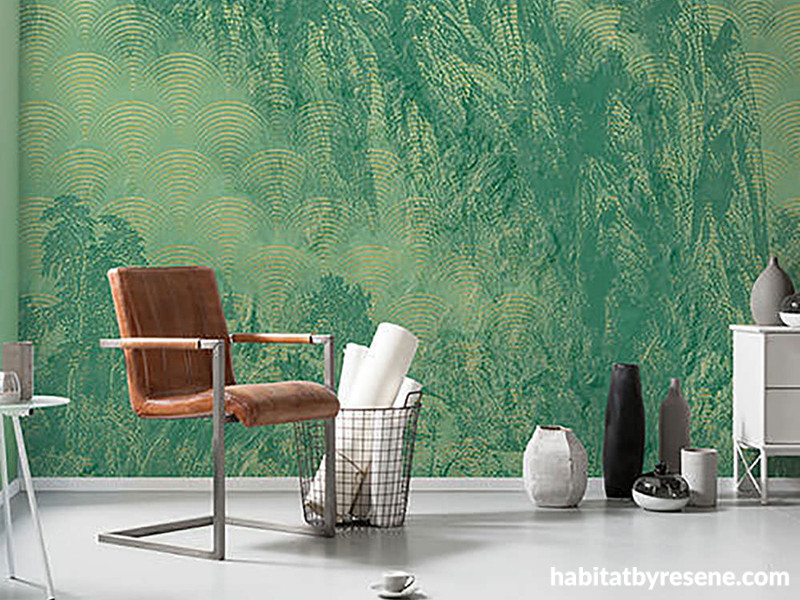 Five wallpaper murals that bring some serious 'wow' factor
16 Jul 2021
Looking to make a lasting impact through a single wall? Try one of these five show stealing mural designs from the Resene Wallpaper Collection, which are guaranteed to make an impression.
Full circle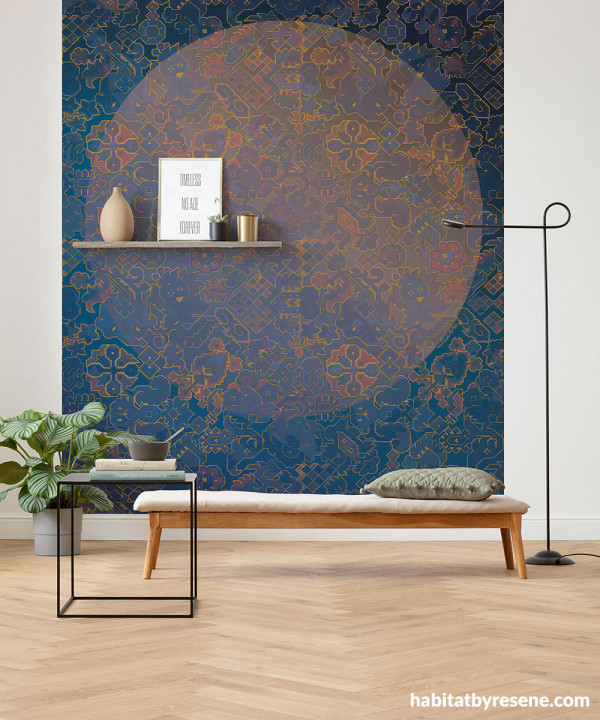 If you flipped to Resene Wallpaper Collection HX4-032 in a wallpaper book, it might not leap out as the perfect fit for a minimalist living space. And yet, it totally works – especially in place of a splashy large-scale artwork. The faded circular that dominates the design pulls you in while its subtle Moroccan-esque pattern invites you to stay awhile to explore its delicate twisting floral motifs. Pair it with adjacent walls and trims in Resene Quarter Rice Cake, timber flooring in Resene Colorwood Rock Salt and a few gentle hints of Resene Bone, Resene Frontier and Resene Half Silver Chalice brought in through a few meticulously curated accessories so as not to compete with the mural's majesty.

A mural by any other name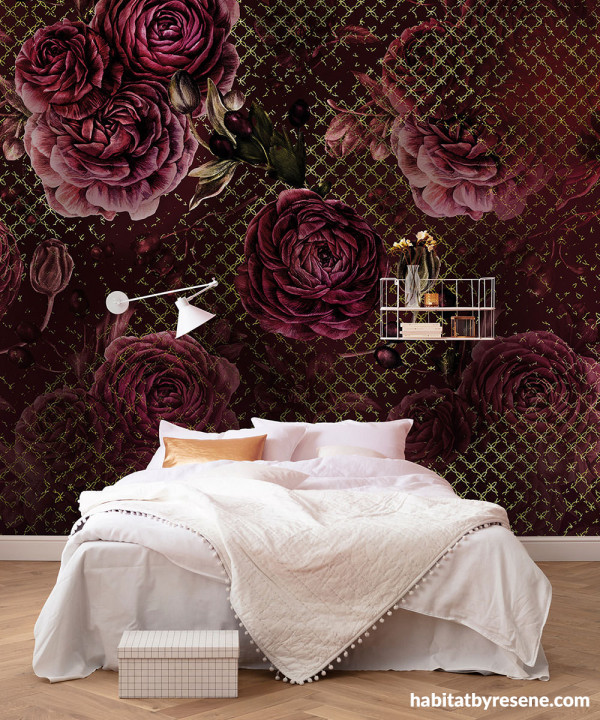 Searching for something that says drama and romance? Resene Wallpaper Collection HX7-046 has both in spades – and at a scale that's sure to get people talking. While it's shown here in a bedroom, it would make an equally impressive impact in a space like the bathroom of a restaurant. Maintain the moodiness brought on by the mural's rich red tones by teaming it with the ceiling and adjacent walls in Resene Spitfire, furniture and fixtures in Resene Quarter Bianca and Resene Bianca, a vase or other similarly sized décor accent in Resene Noosa and hand towels in Resene Ebb. Add an optional extra bit of glitz and glamour with a touch of Resene Rose Gold metallic.

A touch of tranquillity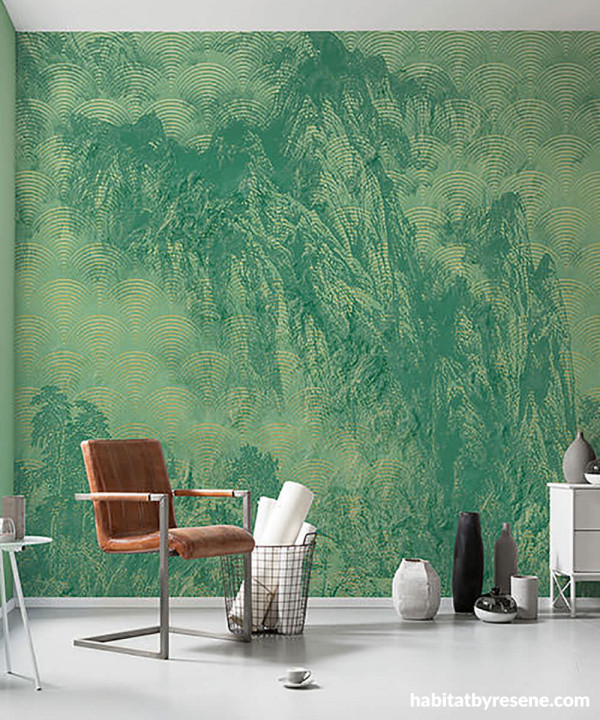 If your taste tends toward more abstract designs, Resene Wallpaper Collection HX8-013 – with its tonal green mountain and forest silhouettes overlaid with kimono-like fans – might be more your flavour. Use it to bring zen-like vibes to a commercial office space paired with a ceiling and floor in Resene Eighth Ash, a grey which has an ever so slight hint of green to it. Keep the majority of furniture and accessories achromatic and simple in Resene Nero and Resene Armadillo save for a hero element such as a statement chair in Resene Cinnamon. If you want to take a touch of the mural colour farther out into the space, add accents in Resene Amulet.

Artistic flair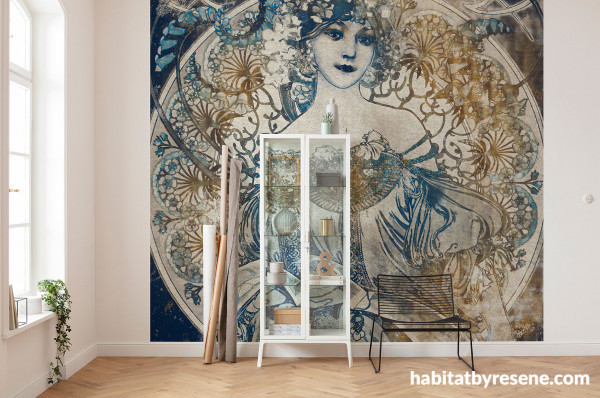 Bring the magic of artist Alphonse Mucha's elegant Art Nouveau illustrations to your project with Resene Wallpaper Collection HX6-041. Team it with timber flooring stained in Resene Colorwood Natural, walls, ceiling, skirting boards and architraves in Resene Half Sea Fog and layer in some lavishness with sumptuous velvet sofas in Resene Tangaroa and accessories in Resene Bullwhip and Resene Teak finished with brushed brass fixtures.

BYOView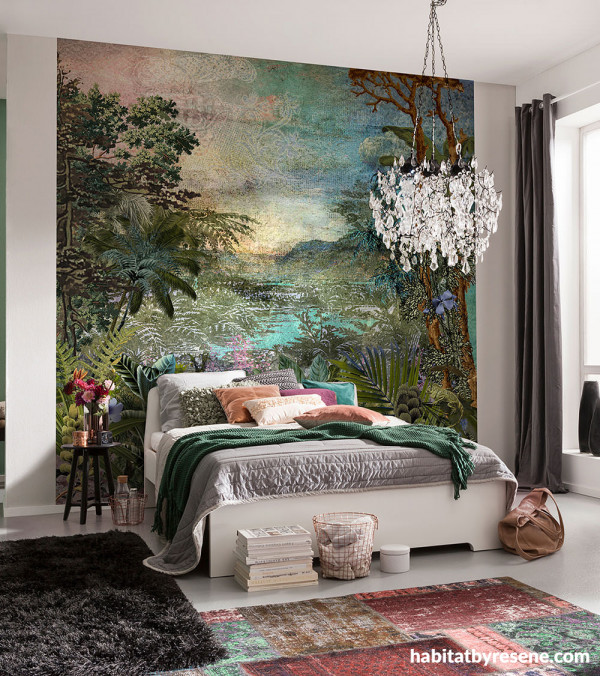 No view? No problem! With a floor to ceiling mural like Resene Wallpaper Collection HX5-044, a breath-taking sunset will be within sight around the clock. Because this design makes such a big impact on its own, it's best to balance it out with adjacent walls and ceiling in a clean and classic neutral like Resene Black White. Then, use an eclectic mix of paint colours pulled from the design for heavily layered accents and accessories to bring the palette out into the room and match the richness of the image. Try Resene Half Forest Green, Resene Sea Nymph, Resene Merlot and Resene Kalgoorie Sands in two to five other spots around the space so that the colours connect to one another and the mural for a dreamy, cohesive look.

Need more inspiration? See a taste of the latest Resene Wallpaper Collection designs including murals, patterns, solids, textures and metallics online at www.resene.com/wallpaper or visit your Resene ColorShop to view the full collection.
Published: 16 Jul 2021