►
◄
latest
habitat tv
blog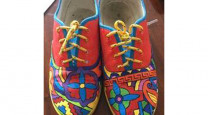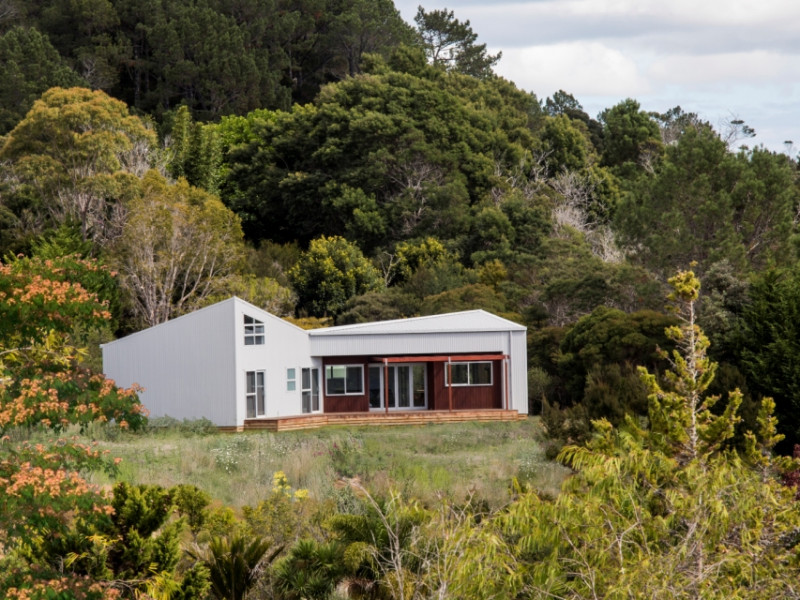 Maurice and Marije of MnM Design talk building smaller, smarter
20 Oct 2020
Maurice Regeer and Marije Hoornstra, the Dutch born duo behind MnM Design, are partners in both business and life. Professional yet approachable and down-to-earth, their small design studio based in Te Puke is passionate about creative, detailed, organised and innovative design-driven buildings, particularly residential homes and baches.
As the couple puts it, they're 'big on small'. "With our cities running out of space and energy and building costs rising we need to be smarter about our housing. We have to think smaller and extend durability, so we only build what we really need. Coming from The Netherlands gives us a great advantage in compact housing. We will be able to help you build a tailored house that's easier to maintain and cheaper to build and run."
We talk more with Maurice and Marije about what brought the pair to the other side of the world, their process and their inspiration.
When and why did you make the move to New Zealand from the Netherlands?
Maurice: "We both worked at large architectural practices in The Netherlands. Big offices generally work on big scale projects and spending three to four years on a single project is not uncommon. Work hours plus travel time makes you sometimes wonder what more is out there. In 2004, we visited beautiful NZ and the seed was sown. In 2007, we came to NZ after obtaining the necessary paperwork and had contracts signed with great offices in Tauranga and Te Puke. A real shout out to both directors of these firms for standing by us. Then, in 2009, the global financial crisis hit and we had to make the step into the unknown and start our own business – and we never really looked back."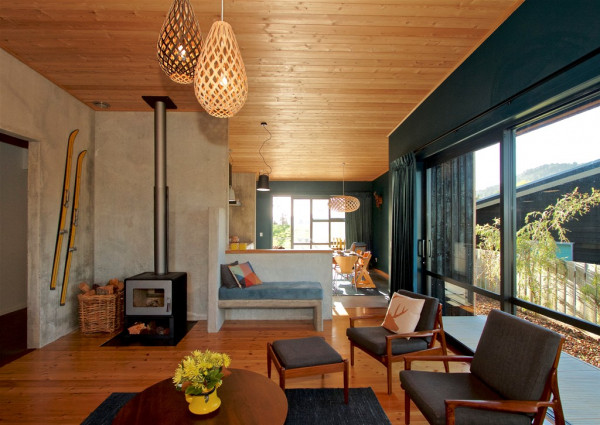 In this cabin designed by MnM Design, concrete walls provide both insulation for the cooler months and ensure that the hideout doesn't overheat in the warmer ones. In the kitchen, dining and living spaces, feature walls have been painted Resene Elephant to provide contrast and frame the stunning outdoor vistas. The larch clad ceiling and floor have been finished in Resene Aquaclear.
How does your architectural and design work in NZ differ from when you worked in NL, and what advantages do you think your overseas experience brings to your work here?
Maurice: "In NL, we were used to working on large scale projects where developers might work on 400 houses in one go, and building sites are sometimes half neighbourhoods. It meant a lot more repetitive work and not much room for individual flair on each house. In NZ, that is completely different. Each homeowner is a potential client, with individual wishes, taste and needs. Each site demands something different as well. NL is flat, and roads are straight whereas in most NZ towns the sites are marked by stunning scenery and views, hills and slopes. This makes designing in NZ so interesting."
Your work often focuses on small and compact spaces. Do you find that clients seek you out because of that, or do you find yourself educating clients that are envisioning something bigger that they might not need such a large footprint?
Marije: "Since I'm both an interior and architectural designer, I like to combine both right from the start of a project. Most of our projects are designed from the inside out. We like to challenge our clients' design ideas to find out what's really behind them. This way, we can design what's necessary and not waste any space or money. We both come from a very functional cultural background and I think that's what makes us want to design only what people need, but with the best quality they can afford – and that has led us down the path of smaller houses, together with the economic circumstances."
Maurice: "The focus on smaller projects started out of need, really. When we started up during the global financial crisis, every job seemed to be about money, and the most logical way to deal with this was to create smaller spaces as we didn't want to compromise on quality. After a while, the focus shifted towards the need for smaller spaces.
"There is a huge gap in our housing stock for first home buyers and older people in our community. Back in NL, we started out in a 60m2 apartment and we didn't need more space – no need to mow lawns or maintain much. We now have a 125m2 old villa with our two children and that is plenty of space. We find that clients are more aware of building a smaller house and I think the whole Tiny House movement helped with that. We always try to convince our clients to build smaller and more sustainable – build smaller and build smarter. But smaller doesn't always mean a 'small house'. It can still be a comfortable space, but one that's just been better thought through. We try to get the thermal envelope up for each new build we're working on – insulated slab, perimeter walls and ceiling – and use energy the smart way and retain heat-cold within thermal mass. We're real advocates for this."
What are your favourite types of projects to work on?
Maurice: "Smaller builds are our real gems. They present a real challenge at each m2, minimising traffic space and smart storage ideas. But we're not shy on larger scale (commercial) projects. At moment, the Pukehina Surf Rescue Building is on the drawing board for Building Consent and a re-build of the Whare Tupuna of Tuhourangi Marae in Te Puke is currently under construction."
Where do you find your inspiration for your designs?
Maurice: "We find the inspiration for our designs all around us. As designers, we tend to have a tic to look at buildings everywhere, in urban contexts, in rural or beach environments, but we also find a lot of inspiration in nature. Marije tends to look at the overall house in its context while I'm more of a detail focused person. We're always on the lookout for new materials or different use of tested materials, as we like every project to be different."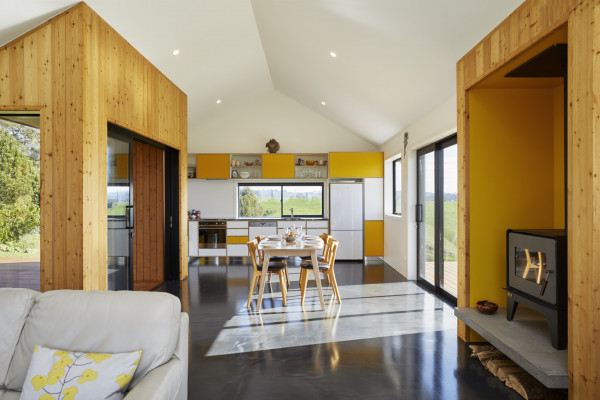 MnM Design used Resene Galliano as a statement hue in this project to bring a splash of colour to the kitchen and fireplace surround amongst walls and ceilings in Resene Quarter Iron. The interior timber has been finished with Resene Aquaclear.
Do you feel like you have a very similar style/taste, or are there ways in which you differ in that regard?
Marije: "We have very different personalities. I'm very chaotic and creative and Mauriceis really punctual and has an engineering mind. I look after the overall concept and Maurice's focus is more on materials and details. We love to use raw materials in our build, especially timber construction in combination with exposed concrete floors and walls and some warm interior timber. We try to talk about detailing and materials from the start to the finish of a project."
Do you have any special strategies that you employ if you feel stuck on a project?
Maurice: "Marije tends to look at different overseas architectural websites for inspiration. We tend to be mostly inspired by Scandinavian driven designs. When stuck on details, I love to look up some old joinery books and schoolbooks I have collected over the years. They are a wealth of knowledge when it comes to finishing junctions and material usages. Usually, taking a little break from the project allows us to look at it from a different angle and that often helps the project further."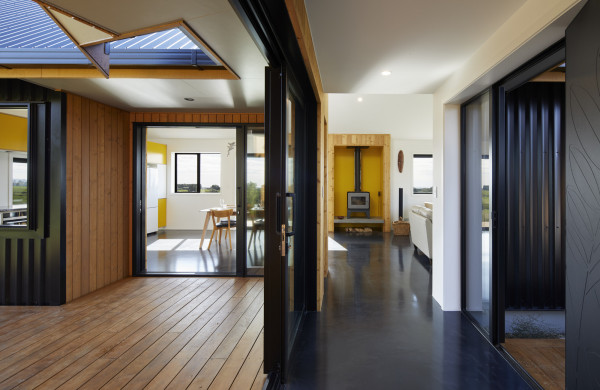 Resene Galliano brings a contemporary punch of colour to the kitchen and fireplace surround of this home. The interior timber has been finished with Resene Aquaclear and the exterior cedar is finished in Wood-X Torlesse, available from Resene ColorShops. Interior walls and ceiling in Resene Quarter Iron.
What do you love about Resene products?
Maurice: "Resene products are truly tested in all situations, and the knowledge is out in the workforce with painters educated on usage of their products. There's really no point in having good product if it's used the wrong way. When we make specifications for a particular project, we can always rely on the expertise from Resene."
Which Resene colours are you currently crushing on?
Marije: "I like to combine contrasting colours that people might be afraid to use and show them colours are a great way to lift your mood. At the moment, I like greens combined with blues, such as Resene Rivergum, Resene Cobalt, Resene Botticelli and Resene Azure, and we will probably use a similar combination for our next small house in Ohakune."
This year has been really hard to plan for with so much 'up in the air' for many people, but do you have any exciting upcoming news to share?
Maurice: "What a year, yes. We can't see the back of it quick enough. But I'm sure something positive will come out of it. The exciting news is that we're looking at building another small house in Ohakune. We really found the need to show off what we can do in this mountain town. We love it there. Approximately 50% of our work is in Ohakune and the surrounding area, with some exciting new builds on the drawing board!"

Resene Nepal and Resene House White are a refreshing pair and beautifully complement the gorgeous lake vista that this Mangonui residence overlooks. Ceiling in Resene Double House White and skirting and architraves in Resene Half House White.
To see more of Maurice and Marije's work, visit the MnM Design website.
images Amanda Aitken, Glyn Hubbard, Nicole Jecentho