►
◄
latest
habitat tv
blog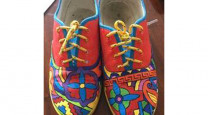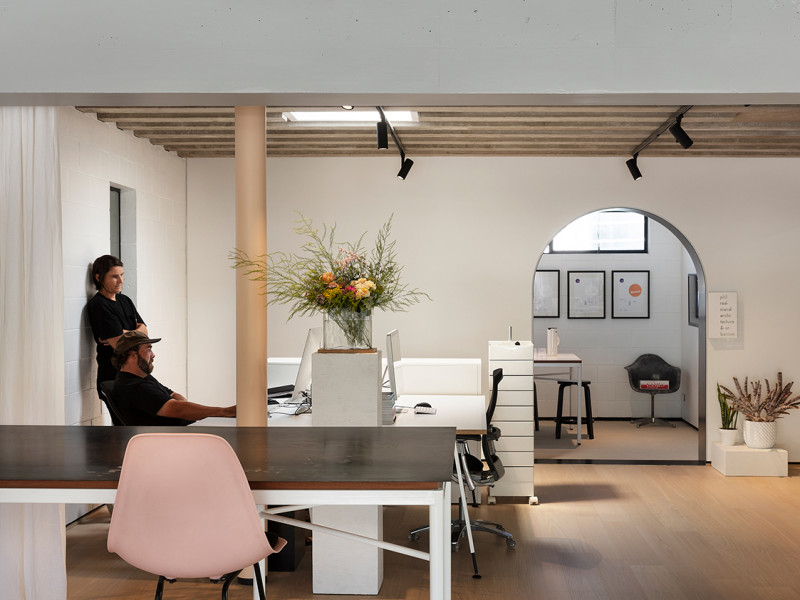 PRau Studio 2.0 elevates a 1970s concrete block commercial space to new heights
20 Oct 2020
When we're all so busy – and when we're forced to spend a significant portion of the year avoiding one another – we don't always get the opportunity to sneak a peek of our colleagues' new digs.
In 2019, the Phil Redmond Architecture + Urbanism (PRau) team relocated to a new office space, which has since been dubbed 'PRau Studio 2.0'. Ever admirers of the 1970s Christchurch style, the studio now calls Poynton House – a small three level building constructed of concrete block and precast concrete ribbed floors – home.
"We saw the potential to pull the exterior quality of the building into the new office space," explains Phil Redmond. "However, since its construction in 1976, four decades of tenants had covered up its original interior qualities with grid ceilings, carpet and an accumulation of conduits and trunking. We needed to restore it to its former glory and design a studio space that people looked forward to working in."
Phil says they wanted the office to have a relaxed, fun and welcoming feel while remaining open and informal. Conceived as a casual living room, the studio caters to different ways of working/creating and encourages a fluid interchange between team members, filled with furniture, books and objects. "The design strips back the layers of office fit-outs added over the years to reveal and express the construction of the building, adding minimal built partitions, using instead carefully placed joinery units and linen curtains to break up the space."
He says he and his team are fascinated by the ephemeral design of the Memphis Group and Italian radical design, which led to excerpts of colour and abstract decoration being positioned and subtly contrasted in amongst the modernist structure of white block and concrete. Existing concrete beams are highlighted from the white walls and concrete ceiling in Resene Silver Chalice.
"This colour really complemented the raw concrete tones of the ceiling and created the contrast to the white walls," says Phil.
Sitting beneath one of these beams is a deep joinery unit that acts as the focal point for the space. "This unit creates a partition that serves to divide the back of house area – kitchenette, material library and printing – from the main studio space while maintaining transparency through to the coffee machine on the studio side. As it's such a strong focal piece, we wanted a bold, deep colour to create interest. Resene Mangrove was the perfect colour for this functional yet heavily curated piece. To expose the building's beautiful ribbed concrete ceiling, thoughtful concealment of electrical and data services was employed.
"Thin conduits painted in Resene Blackjack and Resene Ecru White are pinned off the ceiling, servicing the black track light fittings that run the length of the studio. To provide services to desk spaces which float in the space, large coloured columns were designed to hide the electrical and data services needed to make these workspaces functional. Resene Negroni was the colour selected for these columns as it contrasted nicely with the Resene Mangrove green and added a softer tone. Resene Negroni was used also to paint a David Hockney-style pattern above the office window."
As with most pared down spaces, it's these small painted details that set it apart, creating rhythm and tying the whole space together. In what could have easily been a cold space all in white, the team at PRau has found beautiful opportunities to infuse warmth through careful and thoughtful Resene colour choices.
Is your office painted or stained in Resene products? Share it with us and others by emailing us at [email protected].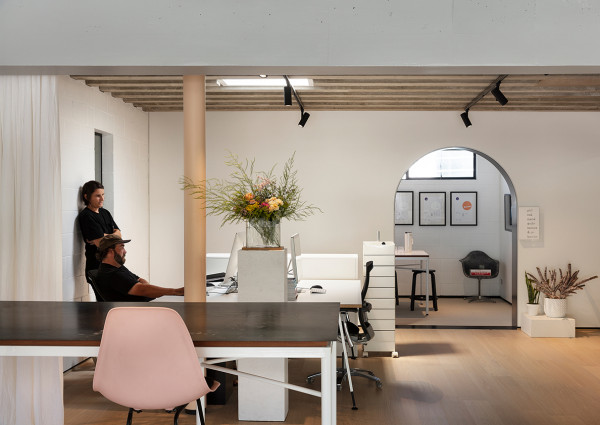 It's the details that make PRau Studio 2.0 a thing of beauty. Resene Lumbersider in Resene White was used for the interior concrete block walls and Resene SpaceCote was used for the Resene White plasterboard walls, Resene Silver Chalice bulkhead, Resene Blackjack skirtings, windows and margins, the Resene Ecru White 'cable concealers' and the Resene Negroni columns.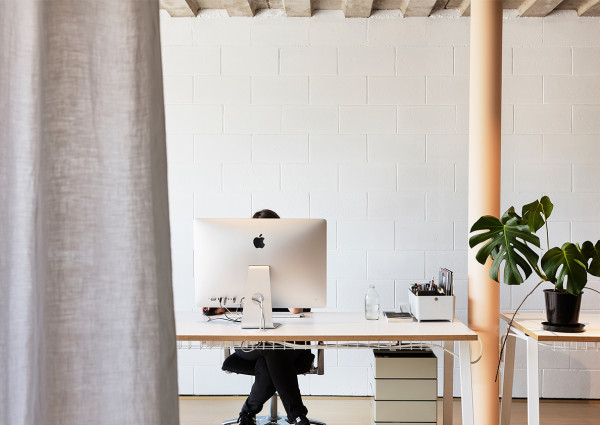 Columns in Resene Negroni add warmth and interest throughout the office space. Concrete block walls in Resene White.
Natural light spills in from the front windows and skylight while directional track lighting takes over when work extends into the evening. Wall in Resene White, concrete bulkhead in Resene Silver Chalice, margin (at left) in Resene Blackjack and columns in Resene Negroni.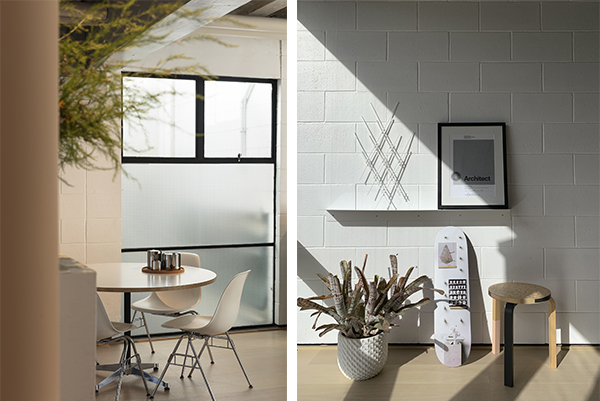 Leftover Resene testpots were used to paint an Alvar Aalto 60 Stool for the studio. Column in Resene Negroni, concrete bulkhead in Resene Silver Chalice, block walls in Resene White and skirtings in Resene Blackjack.
Custom joinery painted in Resene Lustacryl tinted to Resene Mangrove houses the office library and kitchen necessities. Walls in Resene White, arched margins and skirtings in Resene Blackjack.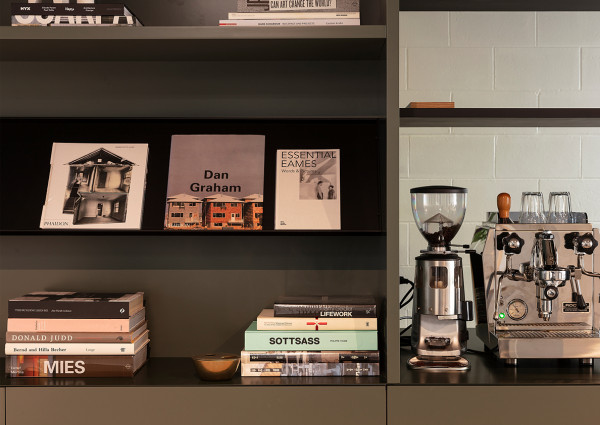 The right hand side of the custom library/kitchen joinery in Resene Mangrove has an open back that allows a clear sightline of the rest of the studio from the kitchen. Concrete block wall in Resene White.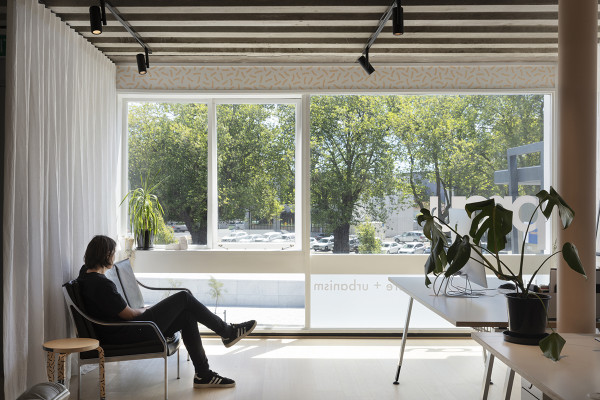 All the painting was done in house by PRau team members, including the hand-painted lintel designs above the front window. Wall in Resene White with column and designs in Resene Negroni.
images Sam Harnett