►
◄
latest
habitat tv
blog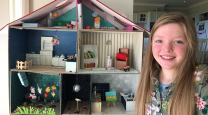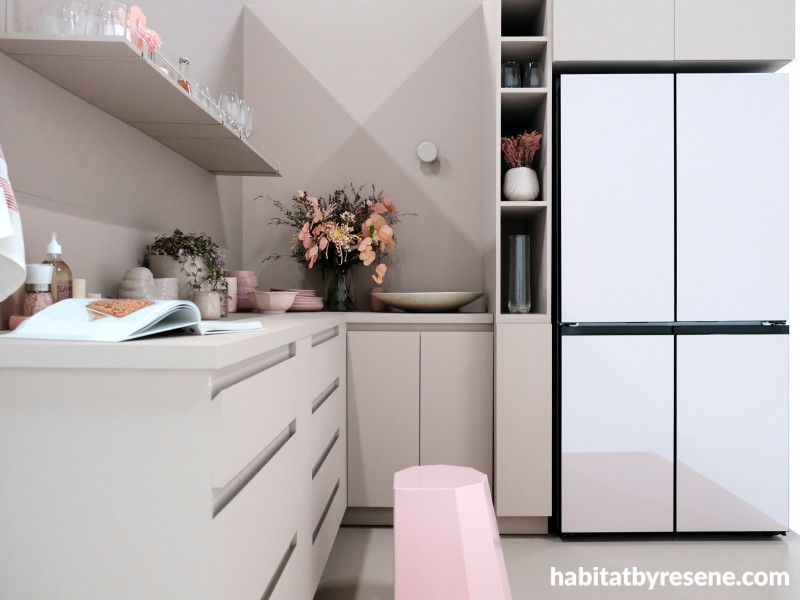 Samsung's Bespoke French Door Refrigerator brings flair to overlooked appliance
15 Jun 2022
Typically, not much thought or planning, beyond size, goes into whiteware, particularly fridges, in kitchens. Now the possibilities for designers to incorporate whiteware into their kitchen colour plans are expanded with a new range from Samsung.
Samsung is pushing those boundaries of kitchen aesthetics and turning the ubiquitous, functional fridge into a design feature with the launch of its Bespoke French Door Refrigerator.
The refrigerators bring customisation and colour to Kiwi kitchens via interchangeable panels (which are sold separately) in two sleek finishes – Cotta Metal or Glam Glass.
The panels can then be customised further by combining with one of several different door colours, Cotta Charcoal, Cotta White, Glam White, Glam Navy and Glam Pink.
The refrigerators have a four-door configuration and feature flat doors, with recessed handles for a seamless and elegant built-in finished look that will work well with other existing appliances in any kitchen.
Jens Anders, Vice President Samsung New Zealand, says the range allows Kiwis to create living spaces that truly reflect their tastes and aesthetics.
The colour range of the new Bespoke French Door Refrigerators also means they work in well with the Resene colour range. Some suggestions to help curate a kitchen palette are:
Go grey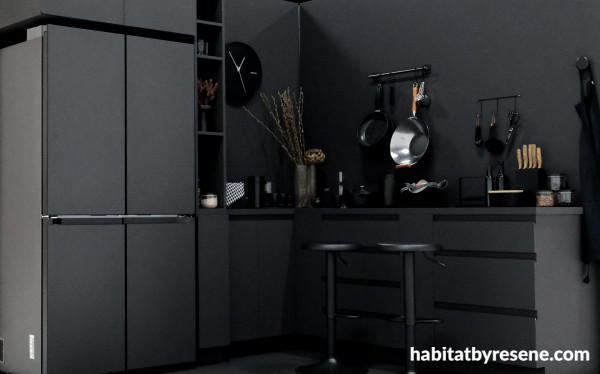 For a striking and contemporary look, try the Samsung Bespoke French Door Refrigerator in Cotta Charcoal. Teamed with Resene Half Bokara Grey on the walls and cabinetry, this monochrome look oozes sophistication, and won't date. Add contrasting notes of Resene Poppy, Resene Sea Fog and Resene Triple Rakaia, which pair well with Resene Half Bokara Grey.
Blue for you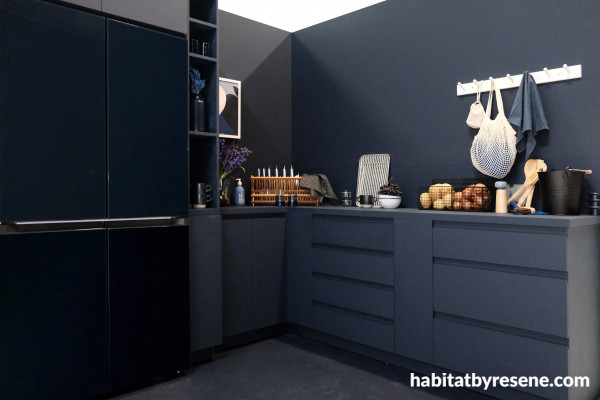 The Samsung Bespoke French Door Refrigerator in Glam Navy is moody and reminiscent of Resene Indian Ink. Try it painted with cabinetry in other similar tones such as Resene Bunting with the bright white contrast of Resene Black White.
White is right
This Samsung Bespoke French Door Refrigerator in Glam Pink has been decorated in a custom design inspired by Resene colours by illustrator Bonnie Brown to truly make it a standout feature in this white monochrome kitchen. This art feature is complemented by the sleek white kitchen cabinetry and walls in Resene Black White.
Pretty in pink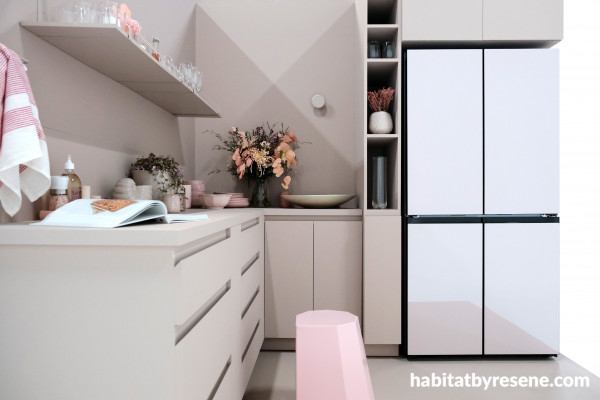 Soft beige-toned pink Resene Del Rio will tie in nicely with the clean crisp Glam White Bespoke French Door Refrigerator. Add further pink accents with accessories in Resene Pale Rose and Resene Pink Lace.
For more information on The Bespoke French Door Refrigerator, visit www.samsung.com.
Published: 15 Jun 2022