►
◄
latest
habitat tv
blog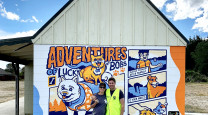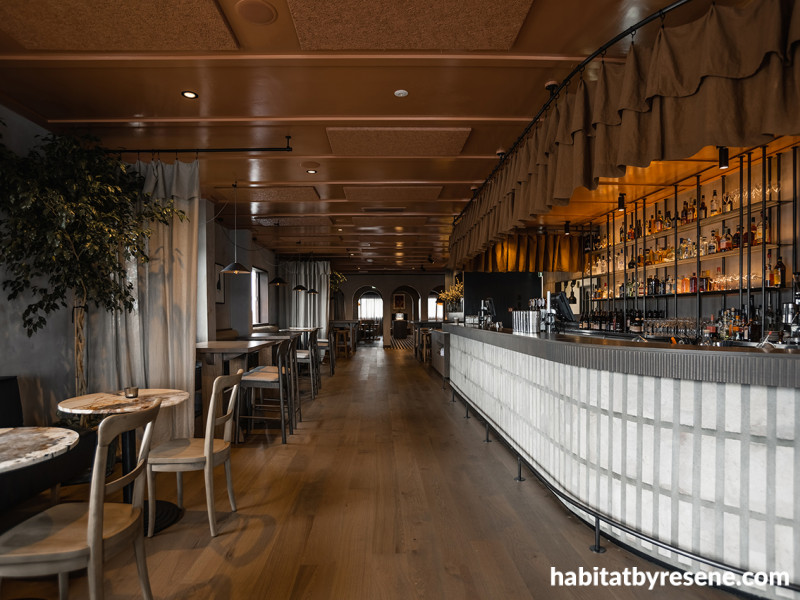 Siso brings the colours and flavours of the Mediterranean off the beaten path
07 Dec 2021
You may not expect to find a fashionable bar and eatery in the heart of Remuera serving up rich and sumptuous neo-Mediterranean cuisine, but since opening in March, Síso has already made its mark on the Auckland culinary landscape. Though it may not be the first area you'd think to go to for an intimate date night or to celebrate with family and friends, owners Richard and Paula Sigley have made waves before when they opened popular Italian eatery Andiamo in Herne Bay long before that neighbourhood became a dining destination. And while it's still only Síso's first year of operation, it was one of hundreds of restaurants who bravely stuck it out and survived during the city's prolonged lockdown.
Richard and Paula purchased the former Banque Oyster Bar and Eatery late last year – which, as its name acknowledged, had a past life as a financial institution. The upmarket bistro had been well regarded by locals in its prime, and despite looking tired, it still drew in its regulars due to a lack of nearby culinary competition. But the Sisley's were also hoping to attract a younger and more gender-balanced crowd, so they reached out to the team at CTRL Space to help create a unique design that supported their vision.
"The concept was essentially derived from three key words – intimate, collected, residential," explains Sam Griffin, CTRL Space's Design Director. "The idea was to create a cosy local bar and eatery with subtle residential cues that would soften the commercial hospitality experience. We wanted to design a refuge from 'the slickness of life', full of soft moments, natural textures and character that would deliver a casual, humble aesthetic. It was also important that the interior felt at one with the modern Mediterranean cuisine Síso would be serving and the many identities that fall under that umbrella, from the south of Europe to the Middle East.
"We really wanted Síso to have a strong colour identity so we looked to cues from the Mediterranean and were guided by the natural sandstone cliffs and traditional architecture seen in Southern Italy, Turkey and Greece. The warm neutral tones, including Resene Eighth Masala and Resene Sour Dough, brought the soft residential cues we needed for the foundation and then we landed on a deep terracotta, Resene Sante Fe, as the key hero colour. We took this hue to the ceiling in glossy Resene Enamacryl to help reflect the light and brighten the space, adding to its spacious feel."
In other areas, complementary blues were introduced to bring an element of surprise and contemporary flair, contrasting the ideas of old and new. Near the front of the establishment, a feature wall in Resene New Denim Blue plays beautifully off the Resene Sante Fe 'terracotta' ceiling. But in the back dining room, Resene Lynchpin was chosen as a secondary feature colour to create a shift in atmosphere, infusing this darker area with warmth and moodiness.
Despite having a capacity of more than 200, each table at Síso feels cosy and intimate with a mix of seating that's sure to suit a variety of occasions; the use of drapes divides up the larger spaces, controlling the lighting levels, while also adding another dimension of softness. But it's not just the clever use of colour, gloss levels and lighting that makes the space feel special. CTRL Space's approach to using cost-effective materials in creative ways was instrumental in achieving an impactful space while coming in under budget.
For instance, arches – which feel quintessentially Mediterranean – were introduced to hide some architectural challenges. Not only do they disguise a change in ceiling levels and hide structural and mechanical components that couldn't be moved, their placement eliminated two awkward existing doorways.
"We also managed to create an extra space by knocking out the wall to the old bank vault and added a window within the circular opening in the concrete at the front of the building to help disguise its former purpose," says Sam.
Furnishing the space with decorative elements also presented its own unique challenge. "The client had a strong idea of the artwork that they dreamt would be a part of the project: refined monochromatic colourways and gestural forms that were almost poetic. After looking into procuring these works internationally, we soon found barriers in the way of cost and availability. So we approached the artwork as we would an interior. A brief was drawn up, discussions were had with the client around style and mood, then the CTRL Space team took on the creation of all the artworks in-house. Mixing and matching mediums, we sourced handmade papers, venetian plaster panels, linen fabric, ground coffee, paint, glue and, of course, Resene paint."
Not only do the handmade artworks add another layer of bespoke authenticity to the space, it also allowed CTRL Space to perfectly match their colour scheme by incorporating Resene paint colours from the overarching palette accented with bolder Resene Prairie Sand and Resene True Blue while also reinforcing the residential feel and support the bold contemporary look they were after.
"There is a true sense of journey and discovery in this somewhat small interior footprint," Sam reflects. "Through the introduced architectural archways, flooring and materiality transitions, changing colour schemes and various seating configurations, customers can experience Síso multiple times over, each time appreciating a different moment within the restaurant."
Aucklanders and visitors who are eager to experience it themselves in person can make a booking at https://sisobarandeatery.co.nz.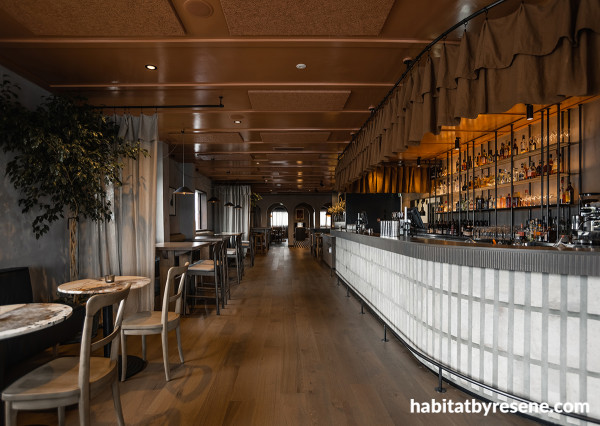 CTRL Space Design Director Sam Griffin says that distributing natural light throughout the long and narrow restaurant was an ambition of the project. "If you want to create drama on a ceiling, a high gloss paint will give you both depth of colour and piercing highlights through the reflection of light. Bold reflective colour in the ceiling offset by a muted grey toned 'washed' walls gives dimension to the interior which we wouldn't have achieved using a low sheen paint finish." Ceiling in Resene Enamacryl gloss waterborne enamel tinted to Resene Sante Fe and wall effect created with Resene FX Paint Effects Medium coloured with Resene Eighth Masala.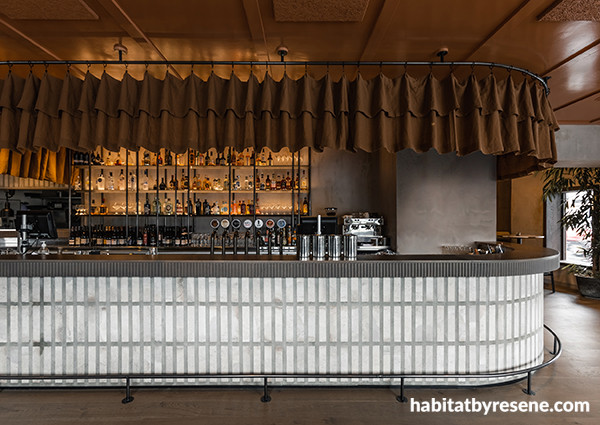 Sam says the ceiling in Resene Enamacryl tinted to Resene Sante Fe paired with the rust coloured natural linen curtains around the bar is his favourite element of the design for the way it supports and reflects the rich natured story of Mediterranean style. The colour is further reinforced through the bar curtain, tablecloths, rugs and artwork. Wall effect created with Resene FX Paint Effects Medium coloured with Resene Eighth Masala.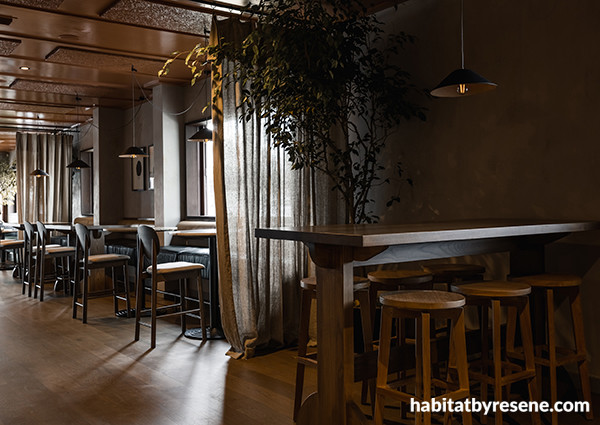 By using a mixture of seating and adding semi-sheer curtain partitions to the long room, CTRL Space was able to create intimate zones without blocking the flow of traffic or light. Ceiling in Resene Enamacryl gloss waterborne enamel tinted to Resene Sante Fe and wall effect created with Resene FX Paint Effects Medium coloured with Resene Eighth Masala.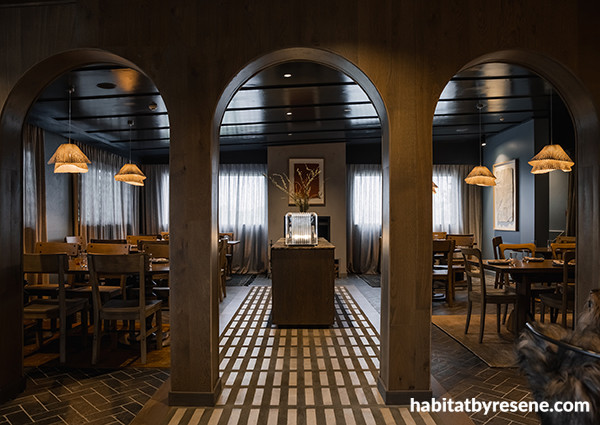 The arches were cleverly incorporated into the design as a way of using a form with strong ties to traditional Mediterranean design to mask change in ceiling heights and other structural and mechanical elements that couldn't be moved. Ceiling in Resene Enamacryl tinted to Resene Masala with feature wall (at left) in Resene Lynchpin. Other walls in 'washed' effect created with Resene FX Paint Effects Medium coloured with Resene Eighth Masala.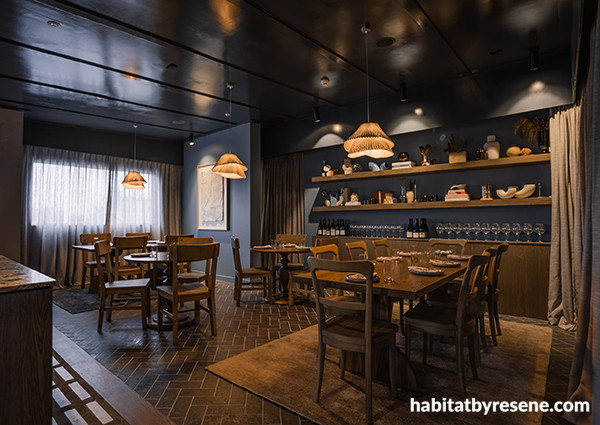 Resene Lynchpin was used in the back dining room as a complementary contrast to the warmer terracotta tones at the front of the restaurant. Artefacts and objects have been layered on the shelving to add to the hominess of the space and bring a further sense of authenticity to the Mediterranean theme. Ceiling in Resene Enamacryl gloss waterborne enamel tinted to Resene Masala.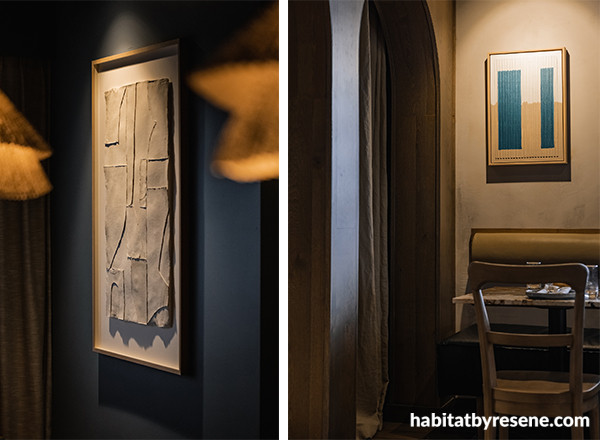 An impressive detail of the design is that the CTRL Space team made all of the bespoke artworks within the restaurant themselves using a mix of materials and Resene paint colours from their overarching palette, which includes Resene Sante Fe, Resene New Denim Blue, Resene Masala, Resene Eighth Masala, Resene Sour Dough, Resene True Blue and Resene Prairie Sand.
design Sam Griffin, Summer Bishop, Emily Cain, Lauren Marshall, CTRL Space
branding Hannah Gordon
build Fit Out Solutions
painting Zenith Painting and Decorating
imagesSarah Grace
Published: 07 Dec 2021