►
◄
latest
habitat tv
blog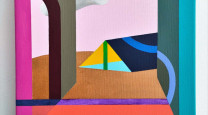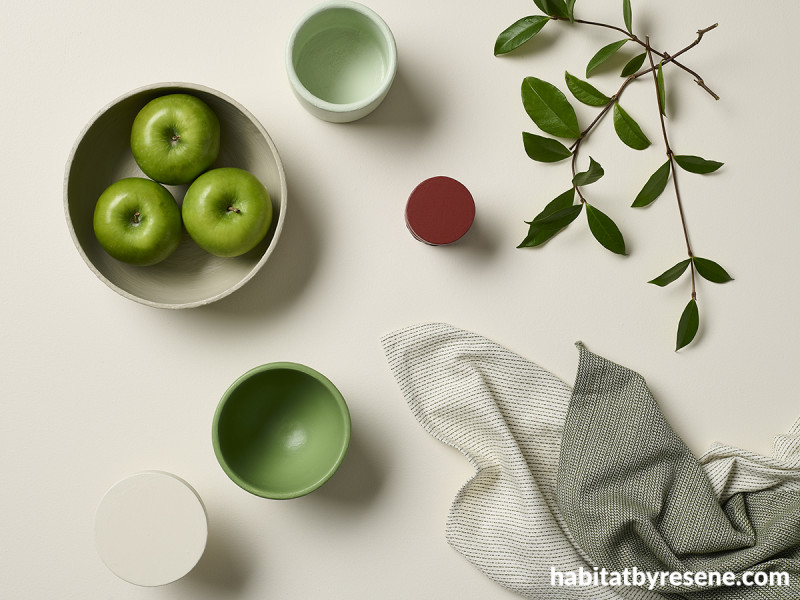 Six highly adaptive whites and what to pair them with
06 Aug 2021
As much as we'd like to believe that white is a 'one size fits all' colour choice, it can actually be one of the hardest hues to specify. While Resene White is a paint option that certainly does exist, in reality, it's not a colour that very many people would want to be surrounded with day in and day out in their home or workplace. If used from tip to toe in a space, most will find it to be too bright and could cause headaches from glare depending on the direction, source and temperature of the light it is exposed to. It's a colour that's best saved for use on trims or doors, where the user won't be completely enveloped by it – but that doesn't mean it should be treated as the universal option for those surfaces, either.
As a specifier, you are probably keenly aware that there are hundreds and hundreds of white and off white paint colours available that most people would consider to be 'white', especially when viewed in isolation from other, truer whites. To make choosing the right white faster, we've created a shortlist of some of our favourite whites and suggestions for perfect pairings.
The six highly adaptable whites we've selected all have something a little different to offer. While none of these hues are going to singularly eliminate the need to spend time considering your colour choices, having a short list of a few heavy hitters can speed up decision-making. Each of these colours have been photographed under very similar lighting circumstances to showcase each of their individual nuances – especially when influenced by adjacent accent colours – to give you a better idea of what they bring to the table.
Resene Half Spanish White
A hue that has steadily held its place among Resene's most popular whites for as long as it's been in existence, Resene Half Spanish White has remained a top pick for a reason. An ever-changing neutral that's as comforting as it is classic, we consider Resene Half Spanish White to be one of the most liveable whites to be surrounded with.
You're unlikely to find many colours that don't marry well with it, though Resene Waikawa Grey, Resene Black Rock and Resene Persian Red are especially excellent pairings. But if you're on the lookout for a palette that's tapped right into the vein of current colour trends, try Resene Half Spanish White with Resene Dingley, Resene Pale Leaf, Resene Grey Olive, Resene Fahrenheit and Resene Spanish White. The crispness of the greens and red cut through the creaminess of the whites and taupe yet all are warm enough that they don't come across as completely polar contrasts.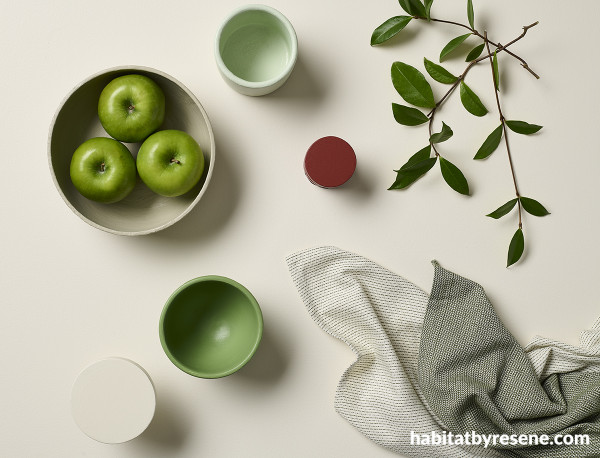 Background in Resene Half Spanish White with large bowl (with apples) in Resene Grey Olive, small bowl in Resene Dingley, vase in Resene Pale Leaf, large coat peg in Resene Spanish White and small coat peg in Resene Fahrenheit.
Resene White Pointer
Diffused and dusted, Resene White Pointer has its own unique flavour to offer that differs from other blackened whites. While it's great with blues, blue-lilacs and steel greys such as Resene Navigate, Resene Mischka and Resene Half Tuna, Resene White Pointer is a particularly poignant fit for pairing with reds from dark black reds like Resene Diesel right through to warmer berry reds like Resene Red Berry and Resene Shiraz. Try it with Resene Pioneer Red and a handful of character neutrals like Resene Half Truffle, Resene Quarter Tea and Resene Tapa and add in a trendy terracotta tone like Resene Wild West for a warm, welcoming and sophisticated scheme.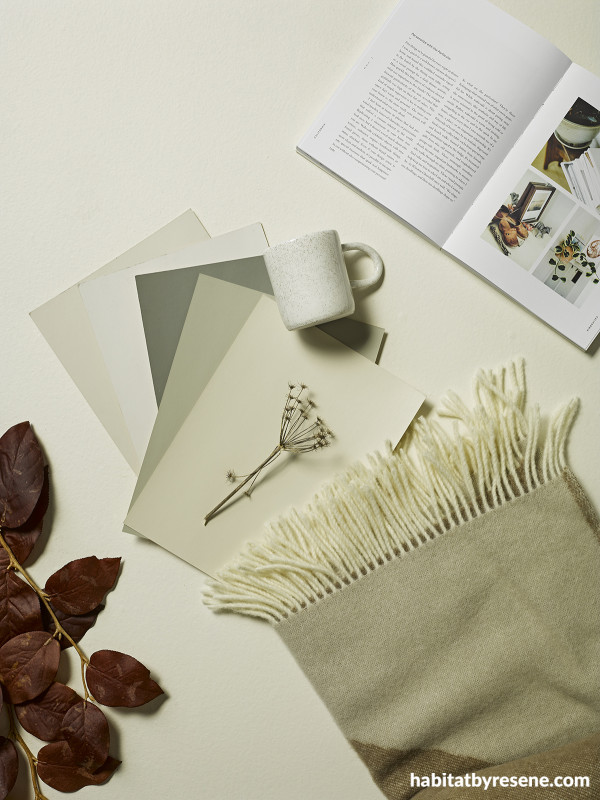 Background in Resene White Pointer with A4 drawdown paint swatches in (from left to right) Resene Merino, Resene Alabaster, Resene Tapa, Resene Half Truffle and Resene Quarter Tea.
Resene Blanc
Endlessly chic, Resene Blanc is a Parisian white that's both subtle and restrained. We love it for its ability to take on an ever so subtle rosy tone under natural lighting conditions, making it a fantastic pick for refined contemporary living spaces that need a touch of warmth without feeling beigey. This same quality also lends the hue well to buddying up with everything from suede taupe and putty taupe such as Resene Sandstone and Resene Antidote to warm greys like Resene Tapa and Resene Double Gravel. It begs to be paired with natural fibres like linen and wool, greywashed timber finished in Resene Colorwood Mid Greywash and some strategically placed glossy black accents in Resene Enamacryl tinted to Resene Blackjack.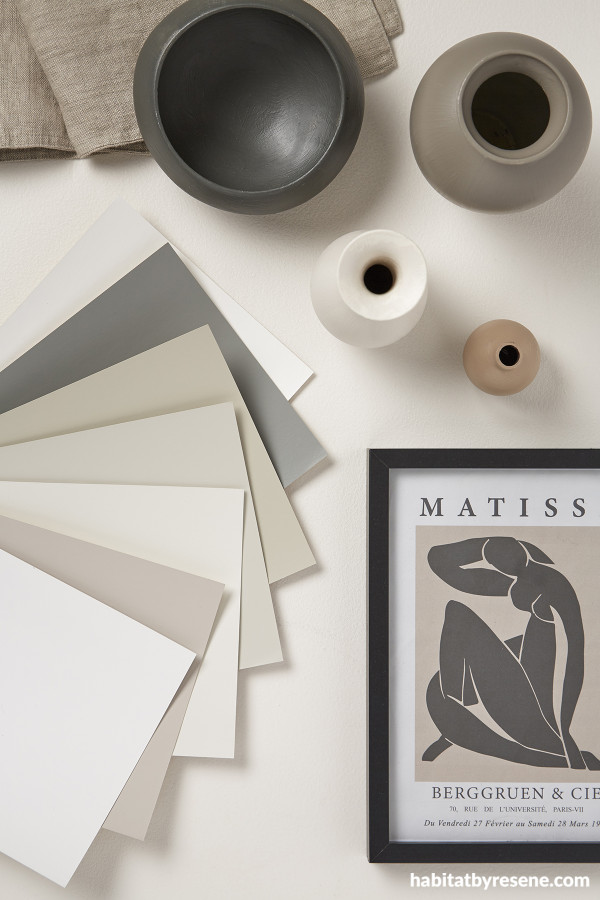 Background in Resene Blanc with A4 drawdown paint swatches in (from top to bottom) Resene Eighth Fossil, Resene Tapa, Resene Bison Hide, Resene Tea, Resene Blanc, Resene Antidote and Resene White Linen, bowl in Resene Double Gravel, large vase in Resene Sandstone, fluted vase in Resene Quarter Drought and tiny vase in Resene Sandal.
Resene Black Haze
We fondly think of Resene Black Haze as the dark horse of the Resene The Range Whites & Neutrals collection in that many professionals may be unfamiliar with it as it's not one that's ever made the Resene Top 20 tints. But for those in the know, it likely became a fast favourite. The colour is definitely on the greyer side and is probably the most 'pigmented' hue to make our list, but this cloudy white has an inherent misty, nebulous quality that earns it a well-deserved place among our other popular picks.
If you're someone who likes to incorporate pops of bold brights within your projects, this is the hue for you. Want to introduce an indulgent blue like Resene Decadence, a vibrant verdant like Resene Green Pea, a prominent purple like Resene Belladonna or even a combination of all three? Unlike brighter whites, Resene Black Haze's cloudy quality recedes to let your hero hues take centre stage.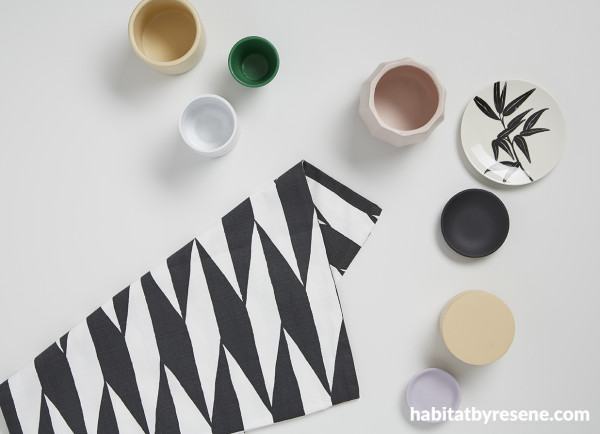 Background in Resene Black Haze with painted objects in (from largest to smallest) Resene Wafer (larger plant pot), Resene Smooth Operator (smaller plant pot), Resene Calico (lidded vessel), Resene Quarter Iron (tea light holder), Resene Blackjack (sauce dish), Resene Lola (smaller sauce dish) and Resene Green Pea (tiny pot).
Resene Soapstone
Resene Soapstone, a wispy, pale shell white, is another hue you may not have heard of that could become a career-changing discovery. Depending on the circumstances, we've seen this chameleon-like colour take on tinges of pink, yellow or green. Tried and true pairings include Resene Half Inside Back, Resene Half Drought and Resene Half Wood Bark. But under the lens of today's trends, we like it as part of an ethereal, glamourous grouping of Resene Pewter, Resene Cashmere, Resene First Light, Resene Olive Green and Resene Dark Knight. This palette looks perfect when coupled with details like velvet furnishings, rose gold accents and smoked or coloured glass.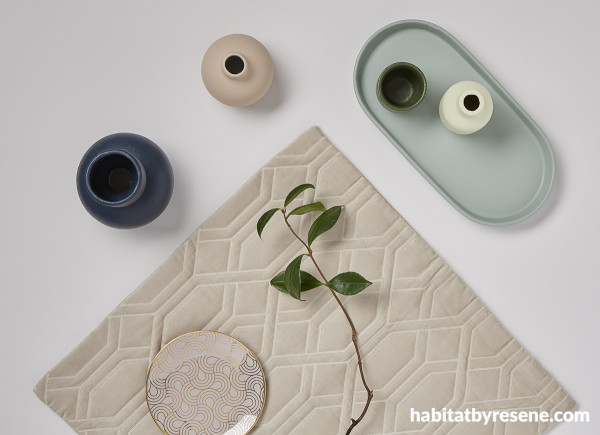 Background in Resene Soapstone, objects in (from largest to smallest) Resene Pewter (oval tray), Resene Dark Knight (large vase), Resene Cashmere, Resene First Light and Resene Olive Green.
Resene Black White
A colour we often hear referenced as 'architect's white', this timeless and beloved colour gets its name from the barely there touch of black that's been added to its otherwise neutral white base. This gentle dustiness helps take the edge and glairiness off, making it far more liveable. Yet, the hue still manages to carry a similar level of neutrality to a 'plain' white – especially when compared with the other black-tinged white options out there.
While this is likely a white you feel intimately familiar with and thus might be wondering why it's worth mentioning at all, if it's a colour you only find yourself specifying in its full strength, you may be missing out on some of Resene Black White's magic. The fact that it is available in eighth, quarter, half, full, double or triple strength puts the colour in a category all its own because you can be confident that you have six different tones at your fingertips which will unquestionably work together in a palette.
When you do go to specify Resene Black White, we recommend layering multiple strengths of it within your project to create more depth. To take it to the next level, you can use more than one strength on a single surface to create subtle designs, patterns or wayfinding elements without incorporating an additional 'colour' into your design.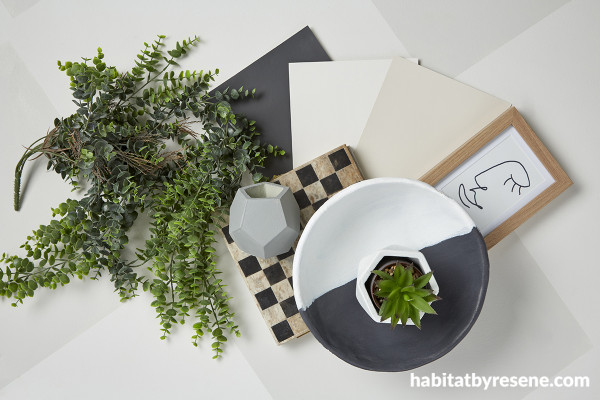 Background in Resene Black White and Resene Triple Black White with A4 drawdown paint swatch in (from left to right) Resene Gumboot, Resene Black White and Resene Despacito, small geometric plant pot in Resene Quarter Chicago, large geometric plant pot in Resene Salt Pan and bowl in Resene Salt Pan and Resene Gumboot.
Still not sure which white is right for your project? Look to the Resene The Range Whites & Neutrals collection or the Resene Top 20 tints for other popular picks. And as always, be sure to test your colours in-situ (when possible) before you commit. If you're working on a new build and won't be able to see your chosen colours on site before they need to be specified, it's best to at least order A4 drawdown swatches of those you're planning to build your palette out of so that they can be viewed together at a larger scale and you can be more confident with your selections.
styling Gem Adams, Laura Lynn Johnston, Annick Larkin, Vanessa Nouwens
images Bryce Carleton, Melanie Jenkins
Published: 06 Aug 2021