►
◄
latest
habitat tv
blog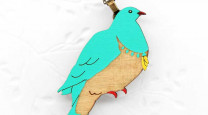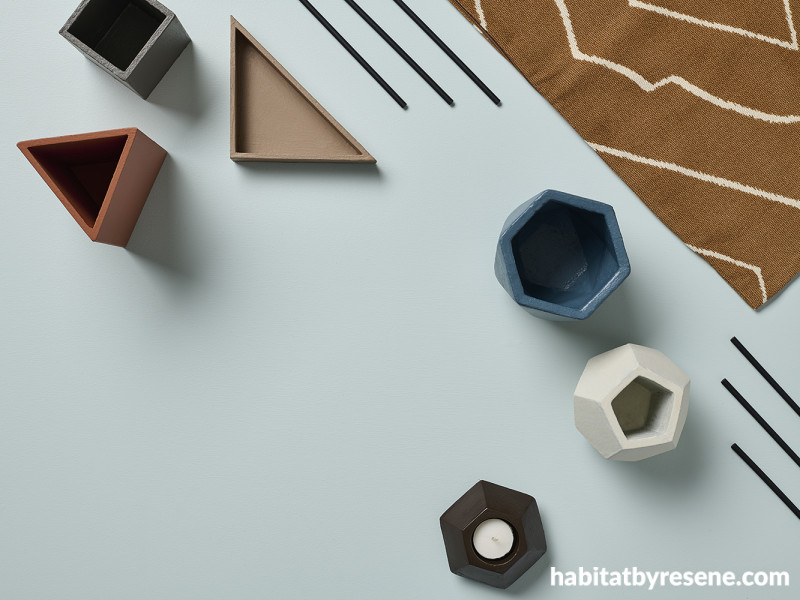 Six warm blue paint colours you definitely need to know about
09 Nov 2021
As the world's all-time favourite colour, blue is always relevant. Evocative of the sea and sky, no hue is said to be more relaxing or restful. Blue stands for integrity, power, tranquillity and health and is considered as beneficial to the mind and body. Plus, our strong natural light and relatively temperate climate make blue an appropriate and timeless choice for any space year-round. And blue is poised to become a particularly trendy hue over the next six to twelve months – especially those with warmer undertones.
From light through dark, we look at six of Resene's top trending blue paint colours, what makes them special and what to pair them with so that you'll be ahead of the game as these watery hues begin warming up.
Lighter warm blues
We all have a favourite light Resene blue that we've come to know and love, but you can pretty much bet that it's on the cooler or dustier side. Variations like Resene Duck Egg Blue, Resene Dusted Blue and Resene Solitude are among Resene's best sellers year and year out – to the point that they've even become fixtures on the Resene Classic Collection colour chart. But there is something particularly youthful and refreshing that only a warm blue can bring to a project, and after a couple of tough years, that seems to be the type of energy that clients are looking to have more of – and these three have it in spades.
Resene Robin Egg Blue is an alternative take on classic favourite Resene Duck Egg Blue. Whether you're considering the colour for your project's walls, ceiling, floor or furnishings, there's simply nowhere this blue won't do. We love a mix of its different strengths together with mid-century details, and thanks to its significantly green undertone, the hue holds its own well to both warm and cool neutrals.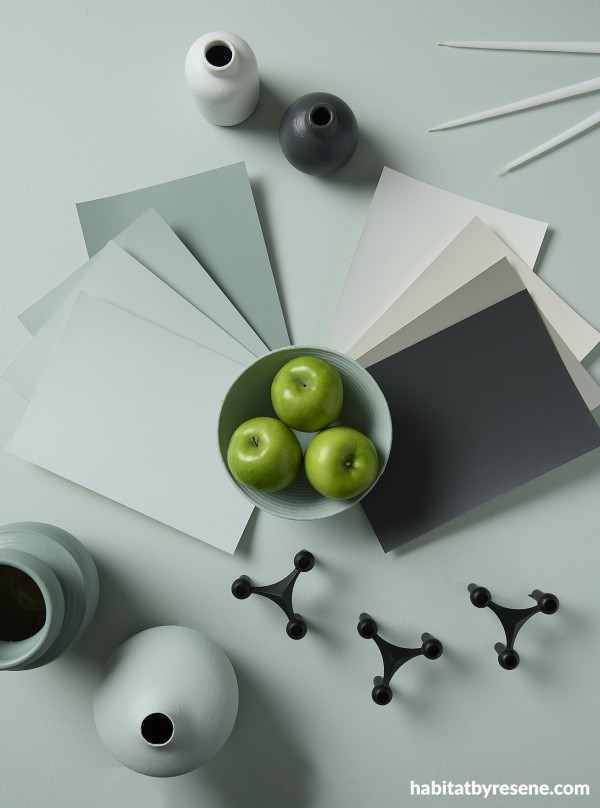 Background in Resene Half Robin Egg Blue with A4 drawdown paint swatches in (from left to right) Resene Quarter Robin Egg Blue, Resene Half Robin Egg Blue, Resene Robin Egg Blue, Resene Smoky Green, Resene Milk White, Resene Taupe Grey, Resene Fuscous Grey and Resene Nero, bowl in Resene Smoky Green and vases in (clockwise from top) Resene Half Duck Egg Blue, Resene Nero, Resene Half Robin Egg Blue and Resene Smoky Green.
Lighter and crisper, Resene Jet Stream is on our radar as one that could pull ahead as one of the most asked for blues over the next few months. It has everything you want in a warm blue – not too yellow and not too green, fairly clear yet greyed enough to stand up to our harsh light. We can't think of a better pick for a blue-based palette if you want to layer in other on-trend colours like terracotta reds and suede or espresso browns such as Resene Lone Ranger and Resene Wood Bark.
Background in Resene Jet Stream, large hex in Resene Ivanhoe, small hex (tealight holder) in Resene Wood Bark, pentagon in Resene Ecru White, right angle triangle in Resene Lone Ranger, equilateral triangle in Resene Wild West and square in Resene Dune.
If you need a blue that's on the lighter side but packs a bit more punch, Resene Ziggurat has already established itself as a hue to have. Its warmth comes from the yellow side of the spectrum, but it is an absolute chameleon when exposed to different lighting circumstances. Just like Resene Jet Stream, we love this blue with terracotta but it also looks gorgeous with a soft khaki green like Resene Finch, a smoky grey like Resene Mountain Mist or a touch of pale ochre yellow like Resene Splash.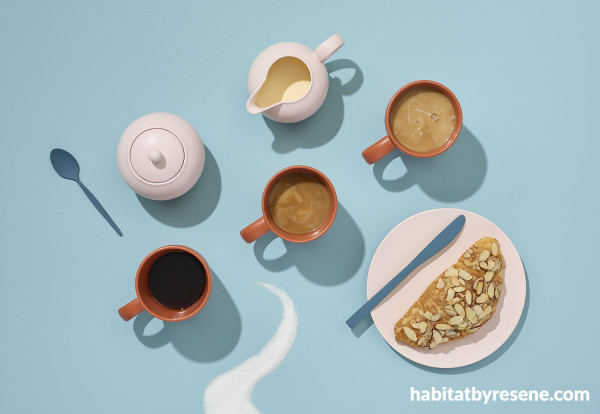 Background in Resene Ziggurat, mugs in Resene Hot August, cutlery in Resene Navigate, plate, sugar and creamer in Resene Dust Storm.
Dramatic warm blues
Cool, greyed and classic coastal blues such as Resene Coast, Resene New Denim Blue and Resene Hammerhead remain popular picks. But just like many of today's popular hues, there's plenty of indication that even deep and dramatic blues are set to warm up. Look forward to seeing a wave of warmer tones appearing in the upcoming months.
Pantone may have declared Classic Blue the Colour of the Year in 2020 but calling it for this year would have been far more accurate. Resene Aviator and Resene Resolution Blue have been showing up all over social media – and though plenty warm, these hues will soon shift towards greener versions. While a colour like Resene St Kilda will bring a strong style statement on a feature piece of furniture, a door or as a way of highlighting an architectural feature, you can get ahead of the curve by bringing in touches of this soon-to-be-trending colour to your current projects through smaller décor items before going splashier in six to twelve months' time.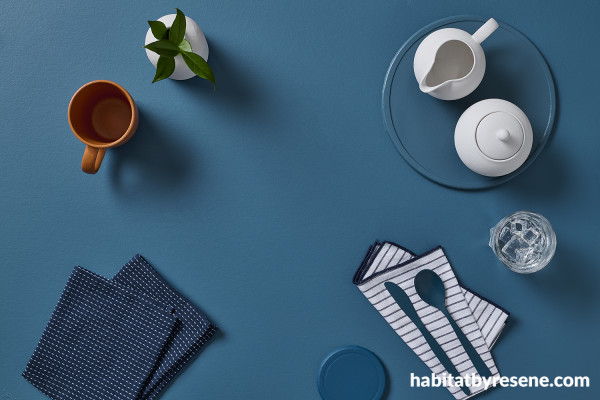 Background in Resene St Kilda, coaster and cutlery in Resene Tarawera, plate in Resene Navigate, vase, sugar and creamer in Resene Snow Drift and mug in Resene Hot August.
If you're not quite ready to embrace that level of aqua just yet, try accenting with a warmer denim blue such as Resene True Blue to freshen up your colour scheme. With its purplier undertone, it makes a great candidate for layering with bold reds like Resene Red Red Red and softer denims like Resene Kashmir or Resene Breathless.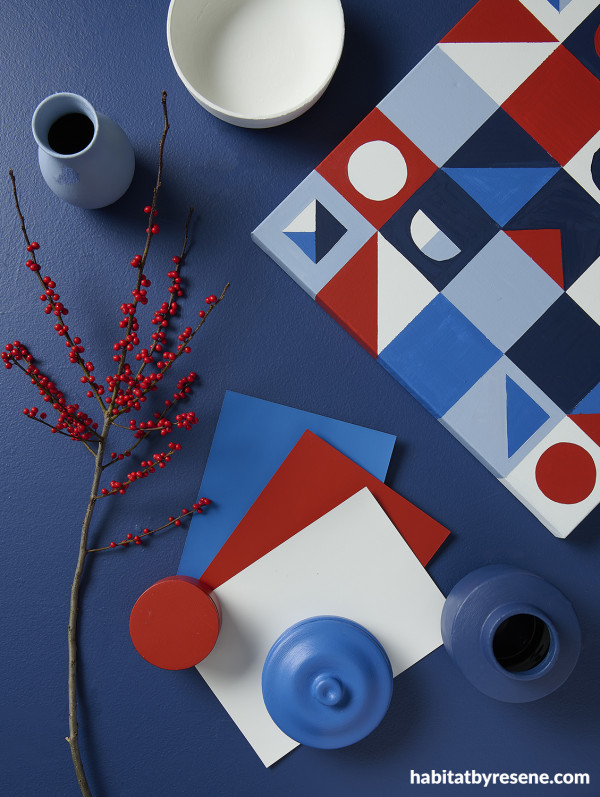 Background in Resene True Blue with A4 drawdown paint swatches in (clockwise from top) Resene St Tropaz, Resene Red Red Red and Resene Bianca, large bowl in Resene Bianca, vases in Resene Breathless (top left) and Resene True Blue (bottom right), covered dishes in Resene Red Red Red (left) and Resene St Tropaz (left) and artwork in Resene Red Red Red, Resene Bianca, Resene St Tropaz, Resene Indian Ink and Resene Breathless.
When only the darkest will do, look to Resene Indian Ink to bring its own special brand of cocooning warmth. Like a night without moonlight, this delicious deep blue looks amazing in place of black in projects that need an extra bit of inky charm. This deepest of navy also works wonders in tonal colour schemes with warm and cool blues alike. But if you choose to use it on the walls of your project – which you absolutely should consider – remember to adjust your lighting and opt for a flat or low sheen formula with Resene SpaceCote Flat or Resene SpaceCote Low Sheen for a sumptuous velvety look.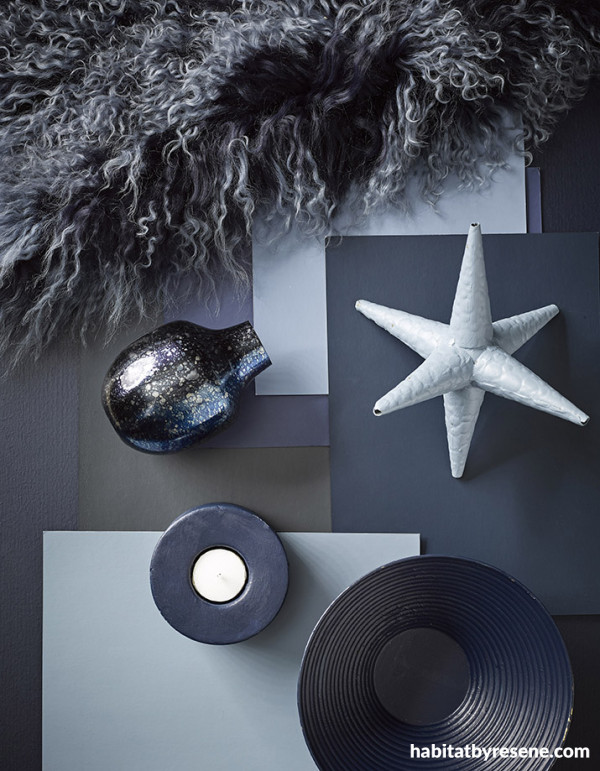 Background in Resene Twilight Zone with A4 drawdown paint swatches in (clockwise from left) Resene King Tide, Resene Time After Time, Resene Indian Ink and Resene Excalibur, bowl and candleholder in Resene King Tide and ornament in Resene Excalibur.
To keep on top of the latest colour trends, check out the Red Alert section in each issue of BlackWhite magazine.
styling Laura Lynn Johnston, Vanessa Nouwens
images Bryce Carleton, Melanie Jenkins
Published: 09 Nov 2021