►
◄
latest
habitat tv
blog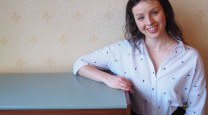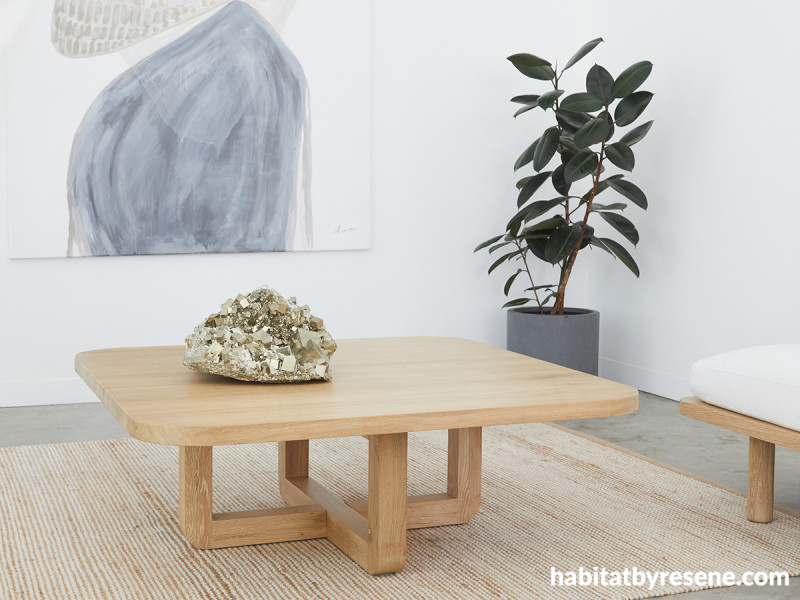 Sydney artist Arnie Arnold releases collab collection with Totem Road and Resene
11 Oct 2021
Furniture brand Totem Road and Resene have collaborated with Sydney artist Arnie Arnold on a sustainable art offering that reflects the aesthetics and experience of Australian coastal living.
Founded in 2015 by Don Garvan, Totem Road's sustainable furniture is crafted to be loved beyond a single lifetime, with each piece mindfully made with care and a deep respect for natural resources and communities. Combining the raw with the refined, their contemporary designs challenge the impact modern throw away culture has had on our planet.
"As a brand dedicated to doing our best for the environment, we wanted to explore an exclusive collection that brought nature into the home," says Don.
Arnie first met Don through interior designer Vanessa Hadaway. "I have worked with her for many years now, painting for her clients in new homes, including paintings to size and painting artworks to match their custom built interior concepts and vision. Vanessa has often used Totem Road furniture in her interiors. We all had a similar vision from the first meeting and it was a natural fit," he says.
Locally hand-stretched from ethically sourced canvas and fixed stretcher frames, the entire collection was painted exclusively with Resene's Environmental Choice approved paints.
The works meet both the quiet oneness and expansiveness of nature and are available exclusively from Totem Road until sold out.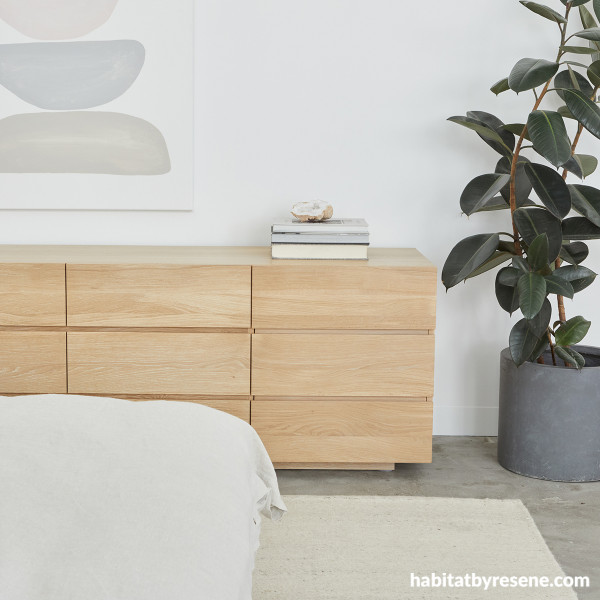 Nature was the key inspiration for the collection, which features soft Resene hues in a range of colours.
Arnie is best known for his bold and provocative faceless contemporary paintings. He began his career as a traditional signwriter in 1994 executing well known murals and signs across eastern Sydney. He collaborated with Australia's thriving fashion and art scene in the late 1990s and has been showing in galleries across Sydney and Melbourne ever since.
Currently working from his studio in an Ultimo warehouse covered in oversized canvases, paints and paper, his organic abstract paintings and murals emulate forms seen in nature. He works spontaneously, allowing the work to freely develop while using layering techniques, line work with shapes, forms and drips.
The new 15 piece collection includes organic abstract forms that float within the boundaries of the canvas. Reflecting nature and sea, swept natural tones from the ocean shore meet bleached sandy tones, fresh spring pastels and neutral cloudy whites and greys. Arnie captures both the floating feeling of a still and an expansive ocean, where all water drifts to one; and where the sea blends with sand gifting organic sea shells and coral shapes wash over.
The underlying ethos, Arnie explains, is that the art reflects what it means to commune with coastal nature. "The works fold in natural and abstract forms that can be seen and felt on a coastal walk, including sunset tones dancing on the sand and receding light dappled water hugging the shore. The beach-drenched colours and shapes reflect meandering coastal beats and, at times, sand is etched with signatures of shifting coastal expressions."
"I wanted to express nature on canvas in an honest way without unnecessary decoration or frills," explains Arnie.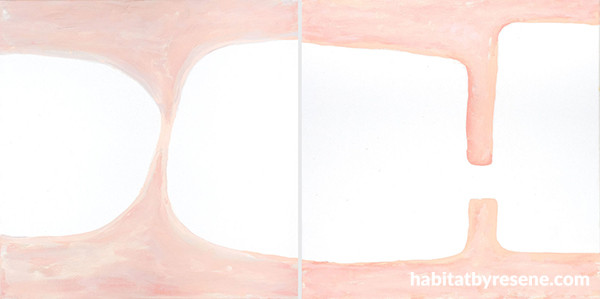 Resene Alabaster and Resene Romantic were used to create this minimalist diptych.
Arnie says he particularly liked working with the Resene SpaceCote Flat waterborne enamel for its matte finish.
"After working with Resene products, there was a noticeable shift away from the hard fumes and odours that would linger on my skin and clothes from toxic paints I had previously used over most of my life. I was able to make simple conscious choice in not compromising my health for my love of art," he says.
"I was introduced to Resene a couple of years ago now. I had a great space within an old barn style workshop and art studio in a back lane in Woollahra that was lost in time (circa 1880s). I shared a studio then with Brazilian artist Eduardo Santos, who was a keen user of Resene paints in his lava flow abstracts. Eduardo travelled to the North Shore to buy his paints, so when they opened a Resene ColorShop in Woollahra, it was a stroll to paint heaven. It was then I started to use Resene waterborne enamels for their durability, vibrance and hard drying nature for mural and hard surface works. They're all washable with little odour so it is always a better option when working indoors."
"I also used the Resene paints for a mural I did for Vandal, a vegan taco restaurant in Newtown on King Street West. I used Resene Enamacryl and Resene Lustacryl waterborne enamels as they don't yellow over time and have great coverage."
To create this collection, Arnie says he began with colours from the Resene Whites & Neutrals Collection as a base, including Resene Alabaster and Resene Double Alabaster, and then built up a palette for each work from there. "I am drawn to Resene Rockbottom and Resene Half Mondo for warm greys and use an umber or dark grey like Resene Half Gravel to bring to life the whites and neutrals to reflect a mood that is true in tone and colour in its whole viewing spectrum."
"For all the organic shapes in the works, I used Resene Sandy Beach, Resene Karry, Resene Double Spanish White, Resene Double Biscotti and, for soft pastel highlights, Resene Ebb, Resene Romantic and Resene Double White Pointer to bring the canvases to completion."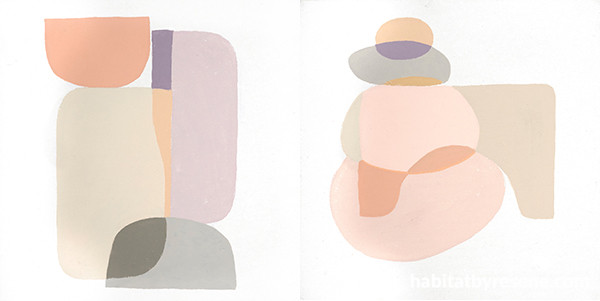 Arnie used Resene Alabaster, Resene Double Alabaster, Resene Rockbottom, Resene Half Mondo, Resene Sandy Beach, Resene Karry, Resene Double Spanish White, Resene Double Biscotti, Resene Ebb, Resene Romantic and Resene Double White Pointer to create the collection.
Arnie says inspiration for his works comes in many forms. "I enjoy having a client brief that allows a framework that I can play and mould into a unique form. I start with a table of gathered pieces including imagery and inspiration, colours and organic forms like rocks, shells, pods, native flowers and branches collected on walks. Imagery from vintage magazines, advertising and Swiss/Italian graphic design from the 1960s – a lifelong passion of mine – all finds its way onto the table."
"Brushes and paints, large sketchpads and canvases are on the ready to swoop into the messy mix of the creative ensemble. It all percolates together and I take away forms that do not resemble anything too obvious. When the energy in the studio is favourable, each canvas will talk to the next, and then a group theme will prevail."
"I prefer simple organic shapes until they resemble fluid forms, and hard edges are always avoided. Washed out, sun bleached with hints of plush spring fruit and tones of peachy sandy sunset tones are thrown together," he says.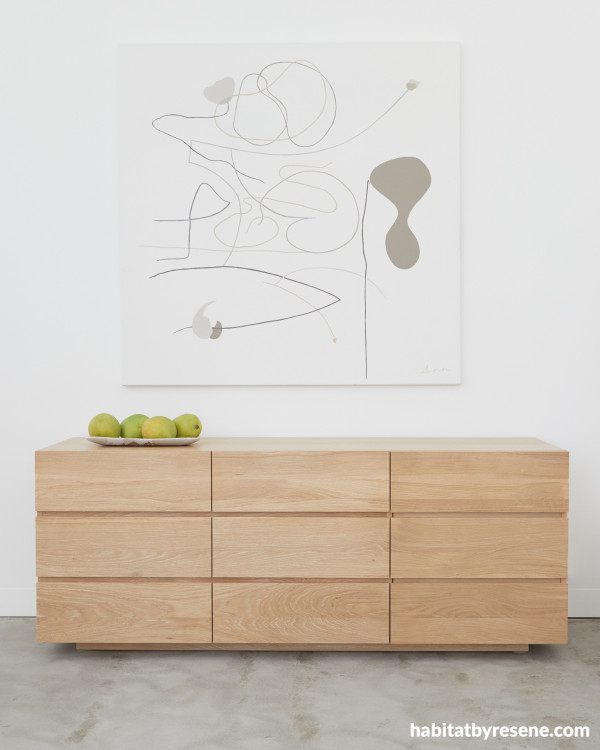 The collection includes a range of lines and forms and includes both in neutral and colourful options that are sure to work well in a range of contemporary and eclectic interiors.
Find the full collection now on the Totem Road website. For more of Arnie's work, visit www.arniearnold.com.au.
Published: 11 Oct 2021