►
◄
latest
habitat tv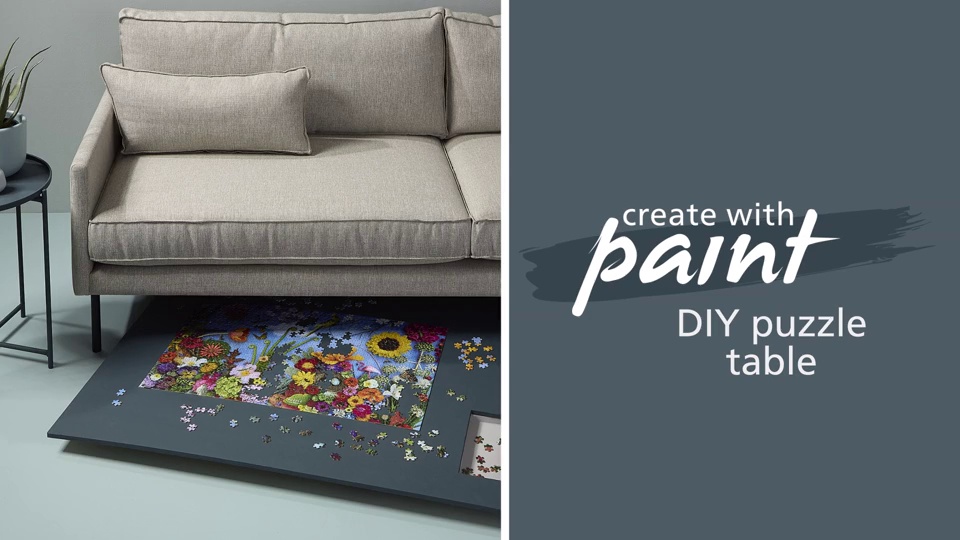 blog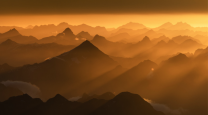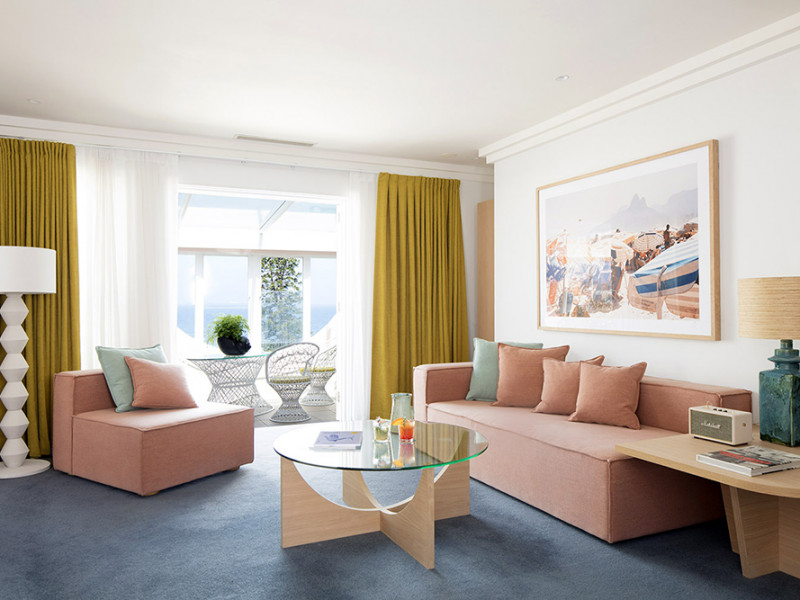 The lowdown on the iconic Hotel Ravesis' fresh new look
13 Apr 2021
If you are one of the thousands who have already booked travel plans and happen to find yourself at Bondi Beach in a few weeks' time, we recommend popping in to a local icon and taking a closer look at some of its finer details.
Following a far reaching renovation of the Art Deco building it calls home, the renewal of the Hotel Ravesis has transformed the corner of Campbell and Hall Street. The four storey property has stood for over a century as a prominent landmark in the busy recreation and tourist hub, and its lighter, brighter Resene colour palette is sure to maintain its status in the hot spot for decades to come. The success of the uplift even saw the project take home the Resene Total Colour Commercial Exterior Award.
Constructed in 1914, the landmark building originally belonged to the Ravesi family who opened a popular grocery market with a series of spacious suites above which housed eight apartments – four of which had three bedrooms, and the other four had two. In 1988, it changed hands and was converted to a hotel which to this day still boasts 12 boutique suites and pays homage to the original owner's name.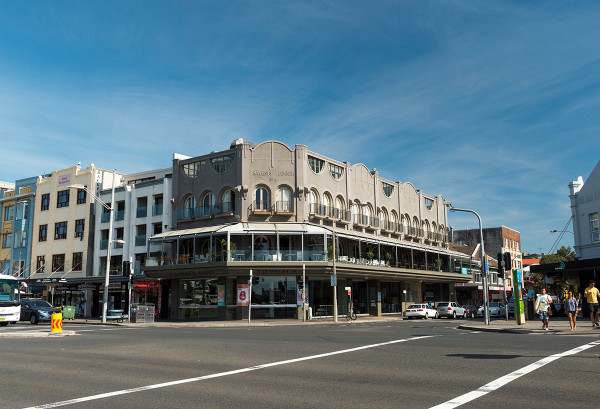 Hotel Ravesis prior to renovation.
Nearly three decades after his father started Hotel Ravesis, 2015 saw Aya Larkin take the reins. With assistance from a team of hospitality professionals including designer Kristen Doyle from Killanoodle Design and Sydney stylist Carina Hicks, the team has given the iconic venue a major facelift and transformed the property into a vibrant beachside playground encompassing several restaurants, bars and hotel rooms. With a fresh colour palette which references other notable beach precincts like Havana, Miami and Los Angeles, the inspiration and motivation for the project was to rejuvenate the building with a timeless and elegant scheme.
A key part of the exterior uplift was highlighting the building's eye-catching Art Deco elements. Its signature arches are striking in two-toned Resene pinks, Resene Petite Orchid and quarter strength Resene Petite Orchid, which pop against the stunning Resene Alabaster white walls behind.
"In the public's eyes, we needed freshness that keyed into the pastels of the surrounding suburbs famous Art Deco facades," says Aya.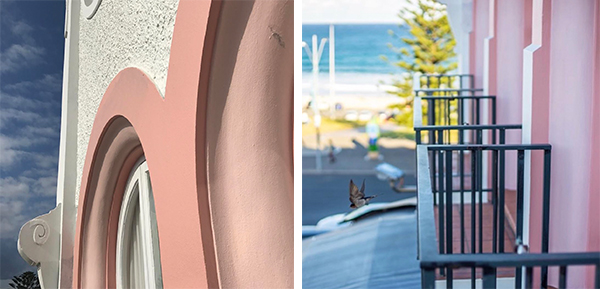 The Art Deco arches on Hotel Ravesis' exterior façade were given a two-tone effect in Resene Petite Orchid (outer portion) and quarter strength Resene Petite Orchid (inner portion). Walls and window trims in Resene Alabaster and balustrades in Resene All Black.
"The extreme coastal location of Hotel Ravesis is prone to high winds depositing constant sea salts and exposure to harsh UV, and given that the exterior walls are a highly-textured stucco plaster, we required the best performing and most robust finish without compromising the original low gloss aesthetic. The eggshell sheen level of Resene X-200 was chosen in keeping with a more earthy character yet it allowed contaminants like sea salts or pollution to be easily washed off so the coating still looks fresh and clean even though it is in Resene Alabaster white. Resene X-200 has a unique high build protection and its encapsulating properties were a perfect choice for what we required."
The internal walls carry a Mediterranean ethos with complementary décor that echoes the vibrant relaxed sophistication of other famous beach-side playgrounds. Other internal spaces demanded a more stately and refined mood, such as the dining and bar areas, and were ideal for bringing in deeper hues. A curated selection of paler pinks, blues and greens are offset with wood, marble and brass and balanced with the clean, crisp backdrop of the Resene Alabaster walls and ceilings that flow throughout the building. Stronger pops of colour were introduced through chartreuse drapes and musk pink linen sofas and select Resene hues such as Resene Ashanti, Resene New Denim Blue, Resene Revolver, Resene Neutral Bay and Resene Hypnotic.
The boutique hotel suites have been decked out with pieces from local design stores Vela Living and MCM House and a retro-inspired palette of white, peach and pink – a complete transformation from the previously prevalent drab browns – honouring and highlighting the unique art deco details.
The job was truly a family affair, with the painting headed up by Del Larkin, Aya's younger brother. The two previously collaborated artistically as frontmen for Australian alt-funk band Skunkhour, and the dynamic results of this latest project prove that their talents go far beyond music.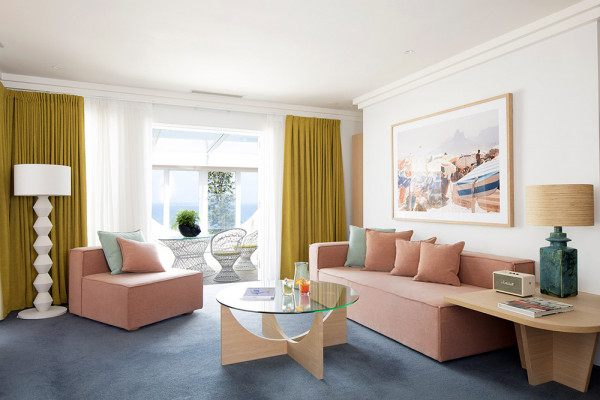 After the renovation, the king suite of the Hotel Ravesis looks very of-the-moment with chic, modern shapes and bold colour choices against the Resene Alabaster white walls, crown moulding and ceiling.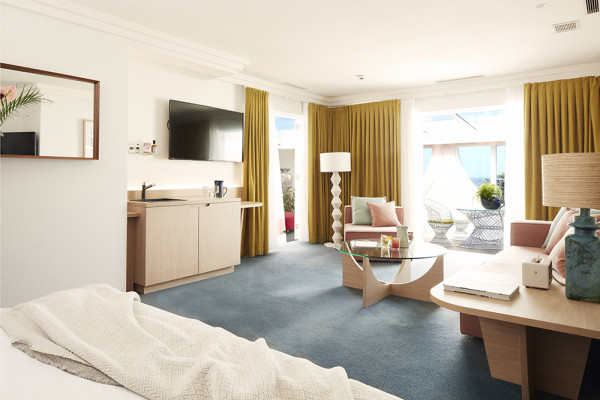 The king suite gets most of its bold colour thanks to its décor, including chartreuse curtains, pink sofas and blue carpeting, but other select suites feature wardrobes in Resene New Denim Blue and Resene Ashanti features in the accommodating hallways.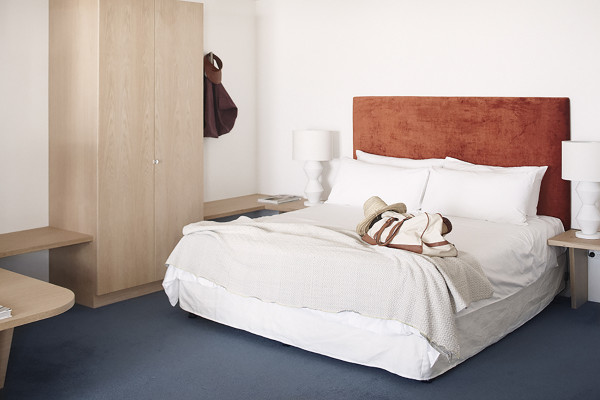 Each of the 12 boutique suites have unique details and are steeped in stylish comforts and textural elements. Walls in Resene Alabaster.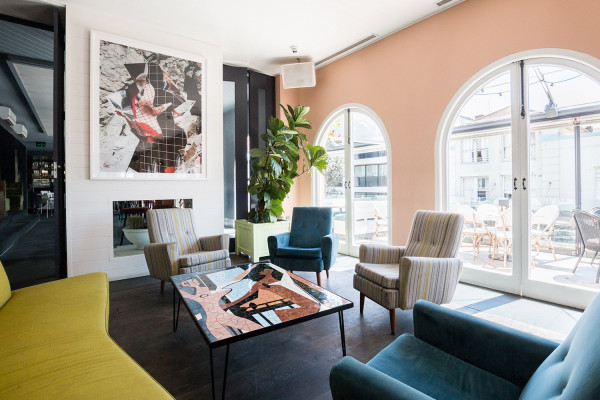 Pink was also used to highlight the interior side of the arches, with a feature wall in Resene Wax Flower. Other wall, ceiling and architraves in Resene Alabaster.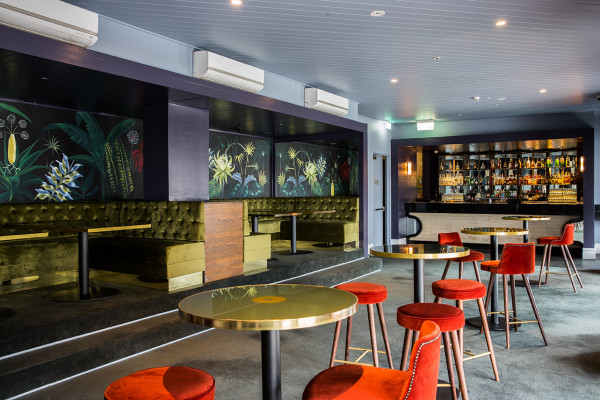 The lounge is the moody jewel of the property. Dripping in glamourous colours, it features walls and ceiling in Resene SpaceCote Low Sheen tinted to Resene Neutral Bay, booth surrounds in Resene SpaceCote Low Sheen tinted to Resene Revolver and a hand painted mural in an array of Resene Lumbersider colours over a base of Resene All Black. The red chairs connect to the timber partitions in the lobby area, which are painted in Resene Enamacryl waterborne gloss tinted to Resene Hypnotic.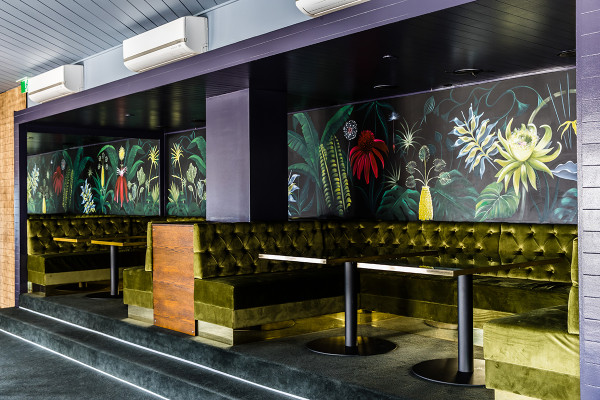 Aya says that Resene Uracryl 402 was used on all timber tabletops and benches throughout the busy bar and restaurant areas and has proven extremely durable and easy to clean. Ceiling and upper wall in Resene Neutral Bay, booth surrounds in Resene Revolver and hand painted mural created with a wide selection of Resene testpots over a base of Resene All Black.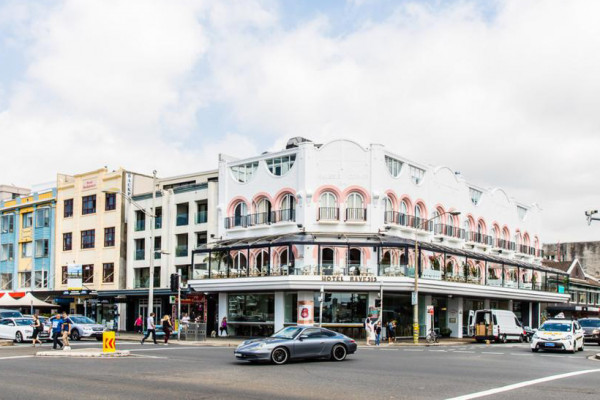 Post renovation, the facade looks fresh and bright in Resene Alabaster with arches in Resene Petite Orchid and quarter strength Resene Petite Orchid, balustrades in Resene All Black and ground floor eaves in Resene Shark, earning the project the Resene Total Colour Commercial Exterior Award. The judges called it, "so delicious and irresistible, like a summertime gelato or a sweet marshmallow. The colours play on the original shapes and character with gorgeous pinks varying in gradations and dimension making the building feel larger than it is. The rhythm of colour draws you in."
interior designKirstin Doyle, Carina Hicks
painting Del Larkin
images Supplied, Hotel Ravesis