►
◄
latest
habitat tv
blog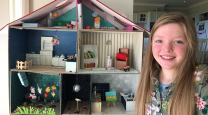 The mall café that makes the case for being a horse of a different colour
22 Mar 2022
When you think about the design and ambiance of the place where you grab your daily cuppa, it likely fits into one of two categories: neutral hipster-esque minimalism or quirky mismatched eclecticism. Cafés have become so firmly divided into these two camps that it's often difficult to find one that is truly unique in its look and vibe. There are, of course, exceptions to every rule – and Filly is one of them.
Filly is a different breed of café. Fresh, vibrant and bursting with showstopping Resene paint colours that have been used over both contemporary shapes and raw industrial elements, it's in a category all it's own. And the fact that something so unique is located in one of the country's largest shopping centres makes Filly all the more special. But therein lay the challenge for the team at Millé, the hospitality-obsessed interior design team behind the concept.
The café's name harks back to the history behind its location. The land where Auckland's Sylvia Park Shopping Centre sits today gets its name from the large stud farm built there in the late 19th century. It was the country residence of Sir Maurice O'Rorke, one of the first Speakers of the House, and was primarily used for breeding. Carbine Road, which runs parallel to the mall, gets its name from the racehorse Carbine who was foaled at Sylvia Park Stud.
"We wanted to connect the history of the site with a big impact of colour," says Elliot Francis, Lead Designer at Millé. "In our joinery and lighting, we referenced the stud farm and horse racing by creating stadium flood light pendants, suspended racetrack lighting and a number of archways and curves in the floor transitions."
Elliot says colour was the key in this project. "As hospitality designers, we are aware – and on board with – the trends of muted colours, concrete, white walls and gentle pastels in contemporary café design. But at Filly, we wanted the colour to explode from within and out onto the street."
"As café owners ourselves, we know that you need people to see you from where they are. We achieved this by creating what became a fully immersive, almost abstract work of art with full colour blocked walls running all the way up and over the ceiling. Allegedly, painters were walking off site in protest at such an outrageous idea! But finally, someone was up to the task and the results are more rewarding than we had imagined."
Millé's client was on board with their concept early on, but when designing for a shopping centre, there is always a second client to please: the mall's design team. Elliot says that rising to meet their expectations while managing the mall's ideas and changes with the client proved to be challenging. "They sent us back to the drawing board on more than one occasion – but, ultimately, that was how we ended up with the great result we landed on."
"It was a process of moving away from horse racing and farm themed colours, getting more and more frustrated, but then letting the ideas get wilder and wilder, then refining, and refining again, then going a bit insane, then liking it again."
But the result of their work with Filly speaks for itself. It's effectively a place for families to come and enjoy a world-class experience while changing the perception of mall cafés.
"With our selection of Resene paints and a few risks, we were able to create a new concept and challenge the idea of what a café could be."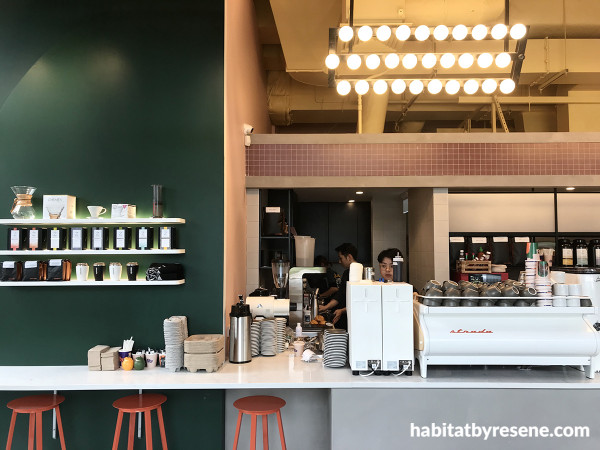 At Filly, contemporary styling meets vibrant use of colour and makes for a truly unique café experience. Walls in Resene Cardin Green and Resene Sakura and ceiling in Resene Tinkerbell. Paint stools in Resene Enamacryl gloss enamel in a hue like Resene Big Bang for a bold accent.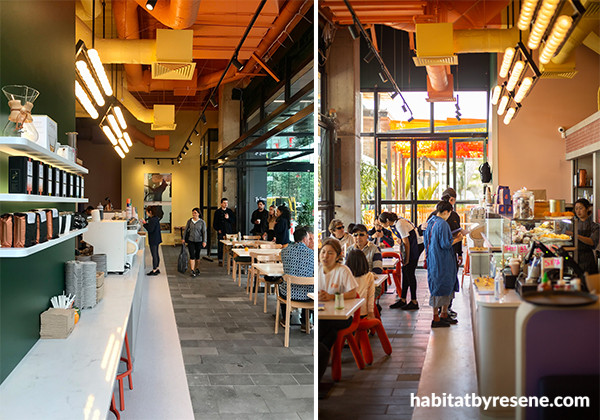 Those who appreciate a quality cup of coffee and design but want to avoid an air of snobbery will find the atmosphere they're looking for at this colourful and family-friendly café. One can simply picture this space space in an all white colour scheme and be certain it wouldn't feel as inclusive and accommodating. Walls in Resene Cardin Green, Resene Sakura, Resene Tinkerbell and Resene Victoria, ceiling in Resene Clementine Orange and Resene Tinkerbell.
Being specialists at hospitality projects and café owners in their own right, the design team at Millé know the importance of details like lighting and how that transforms the energy and appearance of their Resene paint colour selections. Walls in Resene Tinkerbell and Resene Sakura, joinery in Resene Victoria and ceiling in Resene Tinkerbell, Resene Clementine Orange and Resene Victoria.
Mille chose low sheen finishes including Resene SpaceCote Low Sheen and Resene Lustacryl semi-gloss to channel a modern matte look while optimising the durability of Filly's high traffic environment. Walls in Resene Sakura, Resene Tinkerbell and Resene Victoria and joinery in Resene Victoria.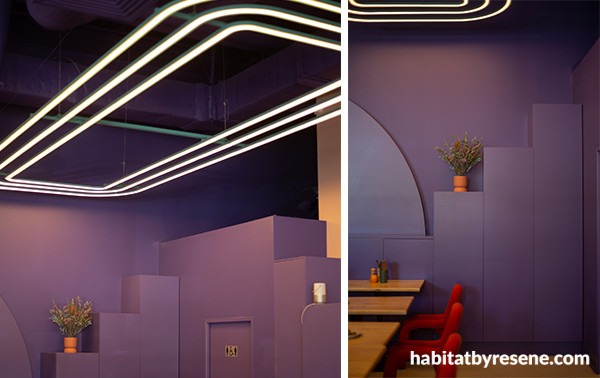 Ceiling, walls and joinery in Resene Victoria, a royal violet, feel distinctly contemporary – especially when paired with on trend shapes and forms.
Top tip: The Resene AquaLAQ range is especially designed for cabinetry, joinery, shop fittings, kitchens and doors. It includes a full system from sealer options to colour coat to clear coat finish options, including a complete waterborne system of sealer, colour coat and Environmental Choice approved clear coat.
See more of Millé's creative hospitality portfolio on their website, and to find out more about Filly, check out the café's website.
designMillé
build and paintingDimension Shopfitters
imagesJD Coulter
Published: 22 Mar 2022