►
◄
latest
habitat tv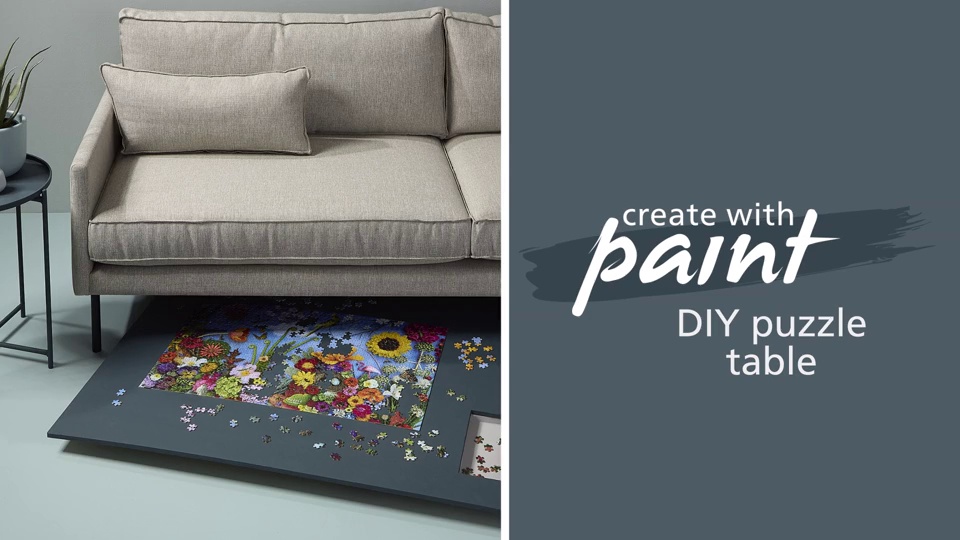 blog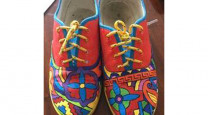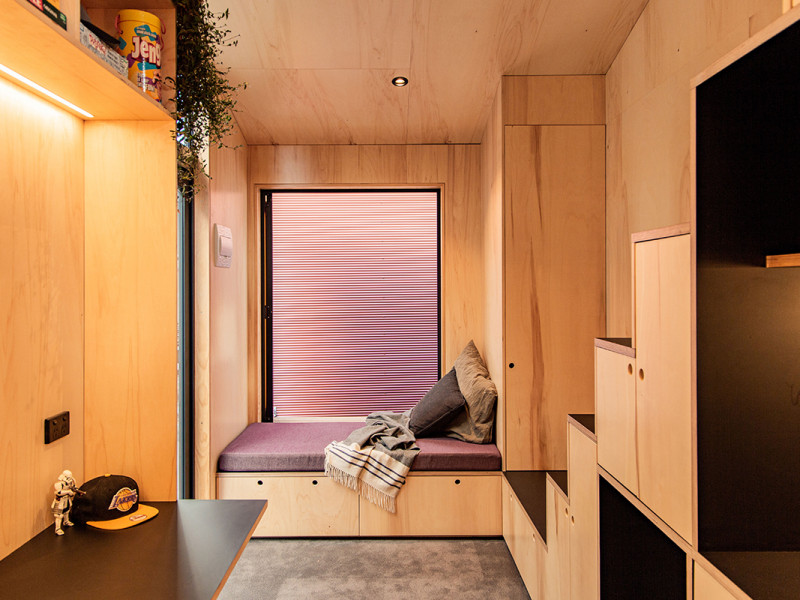 Two tiny community builds bring safety and beauty to the lives of underhoused youth
08 Dec 2020
An innovative programme initiated by VisionWest Community Trust, the My Whare initiative has been launched in response to the crisis of youth homelessness and intended to give young people who have had a rough start in life, the opportunity for a brighter future. This breakthrough programme will be available to youth who are transitioning out of care or homelessness. Each studio will be located on the residential property of a host family, who will offer the young person connection to community through shared meals and experiences while giving them enough space to grow independently.
VisionWest began its Community Housing programme in 2004. At the time, West Auckland had the longest Housing New Zealand waiting list in the country and there was a serious shortage of affordable rental houses on the market. VisionWest partnered with the Government to purchase its first emergency house, from then on, VisionWest began a journey of purchasing old houses and starting a dialogue with Government that still continues today.
Today, with the growth and success VisionWest has had over the years with Community Housing, the organisation is now in a position to construct new housing within Auckland which provides more resources for homeless families.
No strangers to community-oriented projects, the talented team at Strachan Group Architects Limited (SGA) were responsible for the development of the first two prototypes for this programme: Whare Rua and Whare Tahi. Director and architect Pat de Pont says their firm has a long-standing relationship with VisionWest, having worked with their community housing team for nearly a decade on various housing initiatives.
"The design of the whare borrow ideas from the tiny house movement to develop units that can be easily transported and simply connected to services in a typical residential suburban environment.
The key to meeting these initial demands was to design to the requirements of scale and weight for light trailers and construction materials were selected for their lightness, strength and durability," says Pat.
These sturdy homes are constructed with light steel framing and overlaid with an insulated oriented strand board for stiffness and then clad in corrugated steel. The interior walls and cabinetry employ the extensive use of sustainably sourced European poplar plywood, a very lightweight and strong panel with pale fine-grained finish.
"The small scale of these whare meant that the colour and materials palette needed to be very restrained so that an unfussy calm could be maintained. All the poplar linings and cabinetry have been finished with Resene Aquaclear, which has been accented with black plywood panels and fittings."
To complement their neutral palette, a pop of colour adds a light-heartedness to the scheme surrounding the indoor/outdoor window seats. For Whare Rua,Resene Lichen was used while Resene California shines against the darker cladding on Whare Tahi.
Both whare prove how much can be accomplished in a very small space, and that even projects that need to keep affordability as a priority need not be any less beautiful than larger, more expensive homes.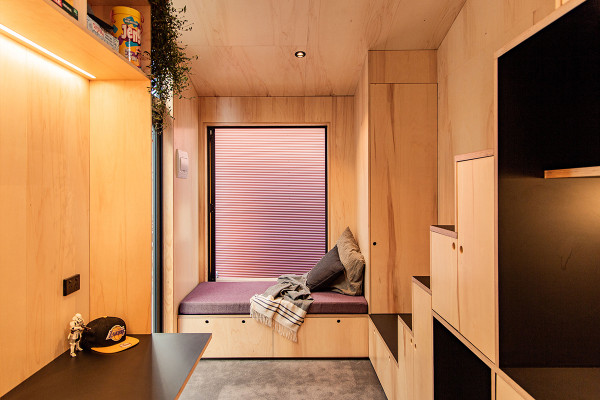 Developed as a waterborne alternative to turps thinned oil modified urethanes, Resene Aquaclear was used to finish the interiors of both of SGA's My Whare projects.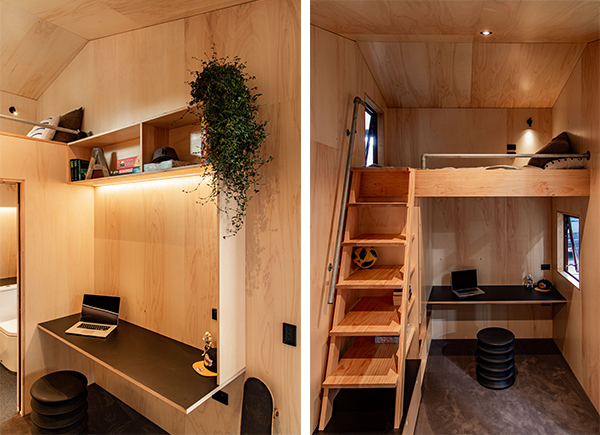 The majority of homeless youth have had little to no experience of modern, warm and safe housing so the intention has been to create aspirational spaces that each young person can be proud of. The fully timber lined interiors are robust, warm and light filled, with private warm sleeping lofts, window seats that connect with the outdoors and generous study areas. Resene Aquaclear waterborne urethane was used to finish the interiors of both of SGA's My Whare projects.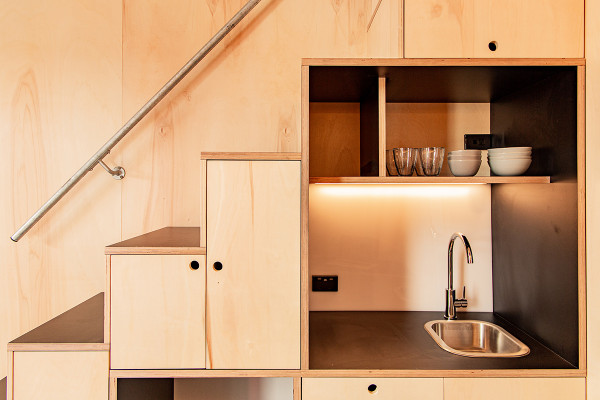 In tiny builds, it's the clever design details that maximise storage and opportunities for space to be put to multiple purposes that make it easy to live with a whole lot less. Interior timber finished in Resene Aquaclear.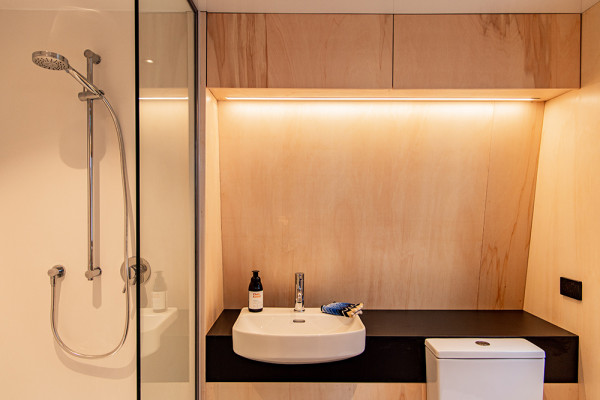 Poplar lining throughout the interior of the whare has been finished in Resene Aquaclear, keeping the mood light and allowing the natural beauty of the woodgrain to add texture to SGA's pared back design.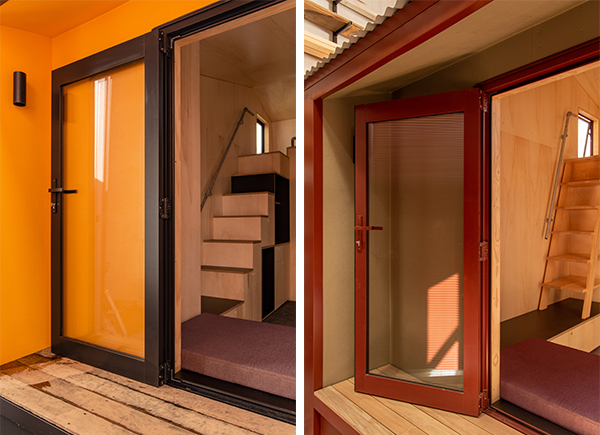 A pop of Resene California around the window seat contrasts with the darker cladding of Whare Tahi (left) while Resene Lichen was used for the same purpose on Whare Rua. The interior timber is finished in Resene Aquaclear.
designStrachan Group Architects (SGA) Limited
design project leads Pat de Pont, Kelly O'Sullivan
VisionWest Community Trust project lead James Widgery, VisionWest Community Trust
build Crate Innovation
images Ross Keane, Strachan Group Architects (SGA) Limited