►
◄
latest
habitat tv
blog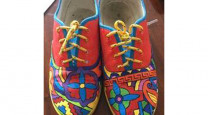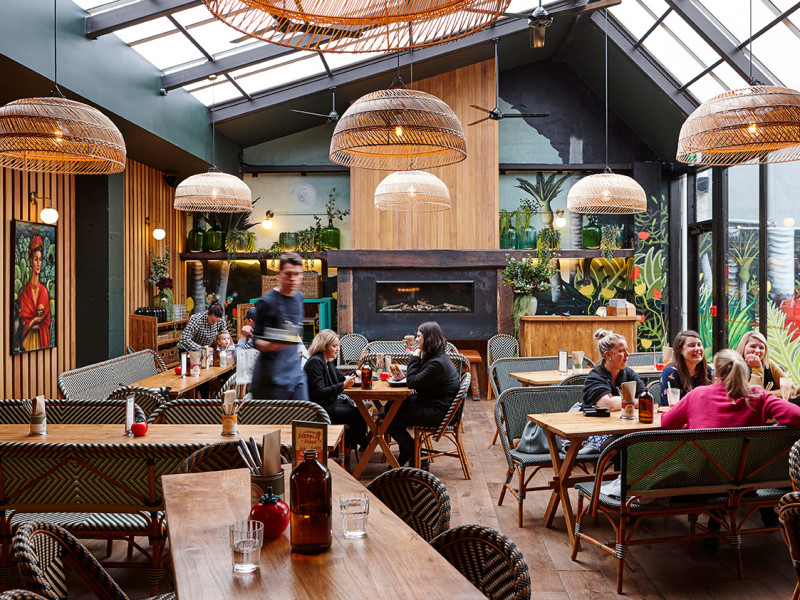 Wonder Group reveals their unique approach to 'breaking the chain'
18 Aug 2020
Since its launch in 2014, Burger Burger has gained a heck of a reputation. Toted as serving some of the best – if not the very best – burgers in New Zealand, it's a brand that's been built on uncompromising values of quality, affordability, ethical practices and using locally-sourced ingredients.
Burger Burger was founded with the heart and soul of Kiwis in mind, so it came as no surprise when they chose Christchurch as the spot to open their first shop outside of 'the big smoke', says Buster Caldwell of Wonder Group, the interior design studio who spearheaded the project.
With such a strong brand personality and a quasi-cult following already established in Auckland thanks to the roaring success of the first three locations, the big challenge for the Wonder Group team was how they could help the Burger Burger brand expand to a new territory without the nasty notoriety of a chain persona following them there.
Buster compares his team's strategy to styling the same person into different surroundings – perhaps a familiar fashion model featured in an on-location photoshoot, dressed head-to-toe in material sourced from local surroundings. Wonder Group made a list of what they consider to be Burger Burger's DNA. Those features were defined and split into two categories: the 'body' and the 'clothes'.
"The 'body' is all of the physical bits that are repeatable," he explains, "like form and composition, furniture, layout and product offering. The 'clothes' are the heart of the space and the things that we can adjust contextually; culture, artistry, materials, energy, attitude and colour."
"It was our challenge to find that delicate sweet spot," says Buster.
As much an interior design concept as it is a culinary one, the eyes are the first to feast. So, when it came to colour inspiration, Wonder Group used the rolling Canterbury plains as the local reference point, with warm dusty caramel tussock in the foreground and the scrubbed native green hilltops off in the distance. While these hues certainly tie into the landscape, the specific colours that the team pulled into the space are also known for being comforting and appetising.
"Colour theory tells us that mustards foster a warm, enshrouding and comforting environment – or what we defined as an 'abundant table.' It reminds one of the morning sun, the gooey deliciousness of the secret burger sauce and cues the feeling of a place a couple degrees hotter – important for the colder Canterbury climate," says Buster.
Their key companion colour, forest green, "signals health, nature, provenance and, ultimately, good taste. The darker shades allow the once cavernous industrial building to feel immediately intimate, with the enclosure now reading as an enclosing dense environment rather than a stark empty structure."
Through the walls, the design team was able to establish the perception of the new restaurant being worn in through layering Resene paint to create texture and depth, making it both befitting of the building's original factory roots and "to deliver the comfort, nostalgia and the depth of the Burger Burger product," says Buster. After an undercoat of paint had been applied, they invited in a set building crew to assist with the layering of paint, applying a range of darker undertones in situ to slowly building up depth and lightness with buckets of varying shades. Together, the hues form a high-energy yet nostalgic stimulant. Or, as Buster calls it, "deliciously brave and tasty, yet still classy with the oozing warm burnt tones."
Buster says that "provincial kiwis don't like Aucklanders coming in to try and run their town" – and nor should they. "So, our ultimate challenge and creative brief was to design with the community rather than for it."
Rallying the Christchurch community was certainly a primary aspect of the direction Wonder Group took with their concept. While it proved to be one of the project's major challenges, it was also a major marker of its success. To achieve it, Buster and his team invited 25 local up-and-coming artists to participate in the interior fit-out decoration by commissioning bespoke artworks that became feature wall cladding to infuse further interest, depth and character.
"Timber panels were crafted and released to our selected participants with no brief. It was up to them to find their own expression of artistry." These panels were then inset as part of the joinery feature and formed an expansive mural that wraps throughout the dining area. At the end of 2019, the panels were auctioned off (with the proceeds going towards local community initiatives). Another round of 25 artists were then commissioned to create replacement artworks, "and so the cycle will continue," says Buster.
This participatory activation not only helped layer Burger Burger Christchurch's interior with character, but it also met the brief of helping the restaurant don its 'local clothing' in an authentic manner.
Wonder Group relied on a range of Resene products – and a few unconventional additions – to achieve differing surface finishes and to highlight different features of the space. For instance, Resene Quick Dry waterborne primer was used to prime existing clear-coated plywood to avoid the laborious task of stripping existing product and refinishing. Resene Lustacryl and Resene Enamacryl waterborne enamels were used as topcoats in areas that were likely to experience higher traffic and could incur more wear and tear from "lively guests" whereas Resene Zylone Sheen was used as a general paint finish in lower impact back-of-house areas, such as the office space. If a matte finish was all that was needed, such as on the ceilings, Wonder Group went for Resene SpaceCote Flat. When it came to the unique and highly textural bar, the team used coffee to stain the concrete top and hessian sacks were employed to dress the bar front and blend in with the space's tropical vibe.
When they tried to tally them up, the team couldn't even venture a guess at all the Resene products and colours that were used by the 25 local artists in the creation of their works. Buster laughs, "it got a little wild!" – but in the best way.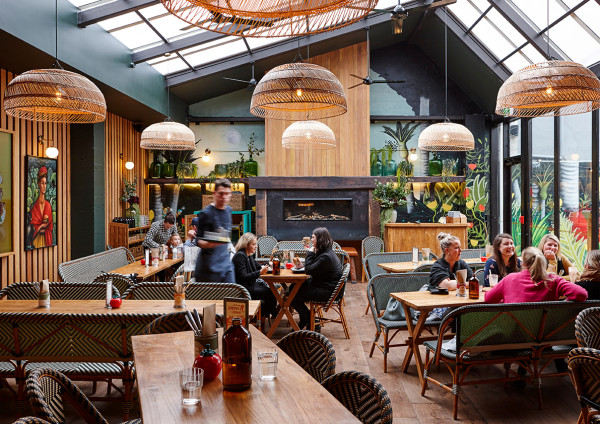 Expansive skylights and woven pendant lamps take Burger Burger's Christchurch location from daylight to night life. Walls in deep Resene Palm Leaf marry well with the timber elements and play to the tropical vibe that's present throughout the space.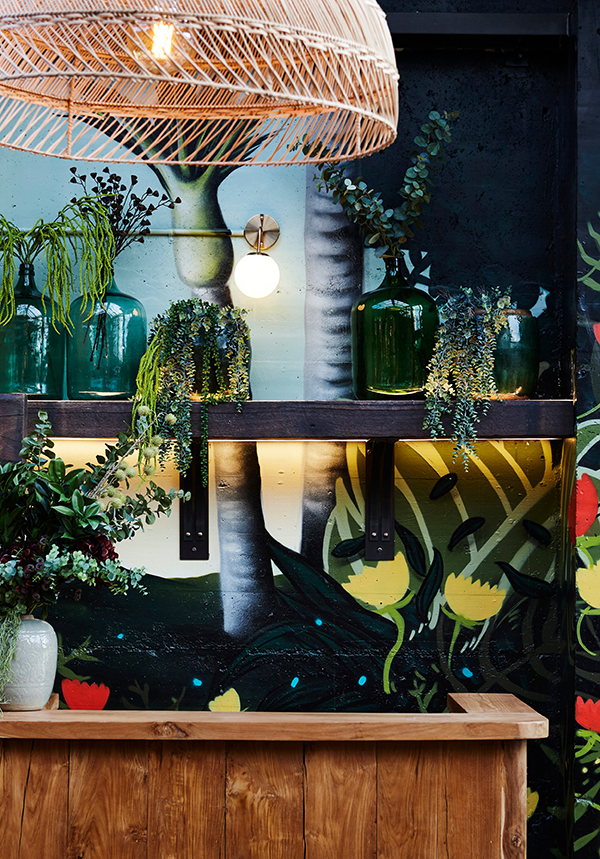 A close up of some of the highly layered paint effects that adorn Christchurch's Burger Burger location, created with a huge palette of Resene paint colours, including Resene Palm Green and Resene Pizza.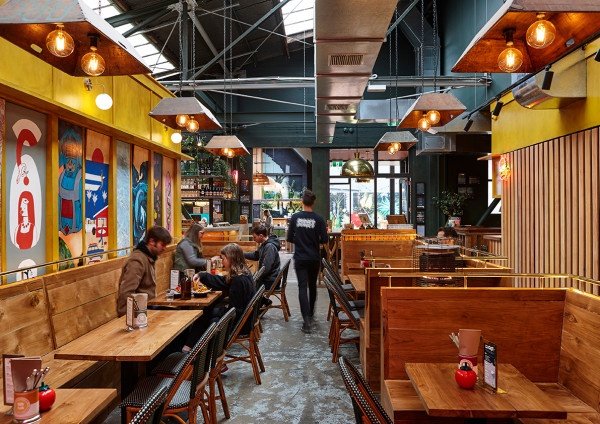 Highly appetising Resene Pizza has been layered with other Resene hues to get the look of an aged patina on the upper walls of the dining area.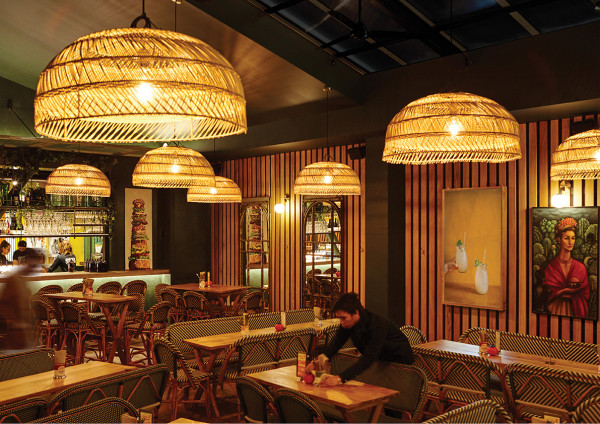 Resene Palm Green on the pillars and bulkheads completely changes spirit in the evening light, but it's dark – but not too dark – green hue is still evident.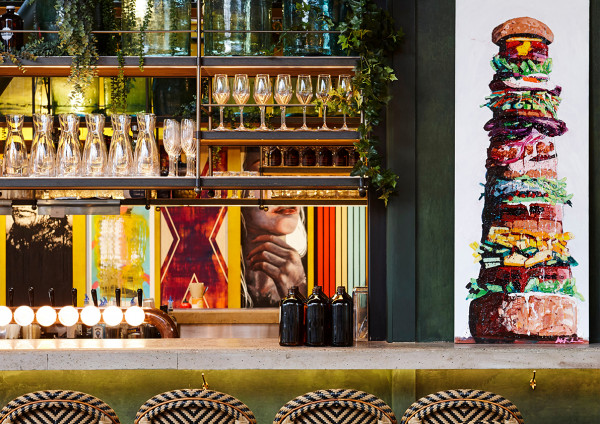 Thanks to a team of local artists, Wonder Group was able to infuse Burger Burger's Christchurch location with character aplenty. Layered paint effects and art works throughout the space add to its 'homegrown' charm.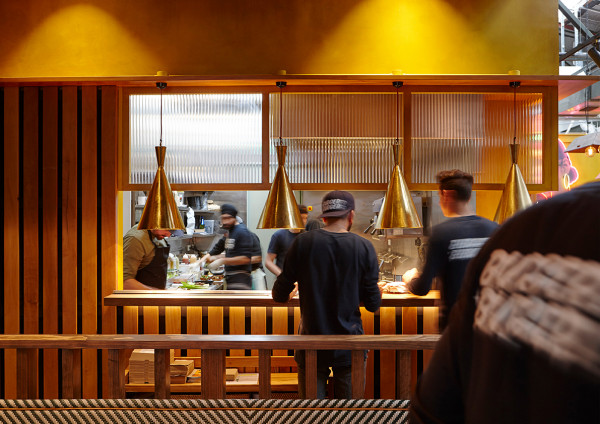 Durable Resene Lustacryl semi-gloss waterborne enamel tinted to Resene Pizza – then layered with numerous other Resene hues – was used for the bulkhead wall that wraps around the customer-facing side of the kitchen area.
Plenty of elements of the original industrial warehouse where Burger Burger Christchurch now lives are still present, but they've been given an inviting uplift with the addition of plenty of windows, skylights, warm timber and appetising Resene paint colours including Resene Palm Green, Resene Pizza and Resene Ayers Rock.
design Wonder Group
builder Miles Construction
painting contractor W&S Painting Contractors
special finisher Hayley Brown
images Jackie Meiring