►
◄
latest
habitat tv
blog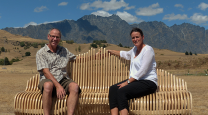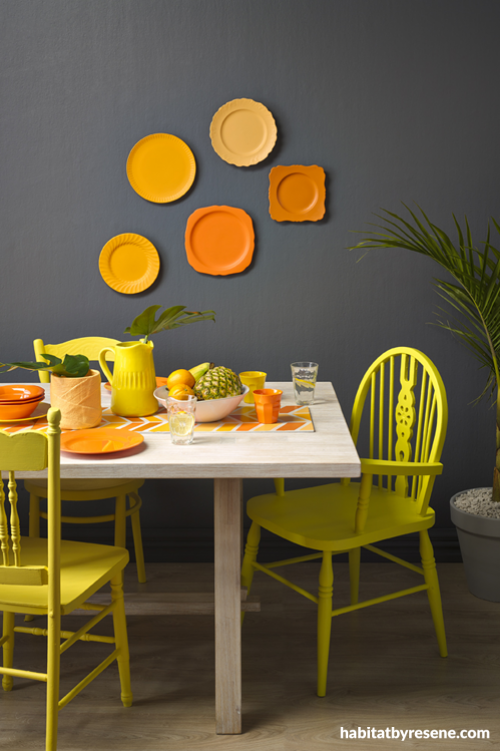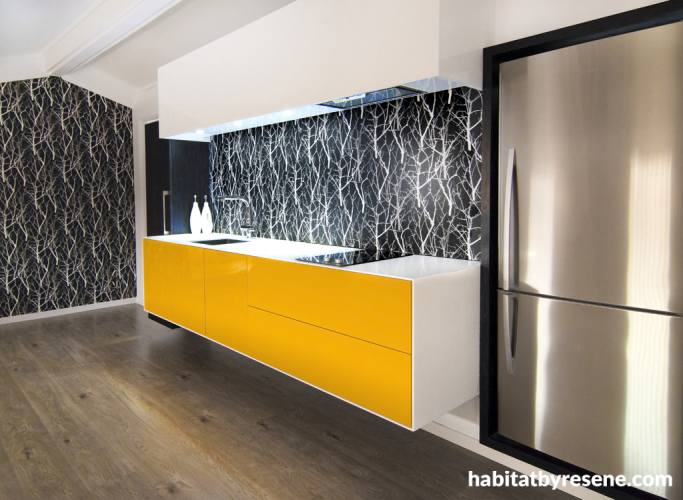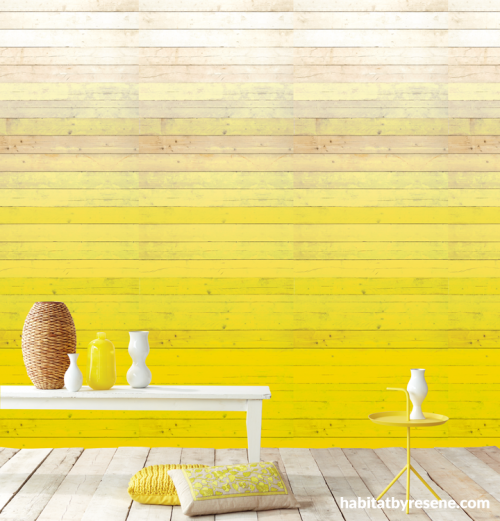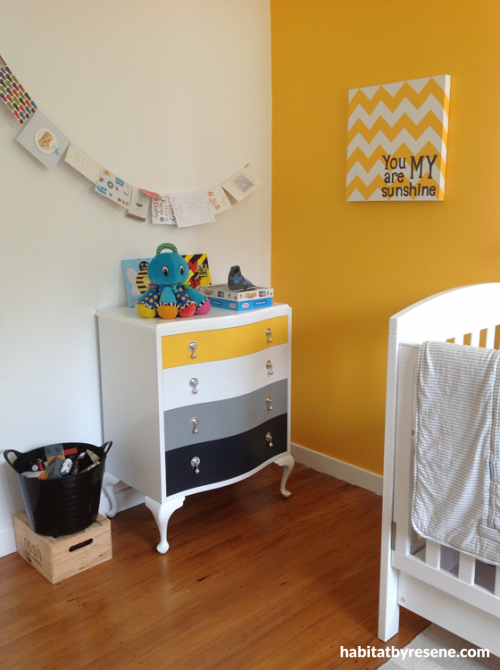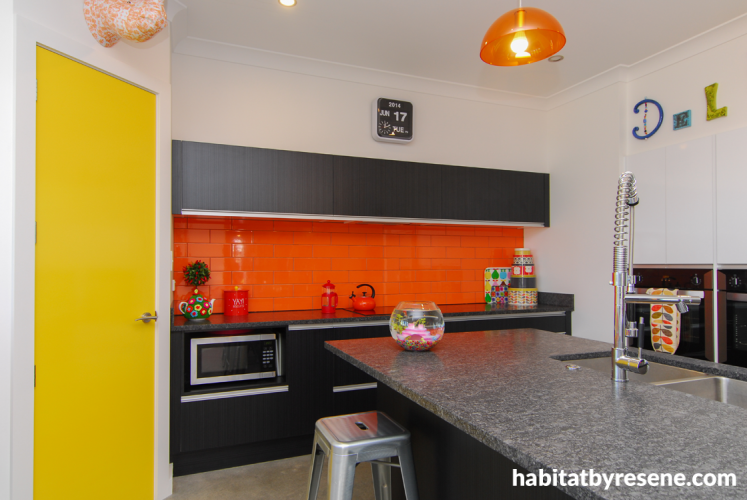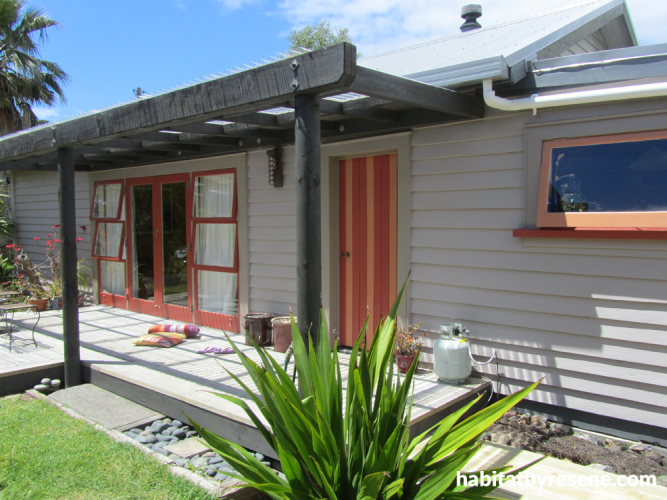 A splash of citrus
A slice of lemon with that? It's a question that evokes images of a cooling drink by the pool… and it's what's happening with our interiors this summer.
A shot of Resene yellow paint will add a zesty touch to any home. It's close cousin, orange, is also creating a splash. They are being used most often as accent colours to lift an interior, rather than as whole room schemes, on accessories, as painted feature walls and also on doors.
The yellows being used this year tend to be bright and strong: think energetic, neon, lemon tones. They are tricky to use in large amounts but as a feature wall, or as a piece of painted furniture, they're perfect. If you are a little wary of such strong colour or want to use yellow more extensively, look to softer muddier yellows that head into the mustard or gold territory. Check out Resene Sunkissed and Resene Starstruck from the latest Resene fandeck, fashion colours 16.
The other interpretation of yellow this season is yellow metals and metallic paints. Bronze, tarnished gold and copper are big.
There's a reason why yellow has risen to the fore as an on-trend accent at the same time grey has gained in popularity. It's because one of the best ways to take the heat out of bright yellow but still enjoy its vibrancy is to use it with grey. Yellow goes with all types of grey, from soft silvery shades, those tinged with blue, or with brown (greige), or true charcoals.
Another way to soften the sharpness of yellow is to team it with creamier whites rather than bright whites.
So pick up a tin of yellow from a Resene ColorShop and give your interior a lift for spring and summer.
Check out The Range fashion colours 16 for plenty of new yellows and zingy inspiration.
Published: 01 Oct 2014
Do you have a home full of wonderful Resene paint and colour? Send us some snaps by emailing [email protected].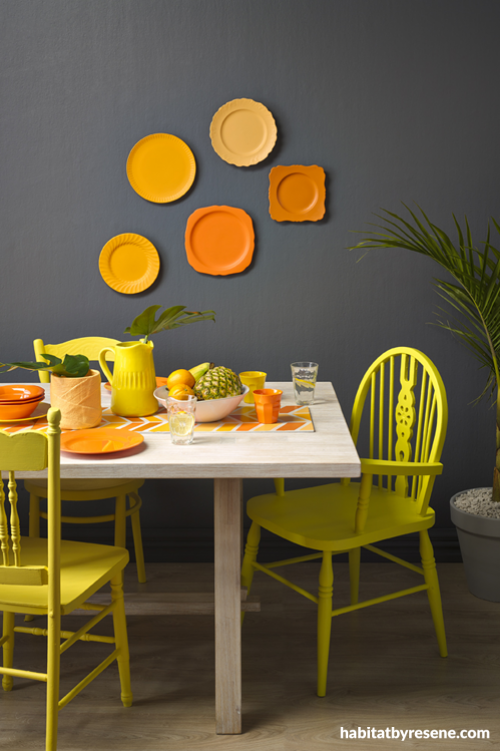 This zesty dining room uses shots of yellow and orange against a grey Resene Quarter Foundry wall. The yellow chairs are not only mismatched in style but are painted in similar Resene yellows from the new Resene The Range fashion colours 16 – Resene Wild Thing (at back), Resene Bright Lights (side) and Resene Teddy (front). In a similar vein, a grouping of old plates has been painted in a variety of oranges – from bottom left clockwise, Resene Juicy (two plates), Resene Touche, Resene Clockwork Orange and Resene Adrenalin. The palm pot is in Resene Transmission, the floor is in Resene Colorwood Whitewash and the table is from Danske Mobler.
A new treatment for an old door. Decked out in Resene Turbo, this bathroom door echoes other yellow accents in this glamorous bathroom designed by homeowners Abi and Zak Read of Zbuilt Ltd. They used an anaglypta wallpaper (code no 80027) then painted one wall in Resene Shark and others in Resene Silver Chalice.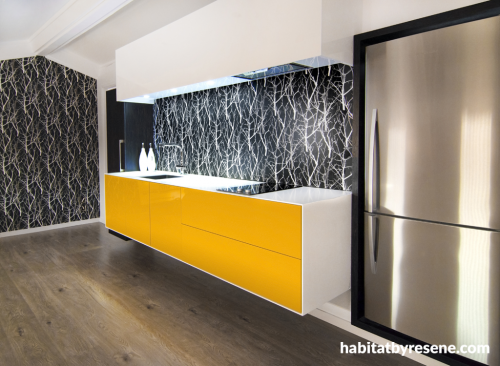 Affectionately dubbed the 'yellow bikini', this striking kitchen demonstrates that small doesn't mean insignificant. Kitchen designer Mark Bruce of Whakatane-based Beaver Kitchens chose Resene Fuel Yellow as the feature colour for the cabinetry, and teamed it with Resene Barely There walls. The Black & White collection (code 25675) wallpaper is also from Resene, and was used not only as a feature wall, but carried on behind the glass splashback. Stunning!
For more of Mark's work, see www.beaverkitchens.co.nz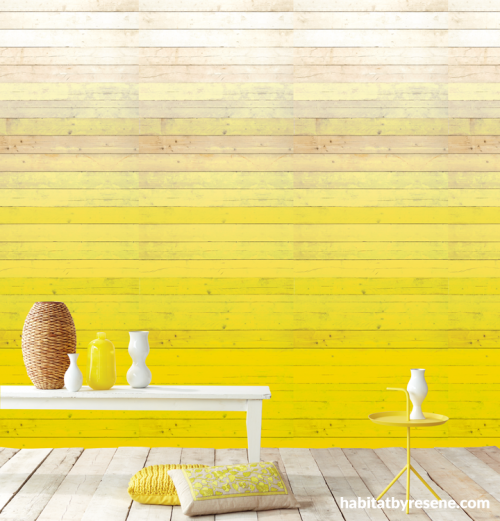 Just pretending. This is actually wallpaper not timber. Using an ombre effect means that the intensity of the yellow at the bottom isn't overwhelming as it fades up the wall. The wallpaper is from the Eiffjinger Ibiza collection (code 330282) from Resene.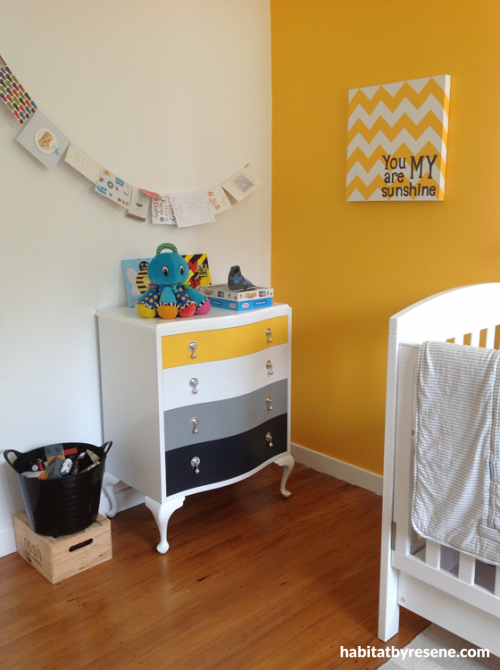 Baby Hunter was welcomed to the world with a room of sunny yellow Resene Supernova, partnered with Resene Alabaster on the other walls. Mum Toni-Maree Gleason upcycled an old set of drawers using Resene testpots to match while Hunter's big brothers did the little canvas artworks on top. A friend painted the artwork on the wall in the same colours as the walls as a baby shower gift. A bright, happy space for a loved little boy.
pictures
Complements of the Your Home & Garden/Resene Colour Home Awards.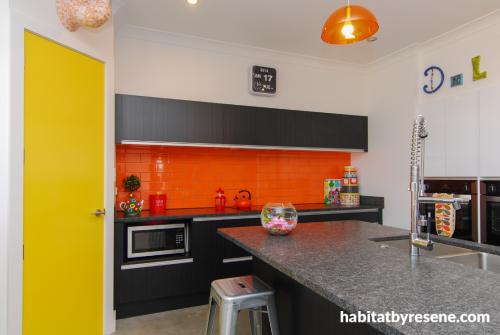 A tiled orange splashback and a pantry door painted in Resene Fizz are a striking combo in this kitchen. As an added twist, the door has been finished in Resene Write-on Wall Paint so it can be used as a noticeboard. This kitchen and house is featured in the latest habitat magazine.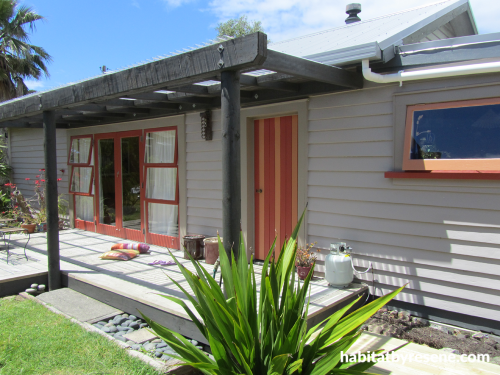 Yellow is a tricky colour to use outside. How about orange instead? Cathy Hanlon chose Resene Prairie Sand and Resene Tuscany on the trims of her home and the striped front door for a fun beachy look. The weatherboards are Resene Zorba, the window trims are Resene Squirrel and the pergola is Resene Tiri from the Resene Woodsman stains range.