►
◄
latest
habitat tv
blog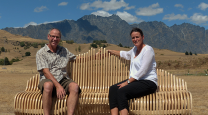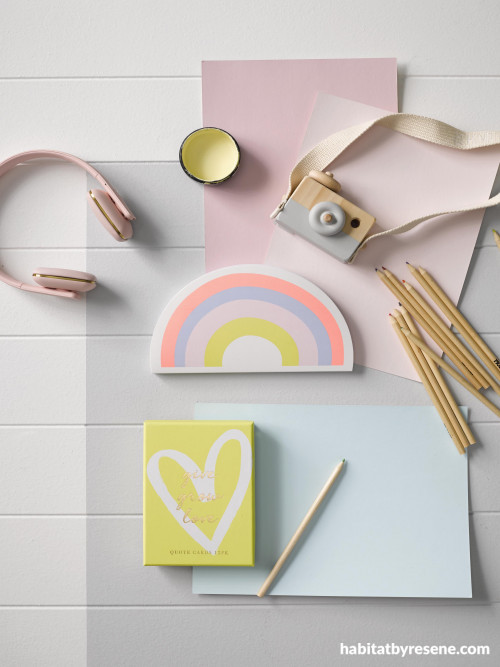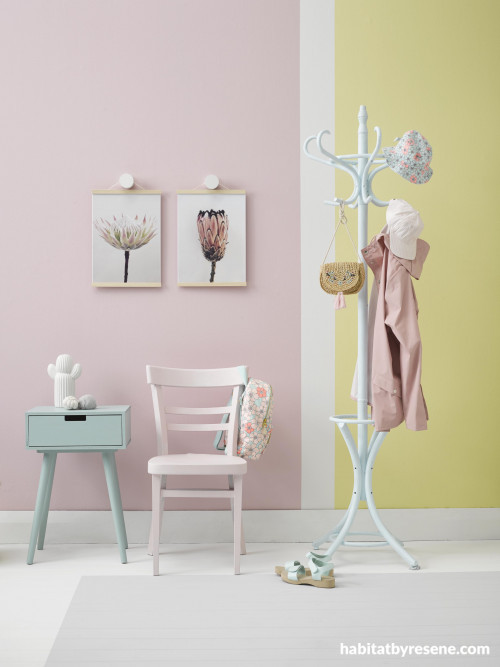 Sweeten up study time
Kids heading back to school can fall into two camps... either they are excited to return to the rhythm of the school year, or they're already dreading the thought of homework and early morning starts.
Whatever the attitude, this after-school study area, painted in sweet Resene pastels, will help ease the kids into the new year. Stylist Emily Somerville-Ryan created the dedicated work space, keeping the colours soft but using them in interesting ways.
While bolder colours can give energy to a space, which can be a benefit when it comes to homework time, Emily decided to go with more peaceful colours such as Resene Gelato and Resene Moonbeam on the walls. It's designed to be an extension of a kid's bedroom, making it a great space to both study and rest.
More back to school ideas:
Published: 17 Jan 2018
Do you have a home full of wonderful Resene paint and colour? Send us some snaps by emailing [email protected].
For this kid's study/bedroom, we've used a soft, pastel palette of Resene Gelato (pink) and Resene Moonbeam (yellow), gently separating the colours with a stripe of Resene Half Black White. We've substituted carpet underfoot by painting a square in Resene Geyser over the floor painted in Resene Half Black White.
pictures
Wendy Fenwick, styling by Emily Somerville-Ryan.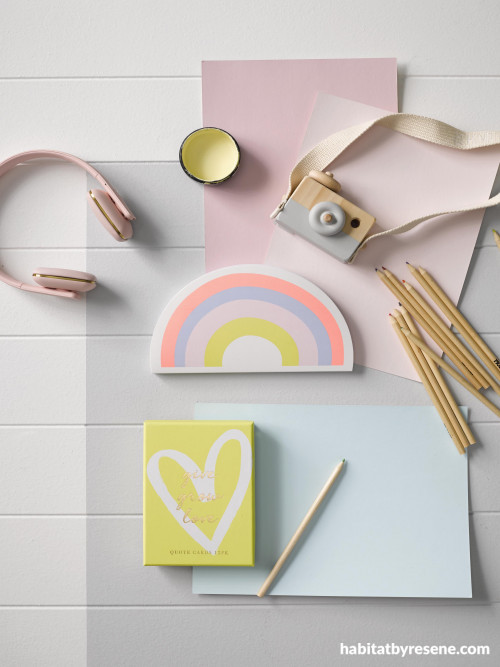 To keep the palette sweet over sickly, balance the pastel colours with light neutrals. Pictured here are drawdowns in Resene Vanilla Ice, Resene Gelato and Resene Onahau, testpot in Resene Moonbeam, and floor painted in Resene Half Black White and Resene Geyser.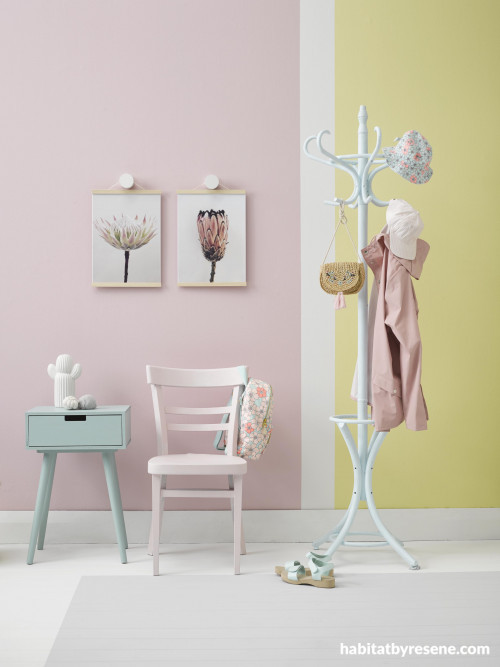 When the school year ends, it's just as easy to pack down the study area and use it as an extension of the bedroom. The walls are painted in Resene Gelato, Resene Moonbeam and Resene Half Black White. The floor is painted in Resene Half Black White and Resene Geyser.
the look
If you're stuck on what
colour to use or need colour
advice, try out the Resene
Ask a Colour Expert service.