►
◄
latest
habitat tv
blog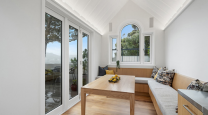 Master Builders' Chief Executive David Kelly shares his tips for building in the challenging climate.

Planning... more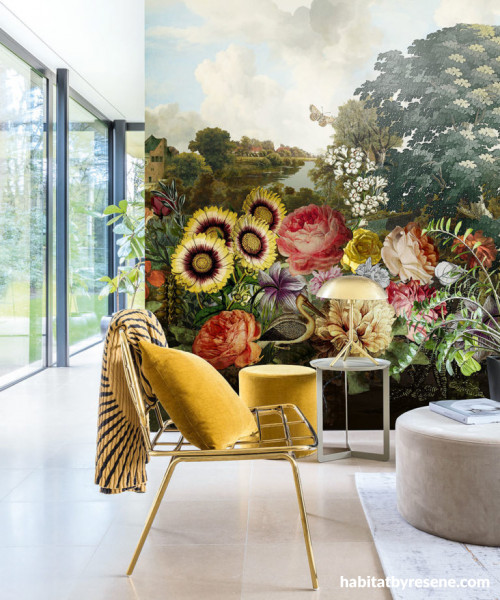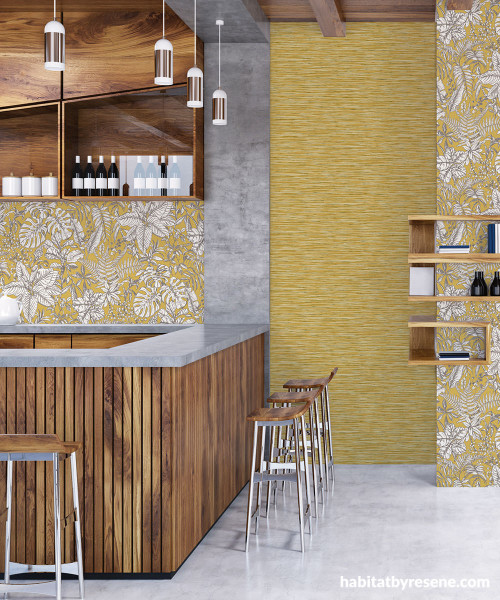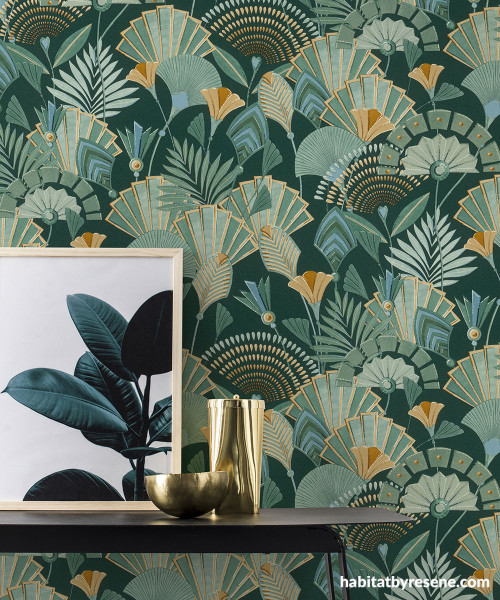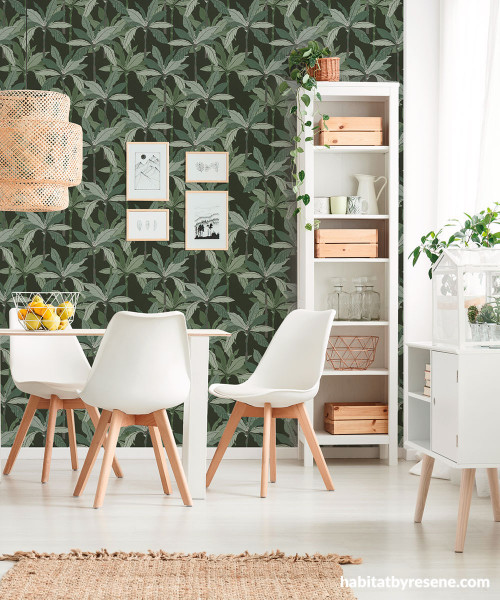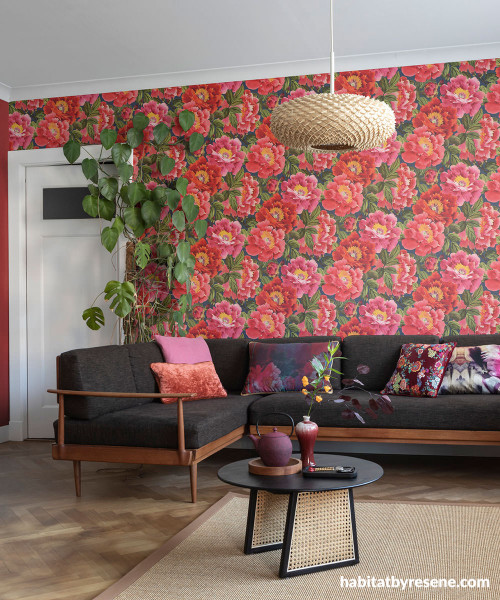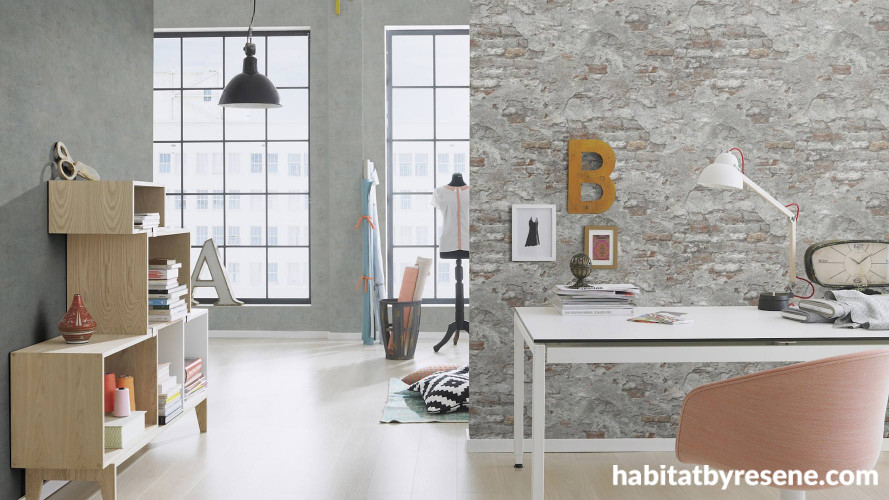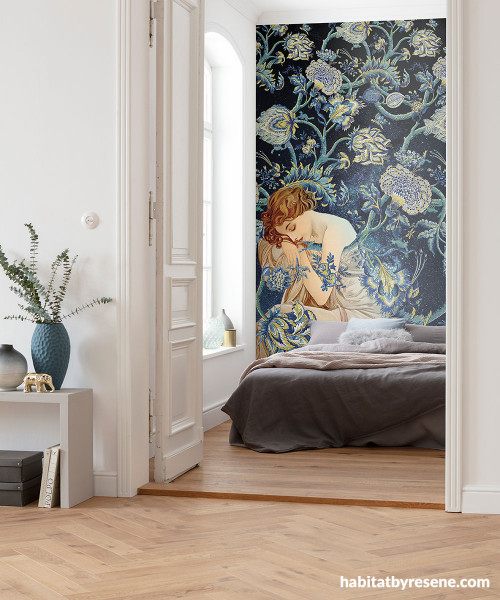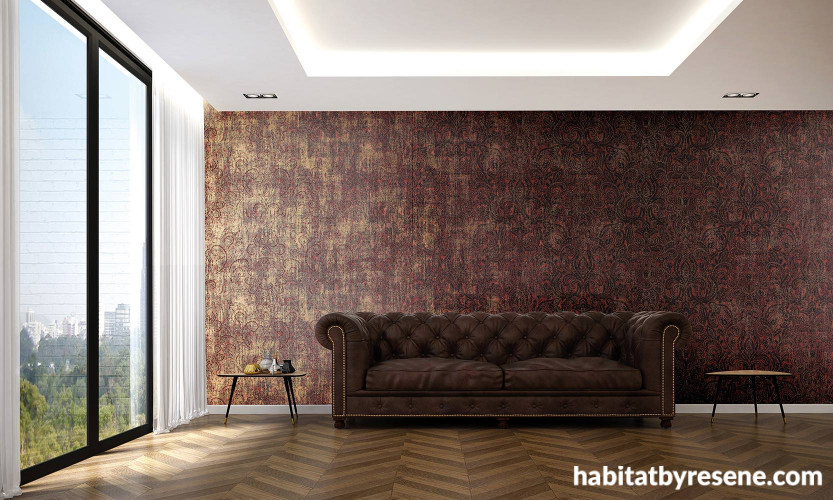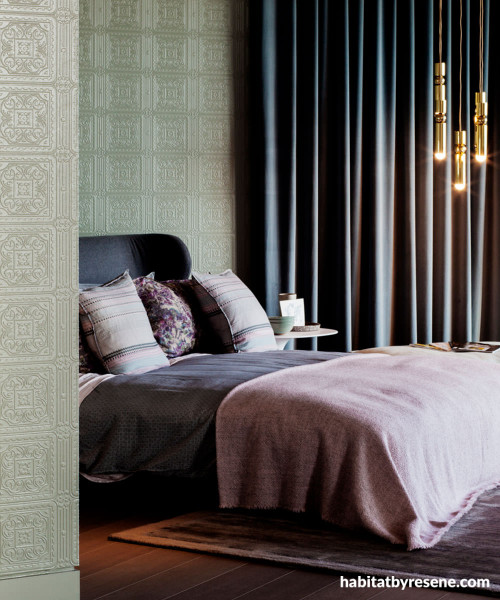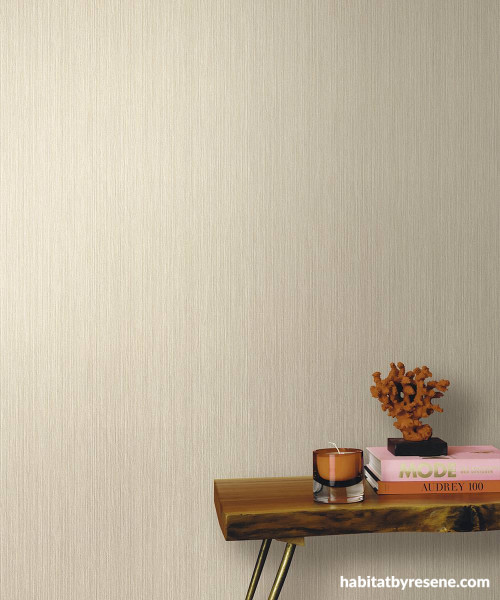 Ten inspiring wallpapers to bring rooms to life
Wallpaper is one of the quickest ways to add character and make a space feel elegant and composed. If a room is dull with no interesting architectural features, wallpaper can make it vibrant. Whether it's a bold-patterned print or a romantic throwback to English gardens, there's a whole world of choice in the Resene Wallpaper Collection.
Bring the garden indoors with these romantic panoramas
For those who love 'maximalism' a growing number of homeowners are looking to inject big personality into their currently 'quiet-toned' homes by using a playbook of interior hacks such as wallpaper, bold art, unique furniture and accents. Choosing a mural-sized wallpaper for a feature wall is a popular move. This collection highlights country panoramas and flowery landscapes of English painting in a dramatic palette of vivid and pastel colours.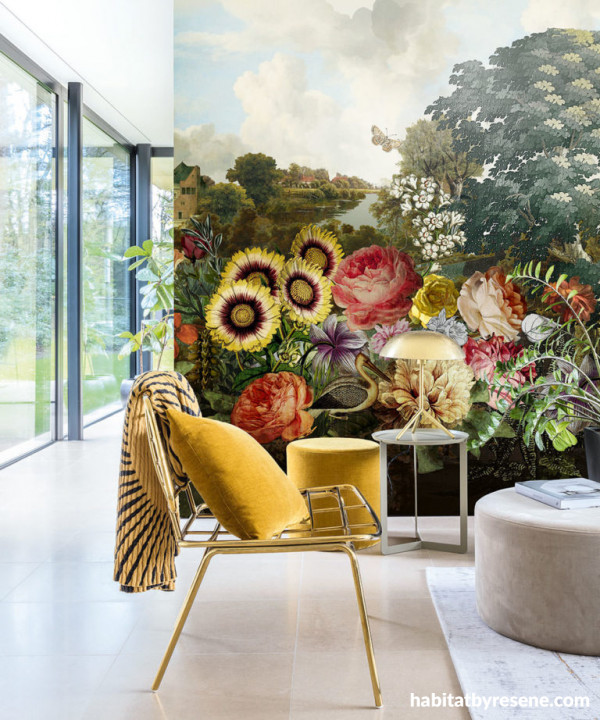 Introduce the ambiance of an English country garden into your world with picturesque wallpapers that evoke the English gardens once designed by British artist William Kent. Wallpaper in this range is an instant eye-catcher and this mural from the Resene Wallpaper Collection DGKEN202 is at once bold and beautiful. Pair with crisp white ceilings in Resene Alabaster and soft flooring painted in Resene Soothe.
Pattern for a modern world
Wallpaper instantly brings maximum impact through colour, texture and pattern. Using bold and pattern-heavy wallpaper is the perfect foundation to a maximalist interior. By using wallpaper, you're basically halfway to creating a space brimming with life and energy.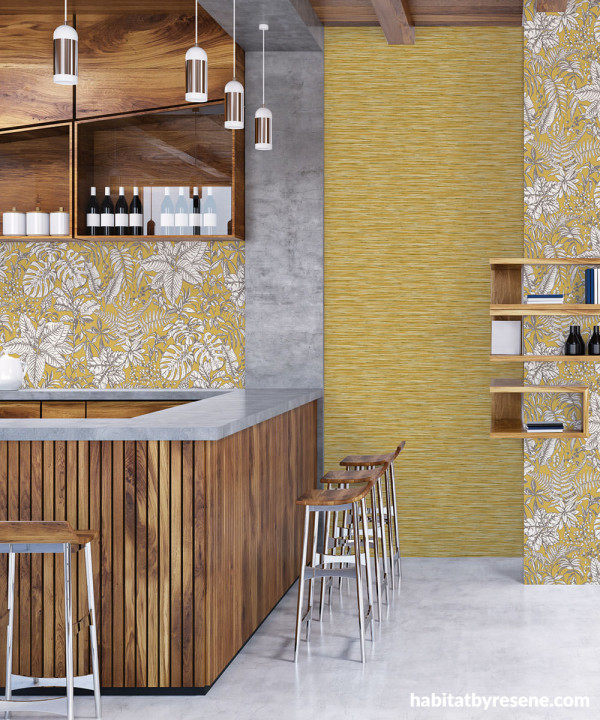 Bold, beautiful and modern, a repeated pattern combined with the latest contemporary colours will add interest to your home. Choose a sophisticated subtle option in Resene Wallpaper Collection 37520-3, a repeated botanical print that brings a modern take to your walls. Or pair with a wall painted in Resene Hot Toddy and wooden panelling stained in Resene Colorwood Matai.
Bring the tropics into your world with on-trend designs

Fresh and on-trend, tropical themed wallpapers will transport you to a holiday feeling exploring rainforest and jungle themes with bold and punchy designs in the Resene Wallpaper Collection.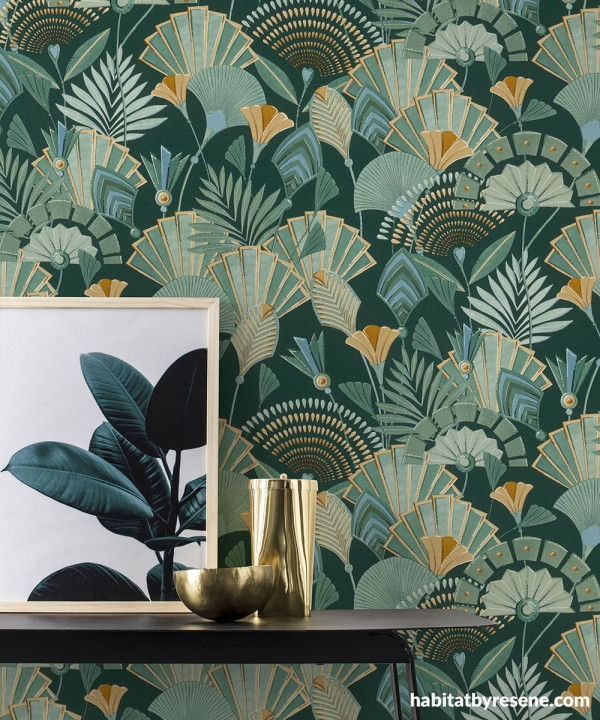 Resene Wallpaper Collection 635690 is a tropical pattern with a touch of Art Deco flair. Pair this design with either Resene Green Leaf or pick up on the gold highlights with Resene Buddha Gold.
Designs inspired with Scandinavian chic
Wallpaper can be a great way to kick-start a room theme, and right now Scandi chic is enjoying a moment - and it's not all minimalist! Intense colours, Nordic flair and Scandinavian designs come together in a range of wallpaper choices available from Resene ColorShops.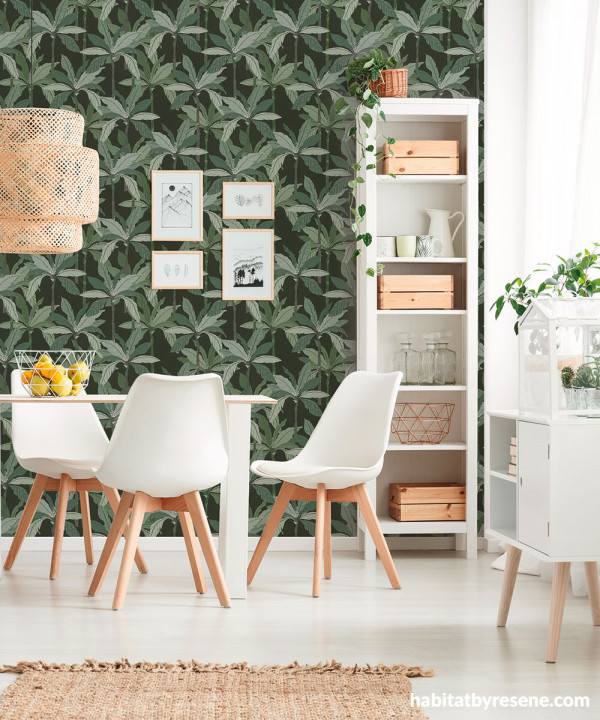 Inspired by nature, Resene Wallpaper Collection 37530-3 invites you to dream and wonder with a touch of hygge (comfort and cosiness). Bringing the Nordic take on nature indoors gives each room the perfect complementary feeling of space. This look suits crisp green-tone whites such as Resene Half Merino and flooring blonded with Resene Colorwood Whitewash.
Flora comes to the fore in a collection with a Japanese aesthetic
Nature is a huge part of Japanese-inspired interiors with cranes, cherry blossoms and tree peonies being key symbols in many wallpaper designs. Small patterns make a room look larger, while large patterns make a space feel smaller and more intimate. Stripes and vertical patterns make walls appear taller, whereas horizontal patterns make a wall appear longer. Layered patterns and floral designs give flat walls more depth.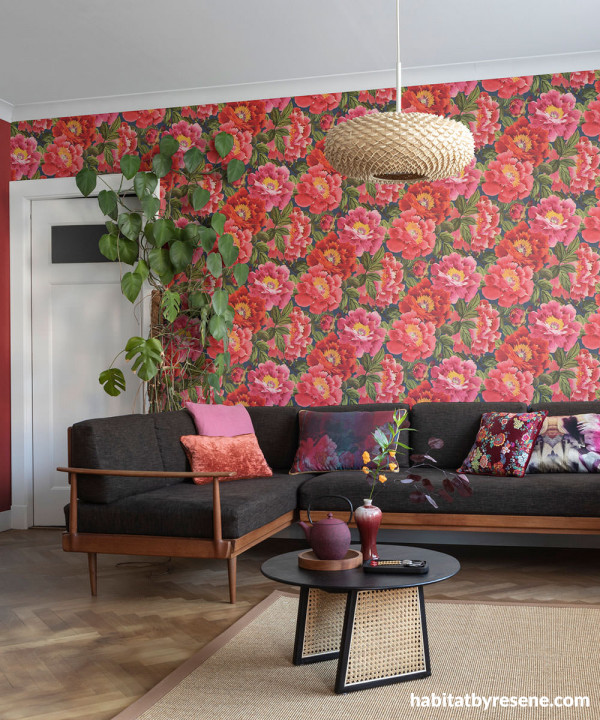 The oversized tree peony pattern in Resene Wallpaper Collection 408355 is ideal for larger rooms with high ceilings. Pair with walls and ceiling in a bright whitesuch as Resene Alabaster and flooring or furniture stained in Resene Colorwood Natural.
Industrial Inspiration
Industrial design is inspired by the original warehouses and factories of the 20th Century – and it's a popular and influential design trend with exposed surfaces, rustic materials like wood and steel and an overall raw look. You don't have to have your own exposed brick wall to get the look. The latest Resene wallpapers can easily create the ambiance of the warehouse.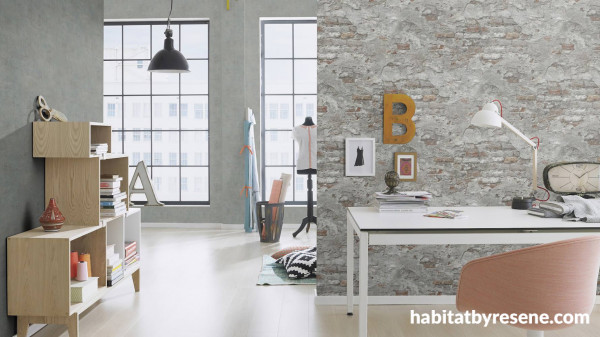 You will rarely find bold and bright colours in an industrial space. You may find some browns and dark navy blues, but otherwise stick to a metallic colour palette like silver, grey and steel. Partner the brick-look Resene Wallpaper Collection 939330 of wet cement in Resene Concrete distressed using Resene Paint FX medium mixed with Resene Half Concrete.
Romance was born – collections that hark back to great design eras
Inspired by the period of the mid-19th century to the mid-20th century, botanical illustrations, graphic patterns and the sensual forms of Art Nouveau create a romantic atmosphere that is perfect for bedroom retreats.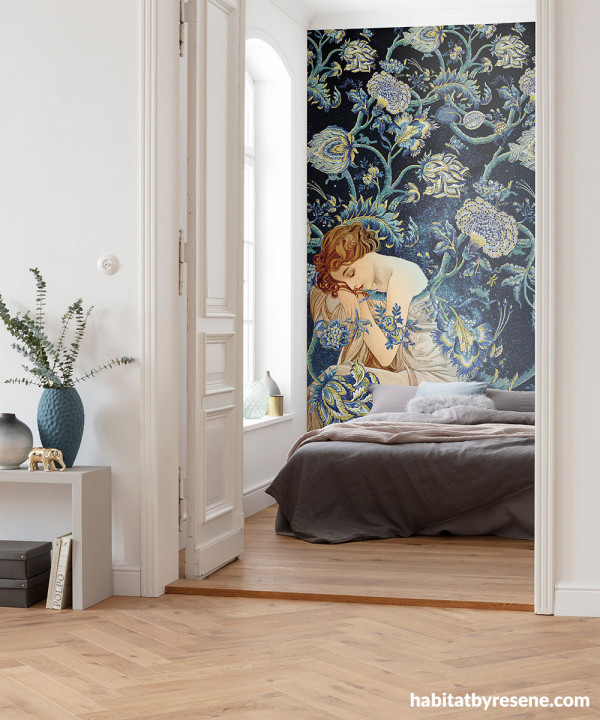 History is reinvented with this mural from the Resene Wallpaper Collection HX4-037 that echoes the golden age of Art Nouveau and brings a romantic touch to any bedroom. Pair it with the crisp, clean white of Resene Alabaster, or for a warmer tone, Resene Merino.
Bring on the drama – wallpaper with star power
Wallpaper can help to overcome existing problems such as low light levels and less-than-perfect walls. In a hallway or dark room, choose a wallpaper that has sheen, so it will reflect light around the space. Also consider metallic or iridescent designs. Steer away from heavily textured wallpapers, which will appear darker.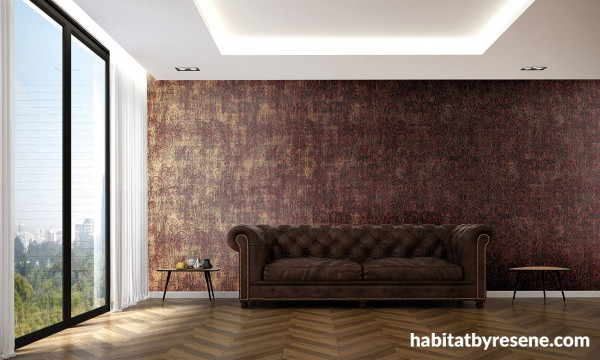 Both shimmering and subtle Resene Wallpaper Collection 81199 has a light-reflective surface that will add atmosphere and star-power to a room, without overpowering it.
Add texture to walls with a timeless classic
Textured papers and Anaglyptas are perfect for covering imperfect walls. They may sound something like your great-grandmother used but these patterned and textured papers still enjoy a timeless popularity. Their big asset is – they're paintable. Whether you choose to paint in a rich colour like Resene Indian Ink or a subtle off-white like Resene Rice Cake you can add both colour and texture to a room.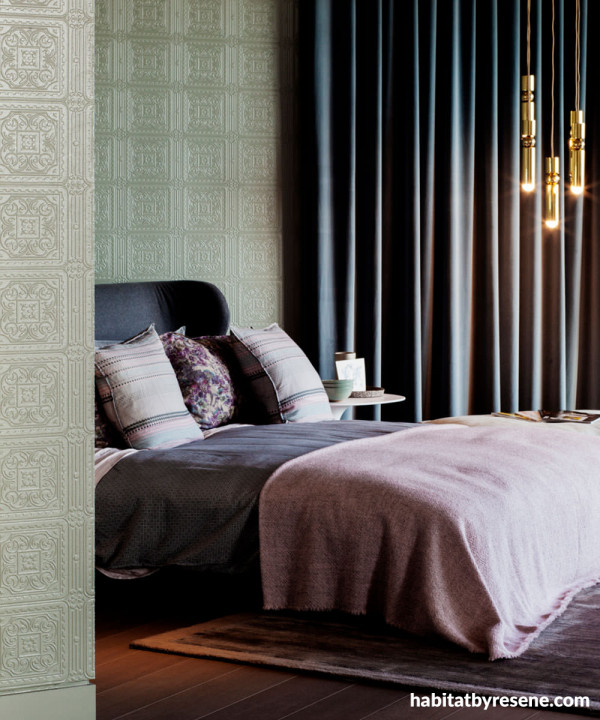 Anaglypta (paintable) wallpapers are the perfect marriage of pattern and palette, especially when finding a wallpaper with the right colour and pattern to match your style or interior has proved difficult. You can even use Anaglypta to mimic pressed-tin ceilings to addcharacter to an older home. Paint Anaglypta Resene Wallpaper Collection RD 80000 in semi-gloss Resene Lustacryl tinted to Resene Linen to create this glamorous look.
Textured walls tell their own story
One of the most popular categories of wallpaper style is texture. It adds character to a wall, with light playing across its surfaces, and attracts the eye with its visual interest. Woven wallpapers have long been a favourite of high-end interior design, for the subtle chic they add to a room.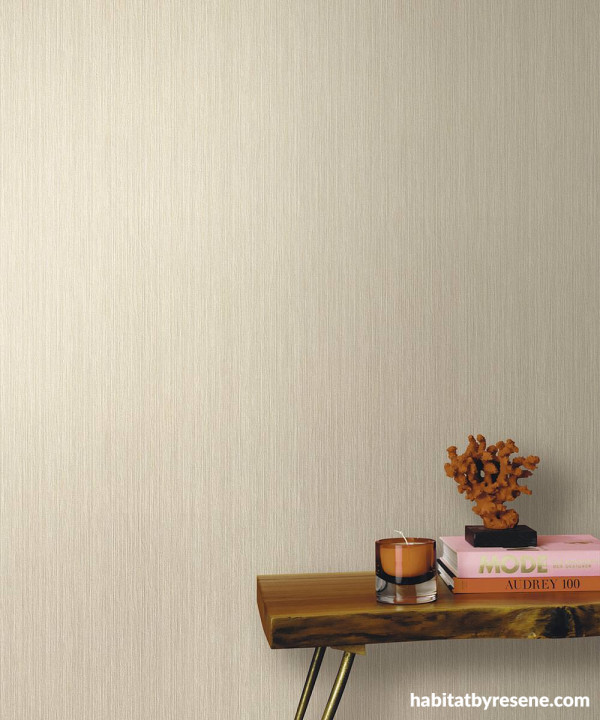 A textured wall adds both subtle character and dimension. Woven, embossed and textured, there's a range of choice in the Resene Wallpaper Collection. The look is effortlessly modern and in this paper from the Resene Wallpaper Collection 783636, subtle tones reflect light and add a natural look to a room.
Traditional or contemporary, there's something for every living or bedroom space in the Resene Wallpaper Collection, that has long been a favourite of designers bringing texture and interest to walls. Choose your favourite pattern. Finish with your favourite Resene colour. The perfect way to add a fresh look to your rooms.
View the full wallpaper collection at your local Resene ColorShop. Or get a taste of the recent releases online, www.resene.com/wallpaper.
Published: 03 Feb 2022
Do you have a home full of wonderful Resene paint and colour? Send us some snaps by emailing [email protected].
the look
If you're stuck on what
colour to use or need colour
advice, try out the Resene
Ask a Colour Expert service.
the look
If you're stuck on what
colour to use or need colour
advice, try out the Resene
Ask a Colour Expert service.